Tennessee Football: Way Too Early Game-by-Game Schedule Predictions for 2013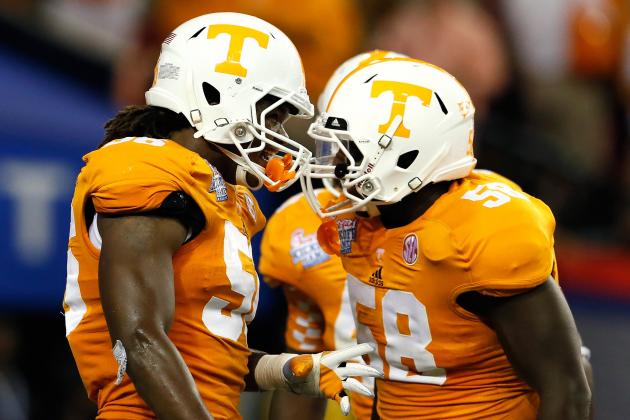 Kevin C. Cox/Getty Images

National signing day is over, and spring practice hasn't started. The Tennessee Volunteers join the rest of the college football world during this dead period, which can only mean one thing: It's time to begin early speculation on the prospects of the 2013 season!
Coming off perhaps the worst three-year stretch in school history, Butch Jones was able to secure a top-20 recruiting class, make inroads with a number of 2014 players and rebuild broken relationships across the state. All the while he kept stressing that the University of Tennessee is the state institution.
Becoming relevant on a conference level is imperative. It can't be done in one year, but great coaches show you something early on. I expect this to happen in the fall. Brace yourselves for my predicted win-loss record for the Vols' 2013 season.
I even shocked myself.
Begin Slideshow

»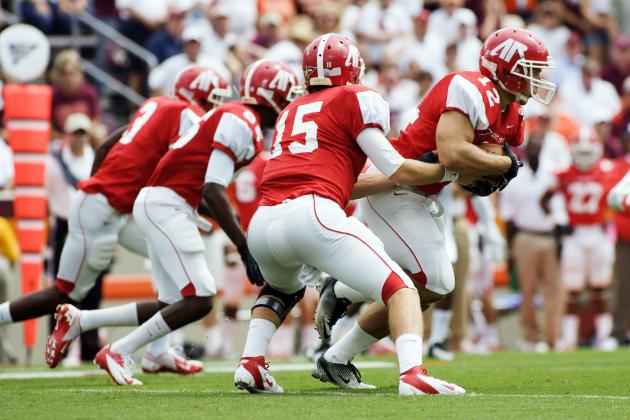 Peter Casey-USA TODAY Sports

Austin Peay hasn't had a winning season since 2007 and shows no sign of experiencing a major improvement this fall over 2012's 2-9 finish.
More important than a convincing win over the Governors will be the support that the fans show in Butch Jones' first game as head coach. A non-marquee match-up is actually a great way to see how resolute the fan base is because attending the game will be more out of solidarity instead of entertainment.
I'm counting on you, Vol Nation.
Prediction: Win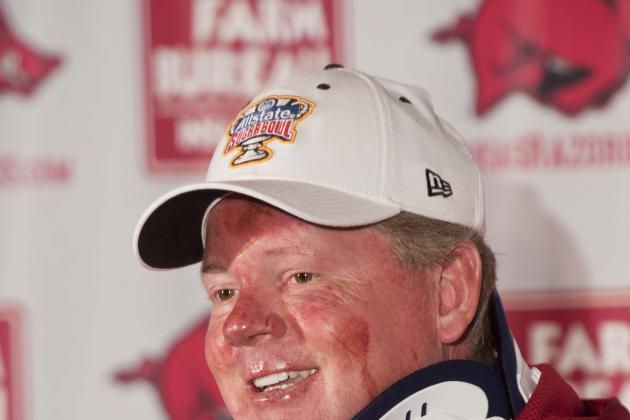 USA TODAY Sports

Slightly more exciting than the opening game against Austin Peay is the Week 2 bout against the Hilltoppers of Western Kentucky, led by new head coach Bobby Petrino.
Are the Volunteers better than Western Kentucky? Of course. But the Toppers have had back-to-back winning seasons and certainly have more momentum (at least on-field) than Tennessee has had.
This game will be a nice test for a new-look defense that will be switching back to the 4-3 and introducing a minimum of four new starters into the mix. The Vols' elite offensive line will help to control the ball and keep Petrino's offense on the bench.
Prediction: Win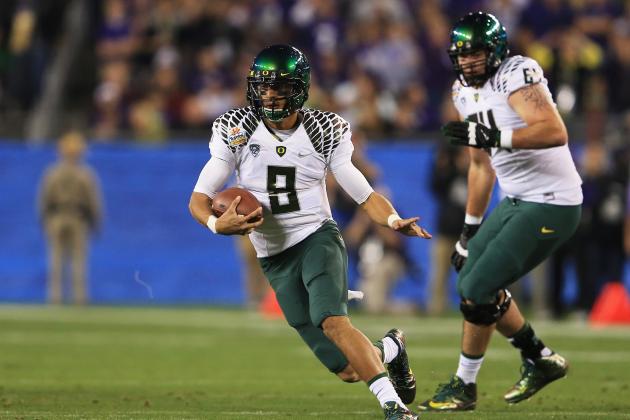 Doug Pensinger/Getty Images

Needless to say, the trip to Eugene, Oregon's Autzen Stadium is a tough test for any team, especially one who's in rebuilding mode. Tennessee is going have a lot on its plate trying to deal with the Ducks.
This will make two straight weeks of facing potent offenses (assuming Petrino works his magic at Western Kentucky), testing the much-maligned Volunteer defense of recent years.
Oregon, however, had to replace head coach and offensive mastermind Chip Kelly. New coach Mark Helfrich has been the Ducks' offensive coordinator since 2009, so he certainly knows the scheme.
But let me ask you, Vol fans: Does Lady Vols basketball coach Holly Warlick having been an assistant since 1985 make her as good as Pat Summitt? It's not that Warlick or Helfrich aren't/can't be good coaches, but there's just no replacing truly great coaches.
Tennessee will come out ready to fight, but there isn't enough personnel yet to keep up with Oregon for four quarters.
Prediction: Loss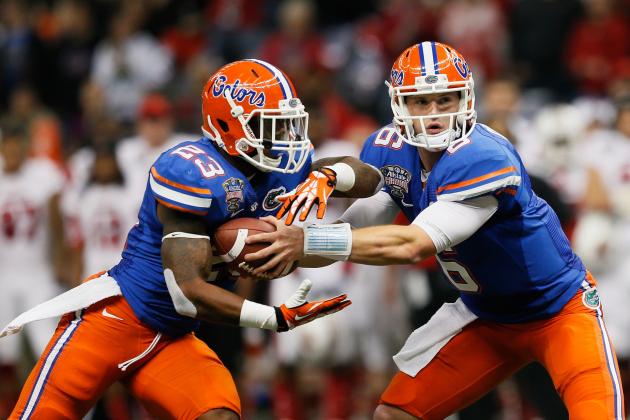 Kevin C. Cox/Getty Images

I'll admit, the 2012 Florida Gators surprised me. I thought they'd be a decent team, but they ended up being one of the nation's best. If not for an inexplicable beatdown at the hands of Louisville in the Sugar Bowl, we'd be calling Florida the second-best team behind Alabama.
Tennessee hasn't beaten Florida since 2004, when James Wilhoit hit a game-winning 50-yard field goal after missing a game-tying extra point just minutes earlier. It's been a while since that kind of magic has been around the Volunteer program, but those days will come again.
Florida loses several key players to the NFL draft, such as Mike Gillislee, Sharrif Floyd and Matt Elam, but the Gators, as always, have plenty of talent to refill their roster.
Florida wasn't as good as their 11-2 record last year, but they're certainly still the favorite in Gainesville.
Prediction Loss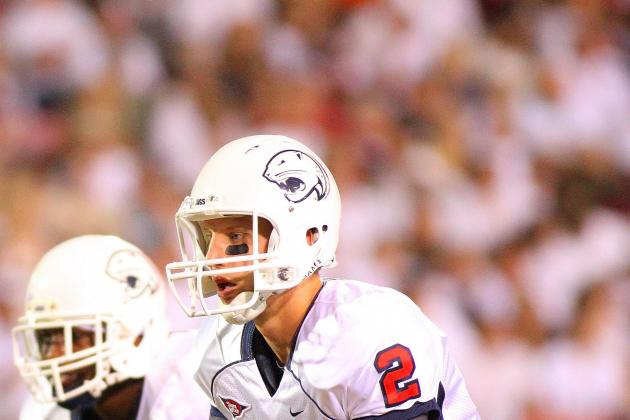 Spruce Derden-USA TODAY Sports

After a .500 start, no impressive wins and a couple competitive (hopefully) losses, the Vols return home to face their last ho-hum opponent of the season in South Alabama.
The Jaguars' football program was established in 2009 and had back-to-back undefeated seasons against a slew of small, private schools. But in 2012, they went 2-11 in their final transitional year to the Sun Belt Conference, and 2013 will be their first full year as a full-status FBS team.
This game will give Tennessee a chance to make some final adjustments after two tough opponents and before seven SEC games in a row.
Prediction: Win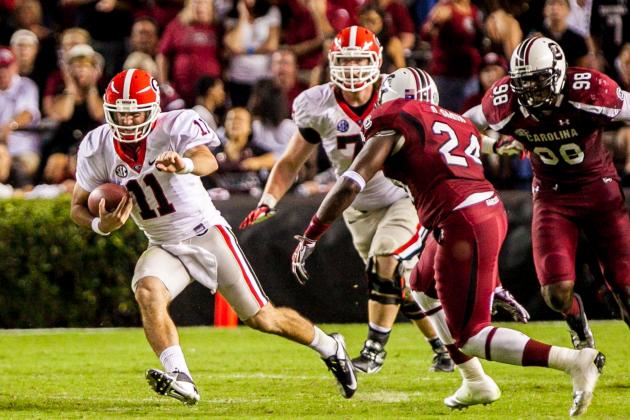 Jeff Blake-USA TODAY Sports

I'm pairing these games together because Tennessee will win one, but I'm not sure which one.
Both are better than the Volunteers and have been for a few years, but if a Derek Dooley-led team can come within seven and three points of beating Georgia and South Carolina on the road, I think a Butch Jones-led team can win one at home.
The obvious difference is the fact that the Vols won't trot Tyler Bray, Justin Hunter and Cordarrelle Patterson out this year. But they will have Justin Worley/Nathan Peterman/Josh Dobbs (none of which have the arm of Bray but are all likely to take a more cerebral approach), Alton "Pig" Howard, Jason Croom, Drae Bowles, Marquez North, Paul Harris and Ryan Jenkins.
This is one of those times when the players may be too young to understand they're not supposed to win. The talent is there to pull off an upset if the defense can limit the scoring just a little, which they weren't able to do last year.
And I repeat, the 2013 Tennessee offensive line is elite. It might be the best in the SEC. If you had to pick just one unit to perfect, it would be the O-line, and the Volunteers have at least two and as many as four future first-round picks. That bodes well for an upset.
If I had to pick which game is more likely to yield the win, I'd pick Georgia. Check the recent history of the Tennessee-Georgia rivalry. It's completely unpredictable.
Prediction: Win and loss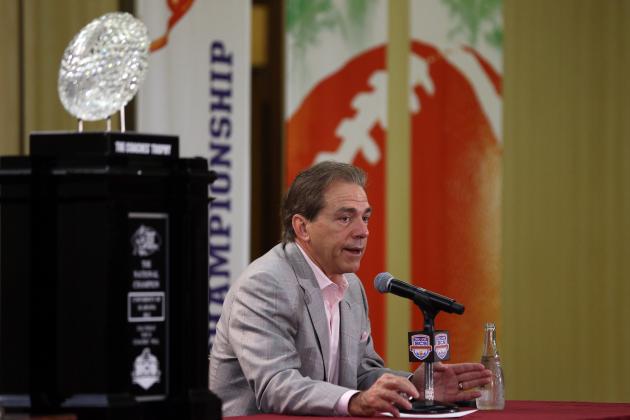 Streeter Lecka/Getty Images

Nick Saban is one of the greatest coaches in college football history. His stats are almost as good as many of the legends, and he's doing it in the most competitive era of the sport.
Alabama has a serious chance to three-peat as national champions, which hasn't been done since Army won in 1944, 1945 and 1946. It would be incredible and a real treat to see, even for the most ardent Vol fans, who are instinctively haters of the Crimson Tide.
While Alabama loses a ton of talent to the NFL (don't they always?), the key pieces on offense, AJ McCarron and TJ Yeldon, return with one more year of experience. The Tide is already the favorite to win 2014 BCS National Championship.
What I'm trying to say is that I predict Tennessee will beat Alabama 45-3.
Just kidding.
Prediction: Loss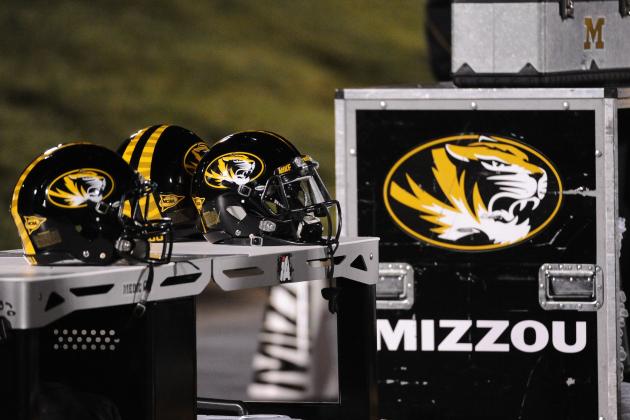 Dak Dillon-USA TODAY Sports

Missouri's inaugural season in the SEC was a baptism by fire. The Tigers went 2-6 in league play, and with the loss of star defensive tackle Sheldon Richardson to the NFL draft, it's unlikely the 2013 season will be a huge improvement.
Of course, one of those two SEC wins was against Tennessee in Knoxville. You hate losing at home, and you especially hate it when the winner is a league newcomer who now has the mistaken perception that Neyland Stadium is no big deal.
The four overtime loss to Mizzou was the nail in coffin for Derek Dooley, especially after he opted to go to overtime -- where chances of winning are greatly diminished -- with the ball at midfield with 30 seconds left and one of the best offenses in school history.
Clearly, it's hard to gauge how good or bad Missouri is compared to Tennessee because last year's game was such a folly, similar to the 2008 loss to Wyoming on homecoming.
The Vols ought to return the favor on their first trip to Faurot Field.
Prediction: Win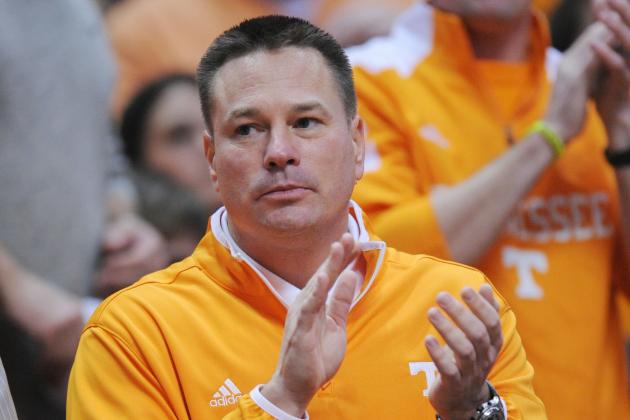 USA TODAY Sports

At this point, my way too early prediction has the 2013 Tennessee Volunteers at 5-4 heading into the final three-game stretch.
I went out on a limb and called a win over Georgia or South Carolina, so if that ends up being wrong, the Vols should be 4-5 going into these three games.
Besides being slightly bummed about missing out on a signature win in Butch Jones' first year, the Vols should be ecstatic to have a serious chance to get back to a bowl game for the first time since the 2010 Music City Bowl fiasco.
Auburn, Vanderbilt and Kentucky are very winnable. Whether Tennessee is 5-4 or 4-5 (any worse and there will be some angry fans), winning two or three of them equates to a successful season.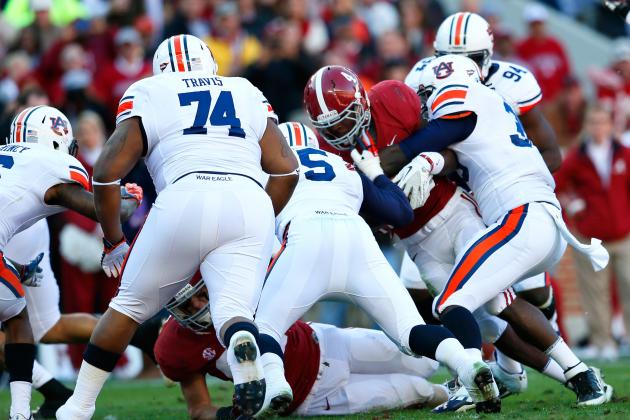 Kevin C. Cox/Getty Images

The theme of the 2013 season for the Volunteers is defending against offensive gurus. First, it was Bobby Petrino. Then, it was Mark Helfrich, a Chip Kelly disciple. Now, it's Auburn's new head coach Gus Malzahn.
Another theme is new faces. The Vols also play five teams with new head coaches. Definitely an interesting year.
We'll have an excellent idea of how good Auburn is by this point in the season. After an embarrassing 3-9 season, including 0-8 in SEC play, it may seem like the 2013 Tigers aren't likely to be worth much, but accepting that conclusion at face value would be a mistake.
For all the same reasons people hope Butch Jones can win early with the Vols, Auburn could be a quality team this fall. There is enough talent (four straight recruiting classes in the top 10) for them to be competitive with the right coaching.
Still, Tennessee is the better team here, assuming they have found some offensive rhythm with the new starters by November 9th. At best, Auburn is an even match, and the tie goes to Neyland. Always.
Prediction: Win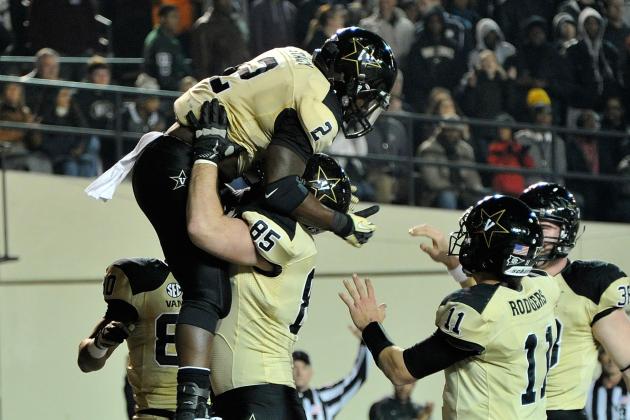 Frederick Breedon/Getty Images

Let's officially stop saying, "Same old Vandy!!" It's clearly not the same old Vandy. James Franklin has pumped some life into the football team, won a few games and reeled in the best recruiting class in school history.
It's short-sighted and simply unintelligent to cling to the "same old Vandy" moniker.
Tennessee's job is to make that statement true again. Butch Jones has repeated time after time that this is the Volunteers' state. It's obviously an angle he's chosen to use, and it's smart. An inevitable part of backing that up is a win over Vanderbilt.
As improved as the Commodores are, they've still only beaten Tennessee twice since 1983. It's easy to get caught up in the "Anchor Down" mania, but the 'Dores in essence have had one good season.
Vol fans: Get realistic. Vanderbilt is better. Vandy fans: You have had two winning seasons in 30 years. Let's pump the brakes.
Lost in this is the fact that the 2012 team was a senior-laden group. Gone is Jordan Rodgers, Zac Stacy and nine other starters. Tennessee should be able to take advantage.
Prediction: Win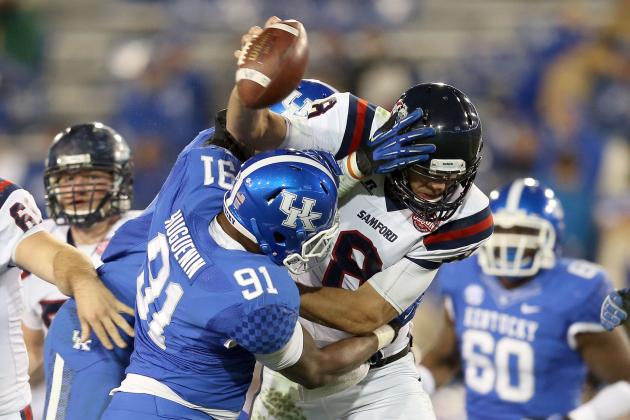 Andy Lyons/Getty Images

The Volunteers will wrap up the 2013 season in Lexington against Mark Stoops' Wildcat team. Kentucky hasn't been a relevant force since Rich Brooks retired in 2009 and even then it wasn't consistent.
The Wildcats will be the easiest foe for Tennessee in two months and will be treated as such.
Prediction: Win
If you've done your math, you should see that I've predicted the Vols to go 8-4. Yeah, I'm a little confused by it, too, but if you look at each game individually, it's not that far-fetched. I stand by it.
Where could it go wrong? Certainly the Georgia/South Carolina win is the biggest "if". I'm probably the only person thinking Tennessee steals one. After that, Missouri, Vanderbilt and Auburn are the next toughest predicted wins, in that order.
But the Volunteers should be very happy with a 6-6 finish and a bowl win. The easiest path to six victories is beating the three small schools along with Auburn, Vanderbilt and Kentucky.
The goal for 2013 is to get to a bowl. If Tennessee can get to a bowl and finish with a winning record, they've set themselves up nicely for a 2014 recruiting class like Ole Miss' 2013.