Reasons Carmelo Anthony Is the Most Important Player in the 2013 NBA Playoffs
Jared Wickerham/Getty Images
Carmelo is the Knicks' leader.
The New York Knicks' Carmelo Anthony has a lot of pressure to produce in the 2013 NBA playoffs. Always admired as one of the league's best, Anthony has never enjoyed the kind of postseason success had by LeBron James, Kobe Bryant or even Kevin Durant.
With a 3-1 series lead over archrival Boston, it appears the Knicks will advance at least to the conference semifinals. That's when things become more difficult with potential matchups against the Indiana Pacers and Miami Heat in the following round.
There is no doubt that Carmelo is the best Knicks player, but he's also the most important player in the entire NBA playoffs.
Begin Slideshow

»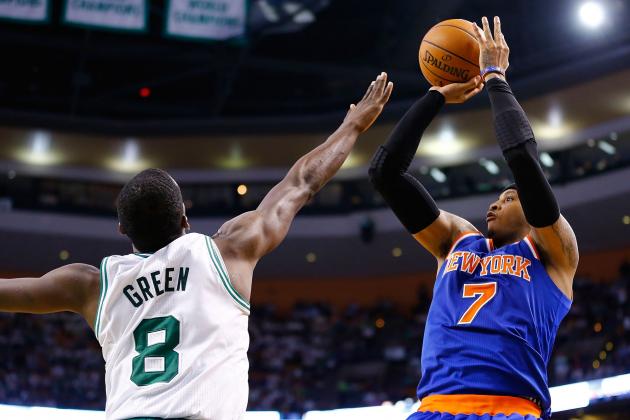 Jared Wickerham/Getty Images
Carmelo is New York's best scoring option.
Carmelo Anthony has been known to score the basketball, and this year he solidified that by winning his first scoring title over Kevin Durant. He averaged 28.7 points per game this season.
So far in the postseason, he's elevated that number to an even 33 points per contest, even though his shooting percentage is slightly down.
The Knicks need him to score, and so far he's answered the call.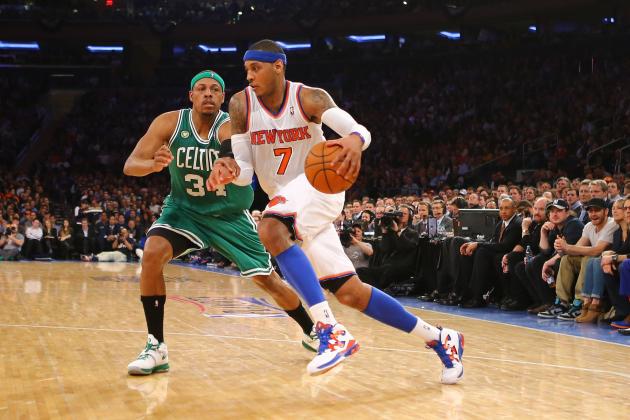 Al Bello/Getty Images
Melo has shown to be durable.
Carmelo Anthony is one of the most durable players in the NBA. He plays a bruising type of basketball that involves a lot of physical strain on his body.
He's had a couple of minor injuries this year, but nothing that kept him out for more than a few games.
Anthony ranked in the top 15 in minutes played during the regular season, and is among the top 10 thus far in the playoffs.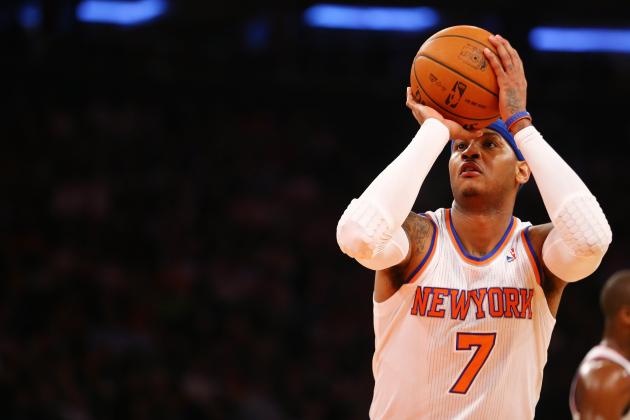 Al Bello/Getty Images
Anthony needs to be a strong leader.
Believe it or not, this is Anthony's 10th season in the NBA. The closest he's ever been to the NBA Finals was in 2009 with the Denver Nuggets. That year, they lost in the conference finals in Game 6 to Los Angeles.
Even though he's never been to the finals, he's had plenty of playoff experience. Since entering the league in 2003, Carmelo's team has never missed the playoffs.
When New York faces difficult times, they'll look to their leader in Anthony.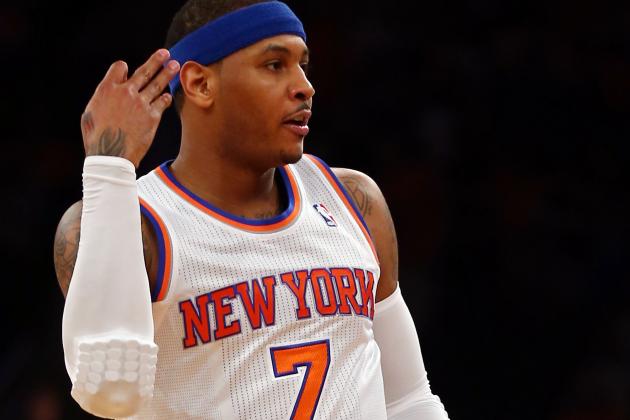 Elsa/Getty Images
Anthony's health is key.
Carmelo has dealt with his share of injury problems like most of the NBA. The positive thing for Knicks fans is that he never endured a severe injury like Russell Westbrook just did.
In March, Anthony had his knee drained. Just a few weeks ago, he suffered a shoulder injury that sidelined him for a short period of time.
The important thing is Melo is healthy now, and looks to be in great shape physically.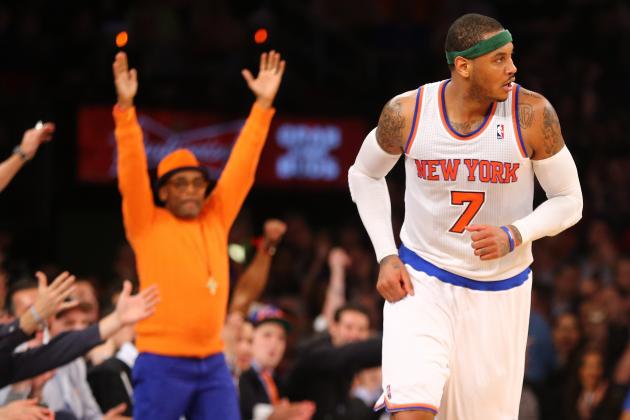 Al Bello/Getty Images
Carmelo and the Knicks want to win now.
Winning championships in the NBA is not an easy task. Players try their whole careers and never succeed.
Since LeBron James won his first title last year with Miami, I think Anthony has the most desire in the league to take home the next Larry O'Brien Trophy.
He hasn't won anything significant since his only season at Syracuse when he helped win the Orange a national championship as a freshman. It's been 10 years and Melo's poised to win again.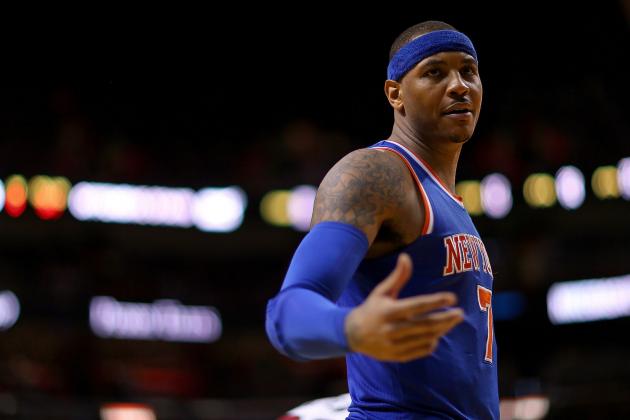 Mike Ehrmann/Getty Images
Carmelo fits perfectly with New York.
No other player in the NBA seems to have a relationship quite like Carmelo Anthony and the people of New York City. There is nothing close to the buzz that is created in Madison Square Garden when Anthony is playing right.
The crowd feeds off Carmelo's confidence and swagger, while their energy inspires him to play at a new level.
If Anthony is on fire at MSG, the Knicks are nearly impossible to beat.