Rafa Benitez's 5 Best Decisions as Chelsea Manager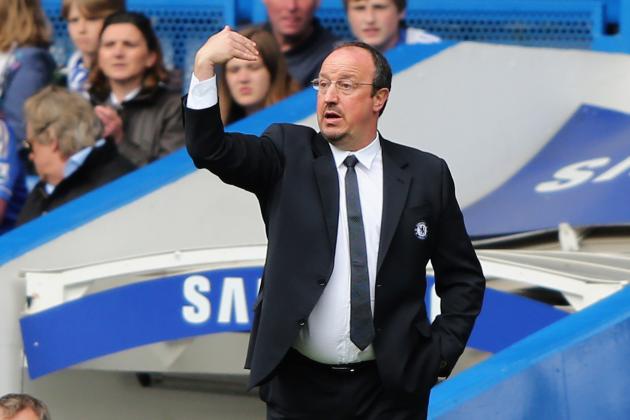 Ian Walton/Getty Images

The proverb states that patience is a virtue. After six months in the job at Chelsea, Rafa Benitez is beginning to harvest the fruits of his labor at Stamford Bridge.
The Spaniard came into the club on an interim basis in November following the departure of Roberto Di Matteo. In that time, things have been far from plain sailing, yet Chelsea now look set to deliver on Benitez's sole task of achieving a Top Four finish.
Not only that, there's every possibility Benitez could deliver silverware in the form of the Europa League. Chelsea are in a commanding position going into Thursday's semifinal, the second leg with FC Basel at Stamford Bridge, leading the tie 2-1. Given their dominance against the Swiss in the first outing, it will be a major shock if Chelsea do not find themselves in another European final come the final whistle.
But what have been Benitez's best decisions at Chelsea? The Spaniard has had to make plenty of decisions after all, with some not proving as popular as others. Bleacher Report takes a look at his top five.
Begin Slideshow

»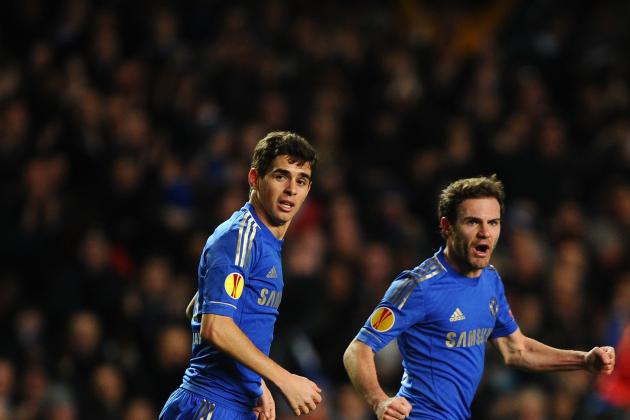 Laurence Griffiths/Getty Images

In the early days of his tenure, Rafa Benitez played things safe at Chelsea. It was perhaps a wise move, having adopted a team that was shipping goals and losing football matches with alarming ease.
Part of this strategy was to make the Blues stronger defensively, and turning the cliche on it's head, he built from the front as opposed to the back.
The "Three Amigos" may have entertained Chelsea fans and neutrals alike in the early part of the season, but just as they were at the heart of all that was great about the Blues' early form, they were equally at fault when the team's form took a sudden dip.
Chelsea were beginning to look weak defensively, and with Juan Mata, Eden Hazard and Oscar not overly renowned for their defensive attributes, Benitez sacrificed one of them to bring about an air of solidity to the team.
That moved stifled Chelsea's creative streak. However, he has grown to know his team and understand the players. Benitez has used the "Three Amigos" combination with much more regularity in the latter stages of 2012-13.
They've worked hard on the training ground evidently, too. Even with their star trio on the pitch, Chelsea still look a better defensive unit while remaining a danger in attack, leading to their excellent form that has seen them among the Champions League qualification contenders.
It's an accomplishment Benitez deserves credit for.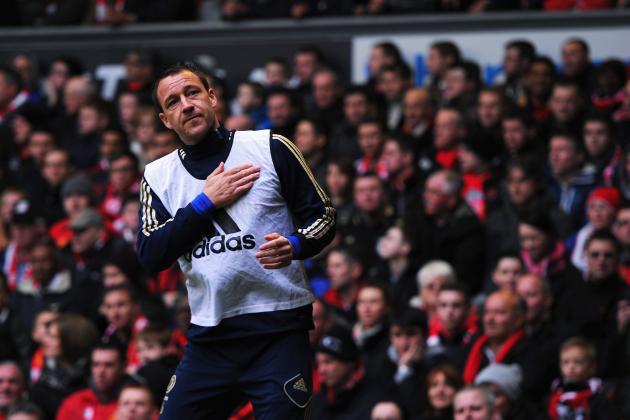 Michael Regan/Getty Images

Make no mistake, John Terry remains an important part of this Chelsea squad, just not in he way we're used to thinking.
When Rafa Benitez came in as manager, the Blues' captain was out injured, and with the road to recovery being a slow one following his knee injury against Liverpool in November, the Spaniard has done well to reintegrate him to the team.
However, Benitez has not done this to the detriment of what he has tried to build over the past six months.
What we have seen are new heroes emerging, players stepping up and showing their true character without their captain.
David Luiz is one of those players. A man often criticized for his defensive abilities, he's arguably been Chelsea's best defender this term. Without Terry at his side, he has become a leader on the pitch, and the Blues will be better off for it next season.
There's no reason why Terry shouldn't be one of the first names on the Chelsea teamsheet for 2013-14. He remains a class act, although when he looks around him, he will see one or two stranger characters than those he may have seen at the start of the current campaign.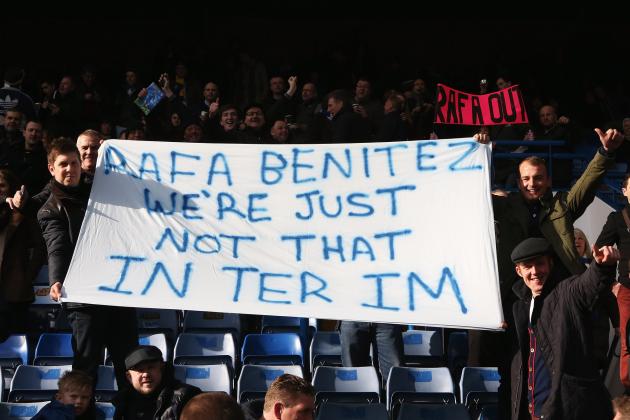 Scott Heavey/Getty Images

The boos that rang out around Stamford Bridge for Rafa Benitez's first game in charge against Manchester City in November were the perfect barometer with which to measure the popularity of his appointment at Chelsea.
The Spaniard's history with Liverpool and some of the club's famous meetings with Chelsea during his time in charge always meant he was in for a tough ride.
Rather than disappear with time, however, the feeling of resentment at his appointment only increased, and banners calling for his head followed the Blues everywhere they played.
The ill feeling impacted the club's home form, too, with Chelsea winning just five matches in his first 10 at Stamford Bridge in all competitions.
Since his now famous rant on Feb. 27 following Chelsea's 2-0 win over Middlesbrough, targeting the very fans who criticized him and calling for their support of the team, things have slowly changed.
The Blues have now won six home games on the bounce, including a 1-0 win over Manchester United in the FA Cup and Sunday's 2-0 win over Swansea that cements their place in third in the Premier League.
With the boos and banners slowly disappearing, it's not just Chelsea's home form that has picked up, either. Benitez's side have won nine of their 15 games since that Middlesbrough game, losing four.
Many questioned whether Benitez would be in a job by the time Chelsea returned to London from the North East that night, but two months on, what was initially dubbed as folly appears a masterstroke.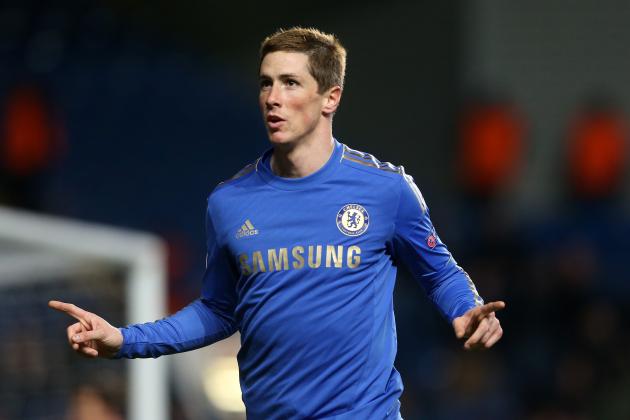 Scott Heavey/Getty Images

A price tag of £50 million always meant Fernando Torres was going to be an easy target for journalists and football supporters.
The Spaniard has often played into the hands of criticism with some lackluster performances, yet he has not been afforded the time by those outside of the club that another player may necessarily get.
With 20 goals to his name this season, the naysayers may be a little off the mark. Whether he cost £50 million or £10 million, reaching that benchmark is a fine achievement for any player, and Torres deserves credit.
Another man who deserves credit is Rafa Benitez.
Chelsea's interim manager knows better than most what Torres is capable of, having signed him for Liverpool from Atletico Madrid in 2007. It's probably why he has put so much faith in the striker.
That faith seems to be paying off, too.
Torres looks a different player than the one Benitez was reunited with in November. He looks quicker, he looks sharper and vital goals of late tell us he is more confident in the opposition penalty box also.
It's not quite Torres of his Liverpool days, but he's back on the right path, and if he continues, Chelsea may see more of a return on that hefty transfer fee.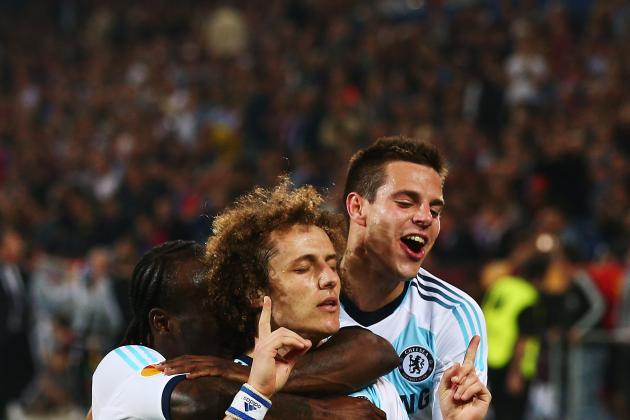 Clive Rose/Getty Images

Imagine Chelsea's season without the FA Cup and Europa League. It makes for a grim prospect, and one suspects it wouldn't have created the scenes of adulation like the one in our picture after David Luiz's late winner against FC Basel in the Europa League semifinal.
There was this notion that Rafa Benitez had "broken rank," that he was in pursuit of personal glory rather than that of the club when Chelsea continued to chase silverware in the cup competitions. It seemed a weak claim at the time, and it seems even weaker now.
Their respective cup runs have kept the Blues ticking over this season. Sure, they've added strain to the squad, but they've also given the club a lift at a time when it needed it most.
Make no mistake, Chelsea not competing in the Champions League next season will be disastrous for the Blues and everything they hope achieve. The pressure to reach the Top Four is there for all to see, yet with the feel-good factor flowing through Stamford Bridge currently at the thought of another European final, it is helping ease it somewhat.
Pursuing the silverware has helped Benitez revitalize Chelsea's campaign, taking the focus off what could have been a long and drawn-out race for the Top Four.
There's every chance he will walk away empty-handed at the end of the season, but there's also a chance Benitez will write himself into the club's annals as a manager who brought another trophy.
Forget the boos and jeers. They will not be his legacy. Finishing in the Top Four and winning a trophy will determine that.