Boston Celtics: Danny Ainge's 5 Biggest Regrets of 2012-13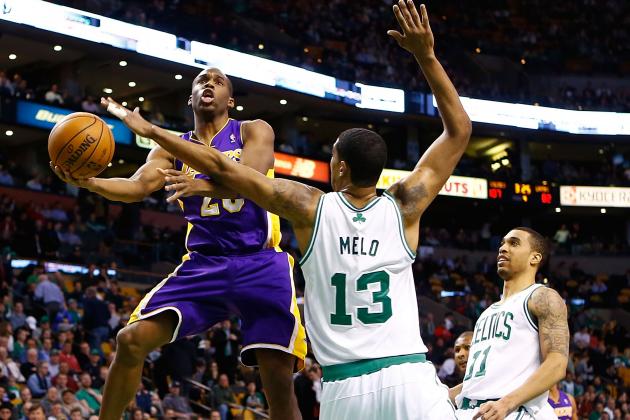 Jared Wickerham/Getty Images
Fab Melo and Courtney Lee could highlight Danny Ainge's regrets.
The 2012-13 Boston Celtics are still alive, but only a shred of hope remains.
President of basketball operations Danny Ainge may be pulling for his squad more than usual, especially after some costly blunders before and during the season.
Ainge's struggling team in green heads back to New York on Tuesday to face the Knicks with a win-or-go-home mentality in the conference quarterfinals. Many questions linger about the Celts' ability to mount a comeback. Beyond that, many questions remain about organizational efforts to maximize postseason success.
The following list details Ainge's shortcomings, from relatively minor to most significant. If not for these errors in judgment, Boston could be on its way to another Eastern Conference Finals bid.
Hindsight may always be 20/20—but by the same corny, cliched logic—regrets happen. Ainge would almost certainly like to reconsider these decisions.
Begin Slideshow

»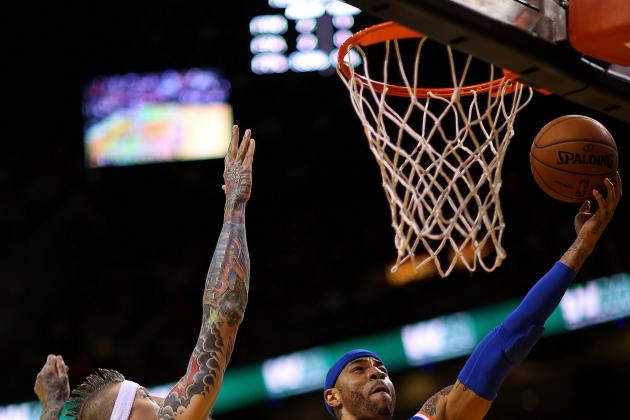 Mike Ehrmann/Getty Images

The Celtics had their chance. They discussed a contract with Kenyon Martin's agent before Martin signed his original 10-day contract with the New York Knicks—the same New York Knicks who have a 3-1 series lead in the divisional series of the playoffs, largely because of K-Mart.
The 6'9" bruiser has been huge in spots during this series, exposing the Celtics' flaws on the interior. His defense, rebounding and veteran presence make him a major commodity and a great value, considering he only makes $270,446.
Martin logged 5.3 boards and 7.2 points off 60 percent shooting this season in only 24 minutes a game.
He has stifled the Celtics in even less playing time this postseason, grabbing close to eight rebounds and putting in some timely dunks.
Martin's intimidation factor has come into play. He seems like the only guy on the East Coast who can silence Kevin Garnett. Boston fans would much rather have this guy in Celtic green. Carmelo Anthony is glad he doesn't have to worry about such a notion.
"Oh, it would've been tough, I mean I don't really want to think about that," Anthony told Zagsblog after Game 3.
In hindsight, Danny Ainge probably doesn't want to talk about it either.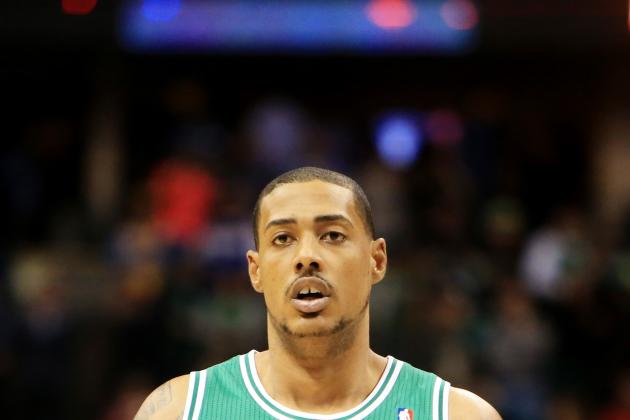 Chris Humphreys-USA TODAY Sports

Celtics fans know all about Ainge's issues with the center position. The only legitimately young, able-bodied center who made an impact during Ainge's managerial career in Boston was Kendrick Perkins. Everyone knows how that worked out.
Fab Melo was one of those "Danny feelings" that resulted in disappointment.
You may be in the minority who says Melo still deserves a chance. If so, you probably never witnessed the limited action (36 minutes) the Syracuse product saw this season. He looked lost on defense, he struggled with his hands and footwork on the low block, and he jogged up-and-down the floor.
Some guys were never meant for the NBA: Fab Melo is one of those guys.
Ainge may get a pass on this one, considering he selected Jared Sullinger in the same draft. However, Celtics Nation likely would have rather seen Ainge trade Boston's 21st and 22nd draft picks to move up and grab the 7'0", 250-pound Tyler Zeller.
Instead the Cleveland Cavaliers picked up Zeller after a trade with the Dallas Mavericks. The Celtics ended up with a D-leaguer in Melo and a back surgery DL-er in Sullinger.
Jared will be back next year, hoping to continue building on his strong couple of months in late 2012 and early 2013. Fab will be where he always will—hoping for solid NBA minutes he will never receive.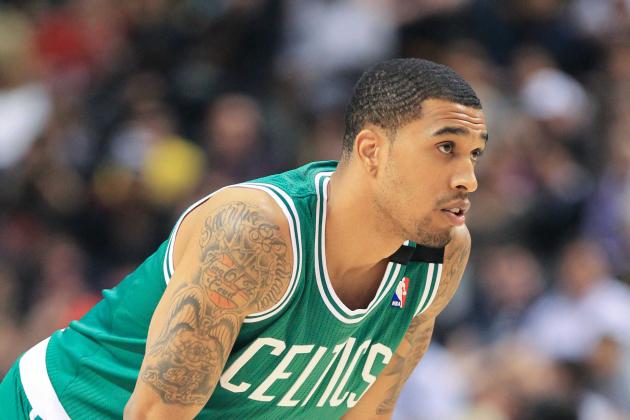 Kevin Hoffman-USA TODAY Sports

Courtney Lee has showed glimpses of brilliance on both sides of the floor throughout his four-year career. But he has never maintained the kind of consistency worth a $21.35 million contract through 2014-15.
While that fact has been proven by his mediocre regular season (7.8 points, 1.8 assists per game), it really rings true this postseason. In three games against the Knicks, he has only managed six total points with no assists.
In fact, coach Doc Rivers has decided to keep him out of the regular rotation.
"I'm not playing him right now," Rivers told Gary Dzen after Game 2. "Honestly, Jordan [Crawford] has moved in front of him on the depth chart. But Courtney will have a say in this series. I believe that."
But Lee's "say" may be nothing more than a couple words of encouragement during team huddles. He played 11 minutes in Game 3, logging two points—and no assists or rebounds—and then registering a DNP in Game 4 on April 28.
Lee has managed a minus-four points differential in the postseason, which isn't much of a surprise considering his minus-2.2 regular-season average. In losses during the season, he logged a putrid minus-11.7.
It's not like Lee doesn't possess ability. He can play solid defense at times and has plenty of potential both off the dribble and on pull-up jumpers. But his confidence issues have always kept him from emerging.
Apparently, with a salary of $5 million plus over the course of nearly half a decade, he has opted for complacency. In retrospect, Ainge undoubtedly rues the decision to pick him up.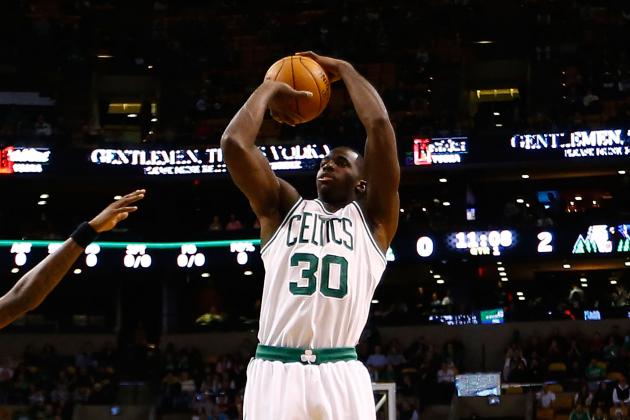 Jared Wickerham/Getty Images

Brandon Bass has been one of the bright spots of the playoffs for the Celts, primarily because of his defense on Carmelo Anthony.
But his regular season was absolutely abysmal, proving he never deserved to be the fifth-highest paid member of the Green. His three-year deal encompasses nearly $20 million.
Bass posted a decent second half last year, followed by a very impressive postseason campaign. However, he never showed the kind of value Ainge apparently saw.
The Celtics would have been better served with a more viable rebounding option or at least a more confident offensive threat. Bass was tentative on both fronts throughout 2012-13, struggling with his jump shot and recklessly dribbling into problems on the post.
Besides a meager plus-0.1 points differential in March—during which the Celtics were peaking—the former Magic forward never provided Boston with a positive impact in any month this season. His true shooting and effective shooting percentages struggled throughout the year.
Ainge should have seen the warning signs after Bass experienced confidence issues last season, especially after the seven-year veteran got benched.
Instead, the Prez focused on the positives and ignored the negatives, leading to a three-year investment he would surely enjoy getting back.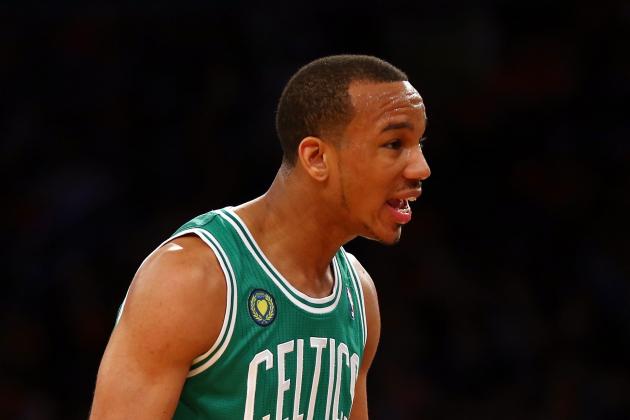 Elsa/Getty Images

When Rajon Rondo partially tore his ACL in late January, Celtics fans worried the end was near for the Kevin Garnett era.
Little did they know Boston would find a way to start winning, registering seven consecutive victories and taking 14 of 18.
But throughout that run, the Green lost rookie Jared Sullinger and veteran point guard Leandro Barbosa. The biggest blow, as it turned out, was Barbosa. His ACL tear wiped out the only true point guard the organization had left.
Paul Pierce did his best to step up in the half-court passing game, while Avery Bradley and Courtney Lee did their best point guard impressions.
However, nobody besides the "Truth" (4.8) averaged more than 2.5 assists per game during the season.
AB and Lee combined to average 1.8, despite averaging nearly 27 minutes a contest between the two of them.
To put it bluntly, the Celtics never stood a chance with shooting guards at the point.
Ainge should have known that. Down the stretch, the turnovers mounted, and the assists reached dangerous lows. Terrible backcourt ball control directly influenced Boston's inability to beat playoff teams.
In fact, before the Game 4 victory at the TD Garden, the C's had lost 14 of 20.
Ainge probably wishes he had grabbed a veteran point guard to step up for the postseason push, like a Derek Fisher. Even a washed-up Mike Bibby or Earl Boykins would have contributed playoff experience, enhanced the offense and improved the assist-to-turnover ratio.
Hindsight is always 20/20. But Danny Ainge probably feels a bit blind after looking back at these regular-season blunders.