Boston Red Sox: Winners and Losers from First Month of Action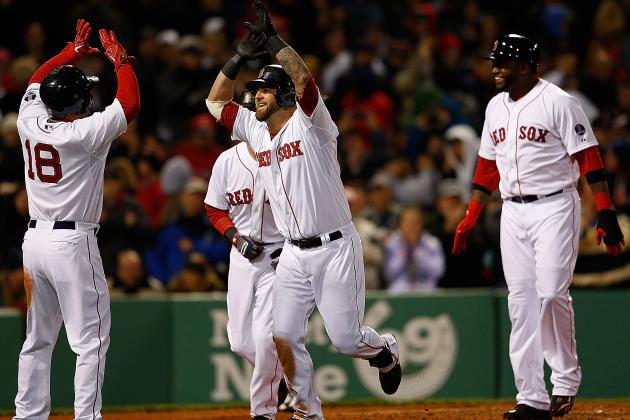 Jim Rogash/Getty Images
It has been all smiles and high-fives for the 2013 Boston Red Sox so far.
Their debatable sellout streak may be over, but the 2013 Red Sox have quickly become the talk of Boston after their incredible start to the season.
At 18-7, the Sox are off to their best start since they opened the 2004 season at 18-7. We all know how that year turned out—with World Series rings in Boston.
This year's team owes its success not to a host of mashing offensive talent, but rather to its starting pitching. Red Sox starters boast a 15-4 record and 3.07 ERA. Take out the putrid numbers of Alfredo Aceves' three starts and the starting staff's numbers look even better (14-4, 2.59 ERA).
Yes, it is safe to say the stink of the Bobby Valentine era has been washed away by this tremendous April.
However, that is not to say that everything is perfect. Several players on the Red Sox roster have not fared as well so far and will be looking to bounce back over the rest of the season.
Let's take a look at the winners and losers from the Red Sox's hot start.
Begin Slideshow

»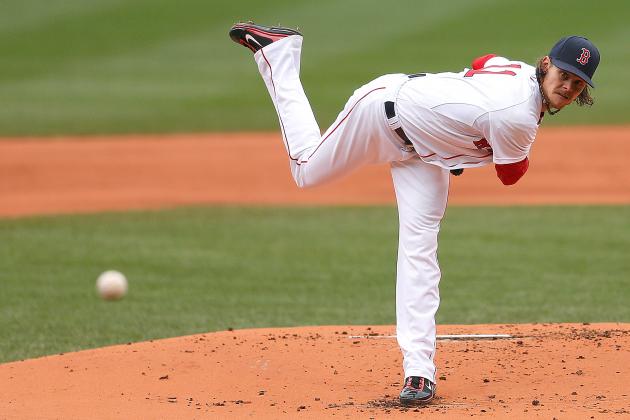 Jim Rogash/Getty Images

Given the way both were roundly criticized for their 2012 performances, it is only fitting that Jon Lester and Clay Buchholz have been the best 1-2 combination in MLB this season.
Both have returned to the form that caused the Sox to rely upon them to anchor the rotation. Their incredible Aprils are the primary reason the Sox are off to such a phenomenal start. They have gone a combined 9-0 with a 1.69 ERA and are averaging a shade under 7.0 innings per start, with neither having allowed more than three runs in one outing.
More than that, they have restored something that Sox fans haven't had in a long time—confidence in the top of the rotation.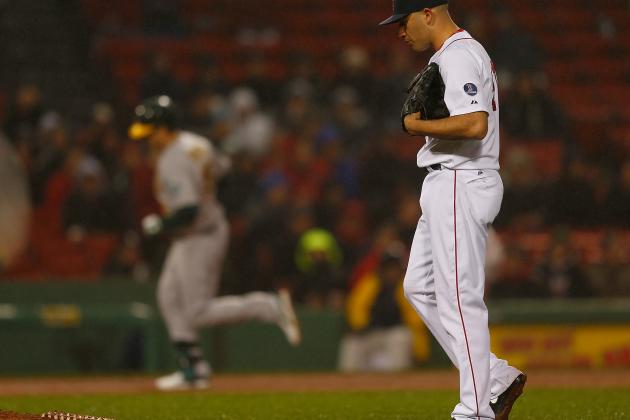 Jim Rogash/Getty Images

Alfredo Aceves was granted his wish when John Lackey got hurt, getting an opportunity to become a full-time starter.
If Aceves was ever going to show he belonged in an MLB rotation, this was it.
So much for that experiment.
Aceves was a train wreck in three starts, getting progressively worse with each outing. His futile run culminated in a 3.1-innings, eight-run, four-walks, two-balks debacle at Fenway Park against the A's in which the "Ace" was sent down to Triple-A Pawtucket the next day.
Aceves will ply his trade at McCoy Stadium as he looks to rediscover the form that made him a 10-game winner in 2011. Needless to say, that was not the plan the Sox had set forth for him a few short weeks ago.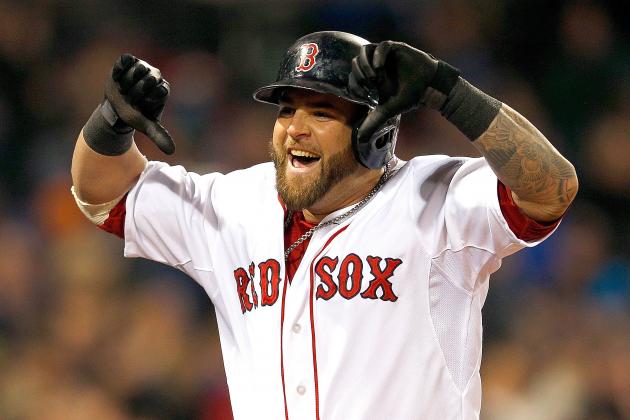 Jim Rogash/Getty Images

You know what we haven't heard much about so far this season? Mike Napoli's hip.
The right-handed slugger has been exactly what the Sox had hoped, bashing the ball off the Green Monster and driving in runs by the bunch. His 27 RBI are good for second in the MLB while his 13 doubles lead the majors.
Not bad for a guy who people were concerned about being able to stay on the field.
With David Ortiz back from injury and adding further depth to the lineup, Napoli is going to keep seeing a steady diet of good pitches to hit.
It's reasonable for Sox fans to expect that he'll keep ripping the ball, although admittedly not at this incredible pace.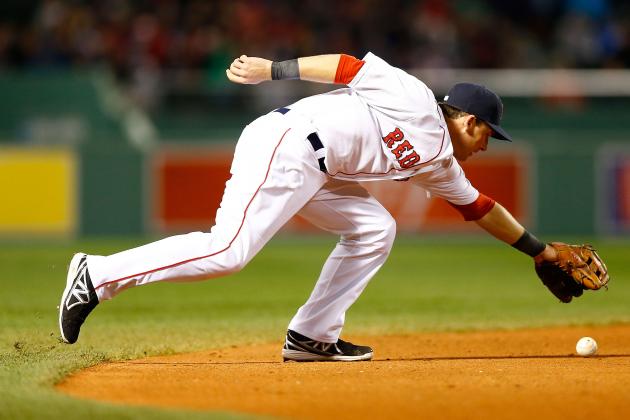 Jared Wickerham/Getty Images

The beginning of the season was really a worst-case scenario for Sox shortstops.
With Stephen Drew and his $9.25 million salary sidelined, Jose Iglesias stepped in and excelled in his absence as he went 9-for-20 at the plate and played his usual sparkling defense in the field.
Since Drew returned, he has struggled at the plate. This development—and the fact that he is JD's brother—would normally have Sox fans clamoring for Iglesias, only he has struggled as well since returning to Triple-A Pawtucket (13-for-57).
Things are starting to look up for Drew, who has been marginally better at the plate over the last week and has collected two triples and five RBI over the last four games. Hopefully, he continues to improve lest the Sox suffer through yet another year of musical chairs at shortstop.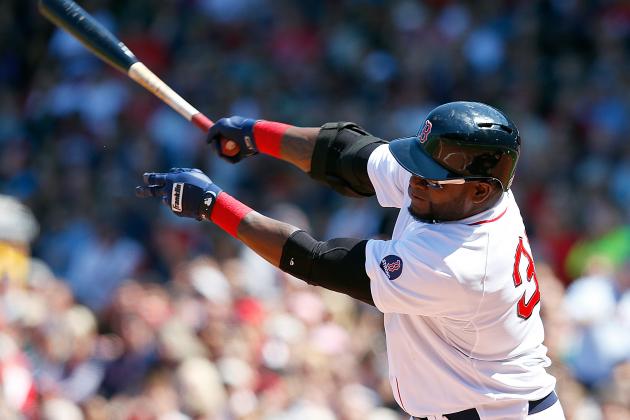 Jim Rogash/Getty Images

There is no hotter hitter in baseball right now than Big Papi.
After his world famous F-bomb prior to the Sox's first game back at Fenway, David Ortiz has hit pretty much everything opposing pitchers have thrown at him. In the eight games he has played, the slugger has amassed 16 hits (seven for extra bases), 11 RBI and a ridiculous 1.400 OPS.
While he obviously can't maintain this pace, Ortiz has allayed the fears of Sox fans for now that his nagging heel injury would impact his performance at the plate.
He also has restored balance to a middle of the Sox order that was very right-handed heavy, making a potent lineup that much more difficult for opposing pitchers to navigate.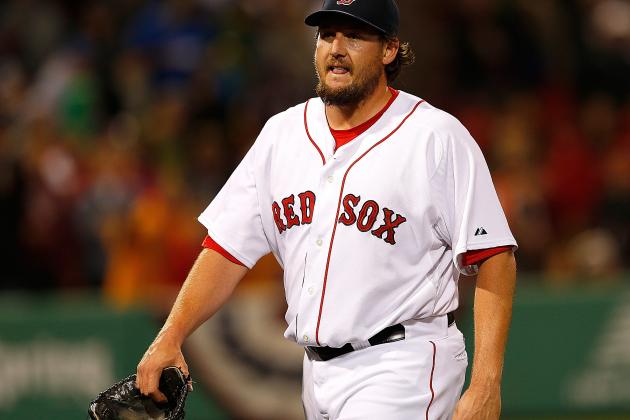 Jim Rogash/Getty Images

The Red Sox's closer coming out of spring training, it's unclear if Joel Hanrahan will still have his job when he is activated for Tuesday night's game in Toronto.
The right-hander struggled early on, although some of that may have to do with the hamstring injury that ultimately landed him on the DL.
While he did record three saves, Hanrahan also allowed six earned runs and walked five in 4.2 innings of work, although five of those runs and two walks occurred in one disastrous outing against Baltimore.
It's hard to justify taking someone's job away due to injury, but with the way his replacement, Andrew Bailey, is pitching, it seems like it would not be in the best interest of the team to thrust Hanrahan back into the ninth inning.
Manager John Farrell has the first tricky player management situation of his Sox tenure on his hands. It will be a major test for this team to see if they can find appropriate roles for both pitchers.