The Biggest MMA Losers from the Month of April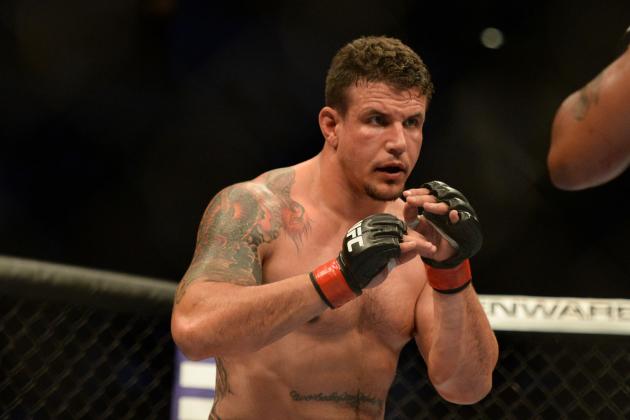 Kyle Terada-USA TODAY Sports

With the UFC offering cards every Saturday of the month, there was more than enough action to satisfy the MMA cravings of any fan. The month saw several key matchups, including two title bouts, a title eliminator and much more.
For every action, there is an equal and opposite reaction. For every winner, there is a loser, and there were a lot of losers in April.
Here is a look at the biggest losers from the month of April.
Begin Slideshow

»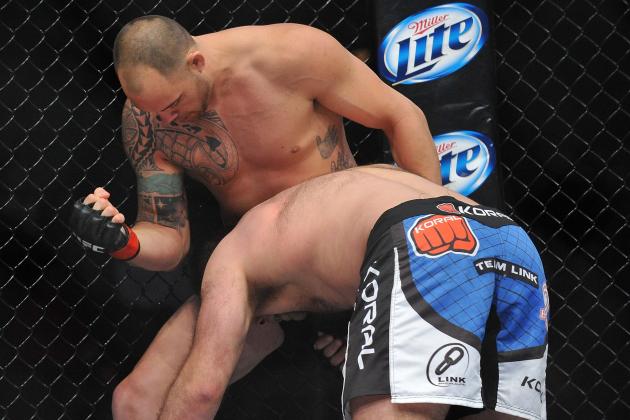 Gary A. Vasquez-USA TODAY Sports

Heavyweight Gabriel Gonzaga certainly didn't think that a takedown attempt against the cage would somehow end up with him unconscious on the mat. However, that is exactly what happened at The Ultimate Fighter finale in a matchup with Travis Browne.
Gonzaga was 2-0 since returning to the Octagon, and he had picked up an impressive win over Ben Rothwell back in January. A win over someone like Browne would have done wonders for the career of a man who hasn't fared so well since his iconic KO victory over Mirko Cro Cop in 2007.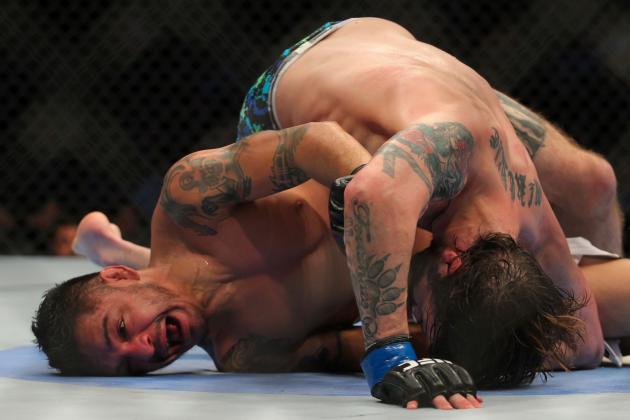 Brad Penner-USA TODAY Sports

Leonard Garcia was once a world title contender. Hard to believe, isn't it?
After four consecutive losses, Garcia was demoted to the Facebook prelims in his most recent performance. It must be an odd feeling, especially considering that he only kept his job because he is fun to watch.
However, on Saturday night, Garcia came up short once again when he was shut out by the unheralded Cody McKenzie. With five straight losses, Garcia may have finally fallen far enough that the UFC has no choice but to release him.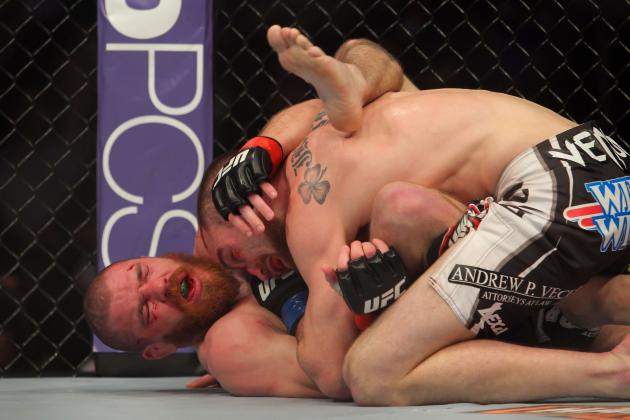 Brad Penner-USA TODAY Sports

Hot on the heels of a Fight of the Year victory against Joe Lauzon, jiu-jitsu ace Jim Miller went into UFC 159 as the No. 4 contender for the UFC lightweight championship.
Instead of parlaying that momentum into something notable, Miller became a victim of the tragically underrated Pat Healy, who is currently undergoing a tremendous surge of success.
Miller is a New Jersey native who commonly participates in home-state events. This loss is the second consecutive appearance where Miller has been submitted in front of a local audience.
Sometimes in life, you are the boot. Other times, you are the gum that gets stepped on.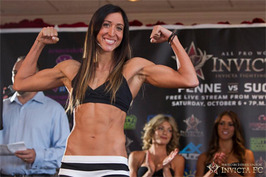 Courtesy of Invicta
Invicta atomweight Jessica Penne held gold at the beginning of April. That is not how her month ended after the upset defeat she suffered against Michelle Waterson at Invicta 5.
Waterson choked out Penne in the fourth round to give the champion the second loss of her professional career.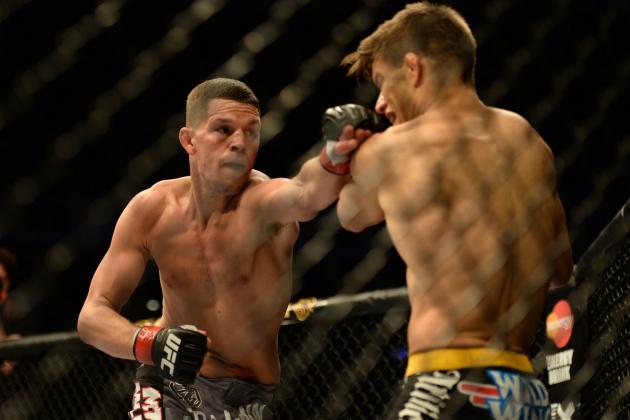 Kyle Terada-USA TODAY Sports

At UFC on Fox 7, Nate Diaz returned to the Octagon for a matchup with Strikeforce veteran Josh Thomson. Unable to successfully chase down his opponent, Diaz succumbed to multiple head kicks and was knocked out in the second round.
In December, Diaz was competing for the UFC lightweight championship. Now, he sits on a two-fight skid that has dropped him out of the division's Top 5.
Not only did Diaz come up short in this matchup, but this knockout caused the Stockton native tremendous damage to his legendary chin, which had never failed him in the past.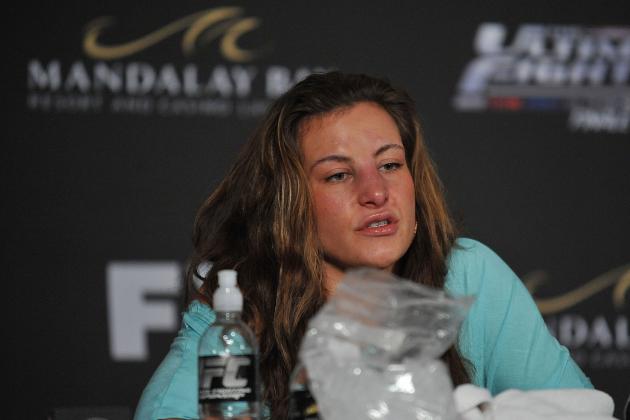 Gary A. Vasquez-USA TODAY Sports

Miesha Tate entered The Ultimate Fighter finale one fight away from earning an historic coaching gig on the popular reality program, and also a rematch with Ronda Rousey, the woman who took her championship.
Unfortunately, Tate wasn't ready for the assault that came her way at the hands of Cat Zingano. Cat was able to rock Tate with vicious knees in the third round and picked up a TKO.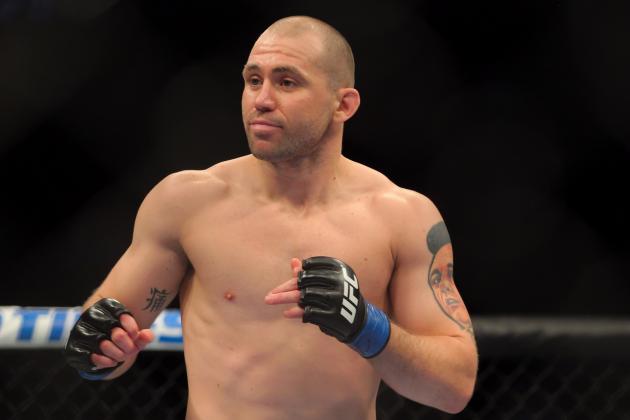 Brad Penner-USA TODAY Sports

On Saturday night, Alan Belcher competed against a Top 5 middleweight for the second consecutive time. Squaring off against Michael Bisping in the co-main event of UFC 159, Belcher was completely outclassed once again.
Belcher isn't only on our list of losers because of his pitiful performance against "The Count," but also because he reinjured the same eye which suffered a detached retina and nearly cost him his career in 2011.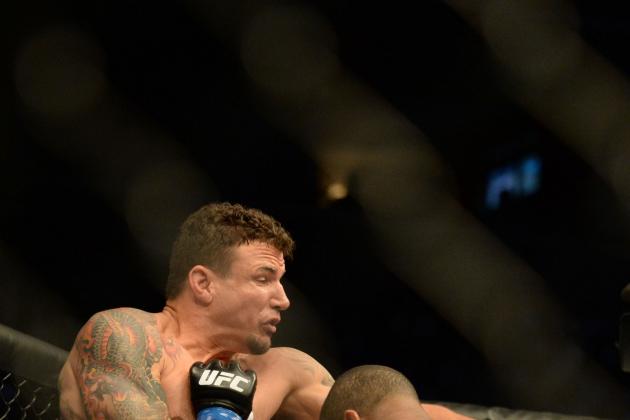 Kyle Terada-USA TODAY Sports

Former world champion Frank Mir may have switched his training camp to compete under Greg Jackson, but he was no match for Olympian Daniel Cormier.
Cormier bullied Mir up against the cage for 15 minutes en route to a lackluster decision victory. Considering that Mir prefers close-quarter combat, it is a huge blow to his image that he fared so poorly from the clinch.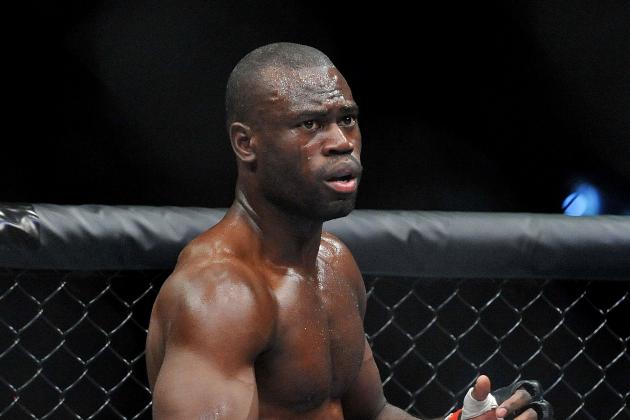 Gary A. Vasquez-USA TODAY Sports

This guy is supposed to beat Anderson Silva. Right?
Wrong.
If anyone has ever been exposed as nothing more than the product of a never-ending hype machine, it is Uriah Hall.
After picking up several exciting finishes during The Ultimate Fighter, Hall was deemed the next big thing at 185 pounds by everyone from Dana White to Chael Sonnen. However, in the tournament final, the Jamaican looked flat in his decision loss against Kelvin Gastelum.
It would have been incredibly difficult for Hall to meet the expectations that were thrust upon him, but when everything was on the line, at no point did he even come close.