Setting Expectations for Each Member of the Chicago Bears' 2013 Draft Class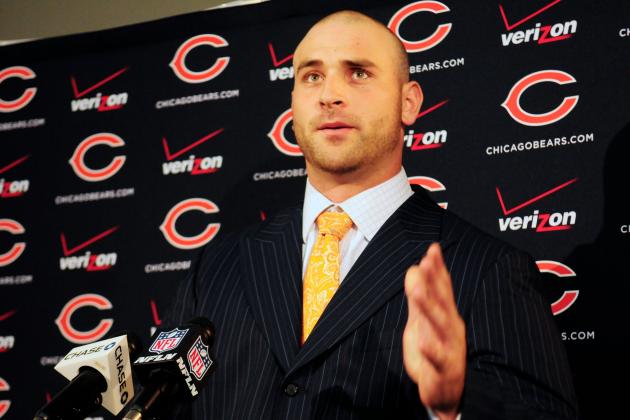 Reid Compton-USA TODAY Sports

Second-year general manager Phil Emery left some fans scratching their heads after his selection of Kyle Long in the first round of the NFL draft last Thursday night.
Throughout the remainder of the draft, he was able to select players in position of need (two linebackers, an offensive tackle and a wide receiver) and a value pick (Cornelius Washington).
Emery has proven in his first two drafts that he is willing to think outside the box and targets players with terrific athleticism and great upside.
It is hard to clearly project what a draft class is going to do in their rookie season, but they should be labeled with some sort of expectations.
Here are my expectations for each member of the Chicago Bears' 2013 draft class:
Begin Slideshow

»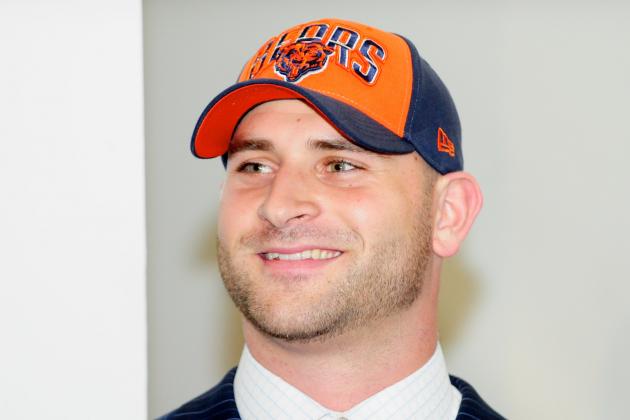 Reid Compton-USA TODAY Sports

Out of all of the selections by Phil Emery over the course of the weekend, the selection of Kyle Long with Chicago's first pick was the most confusing to some.
With Long's troubled past and relative inexperience (four career starts), it is easy to understand why some would not agree with the selection, but when you see the tape, you can understand why the Bears fell in love with him.
He has incredible athleticism for his size (6'6", 313 lbs), and despite his limited starts, he showed the ability to be a pulling guard and to get himself into the second level of defense. He needs to work on his technique, particularly in how he engages a defender as he tends to lunge instead of "manning up" with them.
Emery noted that Long's athleticism and size could eventually result in him playing tackle but said he'd likely begin at guard (h/t Chicago Sun-Times):
He's going to start out at guard. We feel like he can be a starting right tackle. We feel like he can be a good left tackle in this league so that's part of what attracted us to him, to Kyle.
The Bears are set for the upcoming season with new addition Jermon Bushrod at left tackle, and with the newly signed Matt Slauson expected to play the right guard position, Long will get the chance to battle James Brown, an undrafted free agent last season, for the left guard position.
First-round picks are expected to play early, and those expectations should be no different for Long. Although Brown showed some nice flashes at the end of last season, Long should already have a slight upper hand and should be expected to be the starter at left guard beginning Week 1.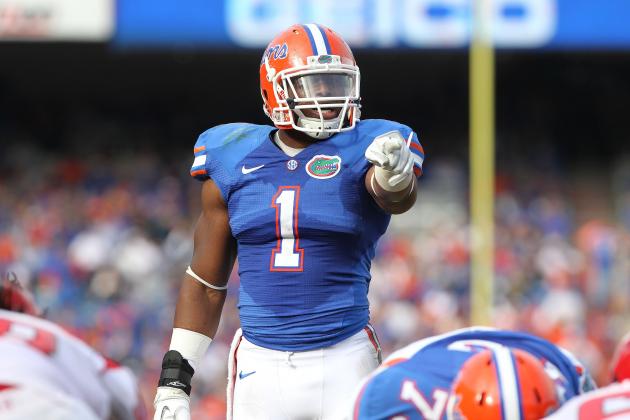 Kim Klement-USA TODAY Sports

While not as highly criticized by fans as the selection of Kyle Long in the first round, some were left questioning Emery's selection of linebacker Jon Bostic in the second round with another highly touted linebacker, Arthur Brown, still on the board.
Bostic is a prototypical middle linebacker in a 4-3 defense. He is a downhill runner who attacks gaps and is a terror in run defense. He has the ability to lay a hard hit on a ball-carrier but also has enough speed to run a guy down.
His coverage skills need improvement, but he shows good flexibility in his hips and has great field awareness.
The Bears signed veteran D.J. Williams to fill the void left by Brian Urlacher, so Bostic will likely not be getting rushed into a starting role early into the season. Playing behind a guy like Williams will give him the ability to learn the defense, and he could work himself onto the field during various situations.
Expect Bostic to begin the season as a contributor on special teams and as the backup to Williams, but it would not be surprising to see him get an expanded role if Williams is unable to perform well on and off the field.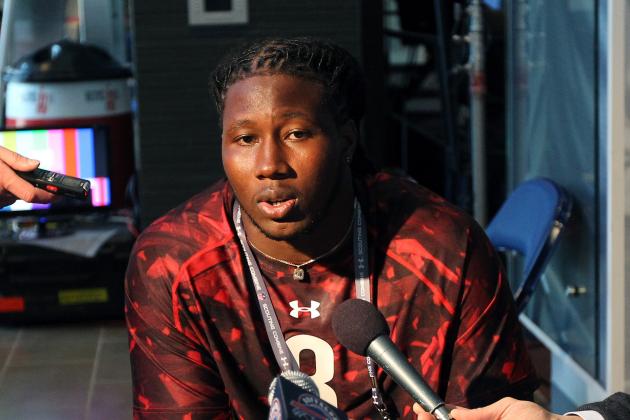 USA TODAY Sports

Emery's selection of Khaseem Greene in the fourth round frustrated some because the team had used their second-round selection on a linebacker, but many applauded the Bears for the value they got with the selection.
Greene was a two-time Big East Defensive Player of the Year at Rutgers and was once expected to be a late second-round or early third-round selection in the draft.
He is a prototypical weak-side linebacker that does well chasing the football in open space and is known as a terrific ball stripper, having forced 15 fumbles, an NCAA record, during his four years at Rutgers.
He spent the first two seasons at Rutgers playing safety before the switch to linebacker his junior year. His experience as a safety helps him in pass coverage as he has the ability to cover both tight ends and running backs out of the backfield.
Greene will likely get opportunities in training camp at both strong-side and weak-side linebacker, but with perennial Pro Bowler Lance Briggs occupying the weak side and newly signed James Anderson occupying the strong side, his fate for the season will likely be similar to Bostic's.
He will spend time as a key special teams contributor and will have the opportunity to learn from both Briggs and Anderson. If there are injuries or a drop in production from Anderson, he could see the field, but expect him to not be in competition for a starter's job until 2014.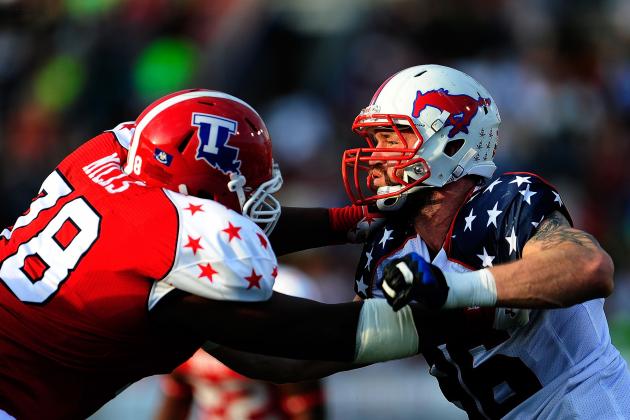 Stacy Revere/Getty Images

After addressing the offensive line with their first selection, few thought the Bears would address the offensive line again without addressing some other pressing needs (i.e. cornerback).
When the fifth round came up and Louisiana Tech's Jordan Mills was still on the board, Emery jumped at the opportunity to take him.
Mills is a terrific run blocker and likely projects as a right tackle at the next level. He needs to work on his pad height as he tends to play a bit too tall and could struggle against speedier pass-rushers.
Many have raved about his attitude and his approach to the game and that came across in his interview with the media on Saturday, saying (h/t Chicago Tribune):
Anywhere the coaches want to put me to play is good with me; left or right, either side, anywhere I can go to help my team, I'm going to do it. Like I told some of these coaches, if they have to put me at H-back to lead block, I'll do that. Anywhere I can help my team, I'll do it.
J'Marcus Webb and Jonathan Scott likely have a grip on the right tackle battle, but if he can show some promise in training camp, he could push to become the backup, making Webb and/or guard/tackle Gabe Carimi expendable.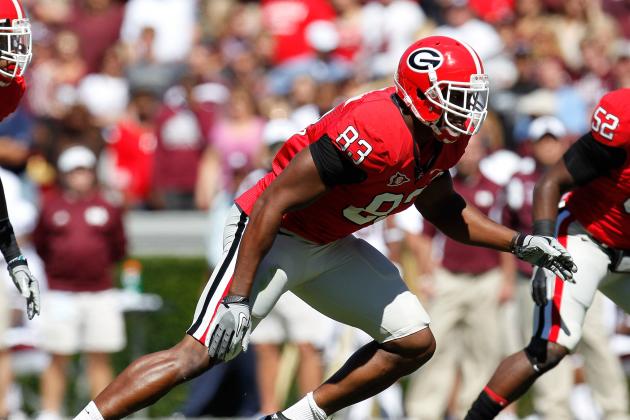 Kevin C. Cox/Getty Images

Few thought that Georgia's Cornelius Washington would be available in the fourth round, let alone the sixth round where the Bears selected him.
Emery garnered high praise from many analysts about the selection of Washington, including NFL Network's Mike Mayock who said (NFL.com):
One of my favorite players. He's a little bit one-dimensional. But you put him on the edge and ask him to hunt quarterbacks. I really like what Chicago has done.
Washington was used sporadically at Georgia because of the talent around him and because of scheme, but he showed a knack for being a solid edge rusher and could develop into a good situational pass-rusher.
He worked out as an outside linebacker at the combine and refused to do any work with the defensive line which attributed to his slide into the sixth round. Similar to how Mark Anderson was used for the Bears in 2006, they could use him in obvious pass-rushing situations which will show off his impressive speed (Washington ran a 4.55 40-yard dash at the combine).
Expect the Bears to ease him into his role, especially with a similar player (Shea McClellin) ahead of him on the depth chart. If he can show progress, he could be part of a defensive rotation that could feature he and McClellin at the defensive end positions with Henry Melton and Julius Peppers on the inside on third-down and passing situations.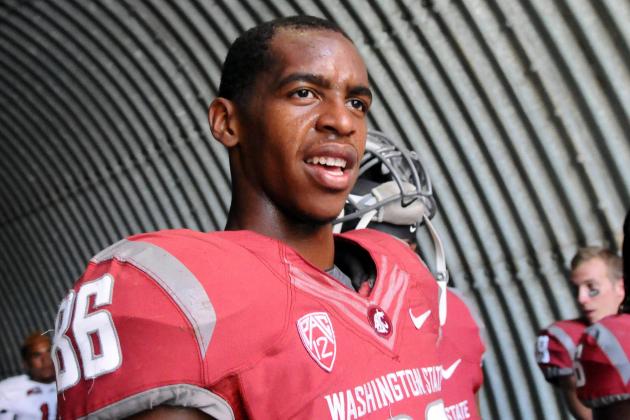 James Snook-USA TODAY Sports

A one time projected second-round pick, Marquess Wilson dropped to the Bears in the seventh round following his fallout at Washington State University that ultimately led to him leaving the team.
He was suspended late in the 2012 season and decided to quit the team, while ripping head coach Mike Leach on his way out the door.
Despite his character concerns, he was more than worth the risk in the seventh round for a Bears team still needing help at the position.
Between the 2010 and 2011 seasons, he combined for 137 catches, 2,394 yards and 18 touchdowns. In nine games during the 2012 season, he had 52 catches for 813 yards and five touchdowns.
Wilson has great speed (ran a 4.51 40-yard dash at the combine) and has the ability to stretch the field. He is great at going up and catching the football at its highest point and fights for extra yards.
Since losing Johnny Knox late in the 2011 season, the Bears have lacked the deep threat at the wide receiver position. Wilson could provide a spark, and if he can keep himself out of trouble and prove he has matured, he could find himself getting some playing time next season as a situational burner receiver.