Why It's No Slam Dunk That LA Lakers Trade Pau Gasol in 2013 Offseason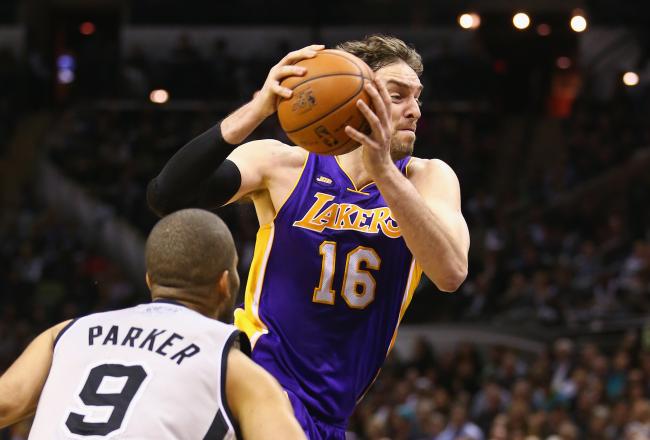 Ronald Martinez/Getty Images
If the Los Angeles Lakers are swept out of the 2013 NBA playoffs in the first round by the San Antonio Spurs as expected, you can expect some big changes to follow in the offseason.
I'm just not so sure one of those changes will involve trading Pau Gasol.
Injuries and a lack of chemistry and consistency destroyed the Lakers' season, and in the aftermath of a historically underachieving campaign, it's easy to give in to the current desperation of the moment that a swift move to deal Gasol would signify.
However, once Lakers general manager Mitch Kupchak and team president Jim Buss recover from their greatest failure, a moment of reflection on the immediate future of the franchise may be in order.
Dealing Gasol for a collection of lesser role players has been a popular move for some people, but that was before Kobe Bryant got injured, and Gasol and Howard proved they could coexist in the paint.
Bryant's recovery is expected to take anywhere from 6-9 months, and even though there are many who feel that Kobe will be ready for the 2013-14 season opener, the Lakers must have a contingency plan if he isn't.
A healthy Howard and Gasol leading the Lakers' frontcourt isn't a bad place to start.
The Lakers may be on the verge of being swept by the Spurs, but in their three losses Howard and Gasol have averaged a combined 33 points and 24 rebounds per game, with Gasol recording a triple-double in the Lakers' Game 3 120-89 drubbing.
Those numbers are just an extension of the chemistry that emerged between Howard and Gasol during the final games of the regular season. Imagine how much better they could be with an offseason to bond further and a full training camp to work out the remaining kinks.
Of course, that scenario depends on whether or not Howard decides to sign a long-term deal with the Lakers over the summer. But in the event Howard does decide to bolt for other pastures, Gasol would still provide the Lakers' insurance that they will begin their next campaign with an elite player in the middle.
Part of Howard's decision could hinge on the way Gasol has complemented him in the paint.
Many of Pau's team-leading seven assists per game in the postseason have gone in Howard's direction, and while Gasol may not be the stretch forward that head coach Mike D'Antoni envisioned, his court vision and play-making ability might be an equal trade-off.
If the Lakers choose to keep Gasol and re-sign Howard, they will begin next season with arguably the top frontcourt in the NBA, whether Kobe is healthy or not.
And if point guard Steve Nash can recover from his own injuries, the Lakers could still be a formidable team with Howard, Gasol and Nash as the focal points.
It's doubtful the Lakers will receive anything close to equal value for Gasol, and while that can be expected, why make a deal for pieces that will not improve your team?
Gasol's expiring contract could attract some suitors, but since it comes off the Lakers' books in 2014 anyway, why not just play out the final season?
I agree the Lakers must make some changes for next season, but using the amnesty clause on Metta World Peace and getting rid of some of the dead weight on the bench would probably serve the same purpose as trading Gasol.
And the Lakers would still have an elite core of players to show for it.
This article is
What is the duplicate article?
Why is this article offensive?
Where is this article plagiarized from?
Why is this article poorly edited?

Los Angeles Lakers: Like this team?