NY Knicks Must Build Crazy Momentum That Carries over into Future Rounds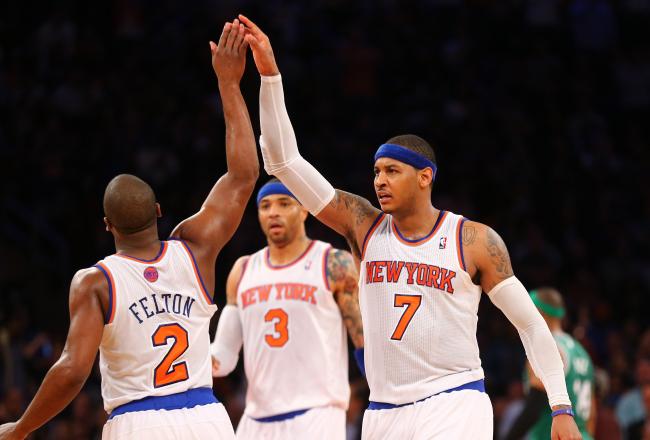 Al Bello/Getty Images
A top-three seed in the NBA playoffs—led by a hot-shooting forward, a scoring sixth man, an aging Jason Kidd, a productive Tyson Chandler, a pesky point guard, and a lockdown defender on the wing—catches fire and, to the surprise of the basketball world, rolls all the way to the Larry O'Brien Trophy.
Am I describing the 2011 Dallas Mavericks? Or am I forecasting what's to come for the 2013 New York Knicks?
Perhaps both, but only if the Knicks build up sufficient momentum in this postseason like the Mavs did two years ago.
The current Knicks are certainly similar enough to that Dallas squad in terms of personnel to add depth to that comparison. Kidd and Chandler, as a tandem, serve as the obvious starting point for this discussion, since they played pivotal roles for those Mavs and are now in the employ of Knicks owner James Dolan and head coach Mike Woodson. Both veterans are noticeably more limited now than they were two years ago—Kidd by age (he turned 40 this past March), Chandler by a lingering neck injury—but remain crucial cogs in their team's machinery, whether or not they're operating at full capacity.
Line up the rest of the rosters, and you'll find the second starting point guard with a quick first step (JJ Barea and Raymond Felton), the wing stopper (Shawn Marion and Iman Shumpert), the reserve scorer (Jason Terry and JR Smith), the three-point specialist (Peja Stojakovic and Steve Novak), the bruising big man (Brendan Haywood and Kenyon Martin), and—last but certainly not least—the superstar forward who gets buckets (Dirk Nowitzki and Carmelo Anthony).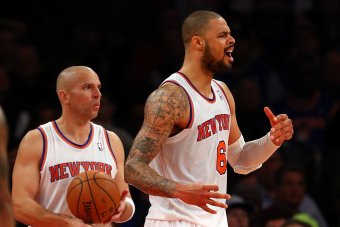 Elsa/Getty Images
It only figures, then, that these two teams would all but mirror one another on the offensive end. Both were/are prolific purveyors of the spread pick-and-roll, with an army of willing three-point shooters to create space in the middle for that big-little action as well as for the singular scoring exploits of Dirk/Melo. The 2011 Mavs averaged 21.6 three-point attempts per game (at a 36.5 percent success rate) during the regular season and upped that number to 22.2 (hitting them at a 39.4 percent clip) in the playoffs.
These Knicks, meanwhile, set a new NBA record for regular-season three-point attempts at a shade under 29 per game (37.6 percent made). Interestingly enough, their three-point prolificity has dipped to a Dallas-like 22 attempts through New York's first two playoff games, of which the Knicks have knocked down 36.4 percent. Moreover, the Knicks derive a similar share of their points (27.9 percent, compared to 26.8 percent for the 2011 Mavs) and field goal attempts (28.4 percent for the Knicks, 29.7 percent for the Mavs) from beyond the arc in the playoffs.
New York wasn't quite as consistently solid on the defensive end during the regular season as Dallas was prior to its push (the Knicks ranked 16th in points allowed per 100 possessions, while the Mavs clocked in seventh), though, to their credit, the Knicks have shown an ability to play lockdown defense at times.
As they have so far against the short-handed Boston Celtics. As hobbled as the C's offense is without Rajon Rondo, the Knicks still deserve a ton of credit for limiting Boston to 48 points combined in each of the first two second halves in their series. New York, then, has all the necessary ingredients to pull off a Mavs-like swipe of the Larry O'Brien Trophy.
But there's still a ton of work to be done by the Knicks if they're to etch themselves alongside such historic company. Like the Mavs before them, these Knicks will likely have to take out one talented team with a massive front court (the Indiana Pacers), another that's seeking to defend its title turf (the Miami Heat), and—should Russell Westbrook's torn meniscus prove only mildly injurious to the Western Conference playoff picture—the Oklahoma City Thunder.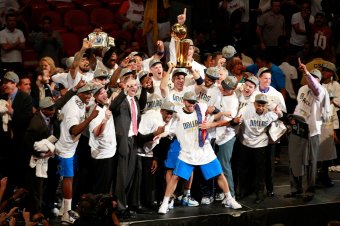 Marc Serota/Getty Images
And that's all assuming the C's don't rise up from the ashes and upend New York first.
Of course, the order for Dallas was notably different two years ago. In the second round, the Mavs swept through the Los Angeles Lakers, with their pairs of titles and giants. They also saw OKC in the Western Conference Finals, before the Thunder had ever advanced that far as a group, and took out the Heat in the Finals, before LeBron James had morphed into the fearless, crunch-time champion we see today.
The point's the same, though. It's like what Melisandre, the cultish priestess who took up with Stannis Baratheon, told Renley Baratheon in Game of Thrones: the night is dark and full of terrors.
Or, in the case of the Knicks, full of stumbling blocks. The Pacers are building up steam in their grounding of the Atlanta Hawks, at the helm of which is an emerging superstar, in Paul George, who has the chops on both ends to give Carmelo fits. The Heat are breezing through against the Bucks, and will have either the strung-out Chicago Bulls or the clueless Brooklyn Nets to handle thereafter as they march toward a second straight championship.
New York has plenty of its own concerns as well—most notably, the persistent pain in Tyson Chandler's neck and, perhaps, the extent to which Kenyon Martin's resurgent play has upset the Knicks' established order.
The path ahead is a daunting one for the Knicks. Then again, when is any path to a title not without its fair share of pitfalls?
How far will the Knicks go?
As such, it would behoove the Knicks to get their proverbial ducks in a row as soon as possible. If they can sweep the C's out of the playoffs and buy themselves some time to rest and prepare for the journey ahead, all the better.
Because, truth be told, the Knicks have hardly played their best basketball yet. They've yet to so much as sniff their stride offensively, much less hit it running. They've thus far scored 96.5 points per 100 possessions in the playoffs—a mark that would've ranked dead-last by a decent margin during the regular season—while shooting a saddening 41.3 percent from the floor.
Those numbers figure to come around in time, especially if Chandler can regain some semblance of his pre-injury pick-and-roll prowess. So long as the Knicks continue to defend like gangbusters and shoot threes as they have, they may well build themselves momentum enough to carry them through to the finish line.
Though, like any championship hopeful, the Knicks will need their fair share of luck—fortuitous bounces, insane shots falling through, the opposition bricking wide-open looks, and so on. The Mavs had plenty such luck on their side and did well to capitalize on it, particularly during the Finals against Miami. For every shot, every run, every shift of momentum, Dallas seemed to have an answer, be it a back-breaking three, an easy finish on the fastbreak, or a hard-fought score at the rim.
In essence, the 2011 Mavs capitalized on their luck when they had it and figured out how to make their own luck when they didn't. But that didn't necessarily come naturally for Dallas, at least not at the outset of their championship journey. Rather, they seemed to build up their ability to hit timely shots and snuff out runs over time, as they grew as a unit and established trust in one another. The Mavs did what "underdogs" do—they captured lightning in a bottle and rode it as far as they could.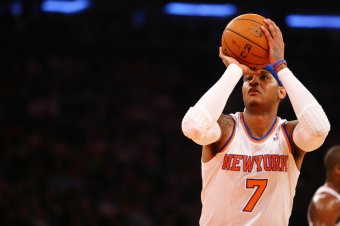 Al Bello/Getty Images
That's precisely what the Knicks will have to do if they're to reroute history and make this postseason their own. They can't rely on any inborn superiority to stake their claim to the NBA's most coveted prize. Instead, they need to get hot—particularly from the three-point line—and stay that way for a while.
And if there's any team that knows how to do just that in this year's playoff field, it's the one that shattered records for three-point shooting and bookended its regular season with eye-opening performances: the Knicks.
This article is
What is the duplicate article?
Why is this article offensive?
Where is this article plagiarized from?
Why is this article poorly edited?

New York Knicks: Like this team?