Things are about to get real interesting for Georgia and 4-star tight end Milan Richard, who just so happens to be the nephew of one Herschel Walker of Bulldogs lore.
Richard is a highly touted tight end recruit, ranked No. 16 at the position according to the 247Sports Composite, and he's also from Savannah, Ga. In-state recruiting has been a hot-button issue surrounding Georgia recruiting as of late, so Richard's hometown is more than worth noting.
When you factor in his relationship to the legendary Bulldogs running back, it would seem as if Milan is the ultimate must-have recruit for Mark Richt and his program. He's an in-state recruit, he's talented and the hype that would follow his commitment would be undeniable for the Bulldogs.
So far so good for Georgia. But then Richard's recruitment took somewhat of a turn.
To be fair to Georgia, it's a great turn of events football-wise, but it could lead to some awkward recruiting conversations sooner rather than later.
Earlier this week, 4-star tight end Jeb Blazevich committed to Georgia, in what will go down as a major recruiting win for the Bulldogs. Blazevich has tremendous potential, and he's ranked as the No. 5 tight end in the 2014 class, according to the 247Sports Composite Rankings.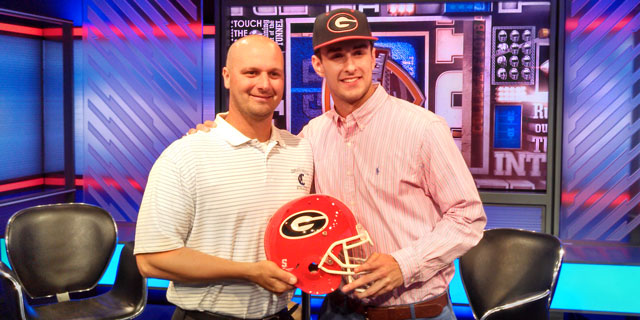 The good news for both Georgia and Blazevich could create some issue's for Milan, though. Georgia had been planning on only bringing in one tight end through this class (per Michael Carvell of ajc.com), so Blazevich would fill that quota.
There's three sides to this story, and all three are equally as interesting. Thankfully, Carvell of ajc.com did a great job of tracking down all three. First, Carvell quotes Richard's high school coach, Mark Stroud, on whether or not Georgia will continue to recruit Richard:
Richard's high school coach, Mark Stroud, said he talked on Wednesday evening with UGA wide receivers coach Tony Ball, who recruits the Savannah area for the Bulldogs.

"We just continued our conversation from earlier this week," Stroud told the AJC. "They are still going to recruit Milan and look at what they have as they go. They are not going to cut ties, by any means. They are going to actively recruit him. They want to let him know that they are still very interested in him, and they're going to continue the recruiting process with him."
Stroud goes on to imply that the situation is somewhat up in the air though, per Carvell:
"I don't think Georgia wants to make any promises that aren't going to happen. I just don't think they want to say 'Hey, you definitely have a spot here' and then something happens, know what I'm saying?

"But they are definitely going to recruit him. I guess it depends on what happens – whether Milan is still interested in Georgia, and whether some other things come thought somewhere else. I think everybody is just going to have to wait and see how it plays out."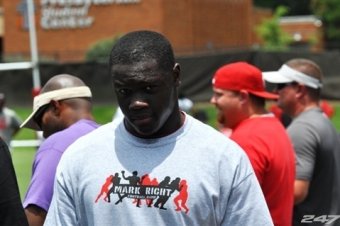 As far as Richard's interest in the Bulldogs is concerned, Stroud affirmed that Walker's nephew has always been interested in the Bulldogs, but he did seem cautious about the future (Carvell):
Is Milan still interested in UGA? "He has always been interested in Georgia, and Georgia has always been interested in him. It has been a very mutual thing all along. But how it's going to play out from here, I don't think anybody really knows."
The most interesting take here could come from Blazevich himself, though. Here are his thoughts via Carvell:
What if Milan decided that he wanted to go to UGA, too? "They can't turn down Herschel Walker's nephew," Blazevich said. "That's just part of it. If he wants to come, they are going to accept him. But I get the feeling that he wants to do his own thing and be the star somewhere else, because he definitely has the ability to do that."

If UGA changes its stance in the future and guarantees a spot to Richard if he commits, would that affect Blazevich's pledge to the Bulldogs? "Um, I don't know. That's one of those things where I would have to cross that bridge when I got to it," he said. "Yes, he's another great player. Of course, I will have to battle against top competition for playing time at any school. But it's also one of those things 'Why put a big boulder in the road if you don't have to.'"
How this plays out is truthfully anybody's guess, but it's certainly going to be one of the more interesting sagas to follow during the 2014 recruiting cycle.
In the perfect world, both Blazevich and Richard could co-exist and Georgia would have a terrific one-two punch at the tight end position, but the fact that Blazevich called the Georgia legend's nephew a "big boulder in the road" certainly goes to show you his thoughts on Georgia bringing in some major competition at his position. (For the record, I do not believe Blazevich said that with any ill-will toward Milan, so don't read into it.)
That said, this is Herschel Walker's nephew we're talking about. Georgia can't turn him away, right? One would think that Georgia would accept him with open arms if he wanted to commit, and that's only considering his skill set and potential. Even if he wasn't Walker's nephew, he would still be a big-time recruit for UGA to land.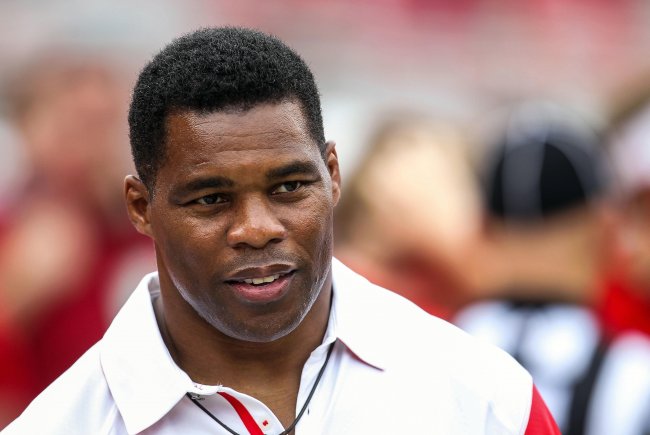 Daniel Shirey-USA TODAY Sports
That could impact Blazevich's thoughts on Georgia, though, and that's a bridge that I wouldn't want to cross if I'm coach Richt.
Where will Richard end up?
Carvell named Clemson as a "strong contender" for Richard, and the Tigers and head coach Dabo Swinney have to feel great about Georgia's predicament, especially if it could help them get an edge for the talented tight end. Ole Miss, South Carolina and Vanderbilt are also listed as "warm interests" on his 247Sports interest list, so those are programs to keep an eye out for as well if you're following Richard's recruitment.
Personally, I can't see Georgia turning down Richard if he wanted to commit. I could also see Richard choosing a program like Clemson, though, now that Georgia has landed Blazevich, especially if he wants to forge his own path and legacy in the college football world.
For fun, can you imagine the hoopla that would surround the growing Georgia/South Carolina rivalry if Richard was the choose the Gamecocks?
Either way, what once appeared to be a perfect fit between a legend's nephew and his former school seems to be marred by uncertainty.