Madden 25 Cover: Where Barry Sanders Ranks Amongst Greatest Cover Selections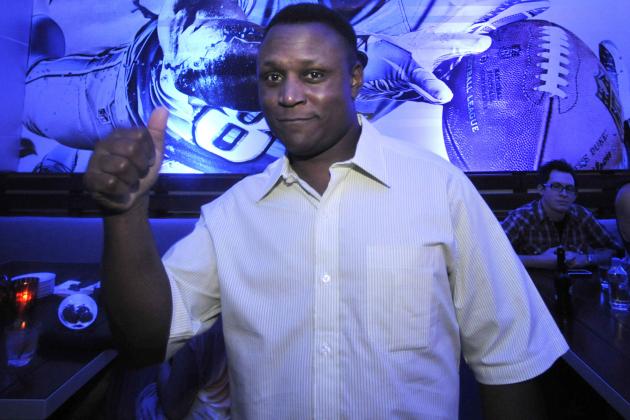 David Banks/Getty Images

In the battle between "New School" and "Old School," it seems fans of the Madden NFL video game franchise like their cover athletes a bit on the classic side.
As announced on ESPN's SportsNation program on Wednesday, former Detroit Lions running back Barry Sanders will adorn the cover of Madden 25. Sanders defeated Vikings running back and reigning NFL MVP Adrian Peterson in the final vote with 58 percent of the vote.
Peterson was the final victim in Sanders' rip through the 64-man field, which was voted on by fans throughout. A No. 3 seed in the "Old School" bracket, Sanders defeated fellow luminaries like Jerry Rice, Joe Montana, Ray Lewis and Marcus Allen en route to the crown. This will mark the second time Sanders appeared on the Madden cover, having been the background athlete along with John Madden for Madden 2000.
The single most storied sports video game in history, the 2013 iteration will mark Madden's 25th anniversary. Though Sanders was not around for the franchise's widespread takeover into the monolith it is today, he may be the perfect candidate to encompass the past 25 years.
Inducted into the Hall of Fame in 2004, Sanders is the NFL's third all-time leading rusher despite playing only 10 professional seasons. Arguably the most elusive player in league history, Sanders amassed 15,269 yards on five yards per carry and scored 109 touchdowns over the course of his career.
We all know Sanders' resume as a player. The question is how the Lions legend stacks up against the greatest Madden cover athletes of all time. Being a Madden cover athlete isn't just about being a great player, it's about standing the test of time and embodying what the game is about.
In other words, a Madden cover athlete cannot look like Hammer pants when we look back in history. Even if a player makes sense in the moment, the truly great Madden moments come from players who last forever.
With that in mind, here is a breakdown of the best Madden cover athletes in history along with where Sanders ranks.
(Note: We're only including players and excluding those who appeared in the background when John Madden was the true cover photo.)
Begin Slideshow

»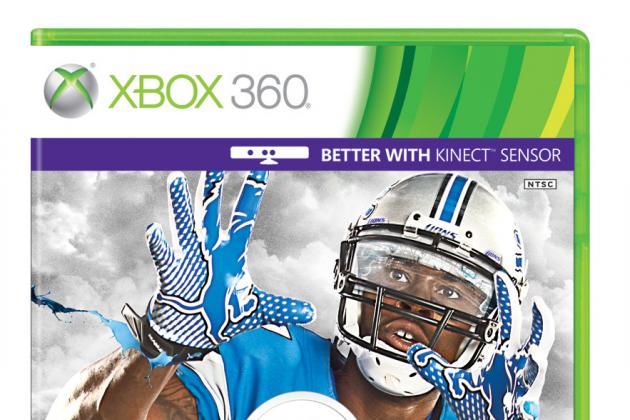 Via DetroitLions.com
Peyton Hillis (Madden 12)
Kidding.
Calvin Johnson (Madden 13)
Megatron may have single-handedly broken the "Madden Curse" once and for all. Appearing on last year's Madden 13 release, Johnson broke the single-season NFL receiving record with 1,964 yards. Though his Lions went a disappointing 4-12 after being expected to compete for a playoff spot, the fault laid everywhere except Megatron's feet.
With Madden 13 ranking among the pantheon of the franchise's best releases, Johnson was a tough omission. Once he gets a few more years under his belt career-wise or his on-field dominance translates to video game legend (looking at you, Madden 25), Johnson will probably bump off our No. 5 player.
But until now, Megatron just misses.
Eddie George (Madden 2001)
Eddie George won't go down as the most explosive or powerful running back in NFL history, but he'll always be known as the first non-John Madden figure to adorn the Madden cover as the mainframe photo. Though the legendary head coach remains very much involved with the making of his namesake, Madden's move away from the cover game began at the turn of the century.
Madden 2001 was also noteworthy because it was the first to be released for the Playstation 2 console. It was a new gaming generation for a new era, and George was the man who got that started.
Being Patient Zero alone makes him worthy of recognition.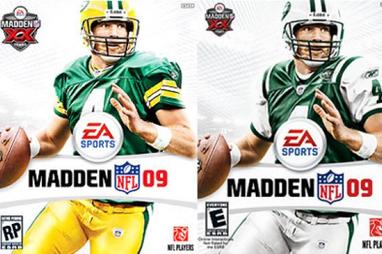 Via New York Daily News
With Sanders' selection coming on a special anniversary for the Madden franchise, Electronic Arts should feel comfortable that things will go smoother than the last time the company released a commemorative edition.
Appearing on the 20th iteration of the franchise, Brett Favre's Madden cover was particularly Favrian. Chosen after he retired, the Madden 09 cover was a final farewell to Favre, who was then seen as one of the most beloved NFL players in history.
It was a quintessential Favre cover, with his right arm cocked and ready to bullet a pass into tight coverage with his Green Bay Packers jersey on and the No. 4 on his chest.
And then the worst possible thing happened (at least from EA's perspective): Favre unretired. Not only did No. 4 unretire, he was traded to the New York Jets less than a week before Madden 09 was due for release. Left with an untenable circumstance, EA did the only thing it could. It offered a secondary cover with Favre in a Jets jersey that could be downloaded for free.
Alternate covers are nothing new in the Madden universe. EA Sports offering them to fans was unprecedented. Nevertheless, the release of Madden 09 went off without a hitch. Fans enjoyed the 20th anniversary game as much as EA Sports wanted—the anniversary package, which included a ton of bonuses, was well worth it—and the cover fiasco was minor once strong word of mouth got around.
In retrospect, Madden 09 was an embodiment of Favre's career. The release was a little messy, the timing wasn't always perfect, but the end result was fantastic.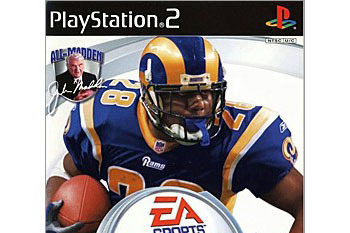 Via PCMag.com
Much like in his real life, Marshall Faulk could argue he's the most underrated running back in video game history. He was the player who did everything well. His speed was more than enough to break away for huge runs, his burst good enough to make short gains and his pass-catching was marvelous.
For most gamers, Faulk was the player you'd try to swindle out of the St. Louis Rams with no success.
Almost no combination of players could pry Faulk away from St. Louis, which represented just how highly the Rams thought of him in that time frame. Even the flawed trade logic of the early 2000s understood what he meant to the Rams.
Unfortunately, Faulk's cover came on a mostly forgotten iteration of the Madden franchise. Though not a bad game by any stretch—they never are—Madden 2003 was mostly a stepping stone for what came next.
Online play was a huge addition that would eventually revolutionize the way we played video games, but this was 2002. High-speed broadband Internet and wireless routers were expensive and nowhere near as prevalent as they are today.
History will be kind to Faulk, though. As time passes, his combination of skills will only bolster his astounding career stats—especially considering the splintering of responsibilities of the running back. Folks will one day look back on Faulk's career and wonder how he did everything so well.
And when that day comes, Madden 2003 will still be mediocre. But Faulk's place on the cover certainly won't be.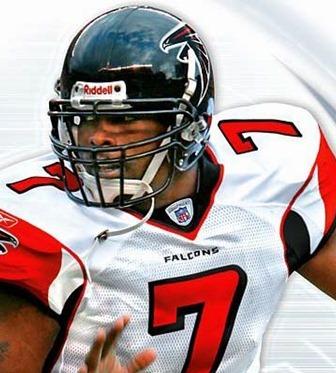 Via SportsGeekery.com
By and large, video game companies put legends on their covers. Not the other way around. After all, how could something not real create such a tangible fervor?
Well, we all know there are exceptions to every rule.
Children of the 1980s speak glowingly of Tecmo Bo. That refers to a glitch—though some would argue about just how much of a "glitch" it really was—in the 1989 release of Tecmo Super Bowl where then-Raiders running back Bo Jackson could literally run through and around anyone. There are countless YouTube clips, including the one previously linked, that show Tecmo Bo's greatness.
Well, for children of the 2000s, their answer was Madden Michael. Named after Michael Vick, who adorned the cover of Madden 2004, the then-Atlanta Falcons quarterback was nearly as fast as Tecmo Bo—only Vick could rocket the ball downfield as well.
Long before his accuracy criticisms or off-the-field problems, Vick was a revolutionary talent.
Equipped with running back speed and jaw-dropping arm strength, Vick was every video gamer's biggest dream or nightmare depending on your perspective. In Madden 2004, the developers made darned sure those skills were represented, and a legend was born.
If defense ran good coverage, Vick could scamper 15 yards backward, outrun his defender and scamper for a touchdown in the blink of an eye. If the opponent played eight men in the box, Vick could outrun the initial rush with ease and launch a perfect 60-yard bullet downfield to beat the secondary.
Hey, we never said video games had to be totally realistic. Though Vick's career was nowhere near as great as some previously mentioned on this list, it's impossible to downgrade such a legend in Madden folklore any further.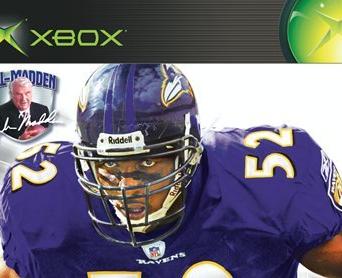 Via Forbes
There are few times in Madden franchise history when the cover athlete matched the theme of the game so perfectly.
Ray Lewis, the Baltimore Ravens linebacker who rode off into the sunset with a Super Bowl championship this winter, will largely be remembered for two things: his leadership and his ability to wallop opposing players.
Lewis is arguably the hardest hitter this side of Lawrence Taylor in NFL history, making his place on this particular cover salient.
Madden 2005 introduced one of the more beloved features in the franchise's history: the hit stick. For the first time, fans were just one flick of the analog stick away from unleashing holy hell on an unsuspecting receiver or running back. Jarring hits were not just encouraged—they were the calling card of the entire release.
While we know now that hits on defenseless receivers and the like are bad, Madden 2005 came out before the widespread worry about concussions began. Therefore, when Brandon Stokley went over the middle and your virtual Ray Lewis hit him so hard he looked like a folding chair...it was awesome.
The hit stick is still around in a much-lessened form, but those who owned Madden 2005 will forever remember its initial introduction. Simply hitting the X or square button to tackle was no longer enough. You wanted to inflict pain on your opponent—which was especially fun versus a sibling or friend—and if you missed to allow a touchdown so be it.
You wanted the big hit. You wanted the jarring fumble or incompletion. You wanted to be Ray Lewis.
Lewis' all-time great career allows his selection in 2004 to hold up perfectly. But it's what he meant to that particular release that is arguably more important.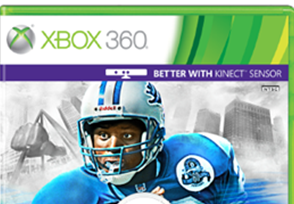 Via Detroit Lions Twitter feed
While a crowning achievement in the here and now, Sanders' selection to the Madden 25 cover is an overarching recognition of his brilliant legacy.
Retired for closing in on a decade-and-a-half, Sanders has somehow continued to stay beloved despite staying out of the limelight—an almost unprecedented feat for someone with his resume.
Contemporaries like Jerry Rice, Troy Aikman and Dan Marino have gone on to wild success in broadcasting. John Elway has become one of the best executives in the NFL. Plenty of others have gone on to try one or both of those fields only to fail.
Barry Sanders has been retired. His public appearances have been rare, as he was seemingly satisfied with all he accomplished on the field.
For most players, walking away without once looking back is an easy way to get forgotten. The NFL is an ever-evolving league, one that will see fans forget about even the greats once their time is gone.
That didn't happen to Sanders—and that makes it all the more impressive he won the Madden 25 vote.
There is no median voting data for these sorts of things, so it's hard to know what type of voting pool we're working with. But it stands to reason that more folks who voted during the process were far more of Adrian Peterson's generation than Sanders'.
Luckily, Sanders is the perfect old-school running back for this generation.
His highlights—astounding defenders with a combination of break-neck speed, lightning quickness and Rhodes Scholar smarts—are tailor-made for YouTube. His work on outside linebackers and cornerbacks make Kyrie Irving's embarrassment of Brandon Knight during the NBA All-Star weekend look tame.
Sanders is still relevant because everything he did is still astounding. Emmitt Smith may hold the all-time leading rushing title, but there is hardly a question who is the most beloved running back of the past three decades.
As such, Sanders will become the greatest Madden cover athlete of all-time.