5 Factors Fueling Miami Heat's Strong Start to Playoffs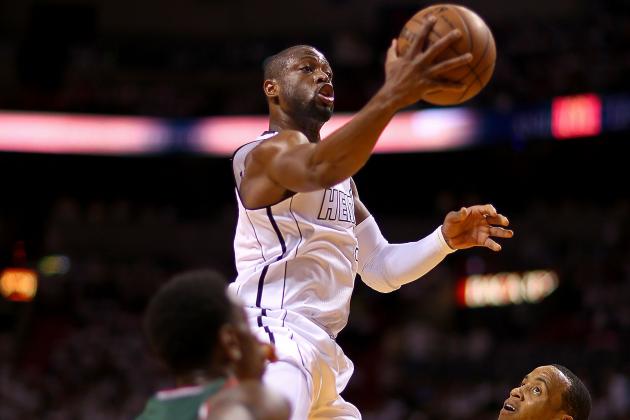 Mike Ehrmann/Getty Images
So far, the Miami Heat are soaring high above the Bucks.
When they speak to the media, Miami Heat players and coaches invariably show respect to their opponents, even when those opponents are quite obviously overmatched.
So no one on Miami said anything, after taking a 2-0 lead in the first-round series, that could be interpreted as a sign they aren't taking the rest of their assignment seriously.
"We held court," Heat coach Erik Spoelstra said. "We protected it for two games. We did what we're supposed to do. And that's it."
That's true, but they also held the Milwaukee Bucks to an average of 86.5 points over those first two contest, dominating Game 1 and then playing below par in Game 2—and still showing they can pull away offensively whenever they press the pedal.
So far, the Heat are what we thought they were: a juggernaut led by the game's best player who is surrounded by two other stars and a variety of pieces that appear to fit perfectly.
The competition will get tougher as the playoffs proceed, with the rugged (if battered) Chicago Bulls or balanced Brooklyn Nets waiting next.
But, in reality, either team would need the Heat to slip some simply to have a shot.
Instead, for a variety of reasons, Miami appears to still be surging.
(All quotes in this piece were collected through the course of the author's coverage of the Miami Heat for the Palm Beach Post. All statistics were accurate though Game 2 of the first-round series against the Milwaukee Bucks.)
Begin Slideshow

»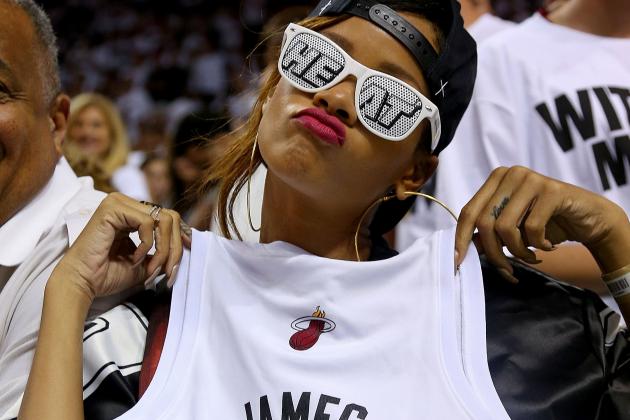 Mike Ehrmann/Getty Images
Even Rihanna got in on the Heat's house party.
Around the nation, there isn't much respect for Miami Heat fans.
They see the empty seats, especially in the lower bowl, as games begin—and again as the third quarter starts. And they see the celebrities on the floor seats checking their phones or looking away, more interested in being seen than seeing what's on the court.
They hear little noise during long stretches of the game, until there's a dunk or the PA announcer pleads for it.
They notice on social media that many of those now pulling for Miami appear to be recent converts, without much knowledge of anything that happened during the franchise's first two decades.
So they'd be surprised by this statistic:
The Heat have become almost unbeatable inside AmericanAirlines Arena.
This season, Erik Spoelstra's team was 37-4 in the building beside Biscayne Bay, following a 28-5 record last season, and an 11-2 record last postseason.
In light of those statistics, and the fact that certain players—notably Ray Allen have played much better at home this season—it was hardly stunning that Miami would handle an outmanned Milwaukee Bucks squad in the first two games.
The question now is whether the Heat can replicate those performances on the road.
The Heat were 8-9 away from home as of January 14, before going 21-3 the rest of the way.
One of the 12 losses this season came in Milwaukee.
"They're going to come out and play with emotion," Dwyane Wade said. "I've been in Milwaukee when they've had playoff teams. I know that place can get very loud in the Bradley Center."
The question is whether the Bucks can make any noise.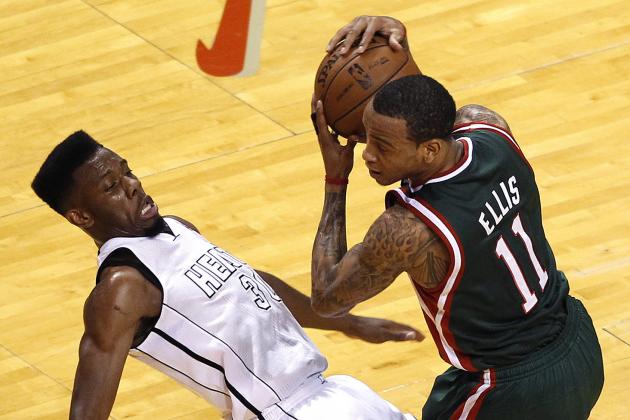 Robert Mayer-USA TODAY Sports
Norris Cole continues to get up into opposing guards.
Erik Spoelstra was clearly considering a change.
The Miami Heat coach was coy about his starting lineup prior to Game 1 of his team's first-round series against the Milwaukee Bucks, leading to speculation that he would be replacing Udonis Haslem with Shane Battier at power forward.
After all, while Haslem had started during the 27-game winning streak, the statistics when Battier played with Mario Chalmers, Dwyane Wade, LeBron James and Chris Bosh were staggeringly good this season.
As it turned out, Spoelstra stayed the course, not as much because of Haslem's improved play in the second half of the season as his desire to keep the second unit intact. He is a believer in continuity.
As he said in March, during the streak: "We pretty much have a penciled-in rotation and that evened things out. We tweaked in two different areas, small areas, and that helped level things out. That's not the reason for the streak, it just helps with consistency. Some guys now know when they're getting minutes, when they're not. Guys who aren't playing have to stay ready, it isn't easy. But at least they know. And from there, every other game, something will happen and you've got to adjust."
During the first two games of the Milwaukee series, his rotation has worked rather well. In Game 1, Ray Allen scored 20 off the bench. In Game 2, Allen was one of four subs—along with an energetic Norris Cole—who helped LeBron James orchestrate a 12-0 run at the start of the fourth quarter.
"It's not surprising, what our bench brings," James said.
One of those subs?
He's on the next slide.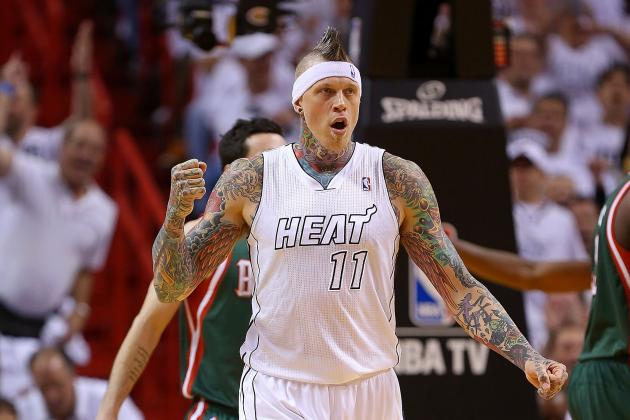 Mike Ehrmann/Getty Images
Chris Andersen has flexed his talent in the first two games.
We have enough.
That was Erik Spoelstra's mantra during the early stages of this season, when his Miami Heat sometimes appeared outmanned on the boards and often seemed a bit short on energy.
At the same time, Spoelstra's texts to Pat Riley suggested something different:
He kept asking Riley to sign Chris Andersen.
Riley, after doing the due diligence on Andersen's off-court issues, finally did, and you can argue that it was the most significant addition any NBA team made during this season.
Miami was 39-3 in games Andersen played during the regular season, and he is a major reason why the Heat are 2-0 in the postseason.
"He has come into the game and had an impact," Milwaukee Bucks coach Jim Boylan said.
For the first time with Miami, Andersen scored in double figures in back-to-back games, scoring a total of 20 points on 8-of-10 shooting. He has four offensive rebounds in each game, and his putbacks in the second half of Game 2 were critical to the Heat pulling ahead. Defensively, he's been active, backstopping his teammates and altering shots.
And he's done something even more difficult: he's energized a crowd that can sometimes get a bit complacent.
"We've got to have our fans behind us, man," he said. "When they get this place roaring, I mean it sends shockwaves through you. That's just the electricity they're sending through us— and we answer to it."
Since his arrival, few question whether the Heat have enough.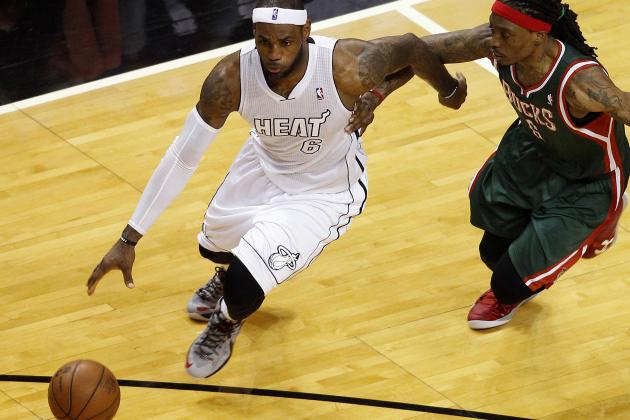 Robert Mayer-USA TODAY Sports
LeBron James didn't force the action in the first two games and was still effective.
Dwyane Wade's response came as somewhat of a surprise.
After what appeared a vintage performance, with two dunks, relentless cuts and total defensive domination of Milwaukee Bucks matchup Monta Ellis, Wade was asked this question.
Was that reflective of how he feels?
"No," Wade said. "I'm not where I want to be."
He went on to explain that his bruised right knee—which played a role in him sitting out nine of the final 15 regular season games—felt better than in Game 1, "and hopefully it will be better in Game 3."
Wade's health ranks as Miami's primary concern throughout these playoffs.
The spread-out schedule, however, should help.
And even if all he can offer is what he provided during the first two games of the first-round series, it will probably be sufficient. That's because he, LeBron James and Chris Bosh have made such progress over the past two years in terms of learning how to assist each other.
In Game 1, Wade was 5-of-12. But James and Bosh were 14-of-18.
In Game 2, they were 11-of-25. But Wade was 8-of-14, which included a bank shot reminiscent of his playoff run in 2006.
In Game 3?
It's a bet that at least two of the three will fare well.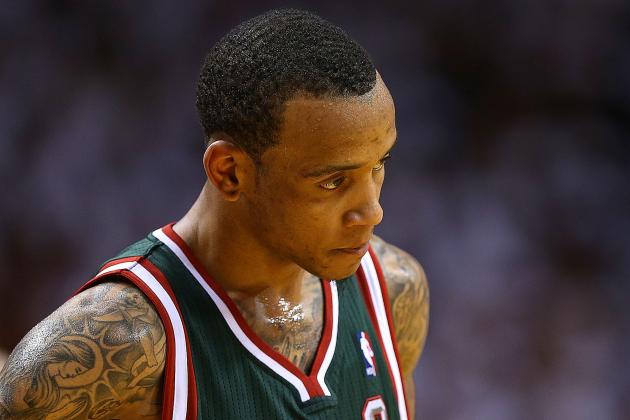 Mike Ehrmann/Getty Images
Monta Ellis is a nice player, but he and his teammates all have their limitations.
Brandon Jennings was right about one thing he said prior to this series.
"I'm sure everybody is writing us off."
So let's cut him a break for the second part of his statement—"I see us winning the series in six"—and examine why no one had faith in his Milwaukee Bucks team.
Much of it, for sure, was about the Bucks' unfortunate draw: a Miami Heat team with three players better than anyone on the Milwaukee roster and with a 37-2 record to close the season.
But much of it was also about Milwaukee.
After all, while no one expected the Philadelphia 76ers or New York Knicks to advance over the Heat in the first round either of the past two postseasons, no one was especially surprised when each team grabbed a game at home.
If the Bucks did that, it would provoke considerable confusion.
At the moment, Milwaukee seems to be a collection of mismatched parts: two guards (Jennings, Monta Ellis) who shoot a lot but not especially accurately, a promising big man (Larry Sanders) who can't stay out of foul trouble, peripheral players (Ersan Ilyasova, Mike Dunleavy) who drift in and out, a heralded in-season acquisition (J.J. Redick) who is hardly getting on the floor, and an interim coach (Jim Boylan) whose record this season is worse than the man (Scott Skiles) he replaced.
There's little cohesion, with so many pending free agents, and Boylan's time short.
Luc Mbah a Moute's comments, after the Game 2 loss, said it all: "We competed pretty much the whole game. But they're a good team. They found a way in the fourth quarter and as soon as they found a little weakness they exploited it and never looked back."
Milwaukee simply has too many weaknesses against an opponent of such stature.