Final Regular Season Grades for Each Boston Celtics Player in 2013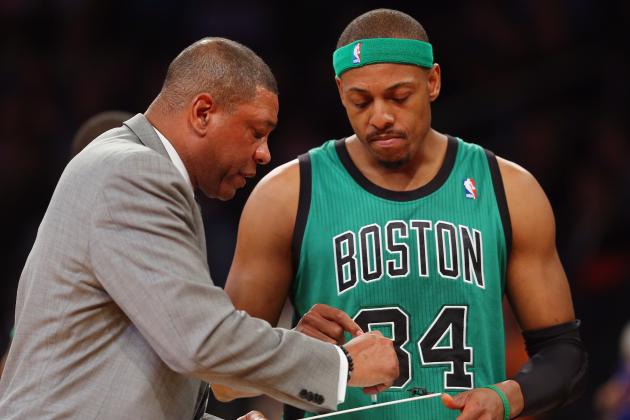 Elsa/Getty Images
Dr. Rivers and Paul studying for a big test. Is Pierce worthy of an A+ ?
With the 2012-13 season in the books and the NBA playoffs underway, now seems like a good time to analyze the Boston Celtics' roller coaster regular season.
In January, everyone once again counted Boston out. Then came the injuries, losing streaks, trade rumors and Chinese League pickups. It was a wild time.
But the Celtics went on a memorable 14-4 stretch between February and March, somehow catapulting over the .500 mark and eventually locking up the no. 7 seed.
Some of Boston's roster players drove that postseason push. Others, unfortunately, hindered the cause.
The following reviews and grades detail each Boston Celtics player's regular season, based on a rubric consisting of expectations, potential, impact and overall performance.
The report cards will move from the bottom of the depth chart up to the most important current rotation. The grading scale ranges from A+ to F.
All statistics obtained from NBA.com/stats, ESPN.com, and Basketball-Reference.com. Please note that the writer is also a college English teacher, so it is in his nature to grade a bit harshly. Extra credit for anyone who comments below.
Begin Slideshow

»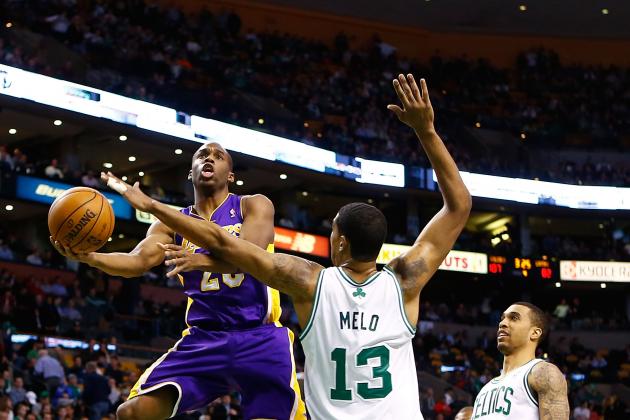 Jared Wickerham/Getty Images
"Shoo, fly!"
Fabricio "Fab" Melo, the controversial draft pick GM Danny Ainge selected right after Jared Sullinger, has put together a forgettable rookie season. The big man out of Syracuse bounced between the D-League affiliate Maine Red Claws and Boston throughout the year, ultimately getting called back to the bench for the playoffs.
And the bench seems to be his permanent home as long as he remains on contract. For a legitimate seven-footer with an NBA body (listed at 255 pounds) he certainly does not possess NBA instincts or defensive skills. He often looks lost, like a chicken with his head cut off or a cow who wandered into a brier patch in the woods.
His offensive game never yielded many positives, either. There are some guys who always seem to be in the right place at the right time, and then there's Fab Melo. He's like a shopping cart in a parking space—he's getting in the way of where you're trying to go and what you're trying to get done.
His hands make matters worse. On more than a couple occasions this year, Rajon Rondo drove the lane and dished to him, only to have Melo's uncoordinated grease-hands fumble the ball out of bounds. And unless he has an open dunk, none of his field goal attempts are a sure thing.
The glass appears to be half-empty with Melo. His end-of-year defensive rating finished at a mediocre 104 points and he maintained an 11.4 turnover percentage. He grabbed three rebounds in a total of 36 minutes, a span in which he managed seven fouls. Maybe he should have been a defensive tackle instead.
Melo came close to getting an incomplete, but incomplete grades are generally given to those expected to eventually perform at a higher level. With Melo, unfortunately, what you see is what you're going to get.
Grade: F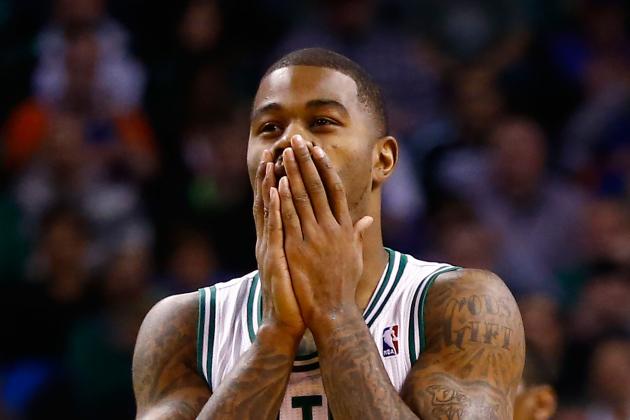 Jared Wickerham/Getty Images
"I passed!? I can't wait to put this on my fridge!"
Yet another CBA import, the self-proclaimed "Real T-Will" delivered occasional moments of brilliance for Boston this year. The guard/forward hybrid played really well with Jordan Crawford, and showed that he can drive to the lane as well as knock down shots from medium-to-long range with relative consistency.
But just like the really hot chick in college you had nothing in common with, Williams and the Celtics struggled to find a way to work. They tried to plug him in at point guard at certain junctures, but his 0.5 assist-to-turnover rate scares the bejesus out of just about everyone.
They threw him in at shooting guard and small forward, but those positions became crowded with Courtney Lee, Jason Terry, Jeff Green and Paul Pierce. At 6'6", 220 pounds, T-Will is a highly athletic two-guard with substandard range. His defense can be streaky, and his often-erratic ball control explains his 17.2 turnover percentage this year.
Williams provides satisfactory skills in many areas but proficiency in none. As Bill Belichick would say, "it is what it is." Next year, the Louisville alum will likely move on to the fifth NBA organization of his career, and seventh team since 2009. The "Real T-Will" might be getting real tired of packing bags.
Grade: C-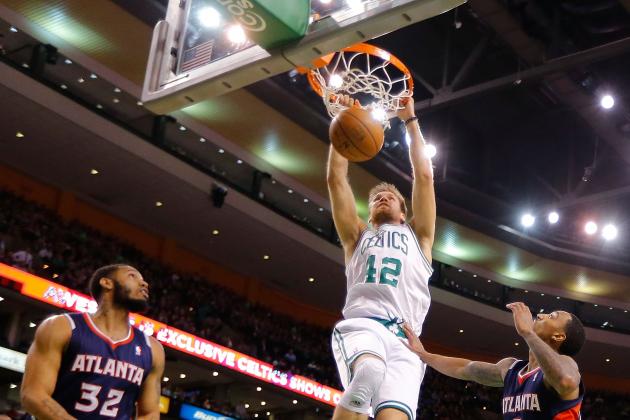 Jared Wickerham/Getty Images
B is for buckets.
Shavlik Randolph, the third and final CBA addition to the Celtics, became somewhat of a cult hero in Boston this March. He stepped up big time on the interior, logging ridiculous rebounding rates and providing solid plus-minus numbers.
His 12.7 total rebounds and 5.1 offensive rebounds per 36 minutes easily led the team. He grabbed nearly 25 percent of all available boards while on the floor.
And Randolph, who finished his time in the CBA as the league's leading scorer, also found a way to contribute near the offensive rim. He combined rugged aggressiveness with smart finesse moves down low to average four points (on 58 percent shooting) in just 12 minutes a game.
Unfortunately, Randolph had issues with guarding elite big men, often getting into foul trouble. He actually averaged a shade under seven personal fouls per 36 minutes. On the other end, his foul trouble came at the line, where he shot a meager 40 percent.
Given the success the big 6'10", 240-pound Duke alum and former 76er found in the Celtics' green, Randolph could be asked to return for an encore. His team mentality won't hurt his cause—Shav always seems to be the first player off the bench to celebrate a great play by a teammate. Don't expect Danny Ainge to overlook a team-oriented, hustle center who actually makes some kind of an impact.
Grade: B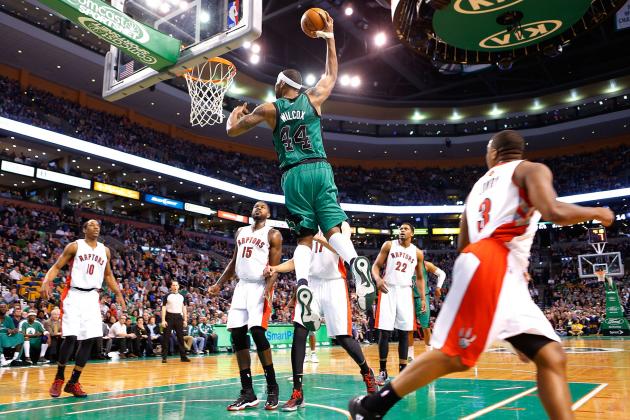 Jared Wickerham/Getty Images
Chris "Air" Wilcox, defying age and gravity.
Ten-year veteran Chris Wilcox has come a long way in his career. He's played 628 games (scattered across tenures with six NBA teams), and this year marks his first-ever playoff series. He would have been able to say that last year, but he was released after doctors discovered he needed to undergo a heart operation.
Upon a fully-healthy return this season, Wilcox started off a bit slow and inconsistent. The team even tried to include him in the February trade to the Washington Wizards for Jordan Crawford, but he ultimately used his Bird rights to reject it.
Good decision, as his best playing days in three years came after that deal (Jason Collins ended up traveling with the injured Leandro Barbosa for Crawford.)
Wilcox stepped up his defense after the All-Star break and even started picking up his offensive explosiveness. His powerful dunks and exciting alley-oop finishes dazzled fans during Boston's strong run between late January and mid-March.
He looked like a changed man, playing with confidence and carrying himself with the veteran poise Ainge always expected of him.
Unlike the aforementioned Fab Melo, Wilcox is one of those "right place at the right time" guys. He knows about effective spacing, back-cuts, screen and rolls and positioning. And he has the hands to finish off a nice dime or a sweet lob. He finished the season with 11.2 points per 36 (on 72 percent shooting), and a solid 12.5 percent rebound percentage.
For a guy who makes upwards of $850,000 and nearly got dealt, Wilcox's second half has been a success. His overall game certainly makes a return to the parquet seem improbable, but that has no affect on a relatively successful campaign with a lot of heart.
Grade: B-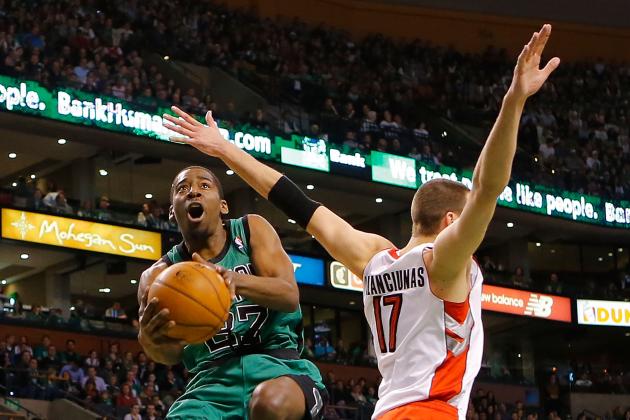 Jared Wickerham/Getty Images
C stands for careless with the basketball.
Jordan Crawford will always be known as the Xavier college kid who dunked on LeBron James. Professionally, he will forever be an enigma.
He's got an eccentric personality and an erratic playing style. He never met a shot he did not like. He passes really well—when he feels like passing the ball. He is the most interesting ball hog in the world.
Get that man a Dos Equis. Or a one-way ticket out of Boston.
Look, there's no denying his scoring ability. He can slash to the hoop or pull up in someone's face from just about anywhere within 30 feet.
However, he's far too inconsistent from long range, he's far too complacent a defender and he's far too disinterested in the team game. He finished the year with a 15.5 turnover percentage, and only assisted 18.6 percent of the Celtics' converted field goals while he was on the floor.
Some people love this guy. As written in previous articles, yours truly could do without him. He could be an upper-echelon talent if he learns how to play within the confines of NBA team basketball. Crawford was likely an AAU standout in his teenage years—unfortunately for us, he still seems to be there in his mind.
Grade: C+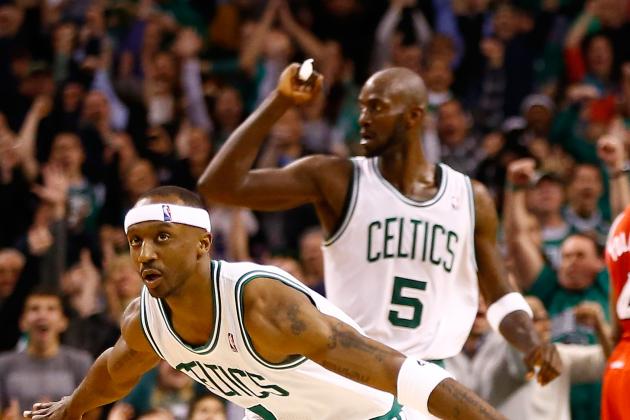 Jared Wickerham/Getty Images
The Jet was partially grounded this year.
Remember when people thought Jason Terry would help Boston forget about Ray Allen's crossover to the evil empire of the Miami Heat? So much for that.
Besides a couple of strong stretches in November and March, "Jet" hasn't done much to improve the C's offense on the whole. In fact, his points differential since the All-Star break is minus-34.
Terry's 37 percent three-point shooting this year sits right around his par for the course career-wise. But his overall production, especially points and assists, has dramatically decreased. And his defense is basically nonexistent at this point.
He's averaging career lows in points (15.0) and assists (3.7) per 40 minutes, and his .434 from the field ranks as his second-worst percentage since 2003-04.
The 35-year-old two-guard provides good momentum swings here and there, as well as some veteran, playoff-tested leadership. And his tattoo verifies his Celtic pride. But most fans regard Jet's three-year, $15.67 million deal as a bust.
Grade: C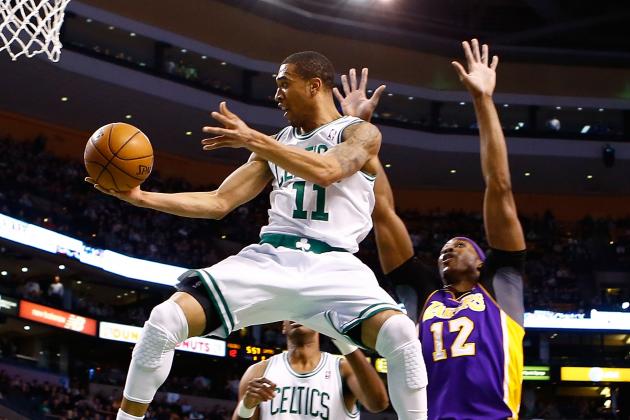 Jared Wickerham/Getty Images
Effort equals grade, Courtney.
Yet another disappointment, Courtney Lee finished the 2012-13 season with the second-most minutes of his five-year career but he scored the fewest points.
Lee entered the postseason with a minus-91 points differential (minus-122 on the road). In Celtics losses he logged a staggering minus-241.
He did set a personal record for single-season assists (143). But 1.8 dimes a game doesn't exactly set the world on fire, especially with Rajon Rondo missing 44 games. Besides, his 13.0 turnover percentage and 1.6 turnovers per 36 minutes are career-highs as well.
So what gives? Lee often shows glimpses of a spectacular ballplayer, exhibiting superb man-to-man defense on one end and slashing to the hoop or knocking down jumpers on the other.
But he often lulls himself to sleep like a baby staring at a mobile. He loses all aggression, in turn hampering the team's pace and rhythm.
Lee could still come out of his shell between now and the end of 2014-15, when his $21.35 million contract expires. But it's disconcerting to employ two veteran shooting guards—at $5 million-plus per year each for multiple years—when their production declines in the first year.
Grade: C-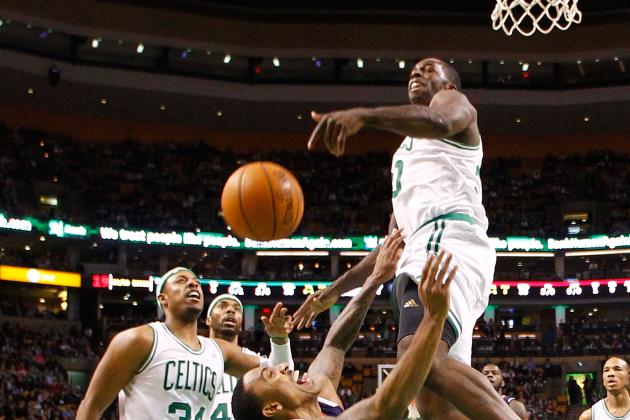 Jared Wickerham/Getty Images
Hot potato!
Speaking of declining production, where the hell did the Brandon Bass from 2012 disappear to? He was like Bill Cosby in "Ghost Dad"—you know he's there, he just does you no good.
After a strong second half and postseason last year, Bass earned himself a new three-year deal worth close to $20 million, then proceeded to lollygag through most of the season like a lost stumblebum (look it up, it's a word).
Oftentimes, it appeared he had forgotten how to dribble the ball. He would put his head down and spin like a bucking bull, losing the ball in a wild ordeal.
And his jump shot provided no relief—he squared up with so little confidence and such weak legs one almost had to turn away to avoid witnessing the front-rim clanks.
This all contributed to his lowest per-36 scoring average (11.3) since 2006-07. And his 6.8 rebounds per 36? The lowest of his entire career.
It's not so much that he takes bad shots, or has no shooting ability (his .486 isn't all that bad). It's more of an issue with his spacing, footwork and again, confidence. He's with Fab Melo in the middle of the farmer's street, mooing pointlessly.
He calls for the ball but then has no clue what to do with it. He doesn't get open enough to create space. He dribbles into traffic and has to kick it back out, dwindling the shot clock.
He mopes about like an oaf instead of kicking it into overdrive like he has in the past. The moping and low confidence only worsened when he managed to lose his job to the rookie, Sullinger.
Bass seems to be picking it up in this final stretch with improved shooting and a better rebounding rate in the month of April. That's relieving, especially for the playoffs, but it's not going to get him out of this bad regular season grade.
Grade: D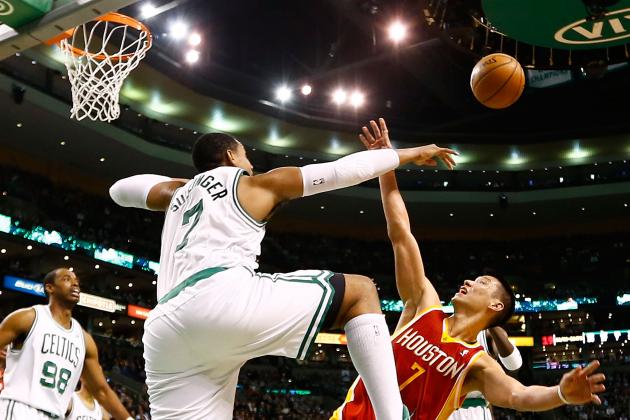 Jared Wickerham/Getty Images
Judo kick from the top frosh.
Time for a bright spot. Bass' replacement in the starting lineup, Jared Sullinger, had a very solid rookie campaign before February back surgery abruptly ended his season.
The 21-year-old Ohio State product averaged 10.9 points and 10.7 rebounds per 36 minutes, while shooting .496 from the field.
Sullinger maintained a 17.5 percent rebound rate and utilized his wide base to overpower defenders near the hoop. He took good care of the basketball, turning it over only 29 times in 892 minutes.
His defense often left something to be desired, but Ainge didn't draft him to be a lock-down post defender. He'll need to work on sliding his feet better in the future and holding his positioning to take charges or contest shots without fouling (he averaged 6.2 fouls per 36).
In only 45 games, the man that many Bostonians fondly call "Sully" became a central figure for the Celtics' future. His production improved each of the first three months of the season and he seemed to pick things up like a sponge.
If he can stay away from operating rooms, expect No. 7 to remain a fixture at the Garden for years to come.
Grade: B+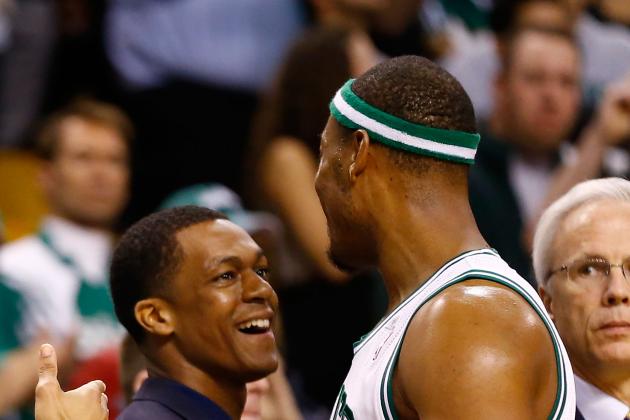 Jared Wickerham/Getty Images
"No biggie, still makin' Dean's list. Genius status."
The Celtics' other injured player, its star floor general, went down with a partially-torn ACL less than a week prior to Sullinger's surgery. This was a devastating loss for Boston, which had no way of replacing his league-best 11.1 assists per game.
Simply put, R.R. was in the process of compiling the best season of his career. Point guards don't often average a double-double, but he did. He added a career-high 13.7 points on top of the 11 dimes. He also grabbed a career-best 5.7 boards a game.
He had been shooting .484 from the field, his highest mark since 2009-10 when the Celtics won the Eastern Conference. Even his 65 percent from the line was an improvement—he averaged 58 percent over the previous two years.
Rondo has become one of the league's premier multifaceted guards. Think about his combined strengths: speed, quickness, court vision, IQ and leadership. This skill set has really only graced a handful of players in the history of the game.
He is making a name for himself as one of the top 20 point guards ever. And 2012-13 was shaping up to be his best season.
Of course, with every report card comes suggested room for improvement. No top 20 point guard shoots 65 percent from the line, or 21 percent from the outside wings and corners.
The best point guards never looked to make the assist—they looked to make the best play.
Rondo often passes just to pick up the assist, hurting offensive rhythm and flow because he holds onto the ball for too long. Part of the reason why the Celts' went 14-4 after Rondo went down was because they played the best team basketball they had all year. They had to—they could no longer rely on him.
As Rajon sits in the stands next to Ainge during the playoffs, all buddy-buddy, you can be sure they occasionally gab about the negative effects of assist-hogging. Look for the 2013-14 to be an MVP-caliber year for No. 9.
Grade: A-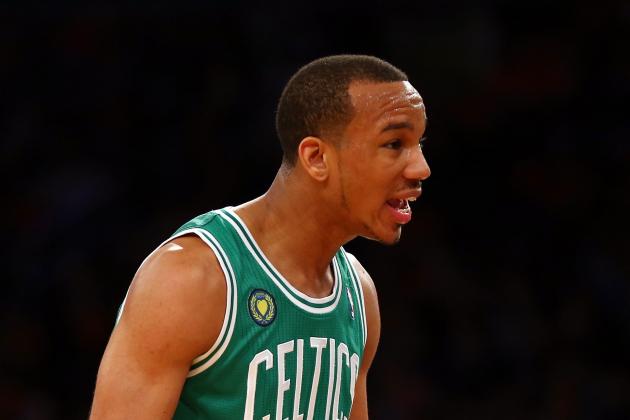 Elsa/Getty Images
"No A? Mom is gonna be pissssed!"
Avery Bradley, Rondo's replacement at the point, surprised a lot of people this calendar year. It wasn't so much his 64 steals in 50 games that got Celtics Nation talking—people have come to expect "zero tolerance" defense from him.
His ability to soften the blow of losing an elite point guard is what really impressed. His assist ratio went up. His turnover ratio went down. He improved his jump shot and gained invaluable levels of confidence.
Sure, his field goal and three-point percentages are down from last year—but his attempts are way up, he just came back from his shoulder injury in January and he has been called upon to basically anchor the backcourt. We'll give him a pass.
Bradley's on-ball defense could be the best of any guard in the NBA. His quickness, footwork, agility, instinct and hands are the envy of basketball pickpocketers everywhere. He disrupts opposing offenses and sparks fast-break opportunities on the regular.
If A.B. can improve his jumper even more this offseason and work on his passing game and ball handling skills then he could be an All-Star down the line. Once the zebras start giving him respect he'll get All-Defense honors.
The sky is the limit—and he's only 22 years old.
Grade: B+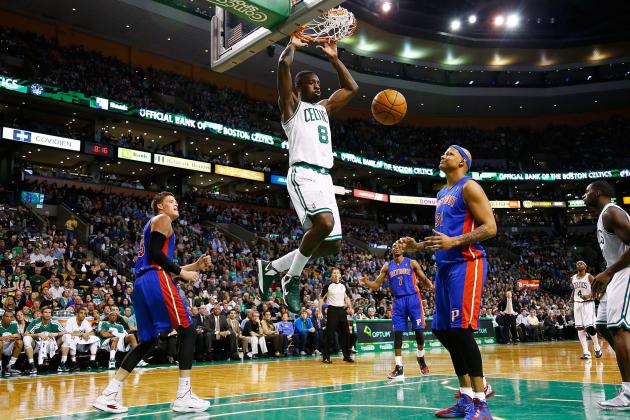 Jared Wickerham/Getty Images
'A' stands for airtime.
Speaking of limitless potential, Jeff Green tapped into his this season. It must be pretty gratifying to be a star in this city, considering the wild roller coaster he's had with it.
In June 2007, Ainge drafted him at pick no. 5. On June 28 of the same year, he traded Green to Seattle as part of the package that brought Ray Allen to the Celtics.
In February 2011, Ainge brought him back to Boston in a controversial trade with Oklahoma City involving Kendrick Perkins, which left the majority of Boston hating Ainge and despising Green.
Then, in December 2011, Green was diagnosed with an aortic root aneurysm which required immediate surgery. Shira Springer of the Boston Globe writes:
"Green, 26, was among those who doubted he would ever return. When he awoke from surgery on Jan. 9, he could not move. He had a breathing tube down his throat, three drainage tubes in his chest, three IVs, a tightly bandaged rib cage, and a catheter."
Now he's back, fully recovered and providing not just the best comeback story of the year but also the most surprising emergence to stardom. Green's inside-outside onslaught this season has been nothing short of spectacular.
In the face of adversity, he has slashed to the hoop, knocked down treys and played crisp defense on and off the ball.
Green's 2012-13 campaign has been an advanced-metric fan's dream: he set career highs in true shooting percentage, effective field goal percentage, assist ratio and player efficiency rating.
For the less fancy, consider this: he averaged a career-best 18.4 points and 2.3 assists per 40 minutes, and shot a career-high .466.
After season-long absence last year, many began to wonder if Green would ever pan out into what Ainge always saw in him. He did, in a major way. His athleticism, aggressiveness and ability to exploit mismatches has put him on the map of elite scorers.
If he can continue to ramp up his defense and rebounding skills and develop 48-minute-a-game, 82-game-a-year consistency, he could be the heir apparent to Paul Pierce in a couple years. He's not quite ready for prime time yet, but he's as close to it as he is to that scar on his chest.
Grade: A-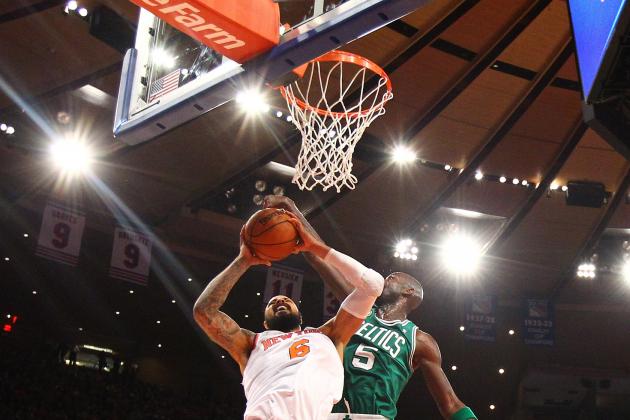 Al Bello/Getty Images
"Remove that from my ficticious residence, kind sir."
He may have skipped college, but the perennial powerhouse known as K.G. always seems to get straight A's on his report card.
The fiery veteran, who turns 37 in May, once again stepped up his defense to help push his team past .500 and into the playoffs. He did it this year despite ankle inflammation, bone spurs and utter exhaustion.
Garnett may be showing signs of wear and tear, but his impact this year proved just as great as any other since he joined the Celtics organization. It may not show in the numbers—his field goal percentage dropped to a six-year low and he fell below eight rebounds a game for only the third time in his career—but it shows in the plus-112 point differential he produced while on the floor.
And it shows in his 30.4 defensive rebounding ratio since Sullinger went down. It shows with a mere 9.1 percent turnover ratio on the year. It shows with the 36-32 record Boston had with him, and its 5-8 record without him.
Still the anchor of the defense, K.G. keeps everyone in the right spots and continues to pester even the most talented of offensive opponents.
And on offense, his shimmy-shake post plays and pull-up 20-footers still look money.
Garnett makes this team go. He serves as the fire, the momentum-setter, the heart and the soul of the organization. Anybody who thinks otherwise just hasn't been watching.
Grade: A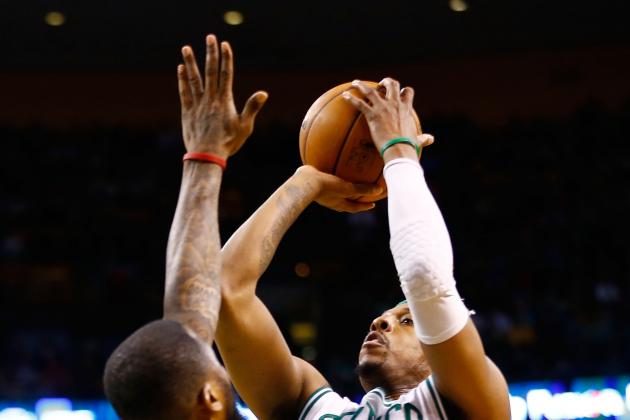 Jared Wickerham/Getty Images
"Truth" showin' 'em his A-game.
While Garnett remains the heart and soul of the Celtics, Paul Pierce remains the glue.
The captain and clear leader of the squad at all times, "Truth" has stepped up every facet of his game in Rondo's absence. He deserved a spot on at least the All-NBA Third Team just for getting the team to the playoffs without a point guard.
Since February 1, Pierce contributed a plus-130 points differential. He shot 48 percent from the field and 41.3 from out deep. His rebounding and assist percentages also improved immensely. He won a number of close games with clutch shooting and overtime daggers, without which the Celtics might not be in the big dance.
Averaging 18.6 points, 6.3 rebounds, 4.8 assists and 1.1 steals, Pierce still delivers the whole package. He's one of the top three Celtics in the history of basketball, and he continues to impress with his passion for winning.
He is, no doubt, at the top of his class.
Grade: A+