David Bakhtiari
Fourth Round, 109th Pick
There's a lot to like about David Bakhtiari as an NFL prospect, but what sticks out most is his explosiveness. Bakhtiari is a bottle rocket.
In a 2013 NFL draft where so many offensive linemen are being projected on perceived "upside," the reasons to like Bakhtiari pop out over and over again when watching his game tape.
Bakhtiari was only the seventh Colorado player to leave school early for the NFL draft. Now that he's made the jump to the big leagues, how does David Bakhtiari's game translate to the pro level?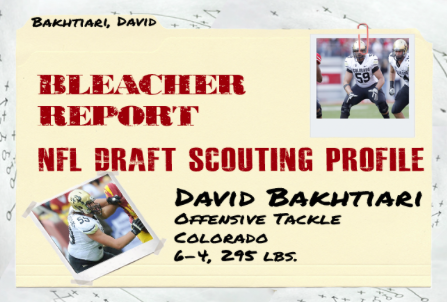 Feet
We always start with the feet because athleticism starts in the feet as does every football play. Bakhtiari displays great feet with violent, choppy footwork. He moves with discipline and urgency. He is quick enough to cover large distances against opposing edge rushers and second­-level defenders quickly.
Motor, Toughness and Power
Bakhtiari plays with an explosiveness that makes an evaluator scratch his or her head at the relatively ­poor 28 reps and 25.5" vertical he registered at the NFL combine. He pops out of his stance and takes engagement to the defenders in the run game. Bakhtiari plays physically and possesses a terrific motor. He does not get gassed and rarely, if ever, gives up on plays.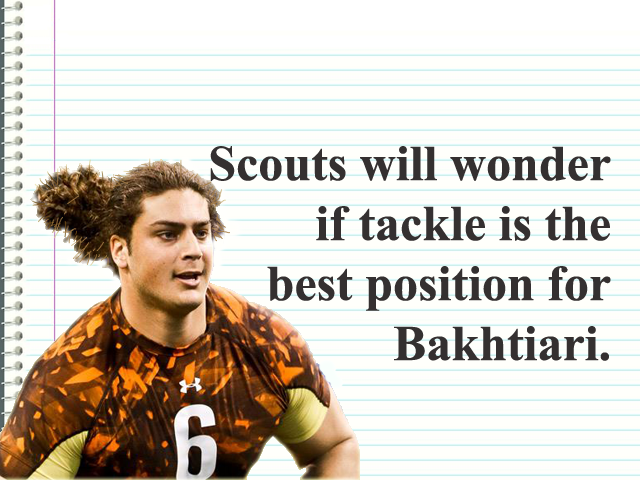 Quickness, Agility and Balance
This is where we see a few slight issues. Not so much in the "quickness" aspect as in agility and balance. When faced against speedy edge rushers (as broken down in the pass-blocking section below), Bakhtiari can get ahead of himself and out of control in efforts to effectively kick and mirror. He plays tough but with a rigidity that can sometimes lead to overextension and improper weight placement.
Run-Blocking
Bakhtiari is best in the run game, taking precise zone steps and instantly reading the best way to attack his tandem assignments. Bakhtiari is not the tallest of the tackle crop in 2013 at just over 6'4", but he possesses a pair of the longest arms at 34", which he uses to execute tough reach-blocks. He latches onto defenders and drives, showing a mean streak. On a Colorado team that has been known in recent years for its lazy play, Bakhtiari stands out as decidedly disciplined in this aspect.
Pass-Blocking
Here is where we see David Bakhtiari get exposed by a speed conversion rush that begins with an unbelievable inside ­fake. I will preface this by saying that UCLA OLB Anthony Barr may do this sort of thing to tackles all over the country next season as a converted running back with naturally devastating rush moves.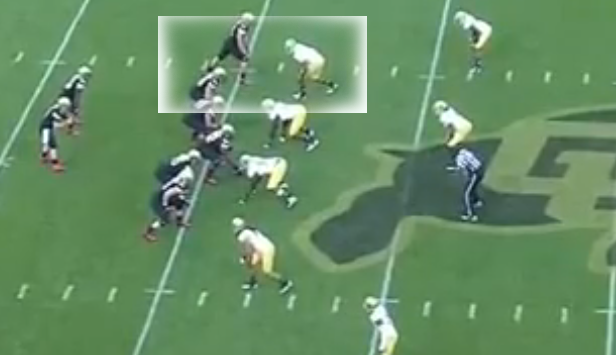 Bakhtiari takes a good first step and keeps in proper position. His hips are pointed upfield and only opening slightly with his kick slide to the outside. His upper-body is coiled and not flinging about wildly.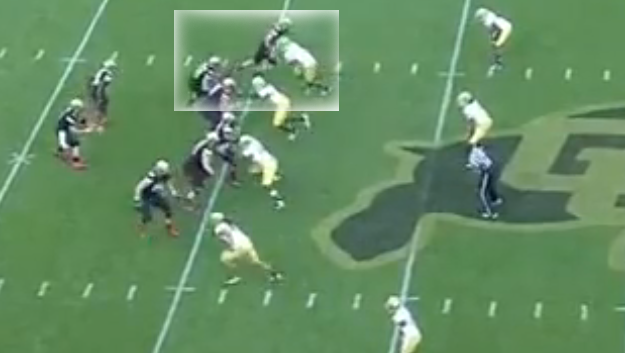 Barr, the defender, fakes to the inside and begins a sequence of events that will wreck this play for Bakhtiari and the Colorado offense. As you can see, Bakhtiari has bitten on the fake and is transferring weight to the front/inside part of his body in preparation for engagement.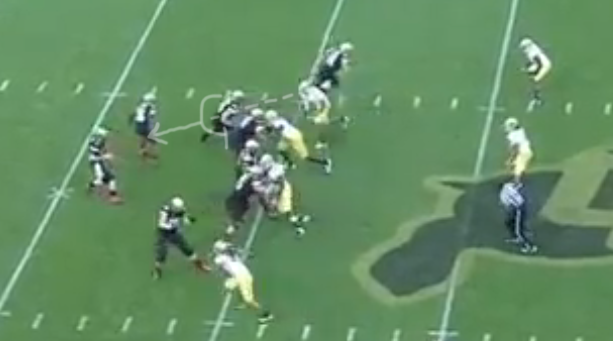 And in the blink of an eye, Barr makes a dashing move to the outside, making Bakhtiari widen his stance uncomfortably, and begins an out-of-control series of motions to catch up.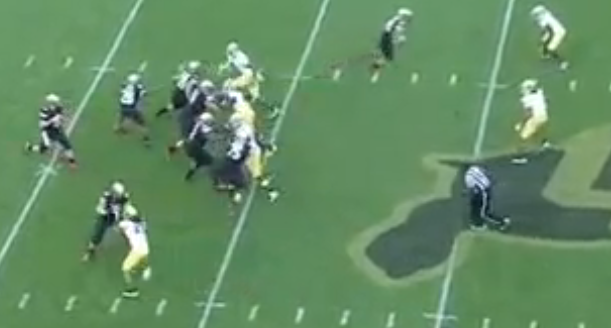 This spells trouble. Bakhtiari has a little bit of help coming via the running back's chip block en route to the flats, but by now, his goose is cooked. His hips are pointed in a way that shows he is terribly susceptible to an inside conversion move.
As the running back chips Barr back upfield, Barr uses the change in momentum to initiate his move and take advantage of Bakhtiari's frantic attempt to clumsily salvage his assignment.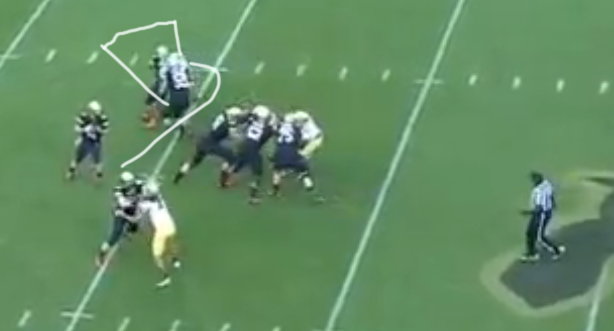 Barr spins around Bakhtiari's inside-half.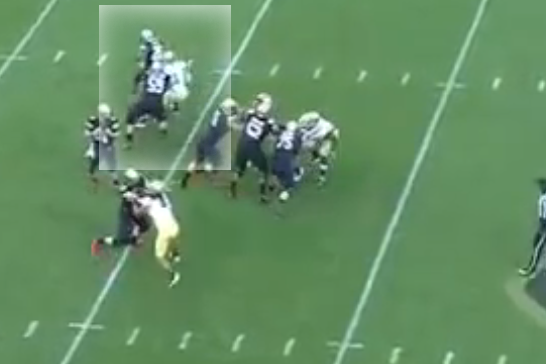 As Barr finishes the spin and rips through, Bakhtiari's feet are still in cement, and all he can do at this point is at least try to blatantly hold.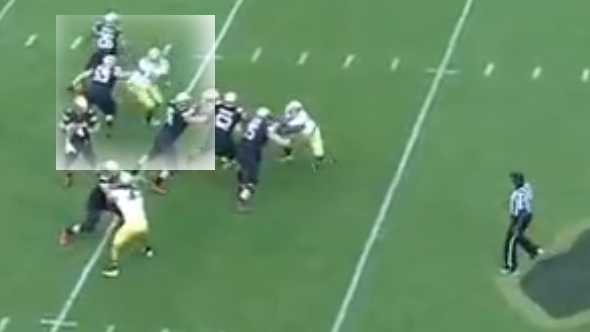 Of course the quarterback ends up wrecked.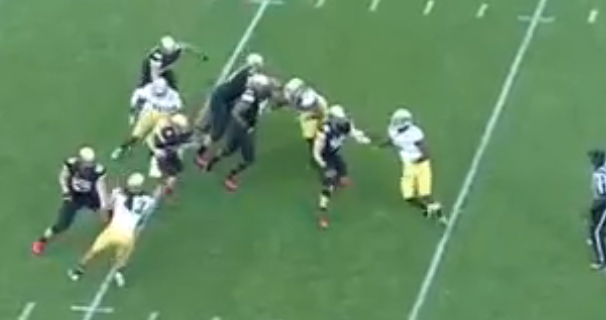 Bottom Line
Bakhtiari certainly has potential to play tackle in the NFL, but what makes him a much safer pick than some others is his projected easy transition to guard. In a zone-blocking scheme, Bakhtiari is everything a team could ask for.
He has a big reach which helps immensely when "passing off" or helping teammates with defenders through zone lanes. He plays downhill football and likes engagement. He has quick, choppy, disciplined feet and a good head on his shoulders as far as understanding of assignments.
Bakhtiari is a late-third or early fourth-round talent as an offensive tackle who may be drafted sometime on Day 2 given this very solid backup plan at guard. If Bakhtiari would have played guard for his entire career, we may be talking about him in this draft along with the likes of Jonathan Cooper, Chance Warmack and Larry Warford.