Penn State Football: Power Ranking the Nittany Lions' Toughest Games of 2013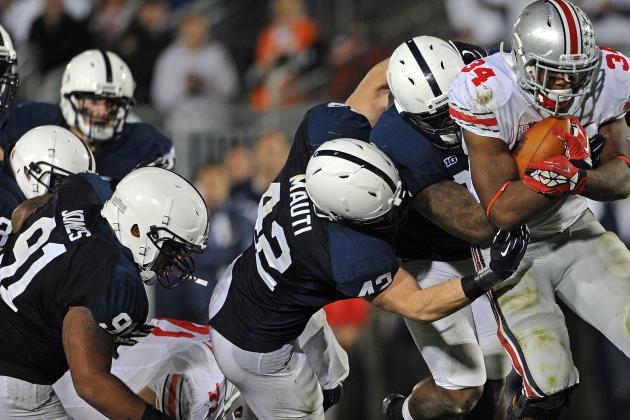 Patrick Smith/Getty Images

With Penn State's spring practice schedule and the annual Blue-White game now in the books, it is now time to take a glance at the fall schedule.
Games against historical powers Ohio State, Michigan and Nebraska highlight this year's schedule, but the rest of the Big Ten schedule presents some challenges as well. It all begins with a neutral-site game in a first-class NFL venue, MetLife Stadium, against new ACC member and historical rival Syracuse.
But which games should be considered the easiest (Eastern Michigan, Indiana or Illinois?) and which will be the toughest (Ohio State, Nebraska or Michigan?) is something we will attempt to answer right here. In the following slides, we will rank Penn State's 2013 opponents from weakest to strongest. Feel free to add your own thoughts in the comment section below at any time.
Begin Slideshow

»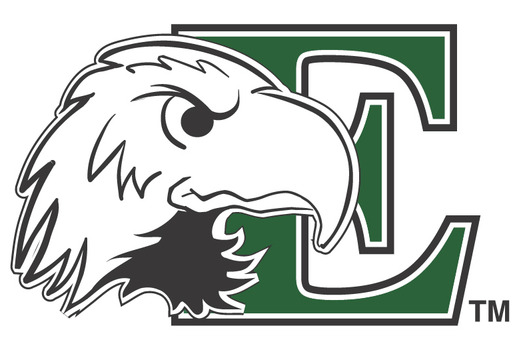 Penn State's home opener should be a breeze if history is any indication. Eastern Michigan comes to Beaver Stadium for the third time in program history. Each time, it has been blown out by the home team. The Eagles are also coming off a 2-10 season and have not had a winning season since going 6-5 in 1995.
Penn State leads the all-time series, 2-0. The last meeting took place in 2011, with Penn State winning 34-6.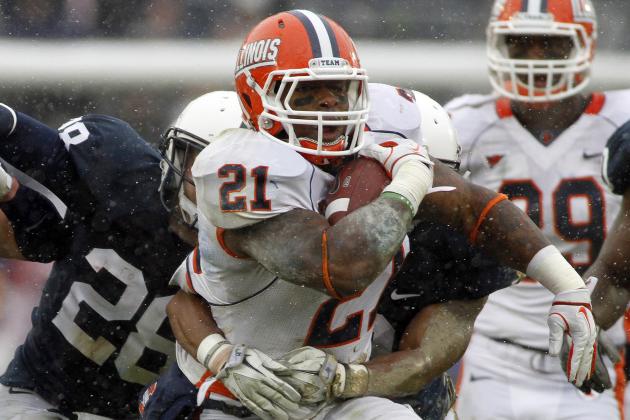 Justin K. Aller/Getty Images

Illinois was quite the mess in 2012 under new head coach Tim Beckman. Beckman's coaching philosophies failed miserably to pan out in his first year after he was hired away from Toledo. Illinois ranked 12th in the Big Ten in scoring offense and 11th in scoring defense. There is a lot of work needed to turn things around at Illinois, and it may take a little bit of time before the Illini are bringing the fight to the field in Big Ten play.
Penn State leads the all-time series, 16-4, and has won the last two meetings in the series. Penn State defeated Illinois 35-7 last season in Champaign, Illinois.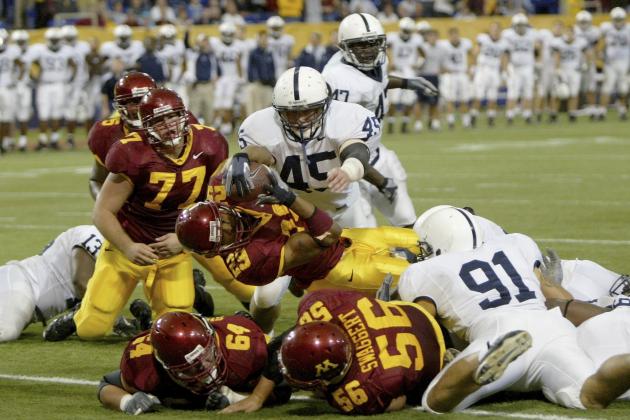 Doug Pensinger/Getty Images

Minnesota is improving and head coach Jerry Kill is getting his players to embrace a new competitive spirit in practices. All of that hard work should pay off moving forward, but Minnesota still has a tough road to travel in order to make any serious runs for a Big Ten championship. Minnesota was 4-2 at home last season, and it figures to be a tough opponent at home again this season.
Penn State should still have the overall advantage in early November, but the Gophers could be in position to make a desperate push for bowl eligibility. Combine that with the cold weather outdoors in Minnesota in November and the Nittany Lions could have a tougher-than-expected matchup on their paws.
Penn State leads the all-time series, 8-4, with the most recent game being played in 2010. That afternoon, Penn State won by a score of 33-21, and Matt McGloin effectively took over the offense under center following an injury to Rob Bolden.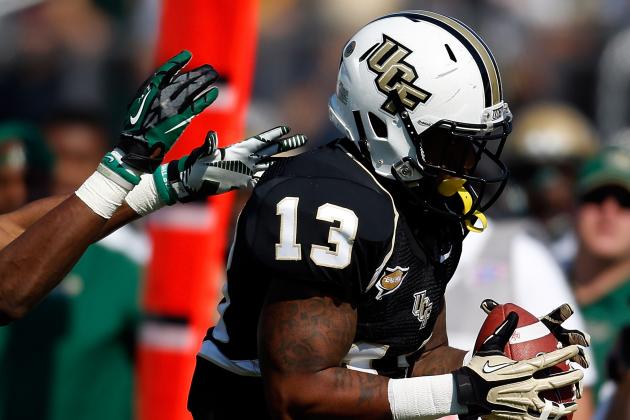 J. Meric/Getty Images

Central Florida moves from Conference USA over to the American Athletic Conference this season, as the Big East football conference is re-branding under realignment changes. The Golden Knights are entering their new conference home riding some momentum after playing for a Conference USA championship last season. Central Florida should come to Beaver Stadium in mid-September with an early 2-0 record, with games against Akron and Florida International on the schedule before the road trip.
Central Florida has players capable of busting some big plays, but Penn State should have the advantage on defense, which should prove to be a difference in the game. But look for Central Florida to put up a decent fight as Bill O'Brien goes head-to-head against his former boss, George O'Leary.
Penn State leads the all-time series, 2-0. The two have not faced each other since 2004, when Penn State won by a score of 37-13.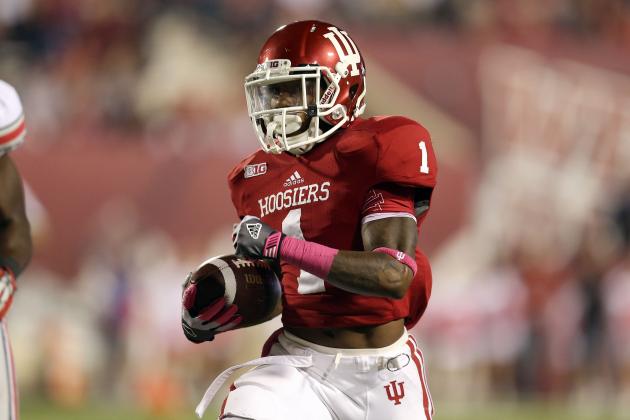 Andy Lyons/Getty Images

Indiana ranked 12th in the Big Ten in scoring defense last season, but the Hoosiers also ranked fourth in the Big Ten in scoring offense. That means the Hoosiers have the potential to put up points in a hurry, and if they can improve even just a little bit on defense, they should be more of a threat than anyone might give them credit for.
The Hoosiers also enjoy playing at home. Other than a lopsided defeat at the hands of Wisconsin last season, Indiana was a tough team in Bloomington. Though they ended up losing games to Ball State, Michigan State and Ohio State at home, the losses came by a combined total of nine points.
Penn State has played a number of close games in Indiana as well, including its last trip to Bloomington. Penn State's offense sputtered all day, but the Nittany Lions found a way to escape with a 16-10 victory. Each of Penn State's past three road games at Indiana has been decided by six points or fewer, not including a neutral-site game played at FedEx Field in 2010.
Penn State has never lost to the Hoosiers, owning a series advantage of 16-0. That record includes last season's 45-22 decision in Beaver Stadium.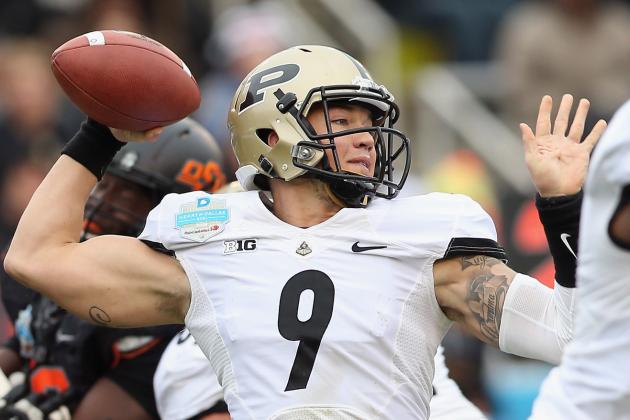 Ronald Martinez/Getty Images

Purdue always seems to be a bit of a wild-card factor in Big Ten play. Last season, it took Notre Dame and Ohio State down to the wire, but it was blown out by Minnesota and Penn State. So which Purdue team will show up in mid-November when the Boilermakers travel to Beaver Stadium seeking their second road win at Penn State since the Nittany Lions joined the Big Ten in 1993?
Purdue's offense will have to put forth a better performance than it had last fall against Penn State, and, if healthy, that should be a reasonable expectation. The biggest question is whether Purdue will be sniffing around for a bowl spot by the time it makes the trip or whether it will already be looking forward to 2014. That has a lot to say about it.
For now, we'll expect Purdue to be making a bowl push and for the offense to be a bit better than last season. But Penn State's defense will still have the edge, if healthy, by this point in the season, and they'll manage to hold on for a win in all likelihood.
Penn State leads the all-time series, 12-3-1. Penn State won last season's meeting by a score of 34-9.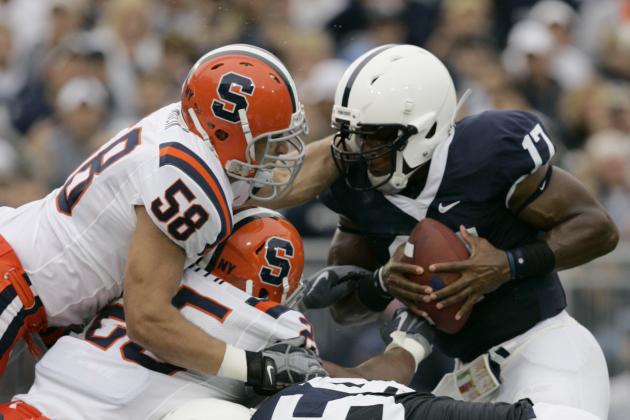 Chris Gardner/Getty Images

Penn State opens the 2013 season by renewing one of its longtime rivalries in MetLife Stadium. The season starts with a neutral-site game against Syracuse, which moves into the ACC this season. The Orange are coming off an 8-5 season capped by a bowl victory over former Big East rival West Virginia.
Syracuse is an improving program and the Orange are on a mission to make MetLife Stadium their home away from home. Last season, they played No. 2 USC tough for the majority of the game, but the Trojans used their talent advantage to pull away later in the game. Opening up against Penn State will be Syracuse's next chance to reclaim MetLife Stadium and start its first year as an ACC member on the right foot.
Penn State leads the all-time series, 42-23-5. The schools most recently met in 2009, with Penn State winning at home by a score of 28-7. The last time the old rivals played a neutral-site game was 1979, with Penn State winning 35-7 in Giants Stadium.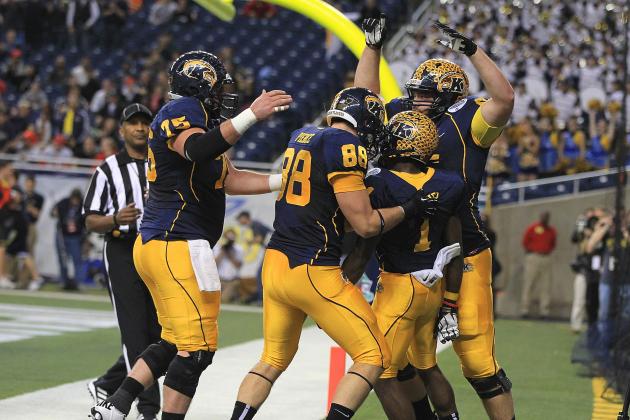 Dave Reginek/Getty Images

Kent State played for the MAC championship last season and got there by showing off one of the top offensive and defensive units in the conference.
Penn State has lost just two games against MAC opponents in program history, but one of those losses was suffered just last season when Ohio shocked Penn State in Week 1. Kent State may once again be a contender in the MAC and should not be taken lightly. History, though, is on Penn State's side. Kent State has never defeated a Big Ten opponent. Still, circle this one with the rest of your early upset-alert games to watch.
Penn State leads the all-time series, 3-0. The last time the teams faced each other was in 2010, with Penn State winning by a score of 24-0 at home.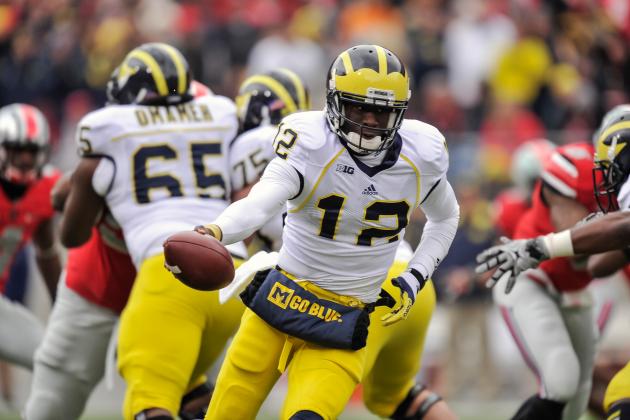 Jamie Sabau/Getty Images

The Michigan Wolverines have been a long-time nemesis to Penn State, and Brady Hoke has turned things around after the Rich Rodriguez era in Ann Arbor. This season, Michigan looks to plug in a few players at some key positions as it focuses more on a pro-style offense.
Will Michigan once again flex its muscles over Penn State, or will the Nittany Lions be able to score a victory at home in mid-October? It should be quite the scene, as both Michigan and Penn State could potentially be undefeated. Michigan could be considered a favorite in the Big Ten Legends Division as well.
Michigan leads the all-time series, 10-6, but Penn State has won the three most recent meetings against the Wolverines. The last meeting between the two schools was played in 2010, with Penn State winning by a score of 41-31 under the lights at Beaver Stadium.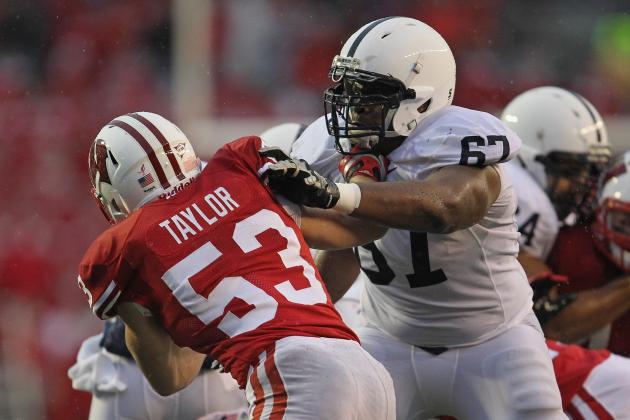 Jonathan Daniel/Getty Images

Wisconsin and Penn State will once again end the regular season by facing off against each other. This year, the series shifts back to the cheese state, and it remains to be seen if a division champion will be crowned the way it was in 2011. Wisconsin has won three straight Big Ten titles but has a new head coach this year after Bret Bielema was hired by Arkansas. Gary Andersen figures to focus on the run but also looks to improve on Wisconsin's steady but not overpowering defense.
Wisconsin finished in third place in the Big Ten Leaders Division last season but advanced to the Big Ten championship game as a result of Penn State and Ohio State serving postseason bans.
This year, the Badgers should be an underdog in the division, but they should always be considered a threat. The running game should continue to be reliable and the defense should be more than adequate. If the quarterback situation can find some stability, then the Badgers should once again be making a push for another Big Ten title. Playing at home in the regular-season finale could be a huge advantage in late November.
Wisconsin leads the all-time series, 9-7. Penn State won last year's regular-season finale in overtime, 24-21. The last time Penn State won in Madison came in 2008 with a 48-7 victory.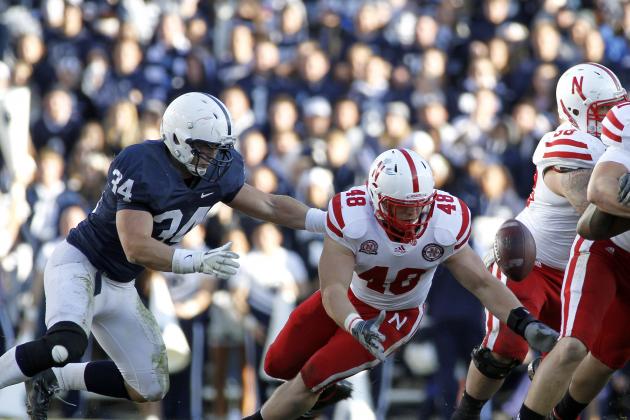 Justin K. Aller/Getty Images

Penn State welcomes cross-over rival Nebraska to Beaver Stadium for a late-November matchup. The game will be Penn State's final home game of the season, and the Nittany Lions will be looking to pick up their first win against the most recent Big Ten addition.
Over in the Legends Division, it appears Nebraska will be one of the favorites to reach the Big Ten Championship Game in Indianapolis, and this particular game could have a lot of influence on the division race to Indianapolis for the Huskers. They could clinch a return trip if they can manage to leave State College with a win.
This will be a bit of a revenge game for Penn State. Some fans are still upset over the way last year's game in Lincoln turned out, with a possible touchdown being ruled a fumble recovery by Nebraska in a critical moment. Nebraska also spoiled an emotional afternoon two years ago in Beaver Stadium as Penn State returned to play football following the fallout of the Jerry Sandusky investigation.
With Taylor Martinez back to lead the offense and the always-strong running game ready to go, Nebraska should have an offense capable of wearing down Penn State's defense, which could be shallow on depth late in the year.
Nebraska leads the all-time series, 8-7. The Cornhuskers have won each of the two meetings since Nebraska joined the Big Ten.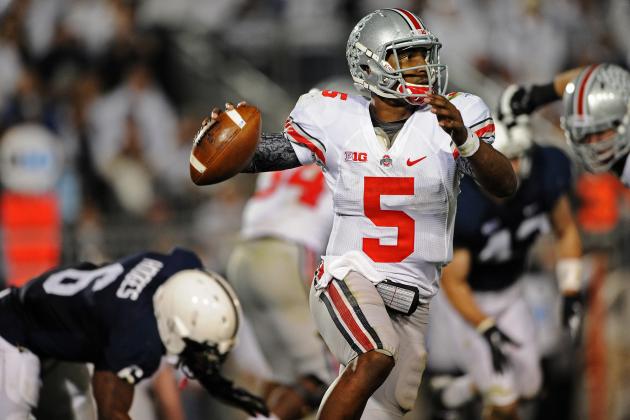 Patrick Smith/Getty Images

There is no question that the best team on Penn State's schedule in 2013 will be the Ohio State Buckeyes. Ohio State is coming off a 12-0 season, which included a road victory at Beaver Stadium last fall, and this year the Buckeyes should once again be considered a national championship contender. At least, the Buckeyes figure to be a threat to play for a BCS title.
The Buckeyes look to continue leading the way now that a postseason ban is behind them, with Urban Meyer guiding the program back to national glory and Braxton Miller ready to truly take off in his junior season with plenty of playing experience behind him.
Ohio State should improve on defense this season, and if it does, then the Big Ten will have a difficult time cracking the Buckeyes. Ohio State will be the preseason favorite in the conference, but the task at hand will be to prove it can live up to the hype. With the kind of talent and leadership in place in Columbus, that should not be too much of a problem.
Ohio State proved it has an upper hand on Penn State last season, but the Nittany Lions have played some better games in Columbus in recent years. Still, any time Penn State heads across the border means a tough battle is about to be had. This year's game should be one of the tougher ones in years.
Ohio State leads the all-time series, 15-13. The road team has won five of the past six meetings in the series, with Ohio State being the lone road team to win a game in that stretch in 2010.
Kevin McGuire is the host of the No 2-Minute Warning podcast. Follow him on Twitter, Google+ and Facebook.