Liverpool vs. Chelsea Preview: 6 Key Battles to Watch at Anfield This Sunday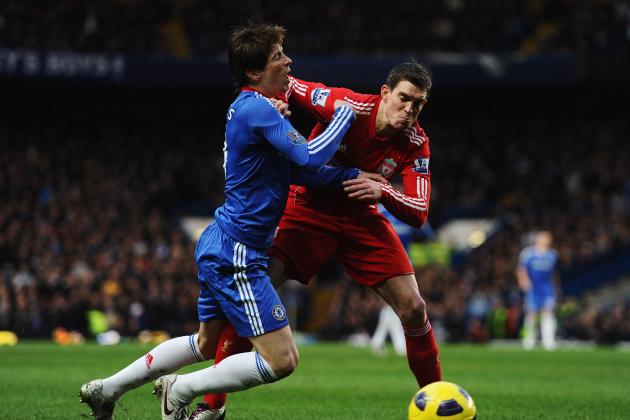 Laurence Griffiths/Getty Images

This Sunday, the Liverpool-Chelsea rivalry will get its latest installment as the Reds host the return of former Anfield favorites Rafael Benitez and Fernando Torres.
For Liverpool fans, this prospect used to be unthinkable: Who would've thought that Benitez, who led them to Champions League glory under such dramatic circumstances, and who went on to establish them as one of Europe's most feared sides, could end up taking the reins at Stamford Bridge?
And who would've thought that Torres, who was so often the scourge of Chelsea, would not only move to another Premier League club after Liverpool but to one the Reds so clearly reviled?
But it's been more than two years since Torres left, and almost three since Benitez departed. Life has moved on somewhat (though in some quarters the pining for the duo is fevered and understandable), and there is much more to Sunday's clash than just the return of former heroes.
Here are six key battles to look forward to in this Sunday's meeting between two of modern English football's great rivals. Enjoy and let us know your picks in the comments below.
Begin Slideshow

»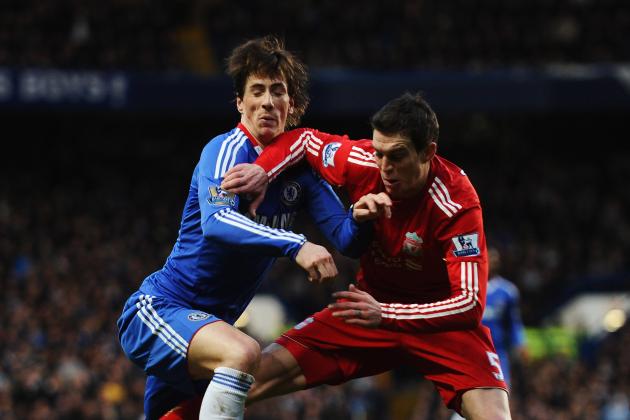 Laurence Griffiths/Getty Images

Let's start with the headline clash: The fire in this one was lit way back in 2011 after Fernando Torres left Liverpool for Chelsea, and inevitably it was against Liverpool that Torres made his debut in a Blue shirt.
Daniel Agger's welcome to him? An elbow to the face that fell Torres to the ground.
Torres' impact at Chelsea has been far from impressive for reasons that have been speculated ever since his first goal drought at Stamford Bridge, and he will face an in-form Agger at Anfield who will know just how to snuff out his attacking threats.
But Agger, his teammates and the Anfield faithful know all too well just what Torres can be capable of, and they will be keen to avoid that dreaded footballing cliché that always results in a goal against a player's former club.
Demba Ba's form may see the ex-Newcastle United striker get the nod from the start, but don't think for a second that Torres will sit this one out.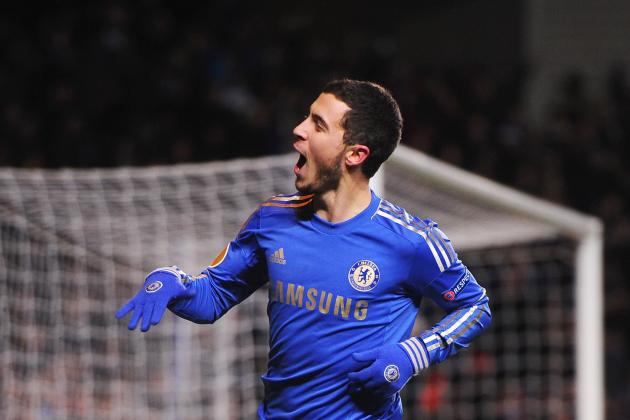 Michael Regan/Getty Images

For the creaking (and in Jamie Carragher's case, aging and retiring) Liverpool defence, this in-form Chelsea attack is perhaps the worst prospect to come up against right now.
Marshaling the Reds backline will be the Liverpool vice-captain, and as he approaches the end of his fine Anfield career, he comes up against one of Europe's fastest-rising stars in Eden Hazard.
If there were just one word to describe Hazard, it would "mercurial."
Since his big-money move from Lille last summer, Hazard has shown enormous potential and excited many a Chelsea fan with his fleet-footed dribbling, direct running and clean finishing, and even accounting for his inconsistent performances, he will be a major threat on Sunday.
As just one member of a young, fast and exciting Chelsea forward line, Hazard will give Carragher plenty to think about.
This is one battle in which experience alone won't be enough to win.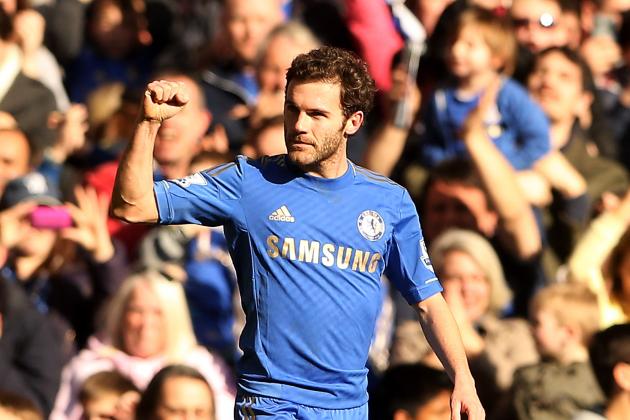 Scott Heavey/Getty Images

If Carragher vs. Hazard wasn't enough to worry Liverpool fans, this one will.
Since his return from injury, Lucas has alleviated the Liverpool midfield of one ailment—a half-fit and off-form Joe Allen—but has heaped other problems at the same time, namely a lack of pace, decent positioning and a tendency to commit unnecessary fouls in dangerous areas.
Suffice it to say that Lucas has been a shadow of his old self and is currently one of the biggest liabilities in the Liverpool squad right now.
Contrast this with Juan Mata, who has enjoyed a scintillating season for Chelsea thus far.
With 18 goals and 25 assists across all competitions, and with a complete attacking midfield package of pace, dribbling, passing, vision and goalscoring, Mata has undoubtedly been the Blues' talisman of the season.
This mismatch almost demands the inclusion of Jordan Henderson in the midfield to help Lucas out—but that might not even be enough.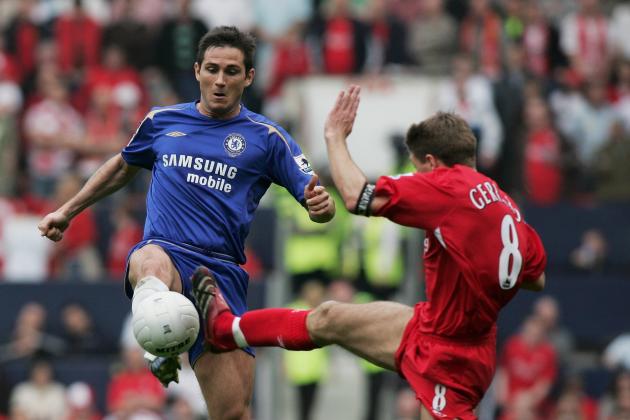 Ben Radford/Getty Images

For many years, Steven Gerrard and Frank Lampard have carried their club sides to glory and have contested the coveted attacking midfield position for their country, and until the day that one retires, the Gerrard-Lampard battle will remain one of the highest-caliber midfield clashes in the Premier League.
This season, the similarities don't end there. Almost written off at the start of the season, Gerrard has come back brilliantly in a deep-lying playmaker role and has played every minute of the Premier League season thus far, scoring nine goals and notching nine assists. Past it? Hardly.
Lampard, on the other hand, biding his time, has forced his way back into first-team contention with a series of goalscoring performances, as ever. Even though he might not be in Benitez's strongest XI, he adds goals (12 so far) and composure to his side. Past it? Hardly.
So Lampard might not start the game, but any football fan would be relishing the two legendary No. 8's gracing the Anfield pitch on Sunday.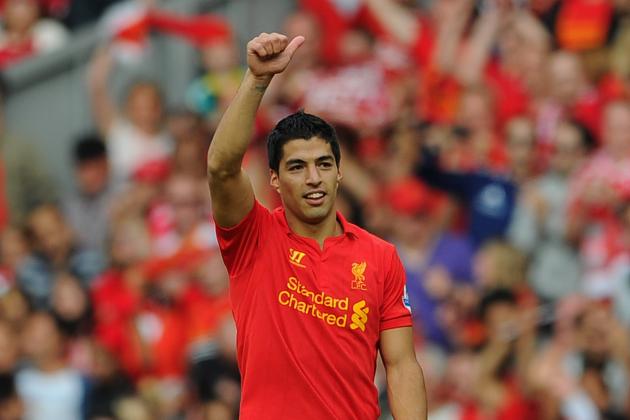 Michael Regan/Getty Images

Up front for Liverpool, as usual, will be Luis Suarez, who is suffering a dip of his own.
His dribbles have been less effective, his nutmegs less impressive and his finishing less clinical. But with 22 league goals, Suarez is still leading the Premier League goalscoring charts, and no opponent will underestimate him or afford him too much space.
Not that David Luiz will be listening too closely.
Fresh from a heavy challenge from Sergio Aguero, Luiz promptly went on to score one of the goals of the season against Fulham on Tuesday night, and he will be adopting a dual role of defender-cum-midfielder on Sunday.
Gary Neville's favorite "PlayStation defender" will need to get his concentration and positioning back in order to stop Suarez.
One suspects he'll need a bit of help doing that.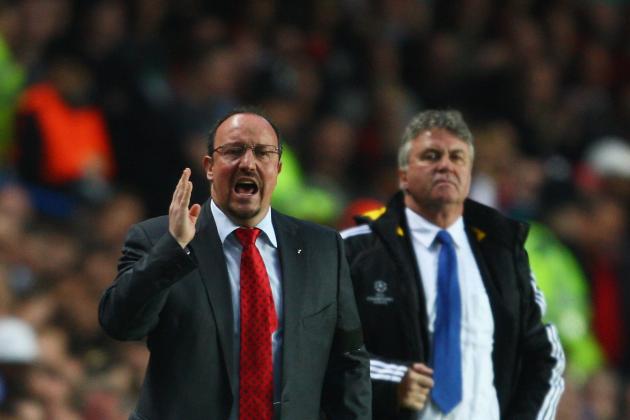 Jamie McDonald/Getty Images

The players are the ones entrusted with making a difference on the pitch and winning all three points, but it could well be the manager who holds the key on the day.
In that sense, Brendan Rodgers, coming up against a former Kop favorite in Rafa Benitez, will be keen to impress with his passing style against Benitez's more pragmatic approach.
Indeed, Rodgers is perhaps the more reactive of the two managers, often not afraid to make changes in the first half or at the half-time interval if need be.
But Liverpool fans who experienced some of the greatest European nights under Benitez will know that his tactical nous is second to none, and his preference for counterattacking football will be perfect for a strong Chelsea side to break through the Reds midfield.
Sunday—and Rafa Benitez—will be a big test for Brendan Rodgers, and one he needs to win to banish the ghosts of Rafa around the halls of Anfield.
For more extensive coverage on Liverpool and the Premier League, check out my Bleacher Report writer's profile and follow me @theredarmchair.