Houston Rockets vs. OKC Thunder: Western Conference Round 1 Preview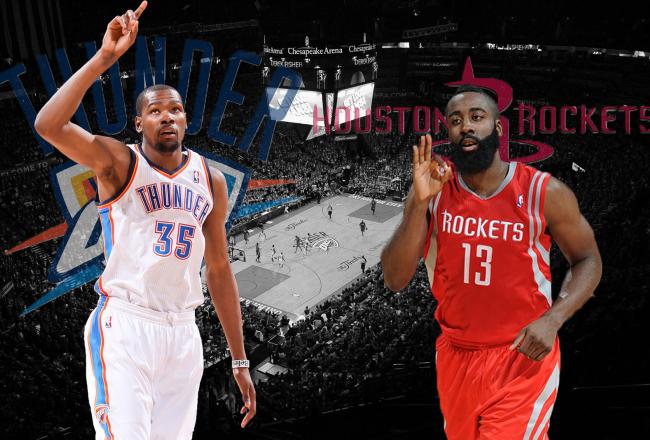 It's come to this: The Oklahoma City Thunder have to go through James Harden and the Houston Rockets to begin their journey to another NBA Finals appearance.
The Thunder traded Harden to the Rockets before the start of the season, and here he is to face them in the first round of the playoffs.
After losing to the Los Angeles Lakers on the final day of the season, Houston dropped from seventh to eighth place in the Western Conference, leading to this dream matchup between two thrilling basketball teams.
Seeds: Houston Rockets No. 8; Oklahoma City Thunder No. 1
Records: Houston Rockets 45-37; Oklahoma City Thunder 60-22
Season series: Oklahoma City Thunder won 2-1
Playoff schedule: Game 1 Sunday, April 21, 9:30 p.m. ET (TNT); Game 2 Wednesday, April 24, 7 p.m. ET (TNT); Game 3 Saturday, April 27, 9:30 p.m. ET (ESPN); Game 4 Monday, April 29, TBD; Game 5 Wednesday, May 1, TBD; Game 6 Friday, May 3, TBD; Game 7 Sunday, May 5, TBD
What Everybody's Talking About: Potential Upset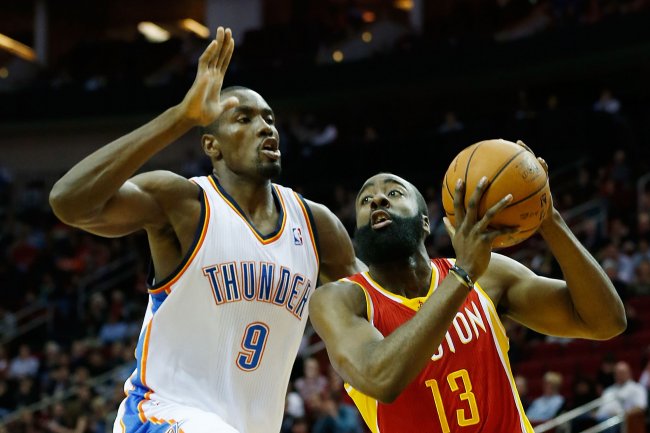 Scott Halleran/Getty Images
The trade for Harden, along with the acquisitions of Jeremy Lin and Omer Asik and the development of Chandler Parsons, have given the Rockets enough weapons to make them dangerous to any playoff team.
The fact is, Harden makes the Rockets the fast-paced sprinters that they are, and we can take a lesson from the past to learn that extreme teams can be dangerous.
The 2011 Memphis Grizzlies beating the San Antonio Spurs in the first round of the playoffs and the Golden State Warriors taking down the Dallas Mavericks in 2007 mark the two most recent times a No. 8 seed has overcome a No. 1 seed.
In 2011 it was Memphis' ability to slow down games to a crawl and play dirty, hard-nosed defense, while Golden State's run-and-gun in 2007 put Dallas on its heels for an entire series.
What does that tell us? Extremes are dangerous. If they can hit their shots, the Rockets' run-and-gun style of play could give the Thunder a run for their money.
What Nobody's Talking About: Half-Court Control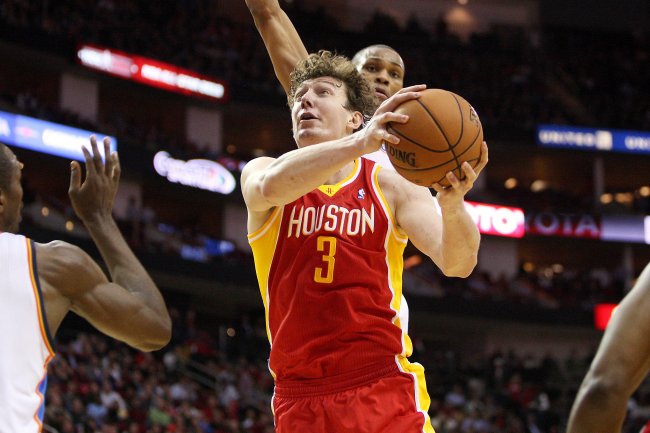 Troy Taormina-USA TODAY Sports
When the Rockets signed Asik away from the Chicago Bulls, the general consensus was that his $25 million contract was a bit pricey. After his efforts this season though, that perception has been thrown out the window.
Defensively, he's turned into a monster, and his offense has progressed throughout the season.
One of the most surprising tidbits we've heard about Asik this season is that the Rockets have the top half-court defense in the NBA when the big man is on the floor.
Once the playoffs start, fast-paced offense generally slow down, and half-court offenses reign supreme. Should the Thunder control the tempo, at least the Rockets know they have a center patrolling the paint who knows how to defend the pick-and-roll to a tee.
Don't Forget...
Let me apologize in advance for doing exactly what I criticized future folk for, but I've got to talk a bit more about Harden.
There are definitely some hurt feelings between Harden and the Thunder. It's not that there's necessarily any kind of bad blood between him and his former teammates, but rather that they thought they could do without him seems to have his blood boiling.
In the three games between Houston and Oklahoma City, Harden averaged 29.3 points, four rebounds and 3.3 assists, all while shooting 44 percent from the field and 55 percent from the three-point line.
That's 3.4 points above his season average and an 18-point bump in three-point percentage.
What's more, the highest-scoring game of Harden's career came in a game against the Thunder back in February. His 46 points helped sink the Thunder 122-119.
It's beyond a playoff game for Harden at this point. He has a chance to prove himself against the team that thought he wasn't worth the investment.
Key Matchup: Russell Westbrook vs. James Harden
The Houston Rockets' point guard committee approach has led to Harden being every bit the point guard that Lin is.
While that likely won't match Harden with Westbrook directly (Lin will likely guard Westbrook when the Rockets play defense), it will put them both in a situation in which they handle the ball for long stretches of the game.
They're extremely similar players with very different dispositions, making the two of them likely foils.
While Oklahoma City's playoff fate likely depends on how much Westbrook is willing to defer, Houston's will likely lie in how well Harden does with the huge number of shots the Rockets need him to take.
While they won't be directly opposed, the two will be directly pitted against each other in the public eye, which should be all we need for an interesting series.
This article is
What is the duplicate article?
Why is this article offensive?
Where is this article plagiarized from?
Why is this article poorly edited?