Pros and Cons of the UFC Ignoring Their Own Rankings When Matchmaking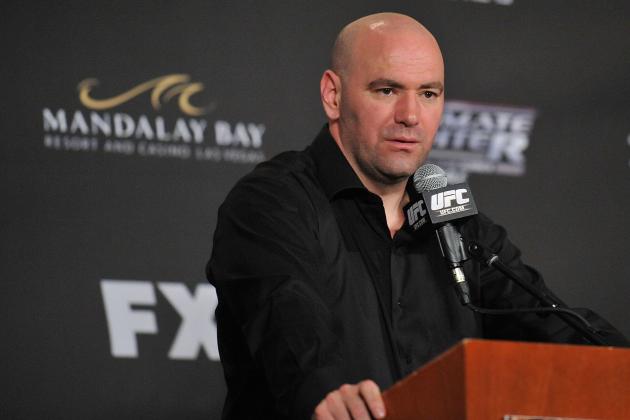 Gary A. Vasquez-USA TODAY Sports

In 2013, the UFC decided to stop other MMA outlets from telling the world how fighters should be ranked, and instead decided to release their own official list for every weight class. Fans from all over the world now regularly flock to the official UFC rankings, which are updated about 36 hours after every card.
However, with official rankings being available, fans are quick to point out discrepancies between who the UFC books in high profile fights and what the rankings tell us. For example, Nick Diaz and Chael Sonnen and Anthony Pettis have all been booked for title fights in divisions where they are not the No. 1 contender.
It is obvious that the UFC will continue their history of booking what they think is best for both fans and the organization, regardless of what the rankings denote.
We are not here to say that the UFC is wrong for this decision. However, here is a look at the pros and cons of ignoring official rankings when matchmaking.
Begin Slideshow

»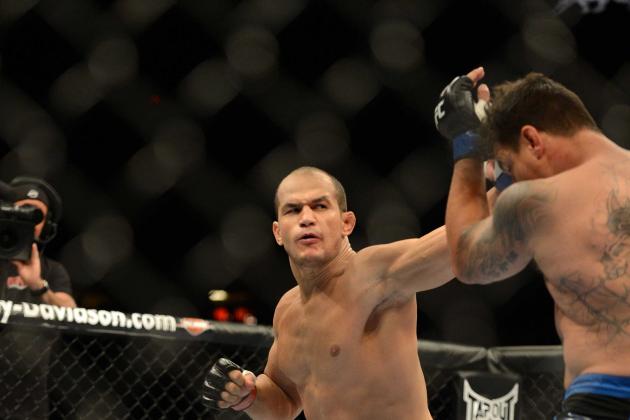 Ron Chenoy-USA TODAY Sports

Fight fans are incredibly vocal when it comes to bookings. They know what they want to see and will not hesitate for one moment to tell you about it.
Sometimes, fans want fights that don't exactly match up with the current divisional rankings. For example, when Alistair Overeem was removed from UFC 146 last year due to a failed drug test, fans and supporters of PRIDE star Mark Hunt rallied behind the Super Samoan in hopes of seeing him in a title fight with fellow striker Junior dos Santos.
UFC president Dana White ultimately shut down talks of that fight because Hunt wasn't ranked high enough to be worthy of a title shot.
If White had ignored the rankings, JDS vs. Hunt would have provided fans with a title fight between the best heavyweight boxer in MMA and a man who was once legitimately crowned the best heavyweight kickboxer on the planet.
Ultimately, Frank Mir ended up getting the spot. As predicted, he was bullied and battered by Dos Santos. JDS vs. Hunt is currently booked as the co-main event of UFC 160.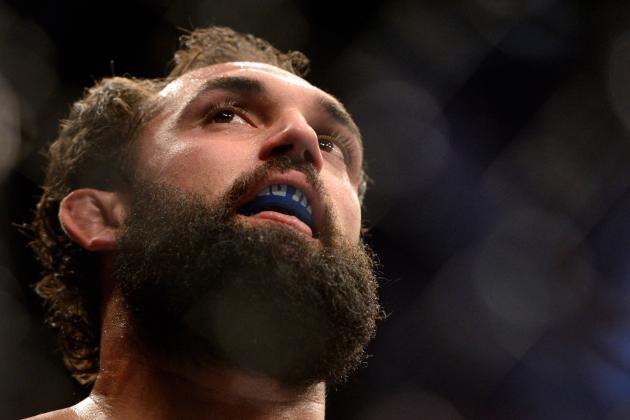 Eric Bolte-USA TODAY Sports

Can you imagine if Major League Baseball commissioner Bud Selig had the power to keep a team out of the World Series due to a personal grudge? After 162 hard-played games, a team could have their payoff ripped from their fingers simply because the guy in charge feels that they don't deserve it.
In the UFC, Dana White has no problem telling fans why the No. 1 contender won't be getting a title fight, despite them being the best ranked option. Fighters like Johny Hendricks, Lyoto Machida and Jon Fitch have all been passed over in recent years despite promised title shots.
If fighters can't take the word of the UFC president, why should fans?
Once a fighter is officially established as the No. 1 contender in a division, he should be booked for a title shot immediately. After all, he is the top contender. By definition, that means no one deserves the opportunity more.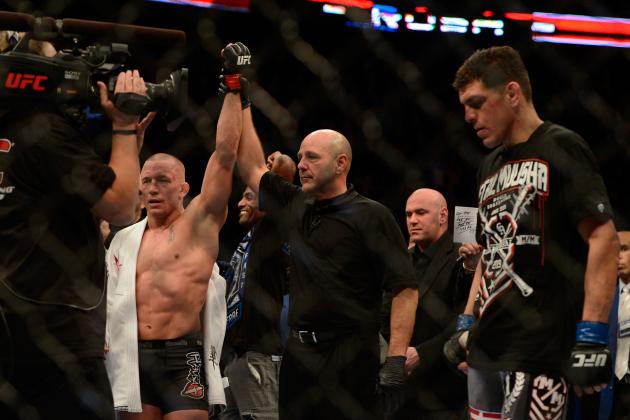 Eric Bolte-USA TODAY Sports

Say what you want about Nick Diaz getting a title fight with GSP despite coming off a loss, the fact of the matter is that UFC 158 did an amazing 1.1 million buys on pay-per-view.
When the UFC ignores the official rankings, they can make the kind of grudge matches that fans dream about. In turn, they are rewarded with incredible buyrates.
A good way to decrease fighter morale is by putting them in a situation where they don't have a lot of room for upward trajectory.
On occasion, fighters who are booked against an opponent that they feel is beneath them will show up on fight night looking unmotivated and/or out of shape. On the other hand, some guys come in at 100 percent, but appear to be offended by their matchups.
For example. UFC bantamweight mainstay Brad Pickett recently made a request of UFC matchmaker Joe Silva (via MMAJunkie):
"I actually would like to fight someone ranked above me for once. Always get people below me."
If the UFC decides that they want to give an up-and-coming fighter an opportunity to step up and make a name for themselves, they should be afforded that luxury. If unranked T.J. Dillashaw is successful on Saturday night, he will boast a four-fight winning streak and be deserving of a bout with someone along the lines of Pickett.
Hearing Pickett call out the UFC for "always" putting him in matchups against lower-ranked opponents illustrates a level of dissatisfaction. If booked against someone like Dillashaw, his discontent could affect his production in a major way.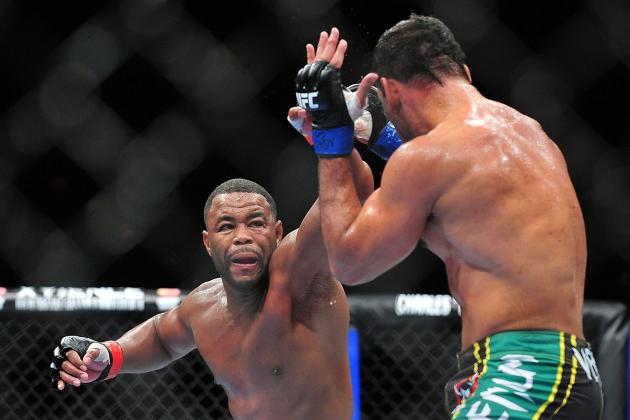 Gary A. Vasquez-USA TODAY Sports

Before the UFC released their official rankings, every major MMA media source would promote their own lists, and nearly every list was different and flawed in a different way. Because of that, the UFC could hype any top-15 fighter as being a fringe member of the top-10.
In the current rankings system, the UFC compiles rankings from all over the MMA world. From ESPN's Brett Okamoto to Dennis Holstein from GenickBruch.com, the voices are being counted.
However, with writers knowing that they actually contribute to the official UFC rankings, room for bias has worked its way into these lists.
For example, if you go to the UFC's ranking page and begin scrolling through the rankings of individual writers, you'll be surprised how many writers have snuck Rashad Evans above Lil Nog.
That is, despite the fact that Nogueira defeated Evans in February.
Rankings should be reflective of the wins and losses earned inside the Octagon, not who MMA journalists like more.
If the UFC chooses to ignore the official rankings, they can easily look past any obvious bias that sneaks in.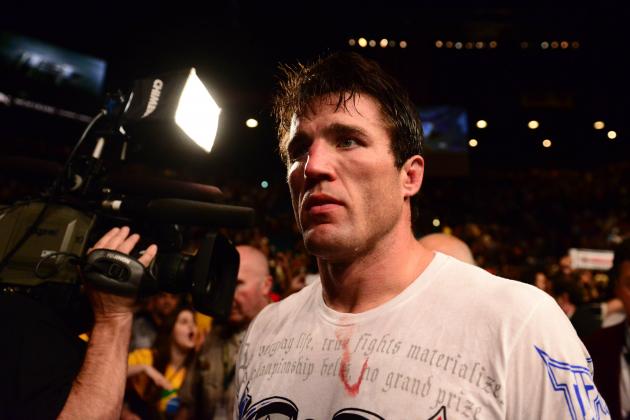 Mark J. Rebilas-USA TODAY Sports

Without any question, the biggest con regarding Zuffa ignoring the official rankings when booking fights is the fact that it makes those rankings lose any and all credibility.
What is the point in having rankings if you are simply going to ignore them and do whatever pleases you most?
Unranked fighters should not be afforded title opportunities. Fighters coming off a loss should not be afforded title opportunities. Title fights are for the guys who have climbed their way to the top with hard work and in-ring dominance.
Andrew Saunders is a featured columnist at Bleacher Report MMA. He hates tomatoes but loves salsa. Follow him on Twitter because you know you want to.