Raiders 2013 Mock Draft: Full 7-Round Predictions, 1 Week Ahead of the Draft
Josh D. Weiss-USA TODAY Sports

The 2013 NFL draft is just one week away, and Oakland Raiders general manager Reggie McKenzie and his staff should have a pretty good idea of the prospects they will look to target.
The team's top needs include pass rush, defensive back and offensive line. With a likely draft strategy of selecting the best prospect available at a position of need, we can expect them to act accordingly.
As all Raiders fans likely hope for, a first-round trade down remains an option, but the complexities of such simply cannot be forecast. As such, any pre-draft predictions work under the assumption that they stay with their current picks.
Here is a seven-round Oakland Raiders mock draft, updated one week before the draft.
Begin Slideshow

»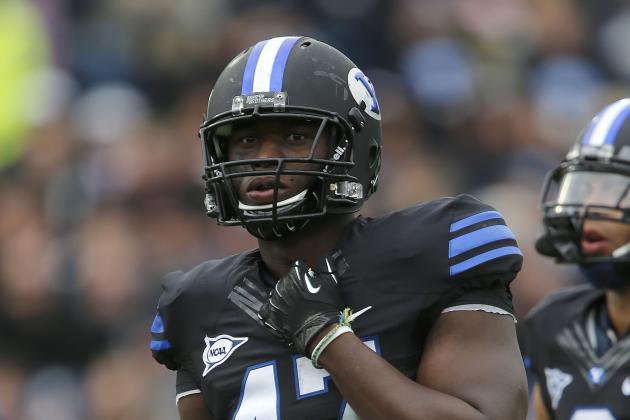 George Frey/Getty Images

By now, it is a well-known fact that the Raiders must address their pass-rushing issues in the early rounds of this draft. Here, they do so with BYU's Ezekiel Ansah.
Ansah's athletic ability is undeniable, as he possesses the size, strength and quickness to be a dominant every-down defensive end at the next level.
His biggest questions heading into the draft surround his inexperience. Ansah is still relatively new to the game of football altogether, but you can bet his physical gifts will make the transition that much quicker.
Ezekiel Ansah may just be the No. 1 overall defensive end in this draft. For the Raiders, he would certainly fill a need as a player who can get after the quarterback, but one who can also contribute in run defense as well.
Going with a defensive end in the first round, the Raiders would then have the flexibility to move Lamarr Houston to the three-technique defensive tackle position, where his skill set could see him have even more of an impact overall.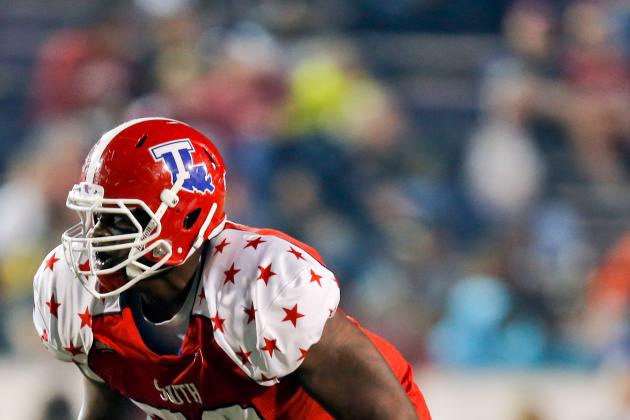 Derick E. Hingle-USA TODAY Sports

Going back to a power-blocking scheme will suit the Raiders' current offensive line well, but there is no denying they could still stand to upgrade a few positions.
The best midround fit for such a power-blocking scheme, and one who could play either tackle or guard at the next level, is Louisiana Tech's Jordan Mills.
Mills is a powerful run-blocker and showcased as much throughout an impressive Senior Bowl week.
A possible day-one starter at left guard, or even at right tackle with Khalif Barnes at left guard, Jordan Mills would be a great midround value pick for the Raiders, addressing a need up front.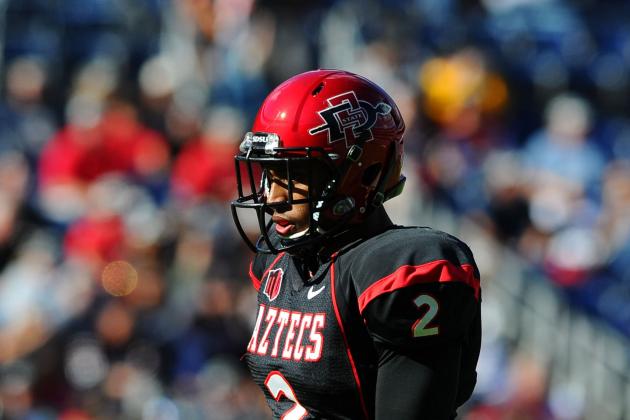 Christopher Hanewinckel-USA TODAY Sports

The Raiders have already signed two potential starting cornerbacks in Tracy Porter and Mike Jenkins, but that won't stop them from adding more to build around in this draft.
Here, the Raiders get an underrated coverage man in San Diego State's Leon McFadden.
McFadden's size and straight-line speed numbers may see his draft stock slip a little bit, but his quickness, strength and ball skills make up for that in a big way overall.
His skill set makes him an ideal outside corner for a team that plays mostly zone coverage, and that is something we can certainly expect from the Raiders, and increasingly so moving forward.
It is possible that Leon McFadden is off the board by this point, but if available, he should be right near the top of the Raiders' list.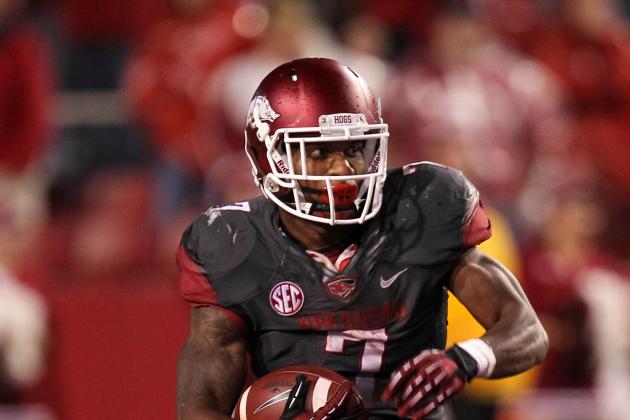 Nelson Chenault-USA TODAY Sports

With Mike Goodson leaving through free agency and Taiwan Jones making the switch to cornerback, the Raiders must address the backup running back position.
Here, they go with Arkansas' Knile Davis.
Davis presents an extremely impressive combination of size and speed, as it is not too often that you will find a 5'10", 227-pound back who runs a 4.37-second 40-yard dash (per NFL.com).
With such a skill set, one would assume he comes off the board much earlier than this, but questions surrounding his durability and agility currently have him projected to drop this far.
Simply put, the durability of a running back can come down to bad luck more so than warranting the "injury prone" label. In Knile Davis, the Raiders would be getting a downhill runner who fits their new power-blocking scheme well.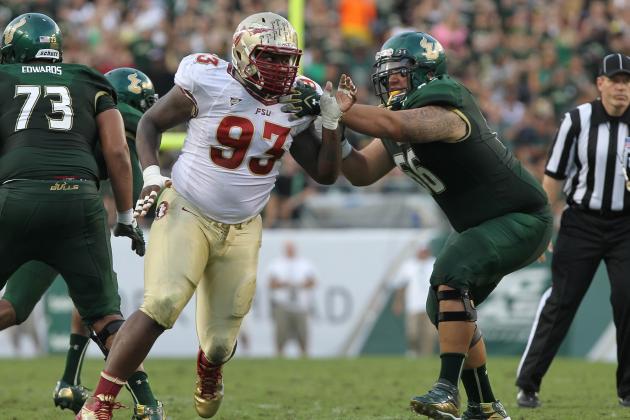 Kim Klement-USA TODAY Sports

Even if the Raiders address the defensive line as early as the first round, that should not keep them from doing so again later in the draft.
Florida State's Everett Dawkins would give the Raiders a deeper rotation at the defensive tackle position, and he could turn into an effective three-technique pass-rusher down the road.
Dawkins possesses an impressive repertoire of interior pass-rush moves, showing quickness getting into the backfield. At first, he may only be a situational player, but that is still an area the Raiders could stand to improve and would get value in doing so at this spot.
Part of a deep defensive line rotation at Florida State, Dawkins didn't put up the numbers that he was capable of, but the ability is certainly there nonetheless.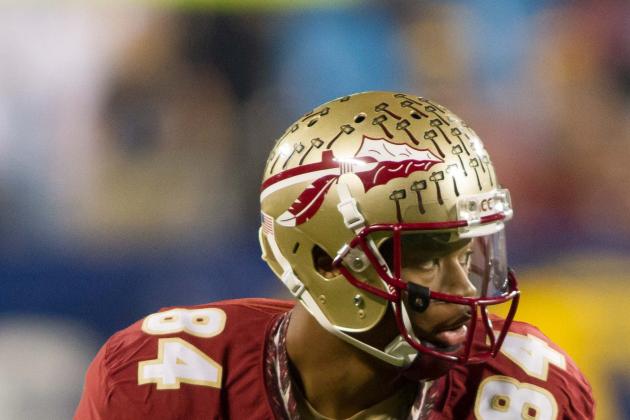 Jeremy Brevard-USA TODAY Sports

With all of the Raiders' other needs, it is unlikely that they look to address the wide receiver position until at least this late.
However, this draft has some intriguing late-round prospects at the position, one of whom being Florida State's Rodney Smith.
Smith's physical ability gives him an advantage over most receivers in this class. Running a 4.51 40 (per NFL.com) while measuring in at 6'5", 224 pounds is extremely impressive.
While he has the ability as a receiver to back up the workout numbers, he did not get many opportunities to showcase such in the Seminoles offense. That lack of production could hurt his draft stock, but could also mean that he becomes a late-round steal for a team like the Raiders.
Even if he wouldn't start right away, taking a season or two to work with a prospect of Rodney Smith's ability could pay off long term.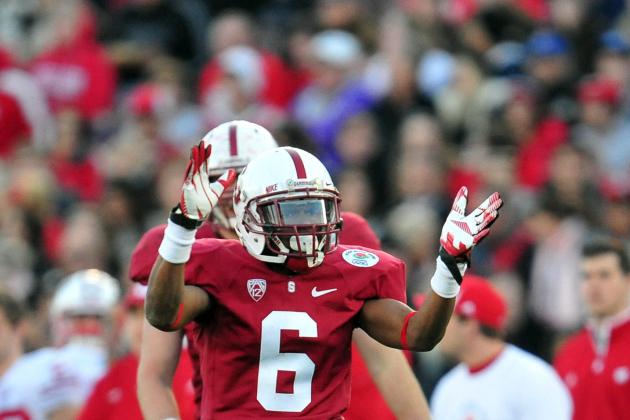 Gary A. Vasquez-USA TODAY Sports

Much like their situation on the defensive line, it would be in the Raiders' best interest to add several cornerbacks throughout the course of the draft.
Here in the seventh round, the Raiders get Stanford's best cover man in Terrence Brown.
Brown has good height at 6'1", but could stand to add some weight to his thin build. Drafted at this spot, he would have some time to do so, as he likely would not be counted upon to start right away.
For the entirety of his senior season, Brown's job was to take away the opposition's top receiver for a Cardinal defense that finished as one of the best in the nation. In what was certainly a difficult task, Brown did quite well and thus was one of the most valuable players on the unit overall.
In a deep draft for the cornerback position, the Raiders would be getting great value with Terrence Brown in the seventh round.