Boston Red Sox: The 5 Greatest Catchers in Team History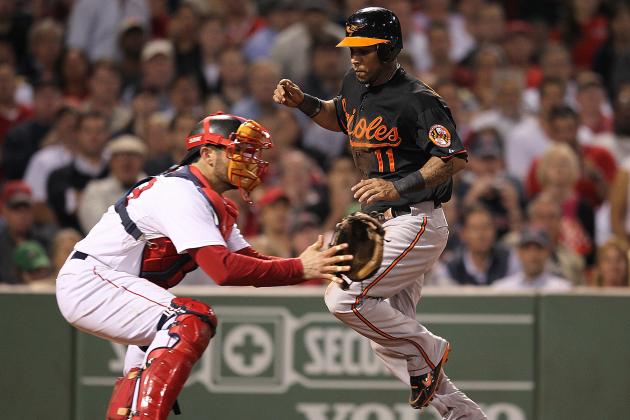 Jim Rogash/Getty Images
The Red Sox have a proud tradition of excellent catchers.
Having just started their 113th major league season, the Boston Red Sox are one of the proudest organizations in all of baseball with a long line of excellent players. Backstops have been among their most important players, and Boston has had some of the greatest catchers in the game during their team history.
Playing catcher is physically demanding and a thankless job, as they spend the bulk of the game crouched in the dirt guiding the pitching staff. Despite doing the grunt work, they can also contribute in many other facets of the game.
Boston has been blessed with many fine players over the years. In particular, they have had some true greats behind the plate.
Click through to see the five greatest catchers in the history of the Red Sox.
Begin Slideshow

»
Played for Boston 1906, 1908-1916
Boston Stats: 709 G, .257 BA, 506 H, 67 2B, 6 HR, 235 RBI
Carrigan's career stats are modest even though he played during the Dead Ball Era. He is still one of the greatest catchers in Red Sox history because of the dual value he brought to the team during his 10-year playing career.
In addition to being an outstanding catcher, he also managed the team from 1913-1916, leading them to a combined 323-175 record and winning the World Series in 1915 and 1916.
After his playing days were over, he managed the team again from 1927-1929, but mustered just a combined 166-295 record, while finishing in eighth place each season.
Nicknamed "Rough," he commanded respect because of his tenacity and willingness to mix things up whenever necessary, according to Bill Nowlin and Jim Primes' book, More Tales from the Red Sox Dugout.
Nowlin and Prime also wrote that Babe Ruth even called Carrigan "The greatest manager I ever played for," leaving little doubt that the catcher was one of the best leaders to ever take the field for the Red Sox.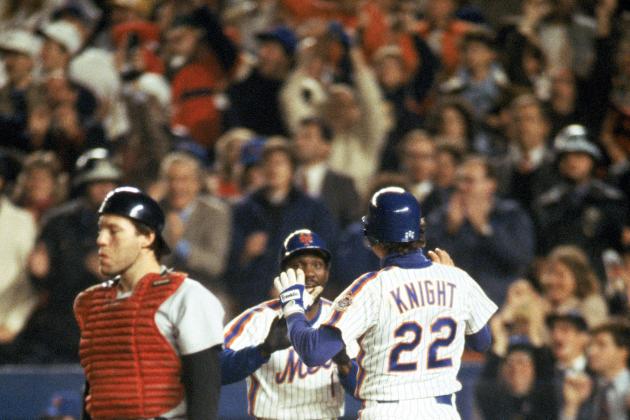 T.G. Higgins/Getty Images
Although disappointed, Gedman was a major part of the 1986 World Series Boston team.
Played for Boston 1980-1990
Boston Stats: 906 G, .259 BA, 741 H, 164 2B, 83 HR, 356 RBI
Gedman became famous in Boston before he even became a regular major league player, thanks to catching the first nine innings of a record-setting 33-inning game with Triple-A Pawtucket in 1981.
The left-handed hitter was a stalwart of the Red Sox lineup during the 1980's. His best season came in 1985, when he hit .295 with 18 home runs and 80 RBI in 144 games, while making the first of two All-Star appearances.
The catcher also starred for the 1986 team, which squandered a three-games-to-two lead in the World Series in heart-breaking fashion.
He threw out 34.7 percent of those attempting to steal bases during his Boston career, but was particularly effective in that regard from 1984-1986, when he nabbed a combined 44.4 percent.
He continues to be a presence in the organization today, as he currently works as a minor league coach. His son Matt was also drafted by the team in 2011.
Played for Boston 1933-1937
Boston Stats: 522 G, .302 BA, 541 H, 111 2B, 16 HR, 240 RBI
Ferrell only spent five of his 18 major-league seasons with the Red Sox, but made his mark on the franchise during that time.
He was an All-Star every year with Boston and was one of the best all-around catchers in the American League, coinciding with the peak of his career.
Amazingly, the right-handed hitter struck out just 75 times while a member of the Red Sox, compared to 269 walks.
Not just a hitter, he also led the American League by snuffing 59 percent of stolen base attempts in 1935.
His brother Wes played three-and-a-half seasons in Boston with Rick as his battery mate, winning a combined 62 games and leading the league in innings pitch three times.
Rick was elected to the Baseball Hall of Fame in 1984; his resume largely boosted by his excellent production with the Red Sox.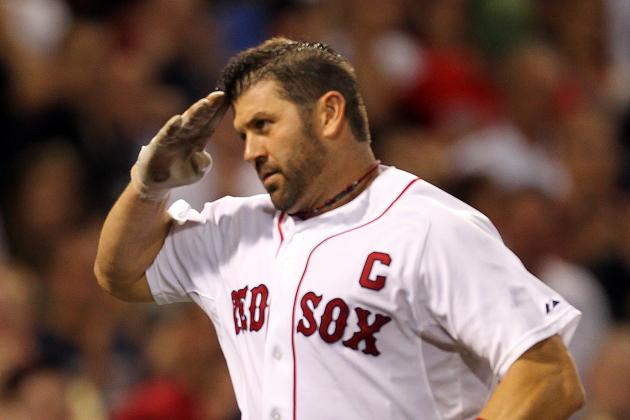 Jim Rogash/Getty Images
Varitek was a team captain and a beloved player for Boston for many years.
Played for Boston 1997-2011
Boston Stats: 1,546 G, .256 BA, 1,307 H, 306 2B, 193 HR, 757 RBI
Although Varitek was a first-round draft choice of the Seattle Mariners, he never played a game for them in the majors. Instead, he was dealt with future long-time Red Sox pitcher Derek Lowe to Boston in 1997 in exchange for erratic closer Heathcliff Slocumb.
The move was a master stroke for the Red Sox, as the switch-hitting Varitek went on to play his entire 15-year career in Boston.
He caught a record four no-hitters and gained wide-spread recognition for his ability to handle a pitching staff. He only threw out 23 percent of runners during his career but was so respected for his impact on the team that in 2005 he was named just the fourth team captain since World War II.
Despite his excellent all-around play, Varitek's defining moment was more related to boxing.
During a game on July 24, 2004, he grew fed up with the jawing of New York Yankees' Alex Rodriguez during an at-bat and ended up sticking his glove in the star's face, creating a bench-clearing brawl.
Boston, who trailed the first-place Yankees by 9.5 games at the time, went on to win their first World Series since 1918 later that year.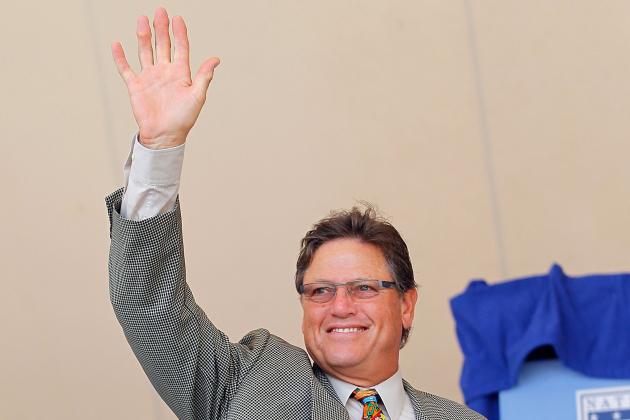 Jim McIsaac/Getty Images
Fisk rode his success with the Red Sox into the Baseball Hall of Fame.
Played for Boston 1969-1980
Boston Stats: 1,078 G, .284 BA, 1,097 H, 207 2B, 162 HR, 568 RBI
Fisk had many memorable moments during a 24-year Hall of Fame career. However, he will forever be defined by the iconic home run he hit in Game Six of the 1975 World Series at Fenway Park against the Cincinnati Reds.
He was a hero from the beginning, winning the 1972 American League Rookie of the Year Award. He also was a seven-time All Star during his 11 seasons in Boston before playing the final 13 years of his career with the Chicago White Sox.
His best year in Boston came in 1977, when he hit .315 with 26 home runs and 102 RBI in 152 games.
The rivalry he had with New York Yankees' catcher Thurman Munson only increased his profile and the competitiveness between the two legendary franchises.
Lovingly nicknamed "Pudge," Fisk was more than just an offensive catcher. He also threw out 36 percent of runners attempting to steal during his tenure in Boston.
Near the top of just about every offensive record for catchers, Fisk started his track record of excellence as a member of the Red Sox and is their greatest catcher of all time.
Statistics via Baseball-Reference