Liverpool: Imagining a Reds Lineup with Andy Carroll Back at Anfield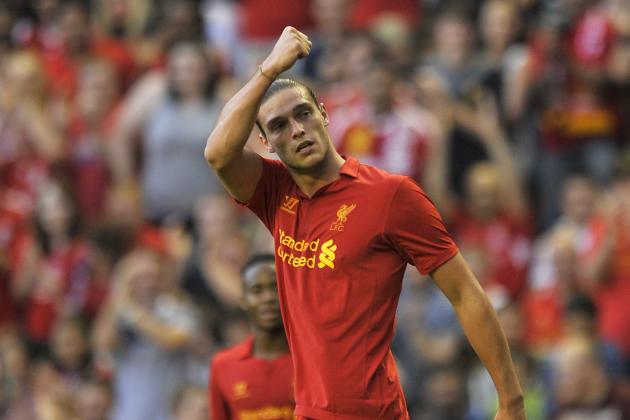 Clint Hughes/Getty Images

The latest twist in the Andy Carroll saga is that he has gone on record saying he would be open to staying at current club West Ham United (via The Guardian).
The Hammers No. 8, currently on loan at Upton Park from Liverpool, has enjoyed a rich vein of form of late, netting a long-range free-kick against Southampton this weekend, and has scored five goals in his last seven Premier League starts.
With Carroll relishing his chances leading the West Ham line, there are obvious merits to a possible reconsideration of his place in the Liverpool first team this summer. However, the mooted £17 million asking price (via Daily Mail) would be hefty for any club interested in the big striker.
And so, whether Brendan Rodgers wants to or not, he might face a situation where Andy Carroll is back at his disposal at Anfield next season.
He might not make the starting lineup week in, week out, but here is how Liverpool could and should look like, in a 4-2-3-1 formation, with Andy Carroll back in the mix at Liverpool.
Disclaimer: For all the rumors surrounding Liverpool's transfer activity this summer, we will assume that the squad remains unchanged for practical purposes.
Begin Slideshow

»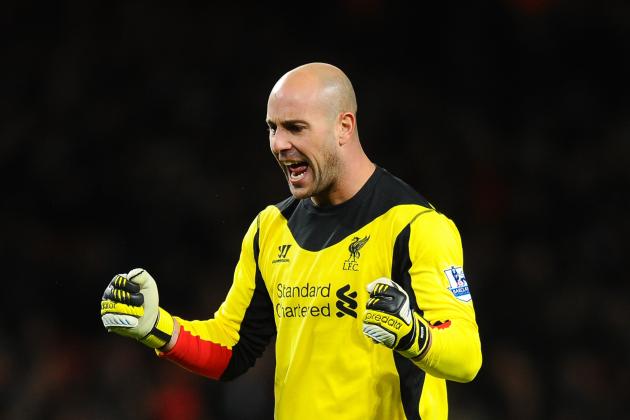 Laurence Griffiths/Getty Images

With another clean sheet in the goalless draw against Reading on Saturday, Pepe Reina is currently on 11 clean sheets for the season, joint second alongside Chelsea's Petr Cech and three behind Manchester City's Joe Hart.
At top form, Reina will keep his place as the Reds' No. 1 choice between the Anfield posts.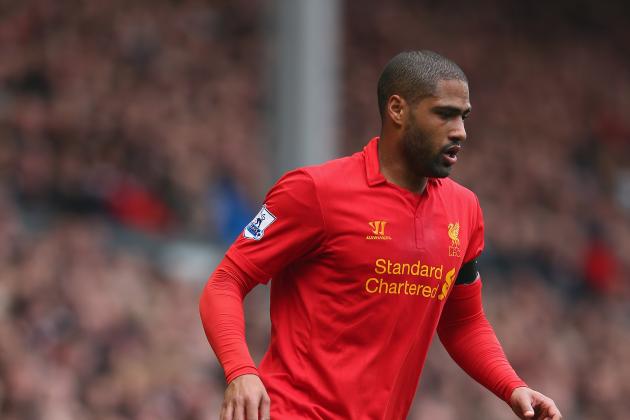 Alex Livesey/Getty Images

Glen Johnson might be suffering from a recent dip in form, but he remains Liverpool's best option at right-back for the time being.
Andre Wisdom, following his good early-season form, might have a shout, but Johnson's attacking contributions and crossing would be key in this lineup.
In light of Jamie Carragher's impending retirement, we look forward to seeing Martin Kelly take up a more central position rather than his usual right-sided role.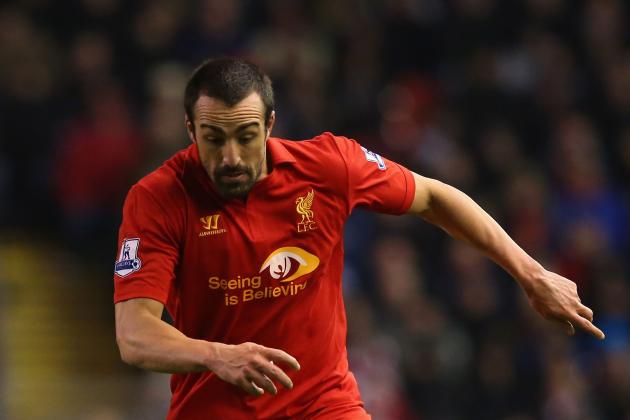 Alex Livesey/Getty Images

Jose Enrique often polarizes debate as to whether he is actually one of the best left-backs in the league or an overrated member of the Reds squad.
As things stand, though, unless Jack Robinson builds on his current loan spell with Wolverhampton Wanderers, there are few direct contenders or replacements on the left side, so we will continue to go with Enrique's physical brand of defending.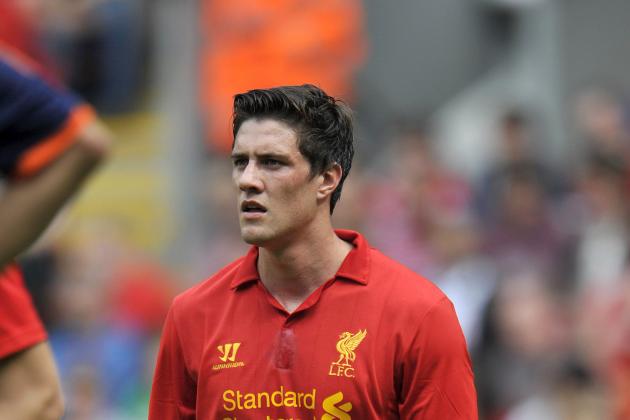 Clint Hughes/Getty Images

As a Liverpool and England player, Martin Kelly has always played on the right-hand side. But since Carragher will be retiring this summer and Martin Skrtel has shown discouraging form, and since Kelly has suffered from a series of injuries, the current safe option should be to move him into the center of defence.
To be sure, playing in the center will limit his contributions down the wing, where he is deceptively fast, but for a player considered to be a center-back in the long run, getting more experience there to build up his composure and defending will only be beneficial.
For a lineup featuring a physical attacker here, Liverpool would be playing two strong but technical defenders.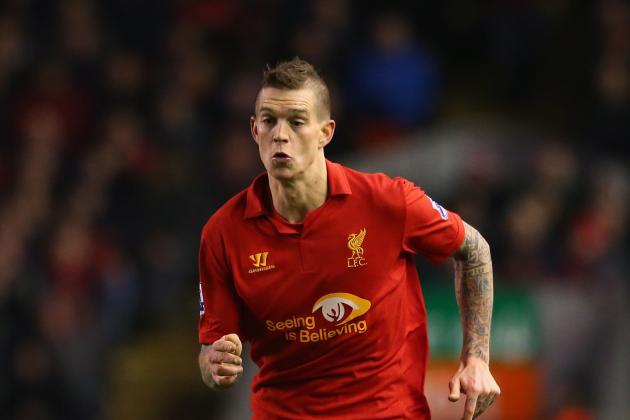 Alex Livesey/Getty Images

If Daniel Agger keeps up his fitness, which has so impressively been addressed by Brendan Rodgers' medical team this term, he will surely retain his position as Liverpool's starting left-side defender.
He might not present a credible threat on set pieces with his head, but with Andy Carroll causing confusion in the box, Agger could be in line for a pounced goal or two with his awareness and cultured left foot.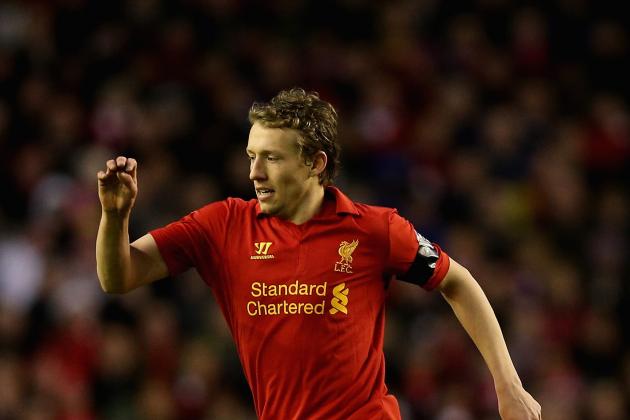 Clive Brunskill/Getty Images

For lack of a better option, Lucas retains his role at defensive midfield in this lineup, but for a system to support Andy Carroll seamlessly, he must improve on his recent form as the linkman between defence and attack.
Carroll's hold-up play will bring midfielders to the attack, and Lucas will be expected to provide the distribution required to facilitate this approach.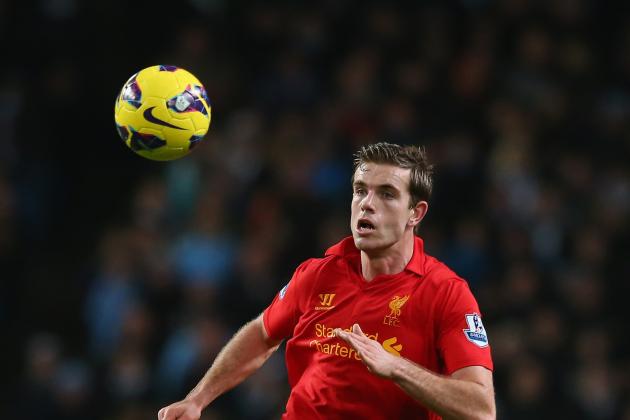 Alex Livesey/Getty Images

Instead of Steven Gerrard, who has played so well as a deep-lying playmaker this season, we will go with Jordan Henderson in the center of midfield, where his eye for a pass and industrious work rate will come in handy.
It has become apparent that Lucas needs major support in the form of midfield presence and looks more comfortable when Henderson is also on the pitch. With a threatening attacking quartet in front of him, Henderson will need to be on top form to support their running.
He will have to keep up his impressive recent improvement to nail down a position here.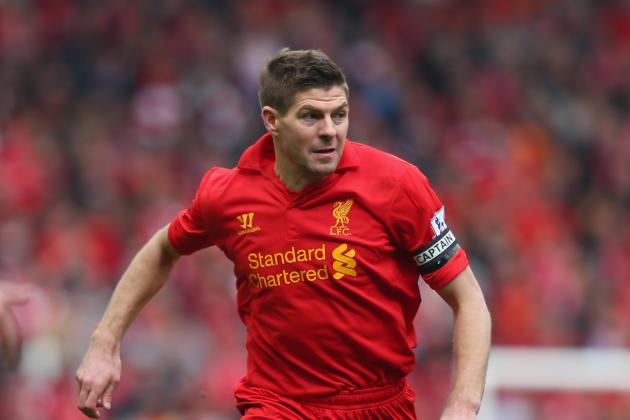 Alex Livesey/Getty Images

On the right, we have restored Gerrard to the position he took up in the 2005-2006 season, when he notched a career-high 23 goals and presented a major threat with his freer role.
No doubt we expect a more forward position to result in more goals for Gerrard, whose pace and finishing are underrated, but more importantly, what the skipper brings to the table on the flanks is his crossing, one of his finest attributes.
He proved in Euro 2012 that his contributions from the wing would complement Carroll's aerial prowess, and they could yet do the same in a Red shirt.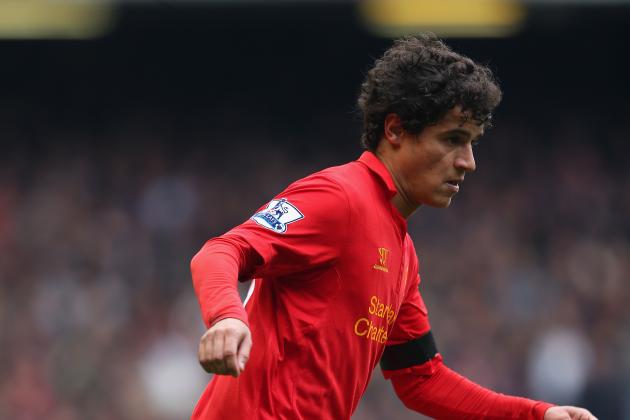 Alex Livesey/Getty Images

Since his arrival from Internazionale in January, Philippe Coutinho has made the left wing position his own and has become a key player in the Reds' forward line.
We have seen glimpses of Coutinho's crossing ability, while his acceleration and dribbling make him a tough opponent to mark—which will suit Carroll by way of assists and occupying the attentions of opposing defenders.
Alternatively, Carroll's physical presence and hold-up play could create more opportunities for Coutinho to ghost in and attack effectively.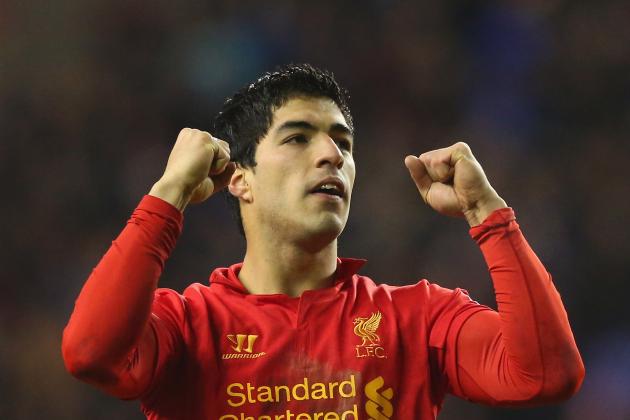 Alex Livesey/Getty Images

Going along with the mutual benefit theme, another player who might thrive playing off Carroll and the space he vacates would be the dangerous Luis Suarez, who, despite being off-form in his last few games, has been one of the stars of the season.
Kenny Dalglish experimented with a 4-4-2 featuring Suarez alongside Carroll in a big-man-little-man combination, but his overall lineup did not feature other players who would make life hard for defenders on the flanks—players like Coutinho and Gerrard.
With this issue addressed and a new counterattacking element to the side, perhaps it is time to give the Suarez-Carroll partnership another chance.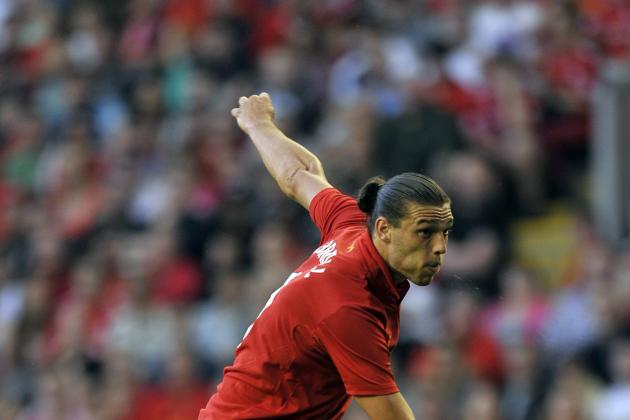 Clint Hughes/Getty Images

Leading the line in this lineup is, of course, our main character, Andy Carroll, who tried in vain to prove his ability to play in the possession-based system favored by Brendan Rodgers.
But as Rodgers has found out, it is important to be flexible and to change approaches when needed—the recent proliferations of the longer ball, direct through ball and counterattacking play are all examples of a constantly evolving Liverpool side.
So would Carroll get a second chance to prove he might just work in such a team?
He might have dislodged Daniel Sturridge in this lineup, and he might not be the ideal "Plan B" that many advocate, but as Chelsea found out in the FA Cup Final last May, a Liverpool attack led by Andy Carroll could prove quite a handful.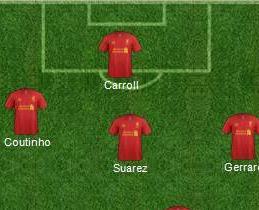 Here's how our Liverpool XI looks with Andy Carroll back in the team, regardless of whether he starts or comes on as a substitute.
Is this worth trying? Or would Liverpool still be better off trying to offload him, even if that might involve letting him go on the cheap? Let us know in the comments below.
For more extensive coverage on Liverpool and the Premier League, check out my Bleacher Report writer's profile and follow me @theredarmchair.