Predicting the Potential Arsenal Starting Lineup for 2013-14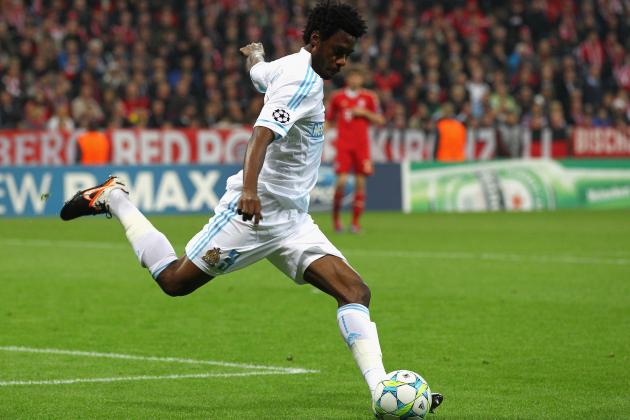 Martin Rose/Getty Images

Three new signings and a more suitable position for Jack Wilshere highlight Arsenal's potential starting lineup for 2013-14.
The Gunners will begin the new season with two new faces among the back five. There will also be a new addition further forward, who will create balance between the midfield and forward lines.
There will be no place for a central figure from this season's team. The same is true for one young player once thought to be a rising star.
Here is the potential starting lineup the Gunners will use next season.
Begin Slideshow

»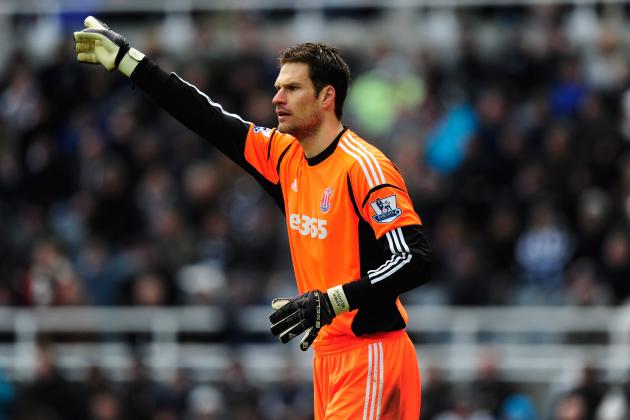 Stu Forster/Getty Images
Asmir Begovic will be the key signing Arsenal make this summer.
This has to be the summer Arsene Wenger spends big to end the problems at goalkeeper. The player he must target is Stoke City's Asmir Begovic.
Once thought a natural target for Manchester United, Begovic would be the key signing of the summer for Arsenal. United's woes between the posts have been eased with the upturn in form from David De Gea.
Arsenal meanwhile, have auditioned three custodians this season. None of Vito Mannone, Wojciech Szczesny or Lukasz Fabianski have been convincing.
Wenger hasn't had a 'keeper he can trust since the outlandish Jens Lehmann was tending goal. Now is the time to fix that problem.
Even if United are out of the race for Begovic, the Bosnia international will still be available. That was clear when the Potters signed highly-touted England youth Jack Butland in January.
It's also clear that Arsenal have an interest. A recent article in The Daily Telegraph suggested the Gunners are actually a leading contender to sign Begovic.
His price was quoted at £15 million, but that would be money extremely well spent for Arsenal. It would buy them a figure of authority behind their defence.
Begovic is one of the most commanding stoppers in the English Premier League. Szczesny meanwhile has failed to deliver on his early promise.
Forget £20-30 million on Stevan Jovetic. If Wenger spends big this summer, it has to be on Begovic.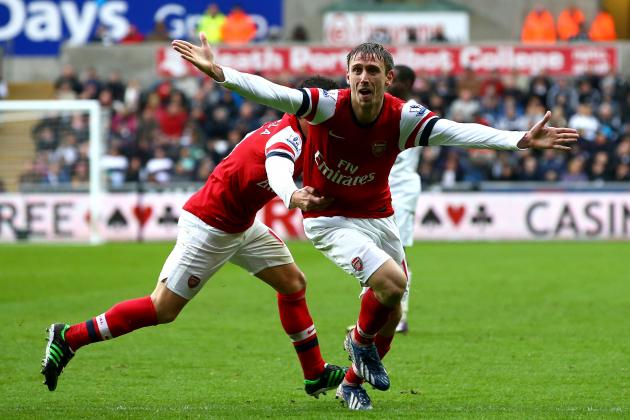 Jan Kruger/Getty Images
Nacho Monreal will establish himself as Arsenal's regular first-choice left-back.
Nacho Monreal has already proved to be an astute signing by Wenger, since arriving in January. By the end of this season he will establish himself as Arsenal's regular first-choice left-back.
He will get the nod over Kieran Gibbs thanks in large part to his greater durability. Gibbs is certainly a talent, but a tragically brittle one.
Monreal's fitness is more reliable and his style of play a little more solid. He'll never offer the attacking potential Gibbs can, but he won't embarrass himself going forward either.
More importantly, Monreal will be a little tougher and more assured defensively. His positional sense is already superior to Gibbs.
The ex-Malaga man is also stronger in the challenge. His mediocre pace is a concern, but Monreal won't often put himself in areas where that weakness can be exposed.
He will become one of the solid citizens in what will be a much-improved defence next term.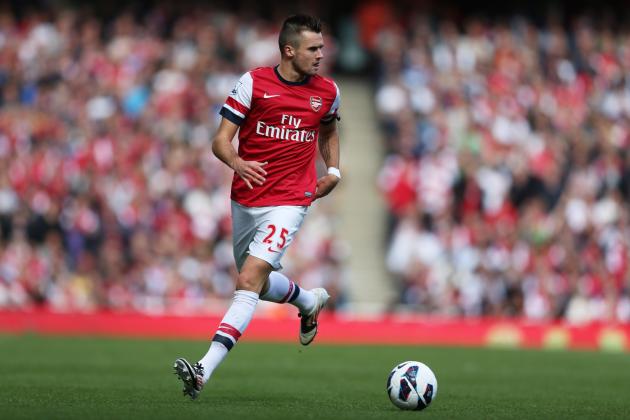 Richard Heathcote/Getty Images
Carl Jenkinson will develop into a competent starter in the new season.
Replacing Bacary Sagna won't be easy. However, after failing to agree a new deal with the French veteran, Wenger will trust Carl Jenkinson to start.
It's not a major risk for Arsenal. Jenkinson has shown significant improvement this season and looks like a Premier League-standard full-back.
He'll play with greater intensity than Sagna has managed during most of the last two seasons. Jenkinson's commitment to the cause won't ever be doubted.
Even more important than that, his natural ability as a defender will continue to develop. Jenkinson will become more adept at coping with direct pace and will play a smarter game in 2013-14.
By the middle of next season, don't be surprised to hear the ex-Charlton Athletic prodigy heralded as a true bargain.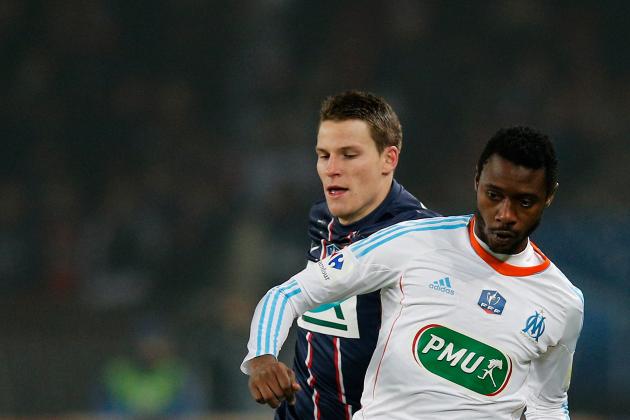 Dean Mouhtaropoulos/Getty Images
Nicolas N'Koulou will be another of Wenger's excellent finds.
Arsenal must buy a new centre-back this summer and Marseille's Nicolas N'Koulou seems like the most natural candidate. He's already been linked with the Gunners several times.
The links make sense, considering N'Koulou would be a classic Wenger signing. At 23, he's the right age for the kind of young up and coming talents Wenger often acquires.
The Cameroon international is also a star of African football. Few managers in the game know and appreciate the African market as well as Wenger.
Finally N'Koulou has come to prominence in Wenger's native France. Wenger may not have the monopoly on talent recruitment from his homeland that he once had.
However, the Gunners' boss is still not shy about plucking some of the leading prospects from Ligue 1. N'Koulou is certainly one of those.
He boasts the quickness, athleticism and instinctive style to better suit the other members of Arsenal's back four. In particular, N'Koulou will make life easier for his central defensive partner.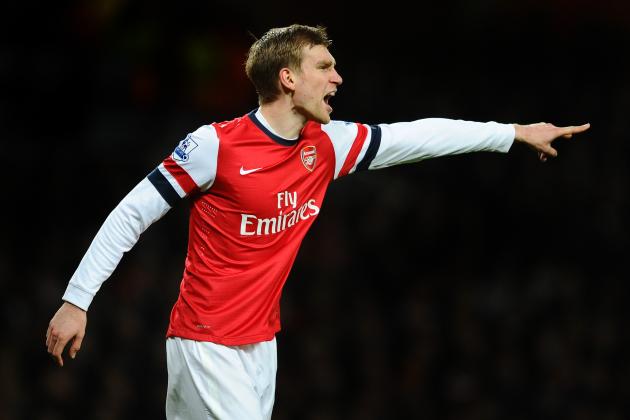 Laurence Griffiths/Getty Images
Per Mertesacker should lead Arsenal's revamped defence.
Wenger has a decision to make regarding his current centre-backs Per Mertesacker, Laurent Koscielny and Thomas Vermaelen. The decision should involve keeping Mertesacker in place as a starter.
The towering Germany international is Arsenal's best defender. He may not be as tenacious as Vermaelen, but he is also nowhere near as reckless.
He certainly isn't as quick as Koscielny, but Mertesacker reads the game better than the Frenchman. He should stay in place to lead a revamped defence in 2013-14.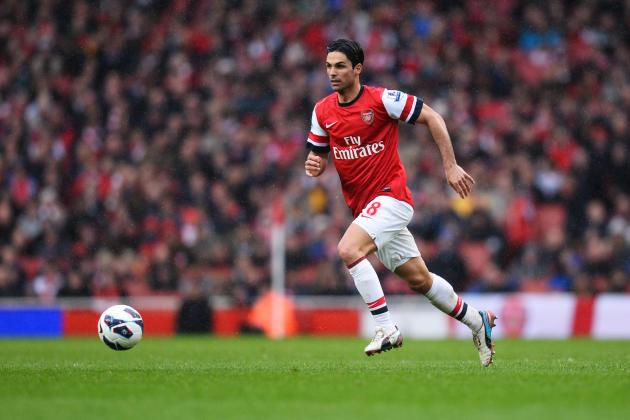 Mike Hewitt/Getty Images
Mikel Arteta can be a great skipper next season.
Speaking of leaders, that's exactly what Mikel Arteta is for Arsenal. The EPL veteran is still indispensable to the Gunners.
As the unofficial boss on the pitch, Arteta's leadership skills deserve the official recognition of the captain's armband. He can continue his role as the savvy, steadying force at the base of Arsenal's midfield.
Arteta's ability to orchestrate the flow of play and marshal the shape of the team will be invaluable next season. His intelligence and discipline can also positively influence one young star approaching a crossroads.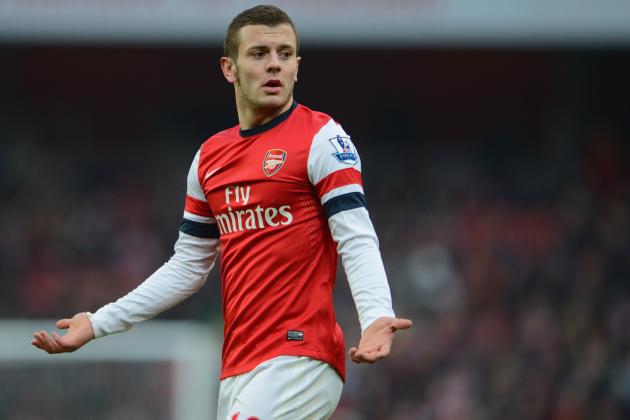 Michael Regan/Getty Images
Jack Wilshere must play with more discipline in 2013-14.
Jack Wilshere can still be a key figure for Arsenal. However, it will take a positional switch to help his potential flourish.
Wilshere should adopt a deeper role next season. He must approach that role with more discipline and restraint in his playing style.
Wilshere should be dropped in alongside Arteta to form a two-man anchor for Arsenal's midfield. It's similar to how Wenger structured his team for the 2009/10 season.
Then it was Denilson and Alex Song who started and largely stayed deep. They let Cesc Fabregas spend more time further forward as the advanced central schemer.
Wilshere has proved in recent games that he is not cut out for the Fabregas role. He was abysmal against Norwich City in his comeback from injury.
Before that, he was short of ideas and execution in the North London derby. The problem is Wilshere too often slows down Arsenal's passing game.
He is not a forward-thinking player. He doesn't have the eye for a pass that Fabregas possesses, nor does he have the subtle range of movement that Tomas Rosicky boasts.
With Wilshere as the advanced playmaker, Arsenal's passing too often goes from side to side. It lacks a forward thrust and that's because Wilshere is an efficient, possession player.
He belongs on the halfway line and not much further forward. There he can ensure Arsenal dominate possession, because he doesn't waste passes in intermediate areas.
His short-pass and move style belongs further back. As does Wilshere's appetite for the tackle and willingness to harass the opposition.
Those are priceless qualities that must be put to better use. That means Wilshere must stay deep and not indulge in Steven Gerrard-type bursts ahead of his forward players.
That buccaneering style might look good, but it damages Arsenal's collective play. Wilshere should take note from Arteta and conduct things from further back.
If he does, Arsenal will be a better team for it, and one player in particular can return to where he does his best work.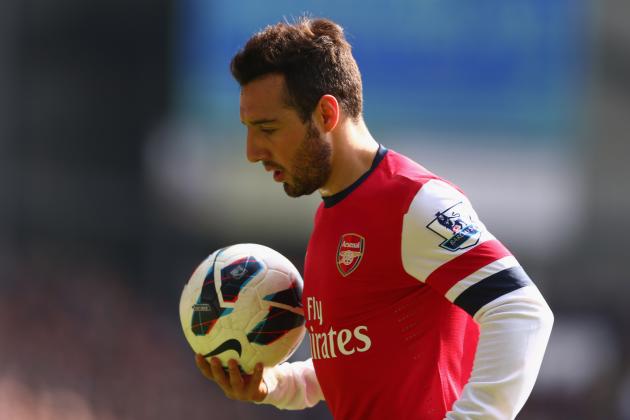 Michael Steele/Getty Images
Santi Cazorla will return to a central role and flourish.
Santi Cazorla has been Arsenal's best player this season by a considerable distance. That's despite being moved out of his favored position.
He's managed to replicate Fabgregas's influence and that's no easy task. However, Arsenal are wasting their pint-sized maestro when they play him out wide.
The Gunners play their best football when Cazorla occupies central areas. He has shown a knack for a goal, with many of his 12 league strikes coming from the middle.
Just as important, Cazorla can see and play the passes the others can't. It can be a smart reverse ball that dissects a central defensive partnership.
Or it can be a cleverly threaded pass between the lines that bypasses midfield and leaves a full-back stranded. Arsenal need Cazorla's craft, ingenuity and flair in the middle.
That central schemer is the key to Wenger's style of play. Before Fabregas, it was Dennis Bergkamp. The physical mold of player may have been different, but the role and its importance were the same.
Arsenal need that advanced midfielder, or supporting forward, who will add a flourish to their smart, neat passing. That's what Cazorla does best.
He is the team's creative hub and good enough to win them a title. Moving him back into the middle is essential and will be made possible by the last of Arsenal's new arrivals.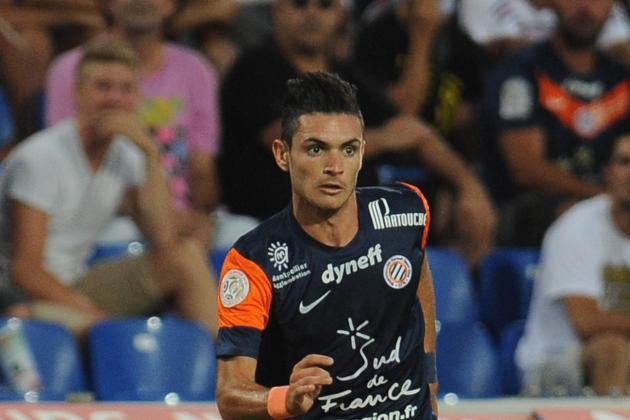 Valerio Pennicino/Getty Images
Remy Cabella will be the link between midfield and the strikers.
Wenger can put Cazorla back in the middle once he's solved the issues on the left. The solution will be signing Montpellier star Remy Cabella.
He will give Arsenal what they need in the wide berths. That's a forward who is more of a midfielder than a winger or wide striker.
Wenger has always favored this type of player, with Robert Pires being the best example. It's why things haven't exactly worked out with Lukas Podolski.
Cabella can solve the issue. He is technically proficient and Wenger is already an admirer. The Sun newspaper has linked Arsenal with definite interest.
Cabella would team with Cazorla to give Arsenal two creative-minded ball players in advanced areas. The pair would complement the more direct qualities of the Gunners' primary goal-getters.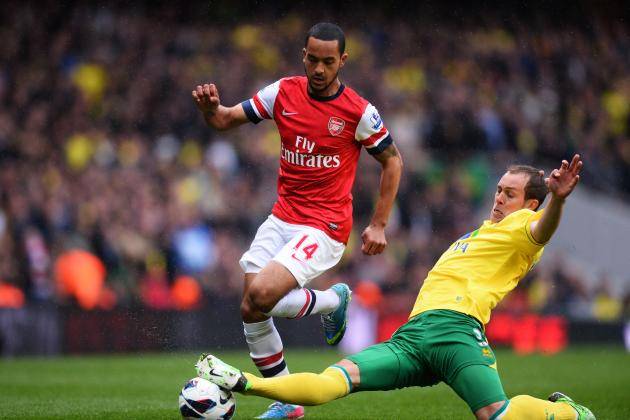 Mike Hewitt/Getty Images
Theo Walcott will be counted on as Arsenal's primary source of goals.
Theo Walcott's position will expand and he will grow in significance in the 2013-14 season. Rather than being primarily tasked with providing width, Walcott will play closer to the main striker.
That's what he's been doing for most of this season and he's looked a better player because of it. Walcott will have greater licence to roam the front line and go in search of goals.
That will include coming off the right more often, something he should have been doing anyway. Walcott will play as a hybrid attacker. He will be part wide forward, part supporting striker.
With more consistent supply, thanks to greater levels of creativity in advanced areas, Walcott will enjoy his best scoring season.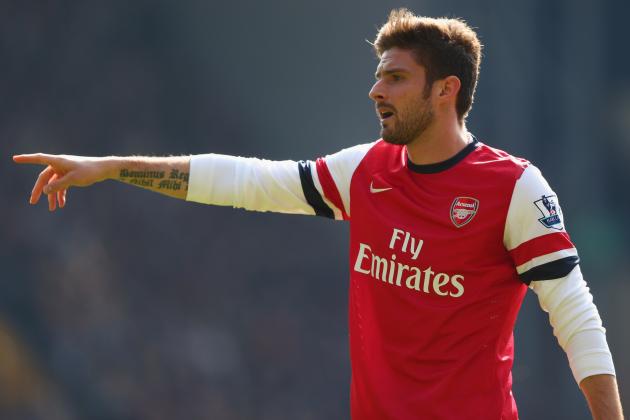 Michael Steele/Getty Images
With some refinement, Olivier Giroud will be more productive.
Olivier Giroud will continue to lend his enigmatic talents to middle of Arsenal's strike force. After a rough learning curve this season, Giroud should come back stronger.
He remains very much a conundrum, yet he is the ideal project for Wenger. Arsenal's manager loves to cultivate a star player and Giroud offers him a challenge.
Despite a catalogue of clumsy moments, he has still netted 17 goals. What Giroud needs most is to refine his game.
Rather than blasting every shot as though he has a personal vendetta against the ball, he must learn assured finishing. Giroud must also be taught to better use his height and strength to the team's advantage.
That means offering an outlet by winning a long ball, holding off a defender and waiting for support. Too often Giroud controls a high pass and then tries to beat his markers.
If Wenger can encourage greater composure and authority in Giroud, Arsenal will have a dangerous target man. The physical attributes and raw quality are there. They simply need harnessing.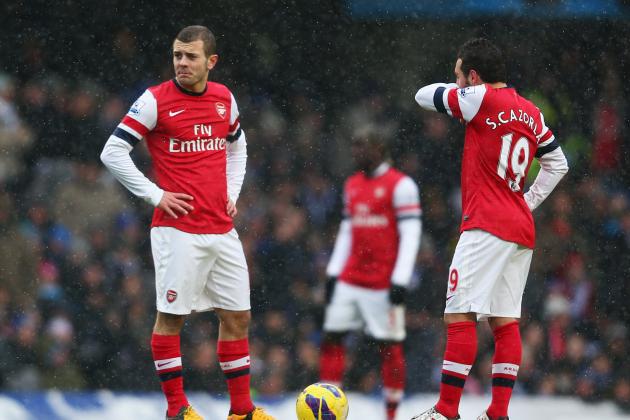 Clive Rose/Getty Images
Arsenal's players will fit together better in the new season.
The main issue Arsenal have had this season has been identifying the right combination of players. Too many starting XIs have been made up of players who simply don't complement each other.
That will change in the 2013-14 season. With some subtle adjustments, Wenger will have a deeper, better-structured squad.
Giroud and Walcott will continue to develop a rapport as a de facto striker partnership. They will thrive thanks to the ideas and flair of Cazorla.
He will be in the right position to influence the attacking play. He'll also have more support in carrying the creativity burden.
Defensively, Mertesacker will be allowed to play his natural game, knowing there is pace to cover areas behind him. The back four as a whole will benefit from a more commanding presence tending goal.
Wilshere could well be the key. If he plays deeper and with more discipline, the whole team will be better. The two-man midfield base he will help provide, will let Walcott drift off the wing more often.
It will also allow Cazorla to spend more time in the areas where he can make all the difference. Wilshere and Arteta will offer more security to the defence simply by dominating possession.
With greater balance, Arsenal's new starting eleven will be strong enough to end that annoying trophy drought.