Imagine...
It is the spring of 2014 and Real Madrid and Barcelona are contesting a Clasico that will determine the destination of the title.
All square at two goals apiece in the 80th minute, Barcelona have had much of the ball, but Madrid have looked menacing on the counter—even outshooting the Catalans over the course of the match.
And then, with the added time just posted on the board, Xabi Alonso wins possession near the centre circle and slides the ball to Gareth Bale, who blows past Sergio Busquets in three or four steps. Noticing Cristiano Ronaldo to his left, he dishes to the Portugal captain and shakes off Gerard Pique on the edge of the box, receives Ronaldo's return pass and, after a quick step to shift the ball to his left foot, curls an in-swinging effort just inside the near post.
Madrid go on to win La Liga, and Barcelona go into the summer knowing a handful of impact signings will have to be made in order to contend with the Ronaldo-Bale combination the following season.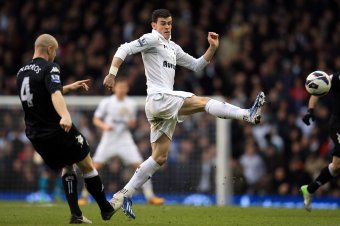 Richard Heathcote/Getty Images
Just imagine. Not that you may have to much longer.
If Florentino Perez has his way (per the Metro), Real Madrid will acquire Gareth Bale for £40 million in July or August and, if they manage to keep hold of Ronaldo, will go into next season with the most fearsome attacking tandem in world football.
Of course, Tottenham Hotspur will be far more receptive to Madrid's advances should they fail to qualify for the Champions League, which is why Perez—the Madrid president—will no doubt be keeping a close eye on the Premier League table over the next few weeks.
He'll be looking to convince Ronaldo to sign a new contract as well.
Come the first match of the 2013-14 campaign, Ronaldo will have only a season remaining on his contract, and if Perez gets the sense his talisman is letting his deal run out, he won't hesitate to move him on.
But that's still a big "if," just as a successful bid for Bale is still a big "if." But let's play around with the idea.
Should they land the Welshman, Madrid would be bringing in a powerful, versatile attacker who has scored 17 goals in 27 Premier League matches this season. He has also taken an incredible 128 shots (only Luis Suarez has attempted more in the division), 59 of which have hit the target.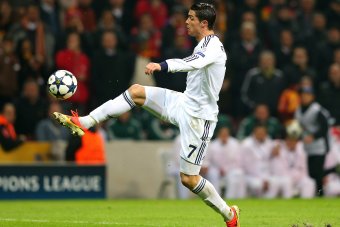 Alex Livesey/Getty Images
Ronaldo, meanwhile, has bagged La Liga goals to date while launching 198 attempts, hitting the target 97 times.
Talk about intimidating the opposition goalkeeper. Between the two of them, Bale and Ronaldo would force upwards of 200 saves over the course of a season—many of them difficult and many of them resulting in rebounds or corners.
It would be a shooting gallery, and while the 'keepers would be continually bracing themselves for shots, their defenders would be backing off some of the most physically imposing attackers in the sport.
Bale is 6'1" and still filling out, while Ronaldo is slightly taller and already viewed as one of the most powerful forwards in Spain. Then there is the burly Karim Benzema, who is just a touch shorter than Ronaldo but the shape of a fridge. Few defenders would be able to deal with the three of them, and one of the trio would typically have considerable space to himself as a result.
While there are still some issues to be sorted out—his own re-election among them—Perez will surely go hard after Bale over the next few months. After all, he has likely daydreamed similar scenarios involving Bale and Ronaldo, and with Barcelona about to take back the title, he, like many others, may feel a move for the Welshman is his best bet for regaining it.
Just imagine.