Miami Dolphins Draft: The Best Fit for the Miami Dolphins at Every Position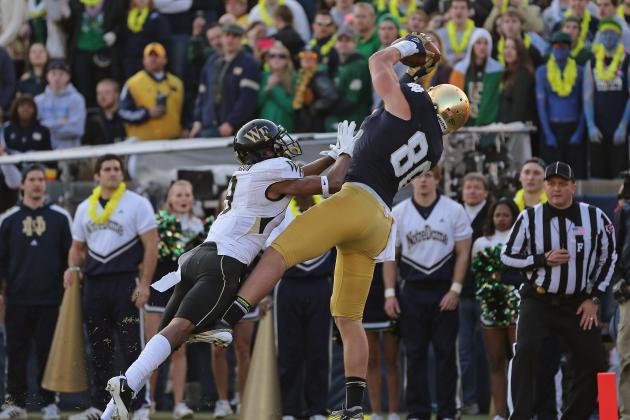 Jonathan Daniel/Getty Images

Whoever can predict who the Dolphins will select with their first-round pick should get a gold star. At this point, I doubt many outside the organization have a concrete idea of what direction Jeff Ireland is leaning toward.
This year's draft is not top heavy but is extremely deep in a couple positions. With 11 picks under his belt, Ireland has a good amount of picks in a year where it's good to have a lot of picks throughout instead of two or three in the first few rounds.
Right tackle has to be Miami's biggest priority. Cornerback, defensive end, guard, tight end, running back and safety will also be on Miami's radar when the draft rolls around.
In this slideshow, we will look at which players are the best fit for the Dolphins. It doesn't take into consideration in what round they'll be available. It does take into consideration whether they are available when the Dolphins pick at No. 12.
Begin Slideshow

»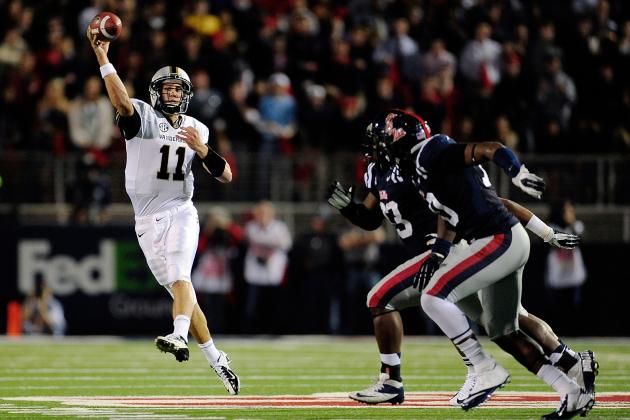 Stacy Revere/Getty Images

The Miami Dolphins spent a first-round pick on a quarterback last year, and it appears they may have found their quarterback of the future. Ryan Tannehill showed some potential as a signal caller in the NFL, and the Dolphins have spent this offseason trying to build around him.
This doesn't mean they shouldn't bring some competition through the draft.
Behind Tannehill, the Dolphins have Matt Moore—who re-signed for two years—and Pat Devlin. Moore is one of the best backups in the league, but Devlin has left much to be desired in his tenure with Miami.
By targeting a developmental quarterback in the late rounds, the Dolphins bring someone in that can be groomed for some time and compete with the Devlin for the third roster spot and eventually compete for the second spot.
Jordan Rodgers shows some potential that can be developed. He is very athletic and has good accuracy when he's on the run. He tends to hit his receivers in stride and will buy time when the pocket collapses.
Rodgers doesn't have great size, and his arm strength is not very good, but he can be a formidable backup in the NFL. At worst, Miami can develop him and use him as trade bait in a few years.
Other possible fits: Sean Renfree, Ryan Griffin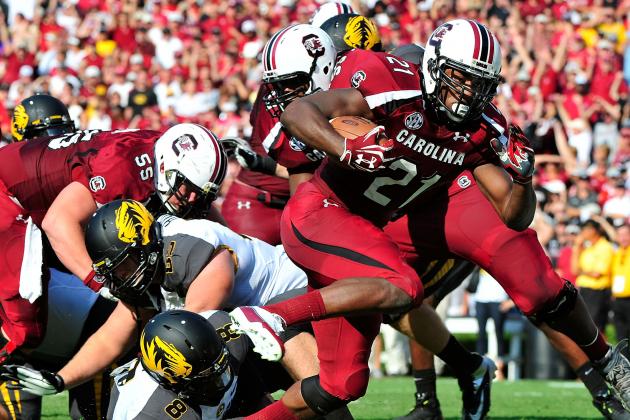 Grant Halverson/Getty Images

Lamar Miller appears to be taking over the starting running back duties for Miami next season. Miller is a great change-of-pace back that uses his blazing speed to his advantage.
Miami needs a running back that can gain the extra yards and complement Miller's game. Daniel Thomas has been disappointing in his first two years, and his future with the team is blurry.
Running back is not Miami's biggest need, but it should be on their radar in the middle rounds.
Marcus Lattimore would be a great complement to Miller. He does a great job running between the tackles and almost never gets taken down by the first tackler. He's automatic in the red zone and has natural pass-catching ability out of the backfield.
He's not a burner, but that's why Miller and Lattimore would complement each other so well. If it weren't for two knee injuries, Lattimore would have been the first running back taken in this draft. He has a ton of talent and upside that will make a team draft him despite his injuries.
Other possible fits: Le'Veon Bell, Jonathan Franklin, Christine Michael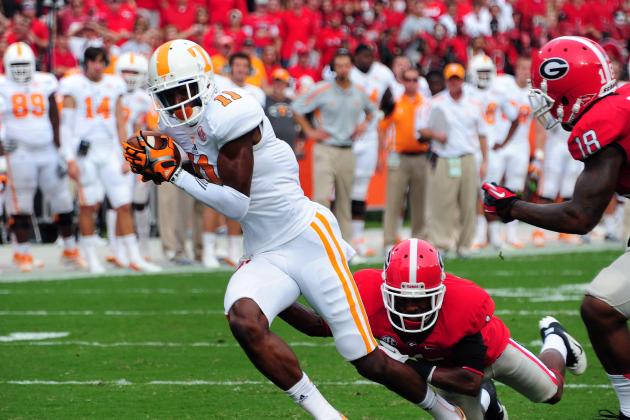 Scott Cunningham/Getty Images

The Dolphins have done a fantastic job getting weapons around Ryan Tannehill. They brought in Mike Wallace and Brandon Gibson and re-signed Brian Hartline to drastically improve the talent level at wide receiver.
Wallace is able to use his speed to to stretch the defense and allow Gibson, Hartline and Davone Bess more space to operate in the middle of the field. Even with these additions, the Dolphins still need a wide receiver with size that can be a factor in the red zone.
Justin Hunter possesses the size the Dolphins need out wide. He needs to add some weight, but at 6'4" he is a big target for Tannehill to throw to. Hunter also has great speed, which would make Miami's offense much harder to defend against.
With the recent additions at the position, Hunter wouldn't have to come in and contribute right away. He could come in in certain passing situations while he continues to develop his game.
Miami won't be addressing the wide receiver position early in the draft, but if Hunter drastically falls for some reason, it wouldn't be a bad move for Miami to snatch him up.
Other possible fits: Aaron Dobson, Da'Rick Rogers, Aaron Mellette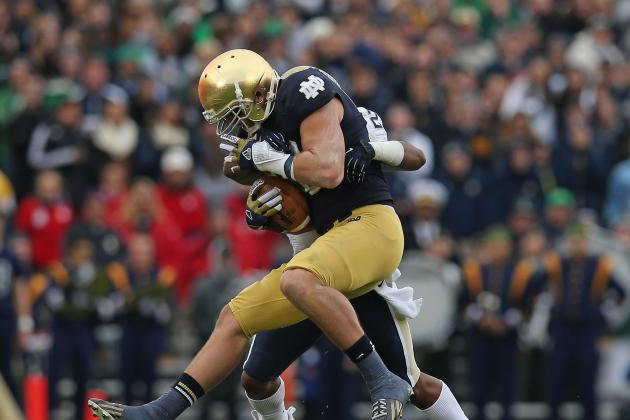 Jonathan Daniel/Getty Images

The Dolphins not only focused on wide receiver in the offseason. Jeff Ireland was also able to bring in tight end Dustin Keller to round out the new weapons Ryan Tannehill will be throwing to.
Miami lost Anthony Fasano in free agency and was in dire need of a tight end. Keller gives the Dolphins the seam threat tight end they have been lacking and allows Joe Philbin to run the offense he's been wanting to run. The only problem Miami faces now is that they don't have any tight end on the roster that can block.
Also, Keller is coming off an injury and only signed a one-year contract. Miami still needs a tight end that can be a difference maker for more than a year.
Tyler Eifert is the best tight end prospect this year and would give Tannehill another toy to play with. Like I said in the previous slide, Miami needs some size in the red zone, and Eifert would give them exactly that.
He's not the best blocker but is a very capable blocker. He creates mismatches against linebackers with his speed and against defensive backs with his size. Some may say that taking a tight end at No. 12 is a reach, but Eifert is one of the best tight end prospects in the last few years.
Other possible fits: Zach Ertz, Travis Kelce, Dion Sims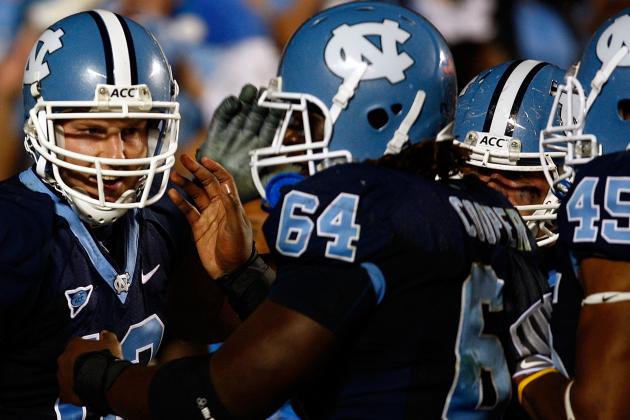 Scott Halleran/Getty Images

John Jerry showed some improvement last year but is far from being the answer at right guard. Joe Philbin has put him on notice that if he comes to camp overweight like he did last year, he may have seen his last days with the team.
With Miami running a zone-blocking scheme, Jerry's size does not fit the requirements for the scheme. Miami needs athletic offensive linemen instead of big, bulky players used in a power-blocking scheme.
If Miami is willing to improve at this position, Jonathan Cooper is the perfect fit. He's one of the more athletic linemen in recent years and will most likely be a top-15 pick. He's strong, fast and can reach the second level of the defense in a hurry. He's the type of pulling guard the Dolphins have been lacking.
Pairing him up next to Mike Pouncey would give the Dolphins one of the more athletic center-guard duos in the league. It also improves the offensive line and will likely allow Ryan Tannehill to stay upright in the pocket.
Other possible fits: Lane Johnson, Kyle Long, Justin Pugh, Menelik Watson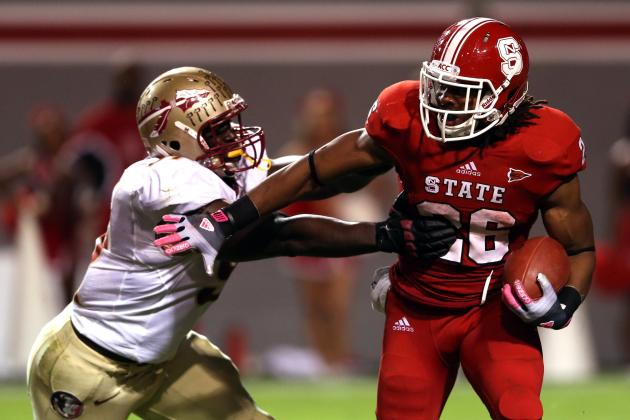 Streeter Lecka/Getty Images

Cameron Wake has been one of the most dominant pass-rushers the last few years, but Miami needs to get him some help.
Jared Odrick is playing out of position as a 4-3 defensive end causing him to be inefficient as a pass-rusher. Miami also drafted Olivier Vernon, but he is still very raw and could use some competition.
This draft doesn't have a lot of good pass-rushers, but there are a couple that could earn a starting spot right away. One of those players is Cornellius "Tank" Carradine.
Carradine had a great season playing mostly under the radar. He stepped in for Brandon Jenkins when he went down with a season-ending foot injury and along with Bjoern Werner, formed one of the most dangerous defensive end duos.
He suffered a torn ACL late in the season and will see his draft stock drop because of it. If it weren't for the injury, Carradine would have been a first-round pick. He totaled 11 sacks on the season and shows good upside which will help him get drafted early in the second round.
Miami must get Wake some help, and bringing in Carradine would give them one of the best pass-rushing duos in the league.
Other possible fits: Bjoern Werner, Alex Okafor, Damontre Moore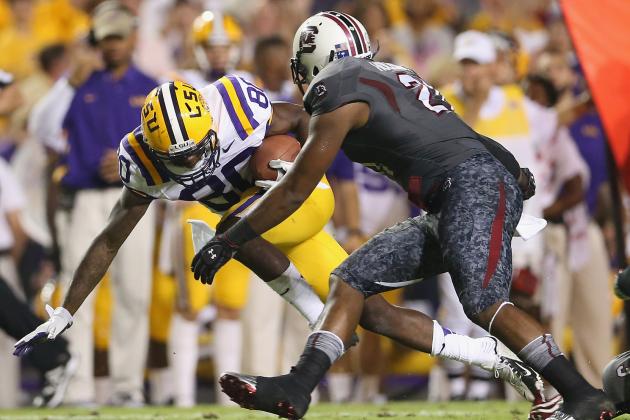 Ronald Martinez/Getty Images

Miami overhauled two-thirds of their linebacker corps when they brought in Dannell Ellerbe and Phillip Wheeler while releasing Kevin Burnett and Karlos Dansby.
With the new additions, the Dolphins got younger and more aggressive as Ellerbe and Wheeler are known for their pass-rushing skills. They will bring a new dimension to the Dolphin defense by being able to put more pressure on the quarterback.
Along with Ellerbe and Wheeler, Koa Misi appears to remain the starter on the weak side. Misi is also known for his pass-rushing skills, which allows Miami to use any of its three linebackers on blitzes.
The only problem of having three linebackers that are at their best when asked to rush the passer is that the group lacks a player that will be able to cover slot receivers and tight ends. None of these three players are good in coverage, which is a problem for Miami.
DeVonte Holloman is one of the best coverage linebackers in the draft. He began his career at South Carolina as strong safety before moving to the spur linebacker position. With his background as a defensive back, Holloman is able to drop into coverage and cover any player.
Pairing Holloman with Ellerbe and Wheeler would give Miami two linebackers that can rush the passer and one that can cover, allowing each one to play to their strengths.
Other possible fits: Sean Porter, Jelani Jenkins, A.J. Klein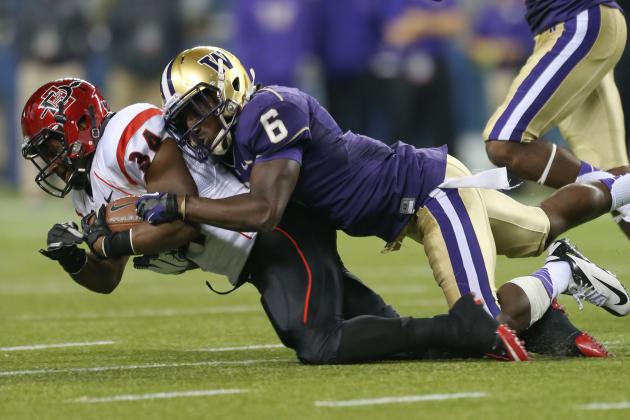 Otto Greule Jr/Getty Images

Aside from right tackle, the biggest need for the Dolphins is cornerback. They recently signed Brent Grimes to a one-year deal. However, he's coming off an Achilles injury, and it's still uncertain how he will respond.
Miami also has Richard Marshall, Dimitri Patterson and Nolan Carroll as their top cornerbacks. There's no doubt the position has to be upgraded.
This is a deep class of cornerbacks, and Miami will surely double-down. With Miami running a zone defense, there are a few cornerbacks that can fit in right away. Desmond Trufant is the best of the bunch.
The ongoing discussion between who the Dolphins would select between Trufant and Xavier Rhodes looks to be going strong heading into the draft. Even though Rhodes possesses better physical attributes, Trufant is a better fit for Miami's zone defense.
Trufant played zone while he was at Washington and would be ready to compete for the No. 1 spot on the roster from day one. Pairing Trufant with Grimes would drastically improve Miami's secondary.
Other possible fits: Xavier Rhodes, Jordan Poyer, D.J. Hayden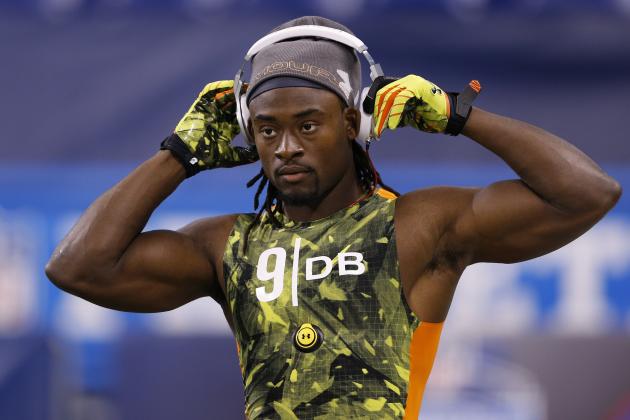 Joe Robbins/Getty Images

Miami re-signed Chris Clemons to a one-year deal and managed to keep their safety duo intact. Reshad Jones had a breakout year and has turned into one of the best safeties in the league. Even though Clemons has shown improvement, it doesn't mean the position can't and shouldn't be upgraded.
With a one-year deal, Jeff Ireland is giving Clemons the opportunity to prove himself and earn a long-term contract. If Miami is able to bring in some strong competition, Clemons would have to work harder to prove himself, allowing him to get better.
If Miami is willing to spend a high pick on a safety, Florida International's Jonathan Cyprien would be a perfect fit in their secondary. Cyprien is a hard-hitting safety that shows some good ball skills and is a sure tackler. He doesn't have great speed but shows some good range to get from sideline to sideline.
Clemons' spot is far from being secured, and if Miami brings in Cyprien, he has the talent and upside to beat Clemons for the starting safety spot opposite Reshad Jones. It would also give Miami one of the best young duos in the league.
Other possible fits: Kenny Vaccaro, Eric Reid, Matt Elam, D.J. Swearinger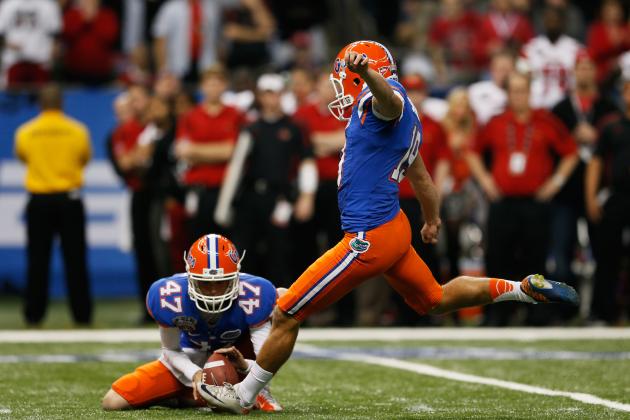 Kevin C. Cox/Getty Images

The Miami Dolphins finished last year with a 7-9 record. However, if it weren't for missed field goals late in games, they could have potentially finished 9-7.
Miami has one of the best punters in the league in Brandon Fields and a good returner in Marcus Thigpen. They also thought they had a kicker they could rely on for a long time, but Dan Carpenter has been clearly unreliable lately.
As a kicker, if you're being paid around $2.5 million per year, the coaching staff should feel pretty confident that if a game came down to a game-winning field goal, you would be able to kick it through the two yellow poles.
The Dolphins should acquire a kicker through the draft or bring someone in as an unrestricted free agent to compete with Carpenter.
Caleb Sturgis was one of the country's best kickers during his time at Florida and has a bright future as a kicker in the NFL. In his final season in Gainesville, Sturgis hit 85.7 percent of his field goals while being a perfect 3-for-3 from 50-plus yards.
By bringing Sturgis in, Miami allows Carpenter to prove himself and justify his salary. If by the end of camp the kicking competition (whether it's Sturgis or someone else) ends up being a tie, I doubt the Dolphins would want to keep paying Carpenter that much money.
Other possible fits: Dustin Hopkins, Brett Maher