Dodgers Hottest Starts to the Season That Will Continue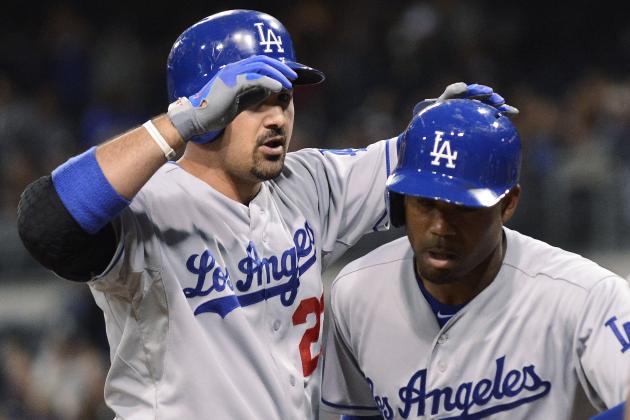 Denis Poroy/Getty Images
Crawford and Gonzalez are carrying a struggling Dodgers offense.
The Los Angeles Dodgers have a solid 6-4 record this season, largely due to hot starts from a few key players. With four of the five NL West teams posting winning records through the first 10 games of the 2013 season, those Dodgers must continue to produce if Los Angeles is going to emerge as division champs.
Matt Kemp is still struggling at the plate early on, and Zack Greinke's broken collarbone is another crushing, early season injury for Los Angeles. There was plenty of uncertainty surrounding the Dodgers entering this season, but there have been some very encouraging signs from the team throughout the first two weeks of the year.
Many of the following Dodgers are playing at levels that are unsustainable over the course of a 162-game season. However, if Los Angeles is going to return to the postseason for the first time since 2009, these seven players need to keep playing at a very high level.
Begin Slideshow

»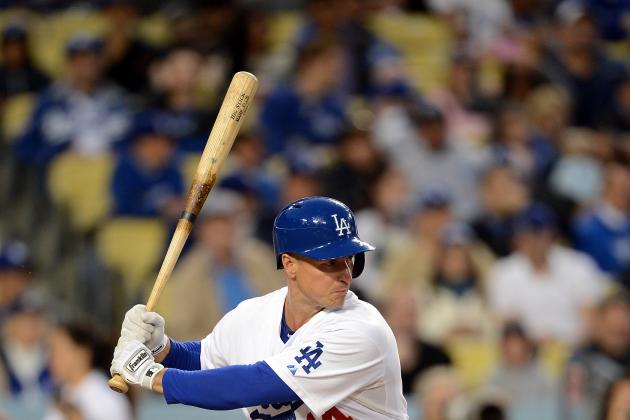 Harry How/Getty Images
Ellis has been solid hitting second in the lineup this year.
At 35 years old, and playing under the last year of his contract, second baseman Mark Ellis is likely playing his final season in Los Angeles. However, with the left side of the infield already a mess, it is good to see Ellis settle in as a stabilizing force in the field and in the lineup.
Ellis is hitting .333 through 10 games, along with an impressive .385 on-base percentage, but those numbers are likely to come down as the season progresses. He should continue to reach base at a solid clip, though, and hit well enough to move leadoff hitter Carl Crawford into scoring position for the heart of the Dodgers' lineup.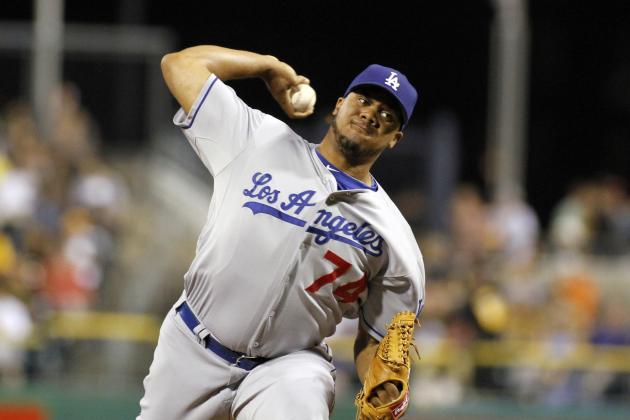 Justin K. Aller/Getty Images
Jansen has been sharp since his return from heart surgery.
While some members of the Dodgers bullpen have been shaky to start the season, primary setup man Kenley Jansen has not been one of them. In fact, Jansen has yet to allow a run in 4.2 innings pitched thus far, and he has stuck out six batters while allowing just two hits.
Like Billingsley, Jansen's 2012 season was also interrupted when a reoccurring heart condition caused him to miss three weeks of action late in the year. Although Jansen returned in late September, he did require offseason surgery to permanently correct the issue.
While Jansen was sidelined, he also lost his job as the primary closer to Brandon League, who thrived after taking over for Jansen in late August. League converted all six of his save opportunities for the Dodgers, and he gave up just one earned run over his final 22.1 innings pitched last season.
Jansen was solid as the Dodgers' primary closer in 2012, converting 25 of his 32 save opportunities. Los Angeles Manager Don Mattingly's decision to start this year with League closing out games is more about creating the best overall bullpen for Los Angeles, rather than a reflection of Jansen's effectiveness in the ninth inning.
Jansen proved to be an effective setup man during the 2011 season, while League struggled in that role last year with both the Dodgers and as a member of the Seattle Mariners.
If League fails to hold on to the job as closer, Mattingly can feel confident making a switch, knowing he has a healthy and effective Jansen to turn to.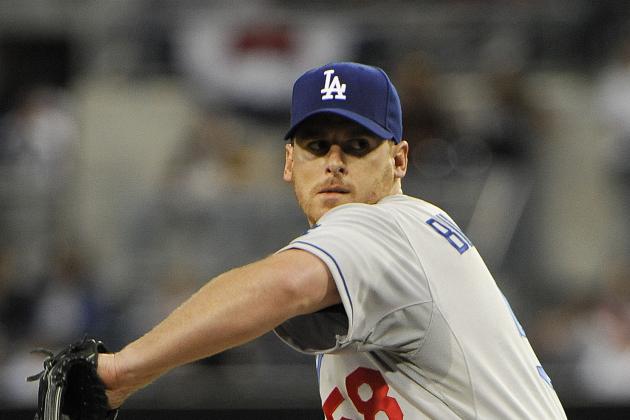 Denis Poroy/Getty Images
Billingsley's first start of 2013 was a positive sign for Dodgers fans.
Saying that right-hander Chad Billingsley is off to a hot start may seem like a stretch after just one turn in the rotation. However, given the lingering questions about his pitching elbow and Thursday night's injury to Greinke, Billingsley's importance to the Dodgers cannot be exaggerated.
Billingsley missed the final six weeks of the 2012 season after suffering an elbow injury that many thought would require Tommy John surgery. Instead of going under the knife, guaranteeing that he would miss all of 2013, Billingsley chose an aggressive rehab program that has, so far, been a success.
In his first start of the year, Billingsley looked sharp in his six innings of work against the San Diego Padres. He surrendered five hits, walked three batters and struck out three during a 94-pitch performance.
He also earned the win in a 4-3 Dodgers victory.
There is no guarantee that Billingsley's elbow issues won't reoccur at some point during the season, which could eventually lead to him needing Tommy John surgery after all. But the Dodgers have to be encouraged by what they have seen so far, because the starting rotation is better off with him in it.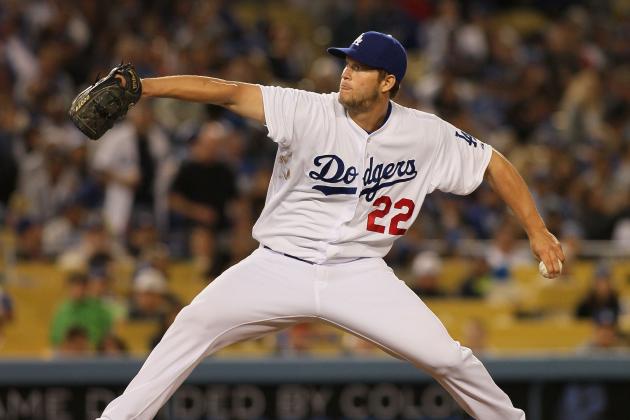 Victor Decolongon/Getty Images
Kershaw hasn't let talk of a contract extension distract him.
Dodgers ace Clayton Kershaw's hot start was cooled off just a tad bid Friday night as he gave up three earned run in a 3-0 loss to the Arizona Diamondbacks. However, given his five-year track record in the majors, expect Kershaw to be closer to the pitcher he was during his first two starts of 2013 than the guy we saw Friday night.
Kershaw pitched a combined 16 shutout innings against the San Francisco Giants and Pittsburgh Pirates to start the season 2-0. During that time, he also struck out 16 batters while walking just one.
Even in defeat, Kershaw still managed to give up just six hits and strike out seven more batters over 7.1 innings in Arizona. Dodgers fans can rest assured that the man rumored to be the first $200 million pitcher in MLB history is primed to contend for his second NL Cy Young award in the last three seasons.
Denis Poroy/Getty Images
Gonzalez looks locked in for the Dodgers early in the season.
First baseman Adrian Gonzalez got off to a slow start after coming to the Dodgers from the Boston Red Sox last August. However, Gonzalez finished the season by batting .319 in September and October, and he has converted the momentum from that strong finish into an excellent start in 2013.
Hitting cleanup for Los Angeles, Gonzalez is batting .333 with eight RBI over the Dodgers' first 10 games. He has also drawn five walks, helping him to a robust .429 OBP.
Gonzalez is now on pace to nearly double the 42 walks he drew last year and looks more like the hitter who had an OBP of slightly above .400 from 2009 to 2011.
He is still not showing the kind of power that he displayed as a member of the Padres and Red Sox from 2006 through 2011. But as long as Gonzalez is driving in runs and getting on base, the Dodgers won't mind if the production is not as glamorous as the Hollywood crowd would like.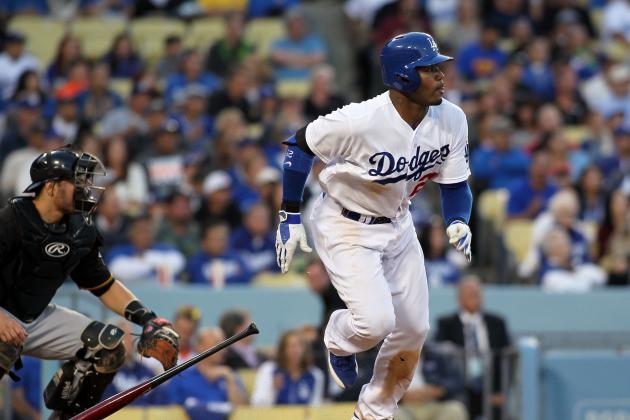 Victor Decolongon/Getty Images
Crawford has been terrific at the top of the Dodgers lineup.
Of all the new players the Dodgers have acquired since last summer, left fielder Carl Crawford came with the most questions about his future performance. After signing a seven-year, $142 million free-agent contract with the Red Sox in 2011, Crawford endured two injury-plagued seasons that made him persona non grata in Boston.
Los Angeles seized the opportunity to acquire a beleaguered player with some good years still ahead of him. But the Dodgers would have to wait until this season to see the gamble payoff, and Crawford has rewarded the team handsomely thus far.
Crawford is hitting .412 with an incredible .474 OBP while filling the Dodgers' biggest void from last year: A competent leadoff hitter. He has also scored nine runs, stolen two bases (though he has also been caught twice) and drawn four walks early on.
The walks are big, because at this current rate, Crawford would draw more than 60 walks this season. His previous career high is 51.
His availability for Opening Day was in question ever since Crawford underwent season-ending Tommy John surgery last August. Despite an early setback in spring training, he was starting in left field when the Dodgers opened the season against the Giants on April 1.
Los Angeles has been cautious in its handling of Crawford, sitting him in two of the team's first 10 games. When he's been on the field, however, the results have reminded people of the player who made four All-Star appearances for the Tampa Bays Rays between 2004 and 2010.
Crawford is not likely to contend for the NL batting title, but the strong start is a clear indication that he is not a shell of his former self. With five more seasons left on his contract, the Dodgers should be relieved to know that Crawford is still capable of making good on the deal.