Oakland Raiders: 6 Players Who Should See Their Roles Expand in 2013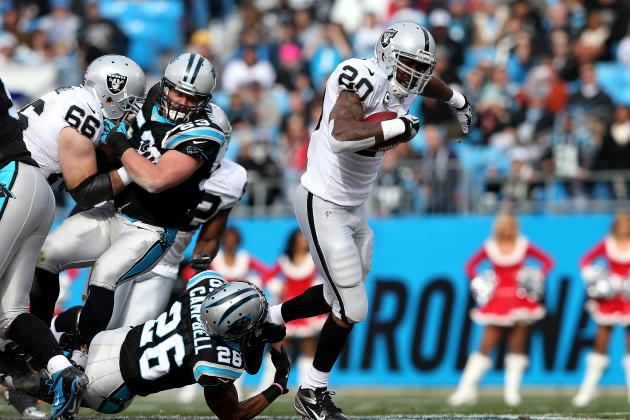 Streeter Lecka/Getty Images

The Oakland Raiders have faced a roster upheaval that has left many diehard fans wondering exactly which players from last season are even left.
A quick glance at the Oakland Raiders depth chart (from their website) reveals that at least 12 starters from last season are gone.
With that in mind, we set out to determine which of the stragglers left standing could see their roles increased this season.
While no one in Oakland is expecting a trip to the playoffs this season, if the team hopes to be competitive, it's safe to say that these six guys are going to need to make major strides from last season.
Begin Slideshow

»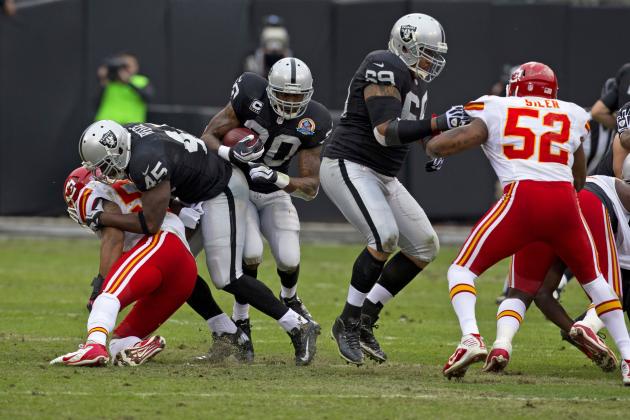 Jason O. Watson/Getty Images

While most guys on this list hope to improve from "role player" to "featured player," McFadden is the lone exception.
Coming off of a disappointing 2012 campaign in which he ran for just 707 yards in 12 games, eclipsing 100 yards just three times, Oakland is going to rely heavily on McFadden for production in 2013.
Adding even more pressure to the former Arkansas running back, McFadden can't help but notice that new general manager Reggie McKenzie has no problem cutting ties with former first-rounders who aren't cutting it.
If McFadden posts another 700-yard season in 2013, there's no guarantee we'll ever see him in the silver and black again.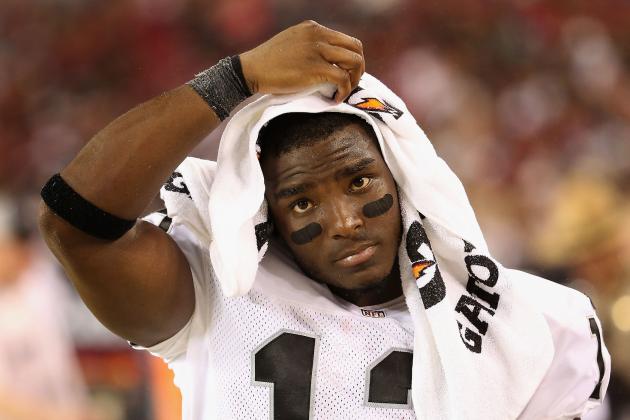 Christian Petersen/Getty Images

Like McFadden, Ford has been limited by injuries that forced him to miss eight games in 2011 and kept him from playing at all in 2012.
Also like McFadden, Ford regressed from 2010, notching just 279 receiving yards in 2011 (down from 470 the year before).
With fellow receiver Darrius Heyward-Bey now gone, Oakland is going to need someone to step up alongside Denarius Moore to make new quarterback Matt Flynn's life a bit easier.
Of all the players on this list, I think Ford might be the most intriguing.
When Ford is healthy and at his best, he seems to play much like Percy Harvin, as an undersized speedster that can catch the football anywhere on the field.
While the combination of Moore and Ford lacks a proven pass-catcher, I think they have the potential to surprise a lot of people if they can stay healthy and get some support from the run game.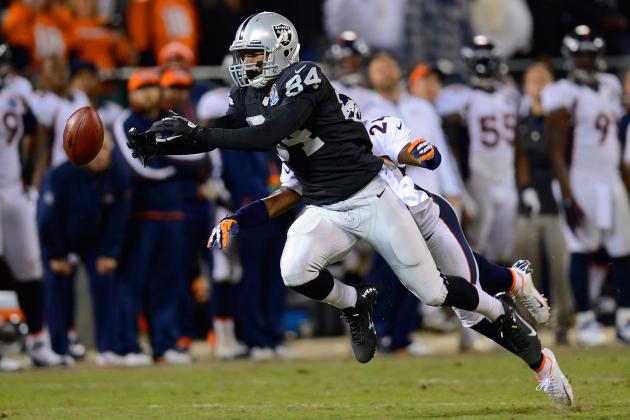 Thearon W. Henderson/Getty Images

Have you noticed the theme here yet?
Injuries.
After an impressive training camp that had folks excited about Criner's potential, the rookie from Arizona caught passes in just six games in 2012. He also failed to accumulate more than 30 yards receiving in any game all year.
So what does 2013 have in store for Criner?
The short answer is more playing time.
With DHB out of the mix, guys like Criner and fellow second-year man Rod Streater are sure to see plenty of action at receiver this season. The question in Oakland, however, is whether either of them is capable of making an impression at the professional level.
For Criner, I think the answer is yes.
If he can stay healthy, have a good training camp and develop chemistry with Flynn, I think Criner could be a dangerous third receiver this season.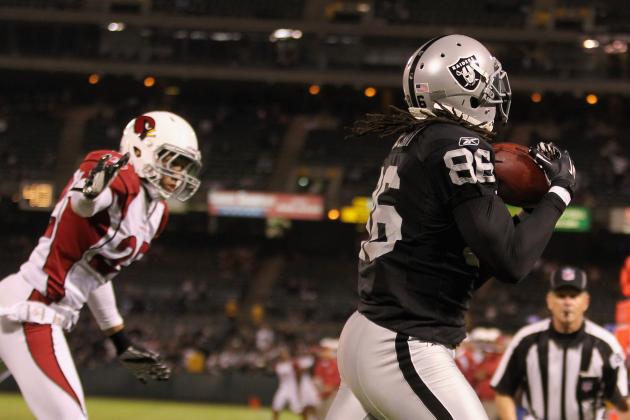 Ezra Shaw/Getty Images

I mean, someone has to play tight end, right?
With Brandon Myers and his team-high 806 yards on 79 catches now in New York, the biggest question mark remaining on offense is who will play tight end.
While Ausberry and Richard Gordon both return from last season, Gordon's role has always been limited to pass protection, while Ausberry has long been believed to be the one with pass-catching potential.
Then again, Ausberry never reeled in more than two catches in a game last season.
With plenty of smaller weapons at wide receiver, tight end has become a critical position in Oakland—one that they will definitely need some production from this season.
Is Ausberry the guy?
Maybe.
Do they have an alternative if he isn't?
Not at the moment.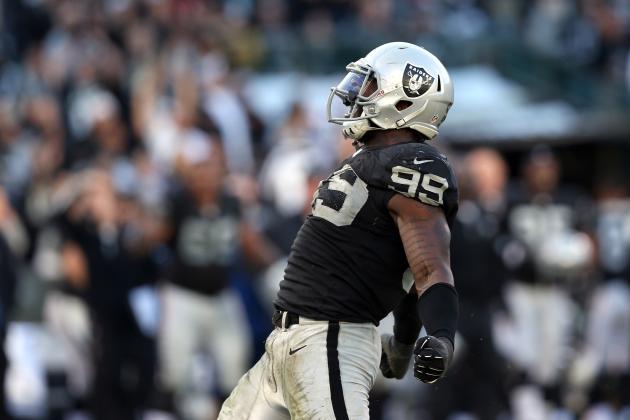 Ezra Shaw/Getty Images

Long believed to be a stud-in-the-making, fourth-year defensive lineman Lamarr Houston has yet to produce at the levels many hoped he would. Then again, many would also argue that getting stuck behind guys like Richard Seymour and Tommy Kelly didn't help his cause either.
While it's still unclear whether Houston is best suited as an end in the 4-3 or 3-4 formation, the point is that Houston could finally get his chance in Oakland this season.
With flashes of brilliance scattered throughout his time in Oakland, Houston has only amassed 10.5 sacks in his three seasons.
The good news for Houston is that he's the first guy on this last who has shown the ability to stay healthy, playing in all 16 games in his first three seasons.
If Houston pans out the way many folks in Raider Nation believe he can, Oakland could have a building block for the future on their hands.
But if Houston continues to be inconsistent, he, like McFadden, could see his days in town numbered.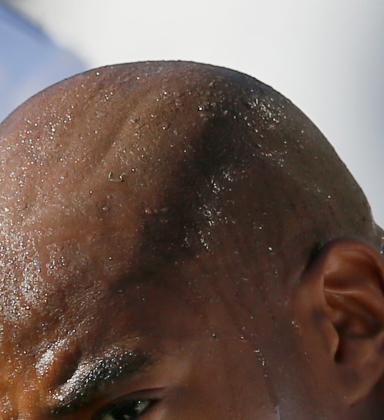 Rob Carr/Getty Images

And here lies the biggest wild card of the bunch.
Carter, the 13th-year man out of California, remains just two years removed from a 10-sack season that made him one of the elite defensive ends in the league.
But then, as many guys on this list can attest, injuries hit and Carter struggled to regain form in 2012—missing the first four games of the season and logging just 2.5 sacks.
On a defensive line filled with unproven younger players, Carter is really the only guy who has ever done anything at the professional level.
Then again, the 13-year veteran also has his 33-year-old birth certificate staring him in the face and telling him it might be time to hang up his cleats.
While very little is guaranteed in this league, one thing that seems likely is that Carter will get a chance to prove he's back.
Whether he actually is, however, remains to be seen.