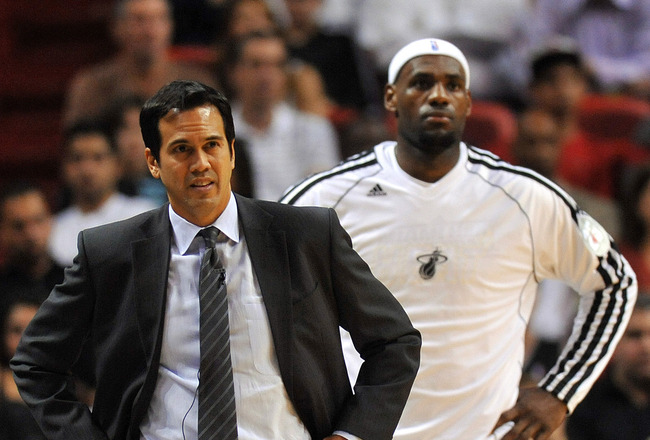 Who will Erik Spoelstra put on the floor to complement LeBron James?
USA TODAY Sports
Over the past three weeks, the Miami Heat continue to sit players and add victories.
So with the top overall seed secured, Erik Spoelstra fields more and more questions about whether fill-in players like Mike Miller have earned postseason roles.
Well, it's a good question. Here's my answer to it: They all have. All of them have played into a playoff spot. Is it necessarily a direct rotation spot? That changes from series to series. That's one thing we've learned in two years, of going all the way to the end.
In fact, nine players started at least one game—and, as Spoelstra noted, one of those was Dexter Pittman in Game 3 in the second round against the Indiana Pacers, even if that start lasted less than four minutes.
"Everyone is live and active, and that's how we view it," Spoelstra promised. "Their number will be called."
But when, where, why and how?
And what role has their recent play, well, played in that discussion?
First, assume that LeBron James, Dwyane Wade, Chris Bosh, Shane Battier, Ray Allen and Mario Chalmers are locks for consistent work—and that, if recent history is any indication, their court time will increase from regular-season levels.
Then assume that project Jarvis Varnado and veteran Juwan Howard will play only in extreme emergencies.
That doesn't leave much room for the other seven men on the roster. With James Jones and Joel Anthony shooting and shot-blocking specialists, respectively, here's a look at the five in between.
All quotes for this piece were collected over the course of the author's coverage of the Miami Heat for the Palm Beach Post. All statistics are accurate as of Thursday afternoon.
5. Chris Andersen: First Big off Bench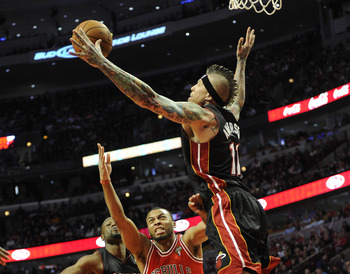 Chris Andersen has been soaring since he signed.
David Banks/Getty Images
It took a few months, and a few workouts, before Chris Andersen convinced a team to give him another chance.
Some of that was due to legal issues that took some time to resolve. But some of that was due to doubt that, at age 34, he could alter the course of games with his activity, as he once did for the Denver Nuggets.
Now the latter seems like a silly concern.
Andersen said, while he's "not the one to boast" about his impact, "You know the numbers."
Yes, we do. The Miami Heat are now 35-3 in games in which he plays.
And while some of that is coincidence—with several other elements on the team falling into place—there's no question that he's been the ideal fit for Miami.
"I didn't know what to think," Andersen said of his expectations. "I just come in and take care of business. Taking care of business, that's what Birdman does."
Now, as he takes his conditioning to a higher level, Erik Spoelstra is allowing him to take on an even larger role. With frontcourt players like Chris Bosh getting rest, Andersen topped 20 minutes for the first three times this season in wins against the Philadelphia 76ers, Milwaukee Bucks and Washington Wizards.
Will he get that many in the playoffs? Probably not.
But 12 to 18, regardless of the opponent? That's a given.
4. Udonis Haslem: Trying to Hold Starting Spot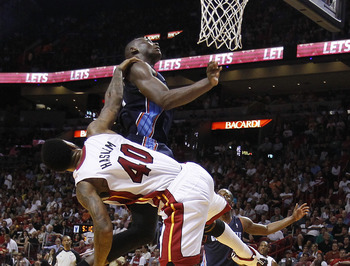 Udonis Haslem has never been afraid to throw his body around.
USA TODAY Sports
Udonis Haslem wanted to make something clear after it was announced that he would miss Wednesday's game against the Washington Wizards after turning his right ankle the night before: "I'm not out for the rest of the regular season. It's not that type of situation."
Haslem has always been among the toughest players on every one of his 10 Miami Heat teams. But he's especially motivated lately to stay on the court, because his opportunities aren't what they once were.
Miami is 47-11 with him as a starter, and he has had some good moments of late—making his jumper more consistently and even grabbing a season-high 15 rebounds against the Milwaukee Bucks, the Heat's likely first-round opponent.
Still, he's been marginalized some. His stints are usually limited to the first few minutes of the first quarter and the first few minutes of the third quarter, with crunch-time chances almost non-existent.
It's rare to see him on the floor in the fourth quarter at all, with a recent defensive stand against Tim Duncan—after sitting the first 11-plus minutes of the final quarter—sticking out.
Haslem has tried to look on the bright side, nodding Wednesday when asked if the reduced workload might be a benefit now.
"It can only help. Obviously, you want to play as many minutes as possible, but less minutes in the long run probably does preserve the body."
Erik Spoelstra has long referred to Haslem, a co-captain, as the heart and soul of the Heat. But Spoelstra has also hinted at the possibility of tweaking the lineup in the postseason, and the most likely change would be subbing Shane Battier for Haslem and going back to the "small ball" group that beat Oklahoma City in five games in the 2012 NBA Finals.
That lineup is a plus-118 in 300 minutes, while the lineup with Haslem is a plus-157 in 688 minutes.
Either is more than acceptable.
But don't be surprised if Spoelstra asks Haslem to accept a step back.
3. Rashard Lewis: At This Stage, a Spot Guy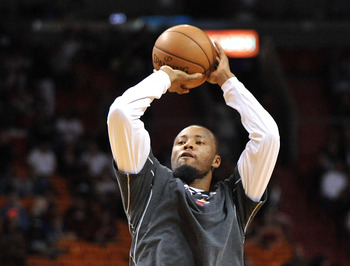 The stroke looks pure in practice, but Rashard Lewis has been iffy in games.
Steve Mitchell-USA TODAY Sports
Rashard Lewis said something strange recently. Here's a player who has made quite a bit more than $100 million his career, has been named an All-Star twice and twice has been in the NBA Finals.
And yet, this is what he thinks of his limited role with the Miami Heat: "This will go down in history for me."
How so?
We're winning ballgames, I'm playing with Hall of Famers, and not only that, I get a chance to win a championship. I always think about where I was last year, and that humbles me within a split second. I always try to be upbeat and have a positive attitude around the guys, because this is a great locker room, there's no cancers on the team, and we have just as much fun off the court as on the court. And not only that, but we're living in one of the best cities in the world, where the weather is great year-round. A first-class organization. You can't beat this.
The Heat's maintenance program has given him more chances to play of late and, while he hasn't had any of the health hiccups in recent years, he has still turned in mixed results.
Lewis scored in double digits three times in a five-game stretch, mostly staying out behind the arc. One game, he'll go 3-of-8 from there. Then, 0-of-6. He has competed defensively, trying to fit into the team system, but his limitations as a rebounder can make him a liability.
So he doesn't figure to be a rotation regular.
Still, as he stated:
Anything can happen. So I think it's good for me and Mike (Miller) to get these minutes we're getting right now, to get ourselves in shape and get our rhythm going, because in the playoffs, your name can be called at any time.
And, in the meantime, you won't hear complaints.
2. Norris Cole: Matchups Will Dictate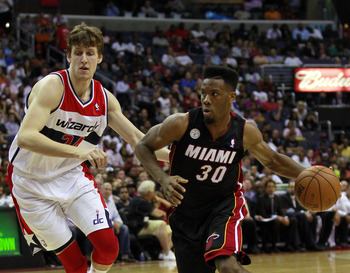 Norris Cole is the Heat's fastest player with the ball in his hands.
Geoff Burke-USA TODAY Sports
Norris Cole is so young, compared to most of his Miami Heat teammates, that he has become a trusted source of information.
Ray Allen, for instance, asks him for scouting reports on some of the greener prospects on opposing benches, since there's a good chance Cole played against them somewhere.
Youth has other benefits. When Mario Chalmers rested recently to heal a sprained ankle, Cole played 43 and 42 minutes, respectively, against the San Antonio Spurs and the New York Knicks. And in the surprise win in San Antonio, he was fresh enough late to stick with Tony Parker down the stretch.
"That's one of the gifts that I'm blessed with, being quick laterally, and he's one of the quickest guards in the league," Cole said. "So it was great to see how I match up."
Cole has had many such stellar moments over the past month—hassling other point guards, throwing perfect lobs for slams, finishing with either hand around the rim and even finding some consistency from the outside.
Still, there are still times when he tries to do too much, and gets himself, and his team, in trouble.
That's why it's still not a given that he will be part of the regular rotation in every series. After all, he wasn't last postseason and still had a chance to make a contribution at a critical time, scoring eight points in eight minutes in Game 4 of the NBA Finals.
Against the small, quick guards of the Milwaukee Bucks? Sure. He will probably get a regular turn.
But as the playoffs progress, Erik Spoelstra can turn to LeBron James, Dwyane Wade or even Ray Allen as Mario Chalmers' primary ball-handling backup. And make the kid wait.
1. Mike Miller: Will Late Surge Be Sufficient?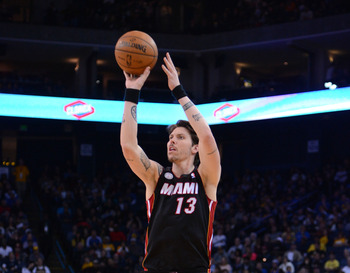 When given the chance, Mike Miller has looked good from long range.
Kyle Terada-USA TODAY Sports
Mike Miller has been sore lately.
It's a good soreness, a soreness he welcomes.
It's not the offshoot of a thumb injury, or a back injury, or an ankle injury, or a head injury, all of which he'd had in three often-frustrating seasons since signing with the Miami Heat.
Rather, it's the soreness that comes from playing a lot, after not playing much at all.
After undergoing extensive offseason rehabilitation on his back and feeling as good as he has in several years, Miller was frustrated about not cracking Erik Spoelstra's regular rotation. It was hard to argue when Miami won 27 straight games—the first 25 of them with Miller not scoring a single point and missing all eight of his shots.
But Miller played well filling in for Dwyane Wade during the final two wins of the streak and, with Wade nursing a knee injury in the past seven games, Miller has made 22 of 42 shots from three-point range while passing and rebounding well and even getting above the rim at times.
Simply put, he looks like a guy who can help the Heat, even when Wade is back. He's twice the overall player compared to the one who miraculously made seven three-pointers in Game 5 of the 2012 NBA Finals.
But how?
If Udonis Haslem remains a starter, with Shane Battier and Ray Allen coming off the bench, it will be hard to carve out any role—unless that role comes at the expense of Norris Cole, with Miller helping LeBron James with ball-handling duties.
The other option for Erik Spoelstra is to start Battier, bring Miller off the bench and play either Haslem or Cole less.
But even after his strong play of late, Miller has made it clear he isn't counting on either.
As Spoelstra noted, about the team's proud veteran supporting cast:
The hard part is the sacrifice... They have been extremely professional in understanding the big picture and that allows them, all the preparation, that when their number is called, they are able to perform the way they are capable of.
And shake off a little soreness.
Keep Reading

Miami Heat: Like this team?
Load More Stories