Atlanta Braves' Hottest Starts to the Season That Will Continue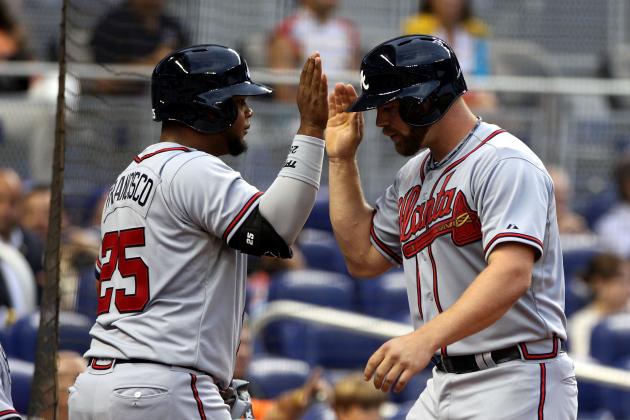 Marc Serota/Getty Images

The Atlanta Braves are hot, winning eight of their first nine games—including six straight by sweeping the Chicago Cubs and Miami Marlins.
They have done what contending teams should do—beat up on lesser teams.
The Braves beat up Cole Hamels and Roy Halladay to take the first series against the Philadelphia Phillies, and their superior talent arose in the following series with the Cubs and Marlins.
Not everyone on the roster is off to a scorching start, but certain players have made their presence known.
And that's the beauty of this lineup. Rarely will a team have the entire lineup hot at one time, but the Braves lineup is deep enough that it can survive when players go into a slump. In this case, winning eight of nine with Jason Heyward and B.J. Upton yet to find their rhythm.
With that said, here's a look at some of the players who have helped the Braves get off to a hot start.
Begin Slideshow

»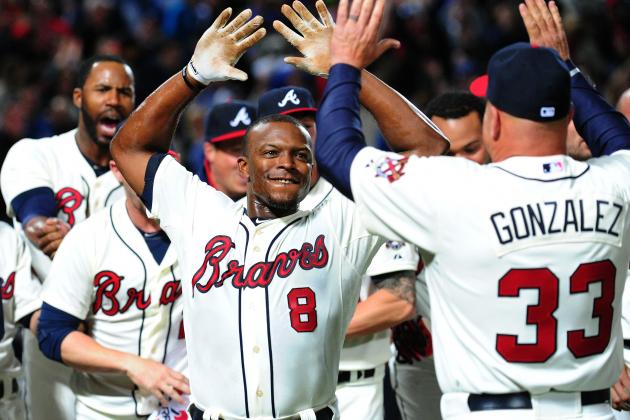 Scott Cunningham/Getty Images

Justin Upton has been everything the Braves imagined and more in the first week and a half of the 2013 season.
Through nine games, Upton leads the team in home runs (six), RBI (nine), slugging (.971) and OPS (1.365), while hitting .353.
His most memorable game came against the Cubs, in which he finished 3-for-5 with two home runs, including a walk-off solo shot in the ninth inning off then-closer Carlos Marmol.
Safe to say, general manager Frank Wren is feeling good about the offseason acquisition right about now.
While Upton won't continue his current pace of hitting 108 home runs, he does have the ability to put up MVP numbers.
It's easy to forget that Upton finished fourth in the National League MVP race two years ago at the age of 23. Following a down 2012 season in which he battled a thumb injury, Upton appears headed for a bounceback season in a major way.
I'm still not entirely sure why Arizona Diamondbacks general manager Kevin Towers was so eager to trade Upton.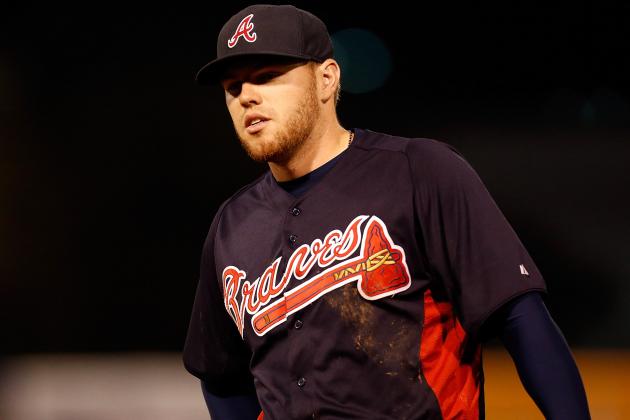 J. Meric/Getty Images

Before heading to the 15-day disabled list, Freddie Freeman was hitting .412 with a 1.121 OPS.
Freeman got things going for the Braves' offense with a two-run home run off Hamels in the first inning on Opening Day and is second on the team with seven RBI.
Freeman was disappointed to say the least in the Braves' decision to place him on the DL, but it should benefit him in the long run.
Oblique injuries can linger, and that's the last thing he wants to deal with after his 2012 season.
When healthy, Freeman is arguably the best natural hitter on the team. And hitting in the cleanup spot on this team will provide multiple run-producing opportunities.
Two weeks will not derail his season. When he returns I'd expect him to pick up where he left off and make a run at his first All-Star team.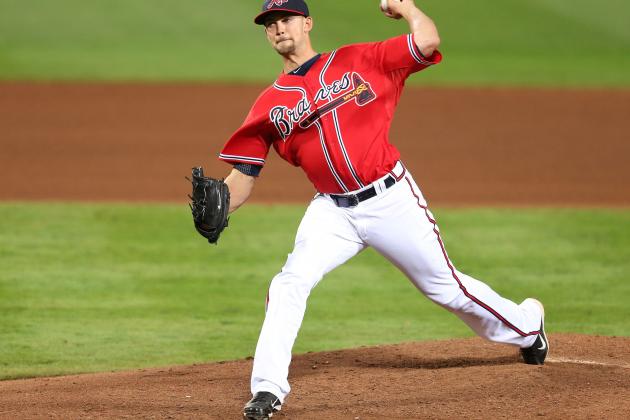 Mike Zarrilli/Getty Images

Mike Minor has began the 2013 season how he finished in 2012.
Around the All-Star break in 2012, Minor realized he needed to trust his stuff. Before the break, he walked 40 batters and had a 1.95 strikeout-to-walk ratio. After, he walked just 16 batters and had a 4.19 strikeout-to-walk ratio.
Consequently, his ERA after the break (2.16) was much better than before (5.97).
Through two starts, Minor is 2-0 with a 0.69 ERA. Not surprisingly, he has walked just one batter to 11 strikeouts.
His two starts did come against two teams with lackluster offenses on paper, but I'm a believer his success can continue.
Mentally, he has learned that his stuff is effective at the MLB level—which it is.
Sometimes it takes players longer to be mentally ready than physically ready.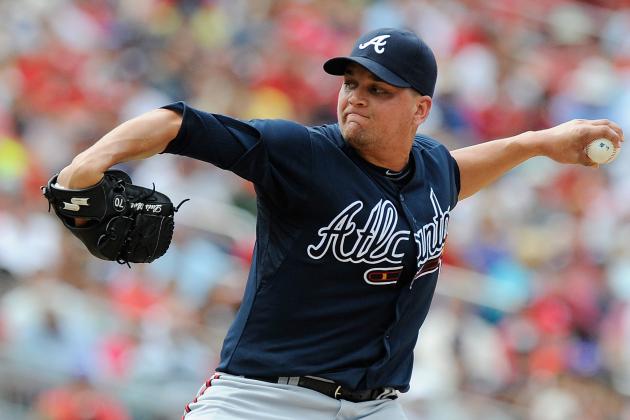 Patrick McDermott/Getty Images

Luis Avilan will not steal the headlines for this Braves team, but he still plays an important role in the team's success.
He has not allowed a run in three appearances to begin the 2013 season.
Avilan entered in a pivotal moment in the Braves' Opening Day win against the Phillies. The Braves held a 4-3 lead in the fifth inning, but the Phillies were threatening with runners on second and third and just one out.
Manager Fredi Gonzalez called on Avilan, who calmly struck out Ryan Howard and forced Domonic Brown to weakly ground out.
Avilan uses a fastball with tailing movement that can hit 95, as well as good breaking pitches, to make him effective against right- and left-handed hitters.
He looks to be a reliable middle innings reliever who will be called upon in tricky situations in the absence of Jonny Venters.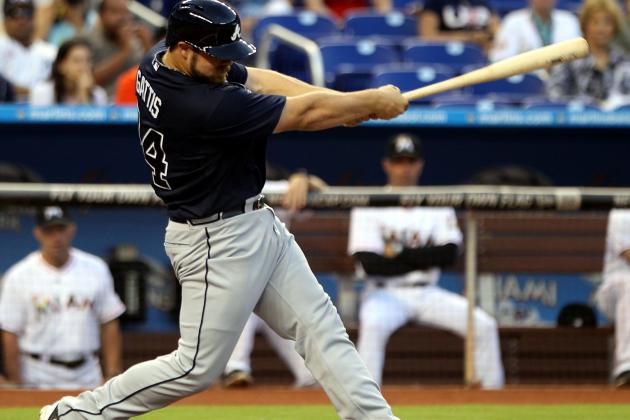 Marc Serota/Getty Images

The legend that is Evan Gattis continues to grow each game.
Gattis hit a three-run home run in the fifth inning Wednesday night to break open the game against the Miami Marlins.
Gattis has taken over the starting catcher duties with Brian McCann out—and deservedly so.
He is hitting .391 with three home runs and six RBI in his first season at the MLB level.
And why can't he continue to have success at the plate?
Whether in the minors, winter ball, spring training or the majors, Gattis has hit for both average and power.
He has given Braves fans no reason to believe he can't keep this up.