Al Horford Talks NCAA Tournament, Atlanta Hawks Playoffs, Josh Smith and More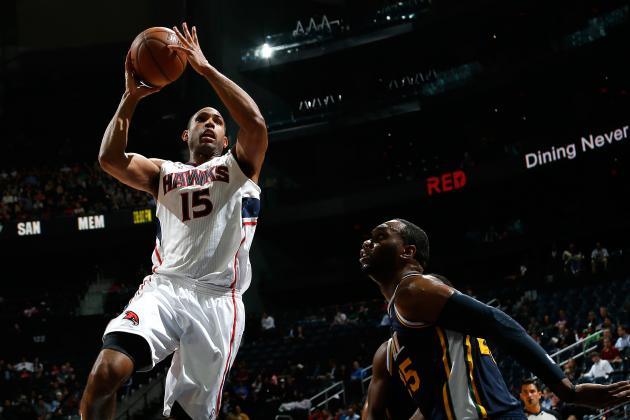 Kevin C. Cox/Getty Images
Al Horford and the Hawks always fly, but rarely on the radar.
Like his Atlanta Hawks team, Al Horford is relatively unknown to the casual NBA fan.
And that's quite a shame.
To those that watch closely though, Horford is capable of a double-double on any given night, is a solid defender and rebounder, and he's been the consummate professional.
The Dominican Republic native was a two-time NCAA champion with the Florida Gators. He's now a sixth-year pro, two-time All Star and one of the most productive front court players in the league.
Capable of ably manning either power forward or center, Horford has helped the Hawks advance to the postseason every year of his blossoming career. With the exception of an injury-shortened 2012 season, he's incrementally improved his steady output every step of the way.
I recently got a chance to speak with Al, and it was yet another opportunity to appreciate the way he quietly goes about being one of the NBA's best bigs.
Begin Slideshow

»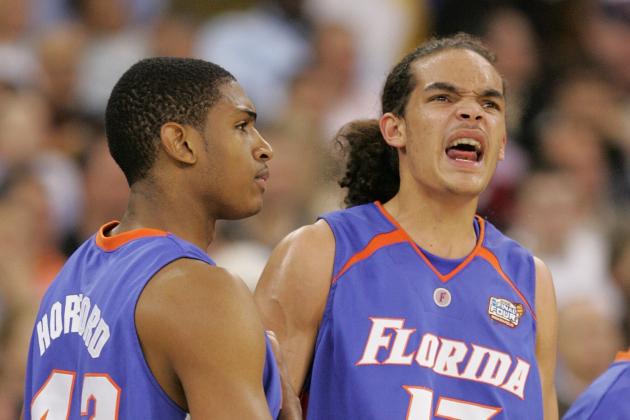 Andy Lyons/Getty Images
Al Hoford and Florida teammate Joakim Noah.
"Watching the NCAA Tournament every year has to bring back a lot of fond memories considering the massive success you enjoyed while at Florida.
They're on other teams now, but do you ever get a chance to reminisce with Joakim Noah, Corey Brewer or any of your other Gators teammates?"
Oh man, those guys are brothers to me and always have been. We grew up together and shared so many memories. Joakim especially. He just knows how to get to me every time.

I just think back to how excited he was to see my brother, Jon, play against Syracuse the other night in the Final Four. Jon used to be the one coming to our games cheering us on as a little kid, so now it's like Joakim is cheering for his little brother too. We're all family.

Every time any of us get together, we sound like a bunch of old men talking about, "hey, you remember the time we did this or that?" We're not that old yet, but it sure feels like it sometimes. There's a lot to talk about though after the run through college basketball that we had.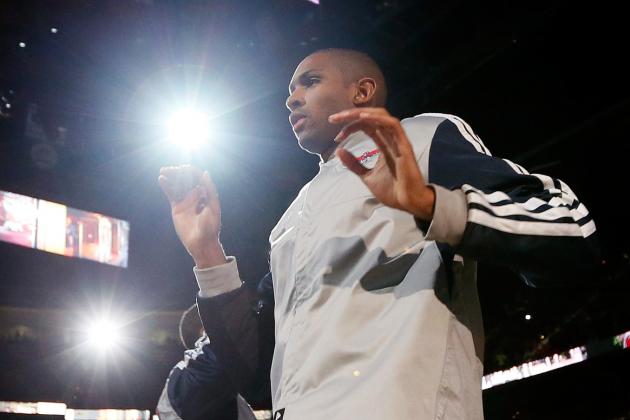 Kevin C. Cox/Getty Images

"You were recently partnered with a Hampton Hotels charity project that teams with the Boys and Girls Clubs of the Atlanta area.
How did you get involved and what have you been working on with them?"
I was approached to help out with this Boys and Girls Club project, and I've actually gotten a chance to do stuff with them quite a few times before. I really believe in what they're doing and am happy to help out whenever I can.

We were able to do a gym renovation at the John Harland Boys and Girls Club in Atlanta. Afterwards, we spent some time with the kids playing basketball and hanging out, then also donated a lot of equipment and supplies to the other 24 clubs in the metro region.
"Why does it mean so much for NBA players and organizations to be involved with their communities like this?"
I remember idolizing professional athletes as a kid. I know how much younger kids look up to us and follow what we do.

It's important to set a good example for them by helping in the community and showing that we care. Any time you can help, that's a good thing, and we know they appreciate it a lot.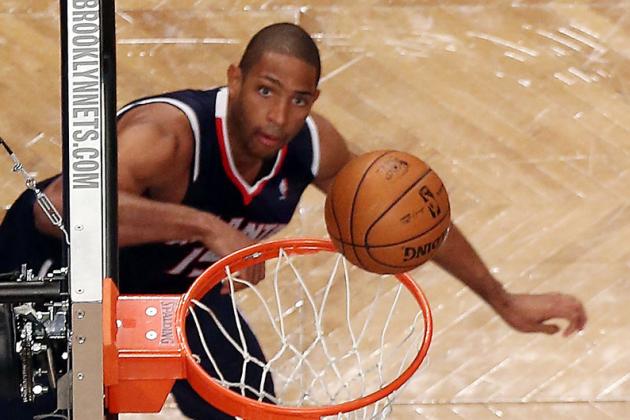 Bruce Bennett/Getty Images

"The Hawks have flown under the radar for much of your tenure there, but a lot of so-called experts really overlooked the team this year.
There was a lot of new faces during the offseason, Joe Johnson was gone, etc.
Yet, you've continued winning, notching yet another playoff berth. How did you guys come together and accomplish what many didn't think you could?"
We've had to overcome a lot this year. It's been really tough, especially the loss of Lou Williams and now Zaza (Pachulia).

We've just had to keep battling and grinding it out every night, but I think we've done a really good job of making adjustments. Different guys were ready to step up, we've experimented with different lineups and it's a pretty unselfish group that really does work hard.

We're in the playoffs again because of that.
"You guys had to overcome that significant loss when Lou Williams went down for the year. Even though he was a first-year Hawk, he provided a lot of scoring punch. How has the team been able to win even without this offensive weapon?"
Jeff Teague really stepped it up this year. He took charge as a point guard and has done a lot of really nice things, including picking up some of the scoring slack.

In the end, we all had to be conscious about doing more. A lot of our different guards have carried us at various points of the season, but someone has always been there to pick us up.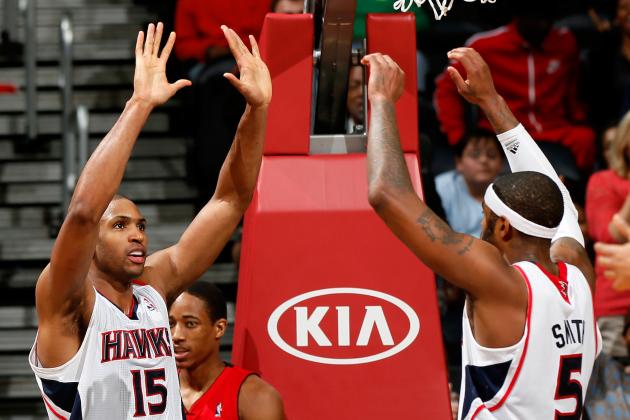 Kevin C. Cox/Getty Images

"You and Josh Smith have been together on the front line for your entire career.
What's your favorite thing about playing with Josh?"
His versatility. There isn't another power forward in the league who can do exactly what he does: running the floor, shooting a little from outside, finishing at the rim, then blocking a bunch of shots and playing defense everywhere.

He makes my job easy by having a guy who does a little bit of everything but does it so well. With me having to play center, he helps to clean a lot of things up.

I think we have always made a good pairing, and that's been the case again this year.
Bruce Bennett/Getty Images

"You've been asked to play center for much of your career, yet were a PF back in Florida.
Do you have a preference which position you play at?"
I can do both. I've learned to do both, and I think I'm pretty good at either one.

Playing the four opens up my game offensively a little bit more, and having to guard some of the bigger centers can get a little tough at times, but I've proven to be effective at either spot.

It's just the way the league is going right now, so I'm adapting just like everybody else.
"Just as you alluded to, it's becoming more common to see a "traditional 4" manning the center spot. LaMarcus Aldridge, Kevin Garnett, Greg Monroe, Chris Bosh and DeMarcus Cousins especially come to mind. Even Al Jefferson was originally thought to be a power forward.
Why do you think this is becoming so popular around the league?"
Just the speed and tempo at which the game is played today. I really think the power forward and center spots are basically interchangeable for a lot of teams now.

It helps speed things up on both ends of the floor, especially with all the guards who are running around now and the outside shooters.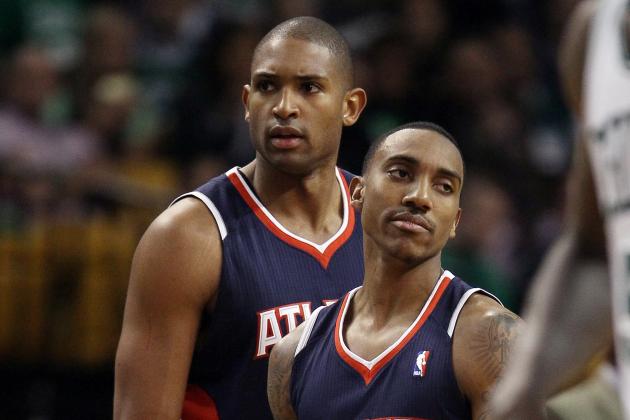 Elsa/Getty Images

"Josh Smith is a free agent after this season, as are many of your teammates, including coach Larry Drew.
In fact, you're one of the only guys who's for sure going to be back next year.
Is there any nervousness in looking at that fact, or is it maybe excitement for the future since the possibilities are wide open?"
You know, I've really tried not to think about that and haven't thought about it too much. We're focusing on the job at hand, which was to make the playoffs and now to have a successful run.

At the same time, there is a little bit of excitement in knowing that we can get better, that the front office has a plan and that things are wide open. We'll worry about the future when it gets here, but it's not something to be afraid of.

Right now, it's all about the moment and what we can do with our team.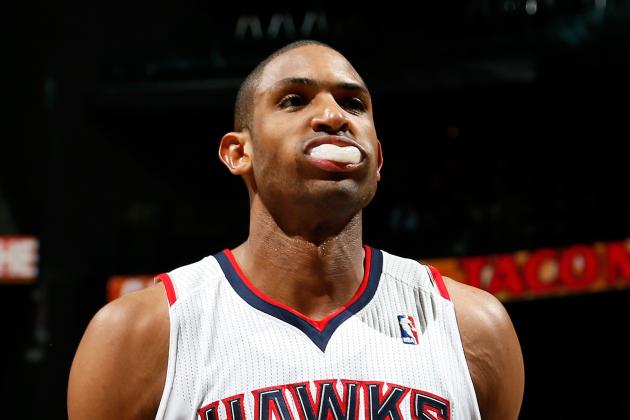 Kevin C. Cox/Getty Images

"A lot of casual fans probably haven't gotten a chance to see the Hawks play much this year.
What's the one thing you want people to know about your team as you enter the playoffs again?"
We're an unselfish team. We lead our conference in assists, and everybody moves the ball freely. We do work hard.

We're top five in our assist to turnover ratio and do a great job of taking care of the ball.

We can do a little bit of everything. We're a top-half defensive team, can shoot, can run, can go inside.

I like our chances against anybody.