5 Reasons Why LA Clippers Need to Be Worried About Late-Season Slump
Christian Petersen/Getty Images
The Los Angeles Clippers have been in a slump over the past month and it is a legitimate concern. The team went into a similar spiral late last season and was able to rebound, advancing beyond the first round of the playoffs.
There is no guarantee that will happen again this year. A team that had played well on offense and defense all season has recently struggled at both ends of the floor. Players are bickering, the rotations are inconsistent and Vinny Del Negro is essentially coaching for his job.
The outlook has turned grim lately and rightfully so.
Chemistry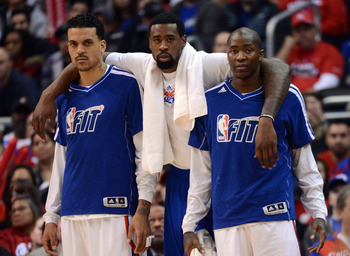 Harry How/Getty Images
According to a report by the Los Angeles Times' T.J. Simers, a few of the Clippers' biggest names have been bickering and not seeing eye to eye:
The other night in Sacramento, Griffin and Jordan exchanged words on the bench. Griffin told Jordan he best never again stare him down as he did when Griffin failed to give Jordan a good pass for a dunk.
While the report and argument may have slightly been blown out of proportion, the resulting impact is still unknown. The last thing the team needs is for there to be a divide on the roster and a developing feud among players.
This same type of event occurred late last season as the players began to lose faith in Vinny Del Negro. Del Negro was nearly fired, but he eventually won back some of the players and won a great seven-game playoff series against the Memphis Grizzlies.
Defense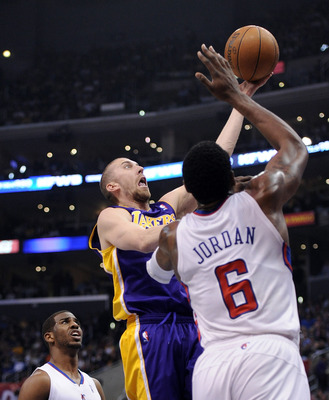 Harry How/Getty Images
In March, the Los Angeles Clippers struggled mightily. The team finished 7-8 in that stretch (including an April 1 loss to Indiana) and the defense was a major reason why.
In six of the eight losses, the opposing team averaged 108 points per game. That simply is not good enough, especially for one of the better defensive teams in the entire league.
It was painfully obvious that there was a complete lack of focus and effort on defense during that stretch. The Clippers have the talent to defend well and need to do so if they want to advance past the first round again this season.
Rebounding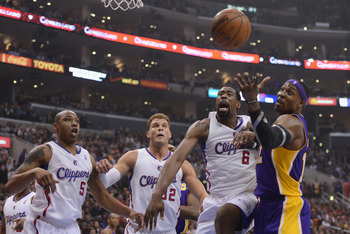 Harry How/Getty Images
One of the major areas of concern since opening night has been the team's rebounding. The Los Angeles Clippers are in a three-way tie for 18th place in total rebounding.
The problem revolves around Blake Griffin and DeAndre Jordan.
One would expect both to be good rebounders at their respective positions, especially when factoring in how strong and athletic they are. Unfortunately, both players are inconsistent on the glass. Furthermore, Jordan cannot seem to stay on the floor, and that limits his impact on the boards.
The Clippers will need to take a team approach if they want to compete inside with their potential first-round foe, the Memphis Grizzlies. The guards will need to help crash the boards and reserves Matt Barnes and Lamar Odom also will be relied upon for rebounding.
First-Round Opponent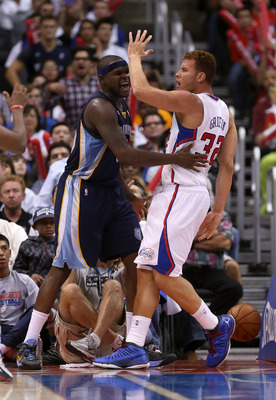 Stephen Dunn/Getty Images
Fortunately for NBA fans, it is likely that we will all be treated to another Memphis Grizzlies against Los Angeles Clippers showdown in the first-round of the playoffs. If last season's series and the three games this season are any indication, it will be another dogfight.
The Clippers need to shore up some of the deficiencies that have plagued them over the last month, because Memphis will be out for blood after the Clippers dispatched them in seven games last spring.
Additionally, Memphis has the athleticism and size to match up with the Clippers. Tony Allen and Mike Conley have been effective guarding Chris Paul. Blake Griffin will have his hands full against Zach Randolph, yet again.
The team needs to come together and bring a wire-to-wire intensity in order to defeat Memphis again.
Coaching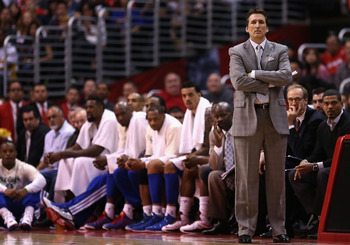 Christian Petersen/Getty Images
There seems to be a rift between DeAndre Jordan and Vinny Del Negro.
Del Negro will not give Jordan crunch-time minutes due to his terrible foul shooting. Unfortunately for Jordan, Del Negro is spot on. While DJ provides the Clippers with a defensive presence in the paint, his foul shooting is a complete liability.
However, the real question is what kind of coaching performance we will see from Del Negro. It is no secret that the Clippers are on the fence about bringing him back next season. They did not offer him a contract extension last summer, making this the last year of his contract.
In other words, Del Negro will be coaching for his job this postseason. Will the pressure engulf him or will he respond and lead the Clippers deep into the playoffs?
Keep Reading

Los Angeles Clippers: Like this team?