During his main event battle with John Cena at WrestleMania 29, The Rock suffered a major abdomen and adductor injury.
The electrifying superstar tweeted out the details himself on April 8:
In the middle of last nights Wrestlemania match I tore my abdomen & adductor muscles off the bone. Just part of the job. But as we know..

— Dwayne Johnson (@TheRock) April 8, 2013
..It's all about #JustBringIt. WWE Universe THANK YOU for all the love & well wishes. Means everything to me. #LeaveItAllInTheRing

— Dwayne Johnson (@TheRock) April 8, 2013
UPDATE: Saturday, Aug. 31, at 3:15 p.m. ET

The Rock provides an update on his status:
3 hernia surgeries 100% healed. Rectus/adductor tears bout 75%. Thx bud. #FunPain RT: @Hexty82: How's the injuries since WrestleMania? 100%?

— Dwayne Johnson (@TheRock) August 31, 2013
---End of Update---
UPDATE: Sunday, Apr. 21, at 11:28 a.m. ET by Brandon Galvin
The Rock announced this morning on Twitter that he will undergo surgery next week:
Saw my Dr who had to push my intestines back thru the tear in my abdomen. Kinda romantic.Surgery is next week. #BringItOn

— Dwayne Johnson (@TheRock) April 21, 2013
---End of update---
UPDATE: Wednesday, Apr. 10, at 11:44 a.m. ET by Brandon Galvin
The Rock informed the world this morning that he is already starting to rehab:
My "Hmm.. I think I just tore tendons off my pelvis" face. Love you guys for all your support!! twitter.com/TheRock/status…

— Dwayne Johnson (@TheRock) April 10, 2013
---End of update---
It's an injury that can only be described as brutal, and the fact that The Brahma Bull was able to finish the match at all is a testament to his dedication to the sport, strength and unbelievable tolerance for pain.
The results of wrestling may be scripted, but this is just another example of the heart-pounding action being 100 percent real.
As far as storylines go, this certainly complicates things a bit.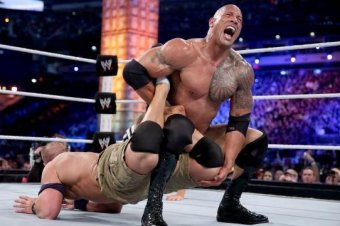 The Rock was reportedly set to appear on Monday Night Raw, where he was going to cut a promo and subsequently be attacked by Brock Lesnar in a teaser for WrestleMania 30.
That was quickly scrapped as he had to fly home to presumably tend to his injury, and the WWE is reportedly in "chaos" rewriting the show.
Moreover, it had been rumored that Rocky was set to make it four PPVs in a row at Extreme Rules next month, but it's safe to say this injury will undoubtedly stop that from happening.
Many believed Extreme Rules would be the stage for The Rock's final chapter with John Cena, so not only does this injury likely eliminate The People's Champ from next month's pay-per-view, but it also frees up a feud for the new World Champion.
There are several options who could step up as Cena's next opponent, but we will undoubtedly learn more on that front on Raw.
For now, it's time to simply wish The Rock, a true competitor in every sense of the word, a speedy recovery.