20 of the Most Infamous Moments in MMA History, Part II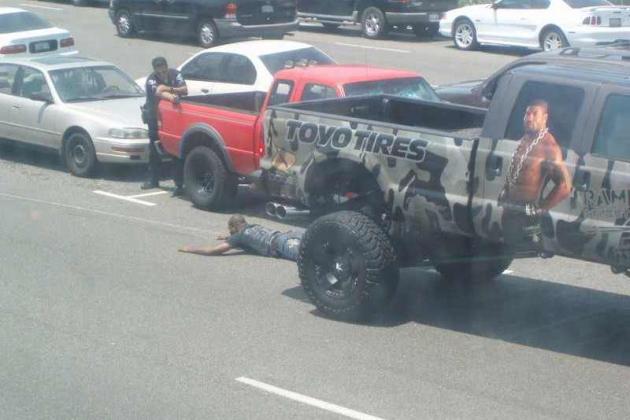 mmanytt.se
As we continue our look at infamous moments in MMA history, we see that, save for a few instances, they have a kind of equality about them that speaks to the notion of a moment being the master of men, instead of men mastering the moment.
It cannot be easy being a professional fighter, in or outside of the ring, but it is the path they have chosen and thus it is the end they serve—in addition to themselves, of course.
Sometimes a circumstance may arise in which it seems there is no clear path to take, no high road to be known, and at those times, it is simply a matter of enduring and moving forward with proper acknowledgement of the mistakes of the past.
MMA is still a sport on the verge (of true greatness, I believe), and given the actual contest at hand—physical combat between two individuals who do not want to lose—perhaps it is only natural and expected that things may go wrong from time to time.
It is still, as of now, the safest combative sport in the history of professional combative sports, which says a great deal about the merits of the system by which it operates and how they are far greater than the flaws intrinsic to the design.
Begin Slideshow

»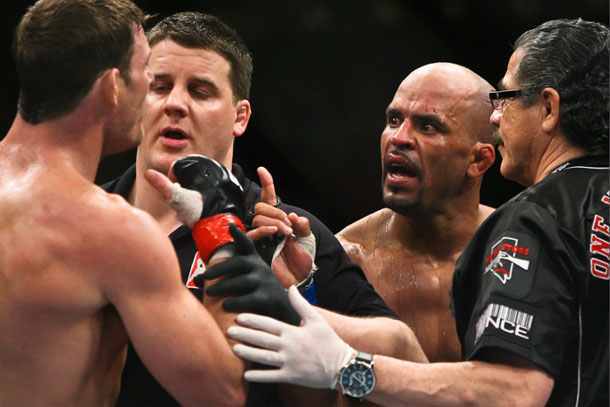 mmaconvert.com
Everyone knows that in the fight game, tempers flair and lines get crossed.
That's exactly what happened when Jorge Rivera went about a smack-talking campaign that targeted Michael Bisping and those close to him.
Rivera shouldn't have crossed certain lines; this much is obvious.
But Bisping isn't exactly a saint himself; in fact, he's one of the more accomplished generals when it comes to hyping a fight by engaging in some inflammatory rhetoric.
When the business of fighting finally arrived, Bisping first landed a clearly blatant and illegal knee to the head of Rivera when he was down; a foul so obvious that to even try and claim ignorance was folly.
Then, he engaged the corner of Rivera, spitting in their direction.
For all of this, White decided action was going to be taken, and rightly so.
Then he left us all scratching our heads when he announced that Bisping would not be receiving any bonus for the fight.
The idea of bonuses is that they are a reward of sorts, so to take away a reward isn't a punishment.
Now, attacking one of your bigger name fighters in the media, and calling his actions "disgusting" (as White did with Jon Jones over the whole UFC 151 fiasco)—that is more along the lines of a punishment than simply depriving a fighter of extra monies.
We can only assume this "bonus" was one of the regularly named, undisclosed bonuses fighters get off the books.
One hopes that the withheld bonus was a big one as well; otherwise, White's actions speak to inaction and apathy, and considering the damage that knee could have done, some could confuse apathy with approval.
And that would be a true tragedy, because White didn't approve at all.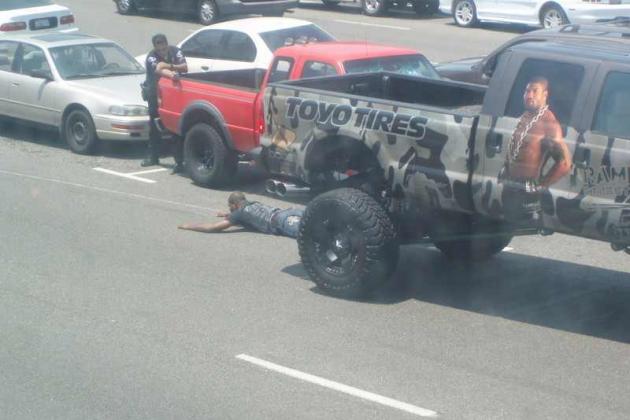 mmanytt.se
As likeable as Quinton Jackson can be, it isn't really all that surprising that he went round the bend after losing his title to underdog Forrest Griffin at UFC 86.
Jackson had, at the time, the winning ticket in a promotion that was growing and growing day-by-day.
It was a great life, and then suddenly Jackson wasn't the champion anymore, and what's worse is that he did it to himself.
He didn't take Griffin seriously, didn't train like he should have, and as a result, that damned fickle woman named Fortune decided to dance with someone else, right out of Jackson's life.
Yeah, that's a tad dramatic, but so was Jackson's consequential freak out—which lead to his arrest in the middle of the highway, guns aimed in his direction and his custom-created UFC Quinton Jackson-mobile right beside him in every photograph like a gaudy monument to his vanity.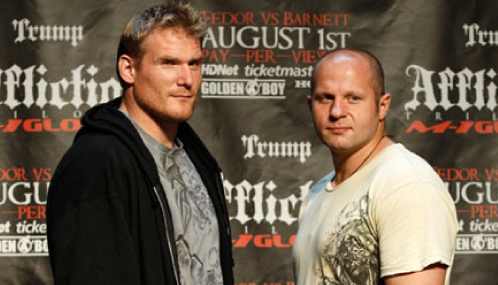 cagepotato.com
They say that showing up is half the battle, but in the case of Josh Barnett and Affliction, it was far more than that.
Sometimes we can only tell how large or important a thing is by how much is lacking in its absence—in this case, Fedor Emelianenko ended up lacking an opponent for the third Affliction show.
Affliction made a lot of mistakes in the way it chose to wage war with the UFC—including trying to simply buy out the talent of the sport, which ended up costing them three to four times the amount other promotions would have paid for the same talent.
In truth, the only fighter they had that was a PPV draw was Emelianenko, and thus Affliction saw the rightful need to build up his opponents in order to draw further interest and give the company a second face of renown.
Josh Barnett was supposed to be the man who helped shoulder the weight of carrying the promotion through those deep PPV waters.
Instead, Barnett tested positive for steroids, Emelianenko no longer had an opponent, the third Affliction card was cancelled and then the promotion simply closed their doors and went back to making overpriced clothing.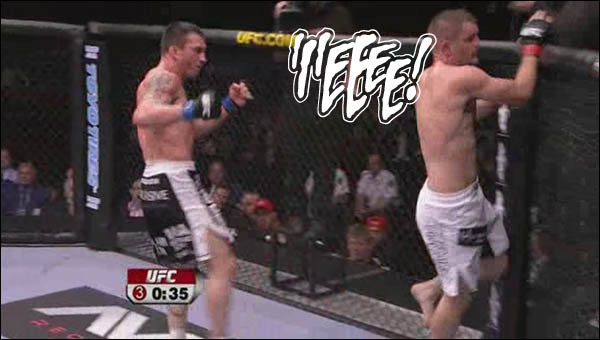 cracked.com
Yes, sometimes avoidance is a tactical necessity, but it is really only forgivable if it is either brilliant in its execution or short in its duration.
This is a fight sport after all, and when Nate Quarry squared off against Kalib Starnes, the latter opted to avoid the fight nearly altogether.
It became a sad parody of a Three Stooges episode, with Quarry trying to cut off the ring as best he could as Starnes continued to circle away, elusive as a ghost.
Eventually, Quarry himself could not make sense of the situation nor goad Starnes into participating in a fight, which was the very thing that should have and did get Starnes released from the UFC.
No one has to be a fighter; it's a very special, unique career choice that one should make only if it is something he simply loves to do, and that night at UFC 83, it was clear that Starnes wanted to be anywhere else but in the Octagon.
fighttime.net
For a long time, fans of the sport have either thrilled to the action and antics of Nick Diaz, or they have been enraged by them.
Ever a polarizing figure, Diaz is all action in the ring; a fighter willing to die for an exciting fight rather than suffer wealth and victory in a boring one.
After his first exodus from the UFC, Diaz began piling up victories and growing his name the old fashioned way—by kicking ass in dramatic fashion.
But he would always seem to self-destruct or call out fighters who were not even signed to the same promotion as him.
It had all the aspects of cheap theatre, to be honest; or a child trying to manipulate parents with a ploy so transparent and obvious that Diaz fans bought into it as some avant-garde testimony of his greatness.
He wanted to be on the covers of magazines, and he wanted the money and attention that all of his contemporaries were getting. In truth, he deserved it because he was far more exciting than they were.
But they were professionals, Diaz was not, and he ended up proving why they had risen high above him when he simply walked away from the biggest cozy-seat in the sport: a title fight with perhaps the biggest PPV draw in the sport of MMA—Georges St-Pierre.
Or perhaps it is more accurate to say he simply didn't show up at all.
Dana White, forced to make a tough decision, decided he could trust Diaz to be a professional on the biggest stage and removed him from the bout, giving it to Carlos Condit instead.
In a puzzling self-made video, Diaz talks about the situation while driving around in his car, returning to Stockton after failing to make a plane flight that would have seen him arrive far too late for the press conference anyway.
But even with all of this going against him, Diaz has proved to be a sought-after commodity, and one hopes he will start conducting the business side of his career with the same regularity and dependability of his younger brother.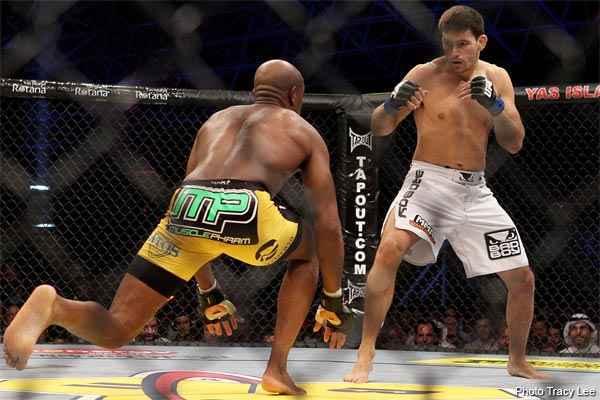 Tracy Lee / Yahoo! Sports
In most circumstances, it's painful to watch an outmatched fighter struggle to defend himself against a vastly superior opponent; so much so that often it is an outrage to the fans themselves.
When Demian Maia struggled and struggled against Anderson Silva at UFC 112, it was as painful as we've come to expect, but for a whole new reason.
Anderson Silva showed an utter contempt for his opponent, the fans in attendance and those abroad when he amused himself for 25 fights, toying with Maia at times and mocking him at others (or avoiding him altogether).
At UFC 112, Silva didn't defend his title; he simply held it out for Maia to grab, then yanked it away and ran around the ring, like a big brother playing keep-away with his smaller sibling.
It wasn't a title fight, it was a farce, and as it stands today, it was the Silva's worst performance yet, because he didn't really perform at all.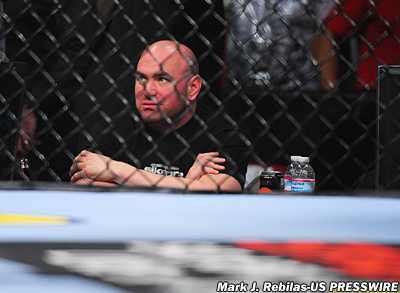 Mark J. Rebilas-US PRESSWIRE
It's hard to think of Dana White without thinking of his impassioned speech to the cast members of the first season of The Ultimate Fighter.
It was a significant moment in his career as UFC president; unvarnished and uncompromising, unscripted and unrehearsed.
Up until that time, White had always looked like an earnest man trying to push a boulder up a hill. When he let loose that speech, we saw a man who would no longer be held hostage to any moment that might derail his quest to make the UFC the premier force in the sport of MMA.
He pushed all his chips to the center of the table and let it all hang out; an act of true conviction that could hardly be honestly considered infamous.
Yet for some reason it is; perhaps it is because some point to it as the time when White decided he would grab the spotlight for himself anytime he wanted to.
But if we are being honest with ourselves, it was the act of a man who had discovered that his future was in his own hands, and with it, the UFC.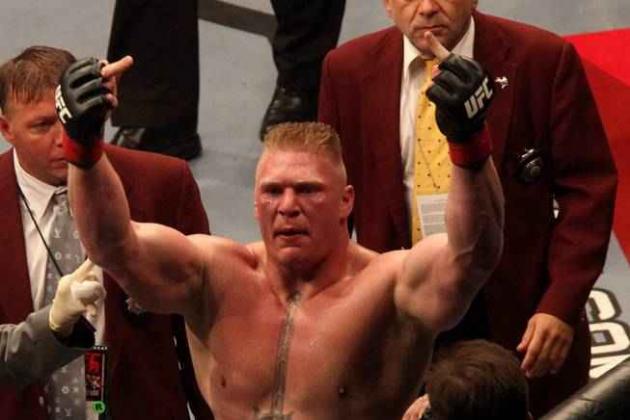 lasvegassun.com
If anyone in the world knows the value of a well-timed, bombastic speech that is bound to inflame and inspire, it's former WWE wrestler Brock Lesnar, and he proved it after claiming a revenge victory over UFC interim heavyweight champion Frank Mir.
In one fell swoop, Lesnar disrespected (somewhat rightfully) his defeated and battered foe, insulted a major sponsor and antagonized feminists everywhere with comments that spoke to the possibility that perhaps he might show his wife some "amore" once they returned home.
In that moment, Lesnar honestly looked like he didn't care what any MMA fan thought of him, because he was the champion, and to me, that means something because it shows that UFC belt really meant something to him.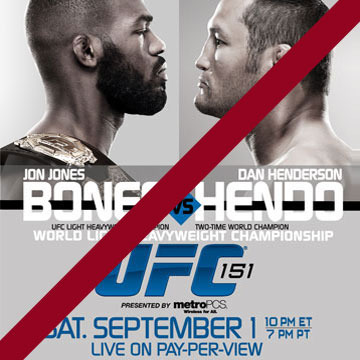 mmathecagemexico.com
Say what you will about Jon Jones and his decision-making, but the actions of one fighter do not cancel an entire fight card, just as one fighter cannot make an entire card—that power resides in the hands of the powers that be in the promotional company and nowhere else.
For a very long time, Dana White and others at Zuffa have been claiming that when a customer buys a UFC PPV, he isn't just paying for one fight; he is getting an incredibly well-stacked card that is sure to entertain.
When Jones declined to fight Chael Sonnen on eight days' notice, White announced he was cancelling the card and then passed the buck onto Jones, pointing his finger right at the light heavyweight champion and claiming he was the one to blame for it all.
And in doing so, White completely negated what he had long claimed to be one of the chief virtues of the UFC—that theirs wasn't a single-course meal, but a banquet with something for everyone.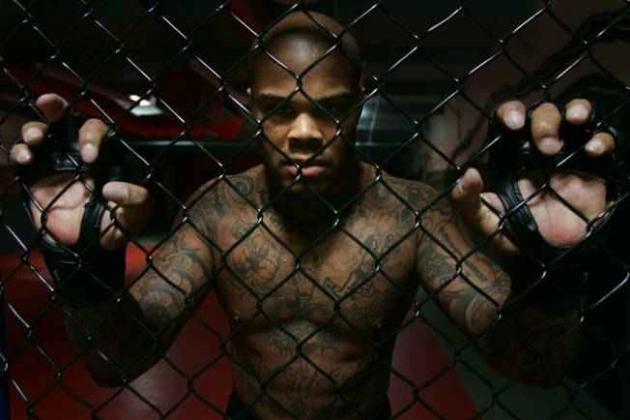 mmamania.com
Say what you will about fighters like Brock Lesnar, Chris Leben, Nick Diaz and even Paul Daley—all of them assembled together are more akin to choir boys in church than villains when compared to Gilbert Yvel.
Yvel is the reigning king of ill intent and bad purpose when it comes to combative sports, second or third to only Fritzie Zivic and Harry Greb (old-time boxers who took pride in being able to maul opponents in all ways outside the rules) when it comes to breaking the rules and waging a war of fouls instead of fair play.
Yvel hit his lowest point in 2004 in a bout with Atte Backman when he knocked a referee down and then proceeded to kick him as he lay on the floor.
There really isn't much more that needs to be said after that. Yvel is one of those men who should be in a cage, to be sure, but not one where men go to seek glory in any honorable fashion.