Why Kevin Mirallas Will Be the Face of Everton If Marouane Fellaini Departs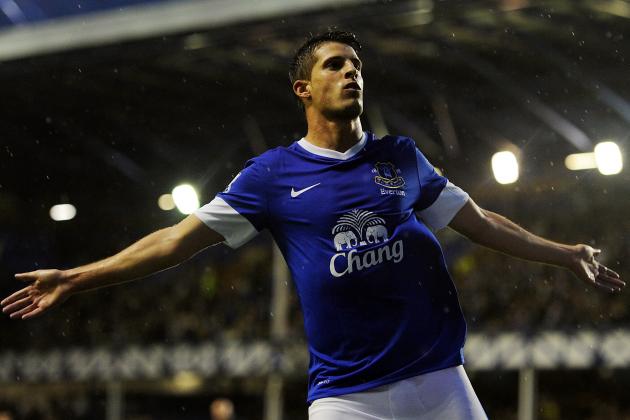 Chris Brunskill/Getty Images

He scored a fine winner after an impressive run through Stoke City's half of Goodison Park a week ago.
He followed it up with another excellent dribble and finish against Tottenham Hotspur at White Hart Lane just this Sunday.
David Moyes called him his own Gareth Bale in the aftermath of the Spurs clash (via Liverpool Echo).
Ladies and gentlemen: Everton Football Club's newest star, Kevin Mirallas.
In recent weeks, Mirallas—a summer signing from Olympiakos—has truly hogged the headlines on the blue half of Merseyside with scintillating display after scintillating display and is arguably Everton's most dangerous attacking player at the moment.
In light of renewed rumors linking midfield star Marouane Fellaini with a summer exit from Everton and more controversy surrounding his status at the club (via The Telegraph), the position of club icon at Goodison Park is ready for another incumbent.
Here are five reasons Kevin Mirallas will be the face of Everton if Fellaini leaves in the summer. Enjoy, and let us know your thoughts and views in the comments below.
Begin Slideshow

»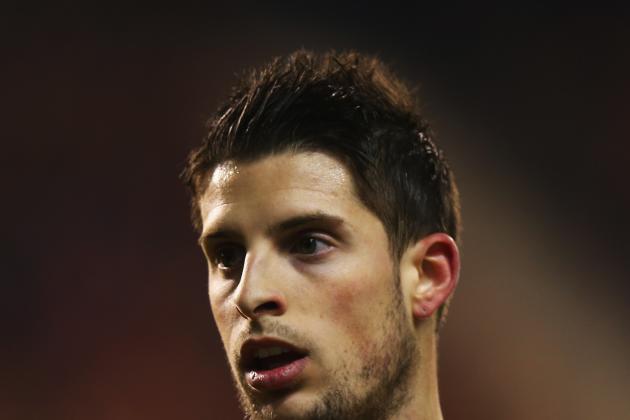 Bryn Lennon/Getty Images

First, let's not veer too far from Marouane Fellaini's own characteristics, even though the powerhouse midfielder has been the architect of his own downfall with a series of public relations faux pas.
That much of the Belgian Golden Generation is currently plying its trade in the Premier League is well-known—Fellaini was one of the pioneers of the Belgian invasion.
So how fitting it is to have a new Everton icon in the form of another Belgian star, albeit one who was signed from the Greek Super League via France's Ligue 1. This is an exciting crop of Belgian youngsters, and David Moyes will have been proud of his transfer deals last summer.
Like Fellaini, Mirallas started his football career with Standard Liege.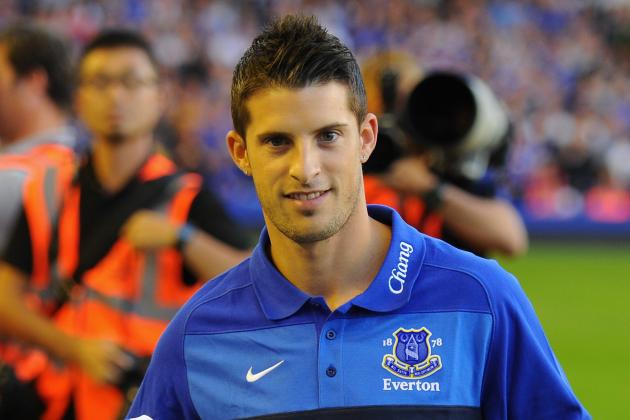 Michael Regan/Getty Images

In 2008, Fellaini signed for Everton in a £15 million deal from Standard Liege, still the club record buy for the Blues (via EvertonFC.com).
During his four-plus years at Goodison Park, Fellaini has scored 25 goals in 131 league appearances, a fine goalscoring record for a midfielder, and started out the season in such blistering form that upon the half-season, he was whispered in some quarters as a potential Player of the Year candidate.
His impact has gone off the boil quite spectacularly, but his record for the season still stands at 11 goals and five assists from 24 league games, a quite respectable tally.
In a stop-start season due to injuries, Mirallas has contributed three goals and three assists in 19 league appearances, but in recent weeks he has stepped up his game.
And with a fine precedent in Nikica Jelavic before him, Mirallas represents yet another impressive Moyes bargain, costing just £6 million (via BBC Sport).
Whether Mirallas will prove to be a better deal for Everton undoubtedly hinges on his performances in the long term, but if he continues his current form into next season and beyond, he could well become one of the Blues' best ever signings.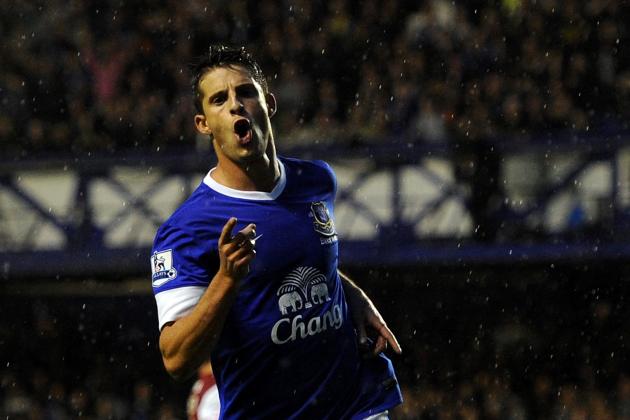 Chris Brunskill/Getty Images

More often than not, the Fellaini name associates with not just a dominant, goalscoring midfielder, but an Afro.
In that sense, especially considering how prominent Afro wigs are around Goodison Park (or used to be anyway), Fellaini made himself a crowd favorite with his goofy appearance and surprisingly effective performances at the heart of the Everton midfield.
Mirallas, though not possessing anything similarly eye-catching appearance-wise, has the same potential and capacity to excite the crowd, simply because he possesses those all-important elements of speed and dribbling.
We saw from the links in the opening slide that Mirallas has pace to burn, technique in abundance and composure in his locker. An altogether different brand from the physical but effective play that Fellaini has trademarked, Mirallas does something that Fellaini isn't capable of.
He can get the crowd on its feet just by running at the opposition with the ball.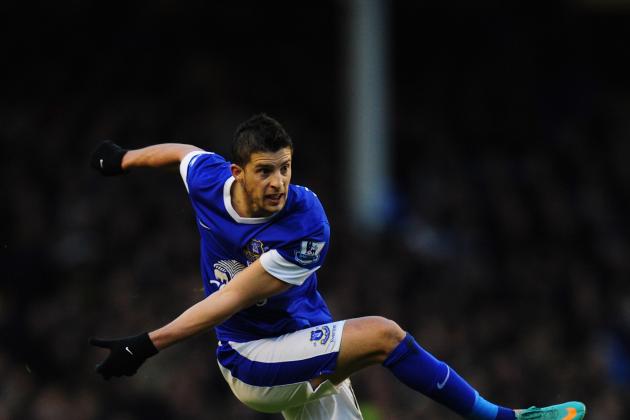 Stu Forster/Getty Images

But as we all know as football fans, football isn't just about the excitement; it's about winning.
And while Mirallas' excellent goal against Spurs at the weekend didn't end up the winning goal as it did against Stoke, we have seen in recent weeks that he can provide that match-winning difference to Everton.
Fellaini enjoyed an explosive start to the season when he was the one who made the difference for the Blues in many a league game, and now Mirallas, seemingly at full fitness and confidence, is ready to take on that mantle.
Jelavic's form has stuttered this season, and while Steven Pienaar offers creativity and an eye for the spectacular, he doesn't provide the goals that Mirallas potentially has in store.
Moyes' comparison to Bale was perhaps a bit premature and exaggerated for the time being, but it might not remain so much longer.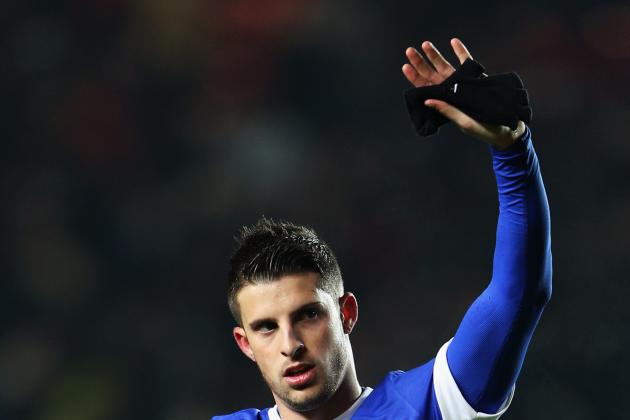 Ian Walton/Getty Images

Most importantly, this is an Everton Football Club that is undergoing a transition in terms of image and style.
They have been known for their physical and hardworking brand of football—as none other than Steven Gerrard lamented after the Merseyside derby in October last year ended 2-2 (via BBC Sport)—but with players like Pienaar, Ross Barkley and Mirallas on board, the Blues are adding an element of technique and artistry to their play.
Gone is the era when Marouane Fellaini, who was known for physically dominating his opponents in midfield and for scoring winning headers, represented the face of Everton.
With a no-nonsense, direct attacking drive, watch out for the No. 11 in Blue.
This is Kevin Mirallas' time.
For extensive coverage on Liverpool and the Premier League, check out my Bleacher Report writer's profile and follow me @theredarmchair.