Sprint Cup's 5 Most Intriguing Post-Martinsville Storylines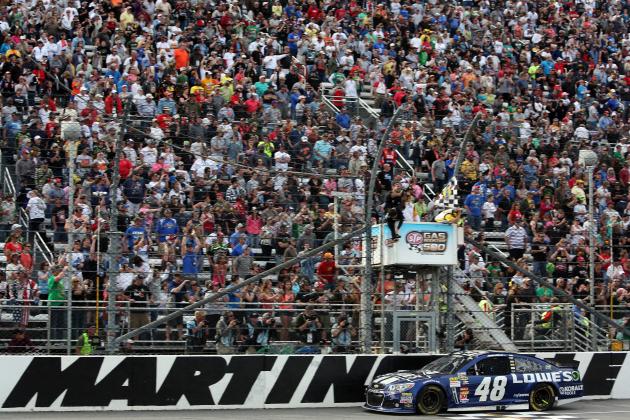 Jerry Markland/Getty Images
Martinsville Speedway supplied its fair share of bumping and banging. To no one's surprise, Jimmie Johnson came away with the win, his eighth at the half-mile track.
As the smoke cleared at Martinsville Speedway on Sunday, the blue No. 48 car of Jimmie Johnson emerged as the victor. Throughout the entire race, the competition saw nothing but his rear bumper, as he led 346 of the 500 total laps. Is that going to be a recurring theme this season?
Johnson already has two wins this season, and he shows no signs of slowing down, recapturing the points lead from teammate Dale Earnhardt Jr.
It was an interesting race because tempers were held, for the most part, in check.
The 2013 Sprint Cup season is already off to a dynamite start, and every finish has been exciting. Will that continue? What is to be expected throughout the next few weeks?
Let's dive right in.
Begin Slideshow

»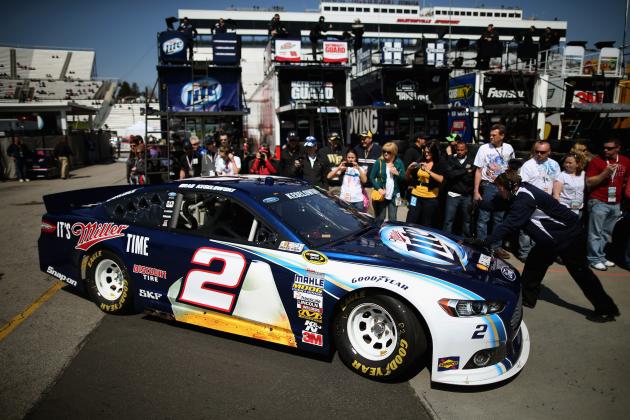 Mark Wilson/Getty Images
Brad Keselowski has been the epitome of consistency thus far, finishing lower than sixth only once.
The defending 2012 NASCAR Sprint Cup champion is off to a torrid start. Despite not winning, Brad Keselowski has an average finish of 7.7. And without his finish of 23rd at Auto Club Speedway, he has a staggering average finish of fourth. That's pretty good for a guy who was fairly inconsistent upon his entrance in the Sprint Cup Series.
Keselowski trails Jimmie Johnson by a mere six points in the standings, and it appears as if these two may be the ones to beat for the title early on.
As they go down to the finish, if Keselowski wants to win his second straight Sprint Cup title, he will need to find Victory Lane, as the bonus points and Chase seeding rely on it.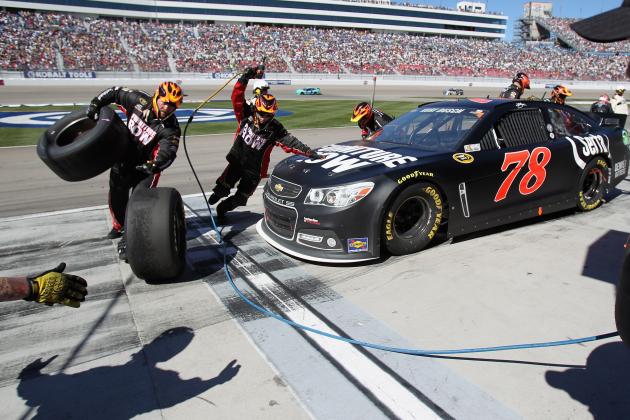 Todd Warshaw/Getty Images
Perhaps no team has improved more from 2012 to 2013 than the No. 78 Furniture Row Chevrolet.
The Generation-6 car has leveled the playing field early on in the season, and that means there are some surprising names in the top 20 in points.
Casey Mears, Paul Menard, Jamie McMurray and Aric Almirola all find themselves in the top 20, and their success is based on the same criteria as Keselowski—consistency. They only have five top-10 finishes among them, but they have been running at the finish at many of the races.
Some of these drivers, including McMurray and Kurt Busch, have challenged for wins early in the season as well.
As the season goes on and the top teams develop a better understanding of the Gen-6 car, these teams will come back to Earth. Menard and McMurray may stick around, but the underfunded rides of Casey Mears and Aric Almirola will most likely not challenge for a Chase spot.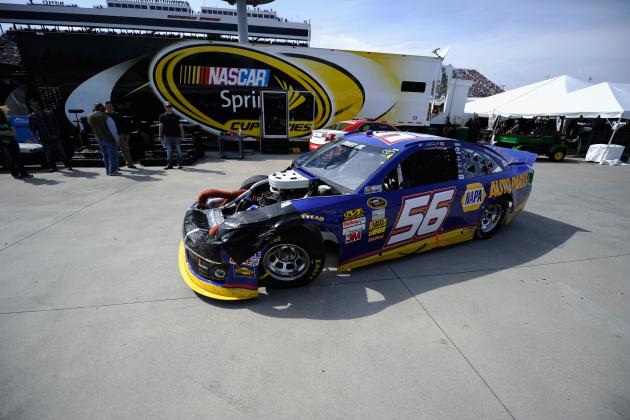 Jamey Price/Getty Images
Martin Truex Jr. finished the STP Gas Booster 500 without his hood. He's currently 25th in points and has only one top-10 finish thus far.
While there are plenty of surprise drivers in the top 20 in points, the same could be said for drivers outside the top 20.
Tony Stewart (22), Ryan Newman (23), Jeff Burton (24) and Martin Truex Jr. (25) are all struggling to find speed and/or luck early on. If I'd have said all three Stewart-Haas Racing cars would be out of the top 20 after six races, you would have said I was crazy. Now, it's a reality.
There isn't an excuse for these teams to perform this poorly. Some of it has to do with luck, yes, but many times, they simply miss the setup for the car and perform poorly in the race.
In addition to the battles at the top of the standings, the battles in the back between these drivers and the aforementioned drivers on the previous slide will be intriguing to watch.
For these drivers, the time to turn their seasons around is now.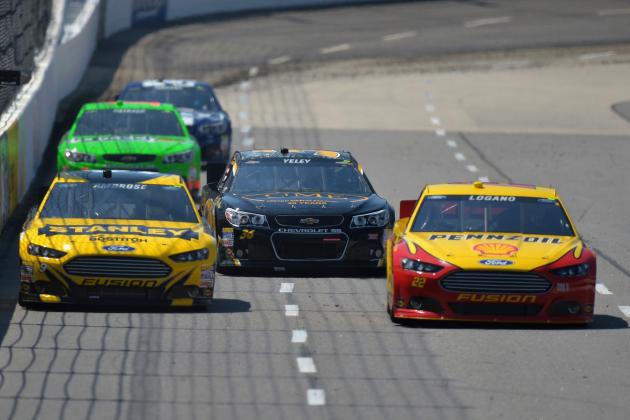 Drew Hallowell/Getty Images
Joey Logano has run well this season and finds himself in the thick of the Chase race. Will he hold up?
At a half-mile track like Martinsville, tempers usually flare. However, on Sunday, we did not see many extracurricular activities.
Sure, Kevin Harvick spun Brian Vickers at the end, but that was minor. Listening to driver chatter on the radio, some were heated about various activities on the track, but nothing major. That's common in every race.
In general, the race was full of respectful, hard, short-track racing. To the relief of Roger Penske, the field's newest hotshot, Joey Logano, got through unscathed.
In driver introductions, he received boos that rivaled Kyle Busch. In the race, he ran everyone hard, but he didn't seem to cross any boundaries. He and Aric Almirola did get into it a bit, but again, that's a byproduct of a race at Martinsville.
In a pre-race segment on Fox, Logano and others talked about his racing style. It appears as if drivers are torn on Logano's driving.
Logano's story is far from over, and it will continue under the lights next week at Texas on Saturday.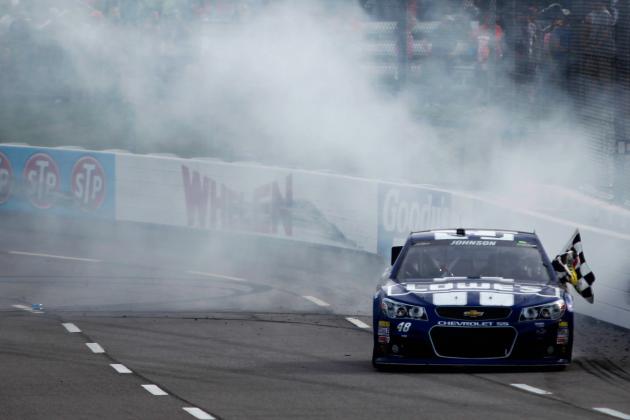 Sean Gardner/Getty Images
"Five-Time" is at it again. The No. 48 is the team to beat.
With no disrespect intended to Kyle Busch, Brad Keselowski or Kasey Kahne, Jimmie Johnson is the favorite to win the 2013 Sprint Cup Championship.
Now, that's not necessarily going out on a limb, but the competition is closer than it was two or three or four years ago. The No. 48 team hasn't won it for the past two years, and it's hungry.
Jimmie was as untouchable at Martinsville as a driver could be. Chad Knaus preached "max points" is their goal. Well, the No. 48 team won the pole, led the most laps and won the race. Mission accomplished.
Johnson has run up front at every race this season except at Bristol, his kryptonite, as he averages a finish of 14.35 in 22 races at the track.
The season is far from over, but Jimmie Johnson, with several dominating performances and two wins, has established himself as the man to beat once again.