What Philadelphia 76ers Should Do with Each of Their Free Agents This Offseason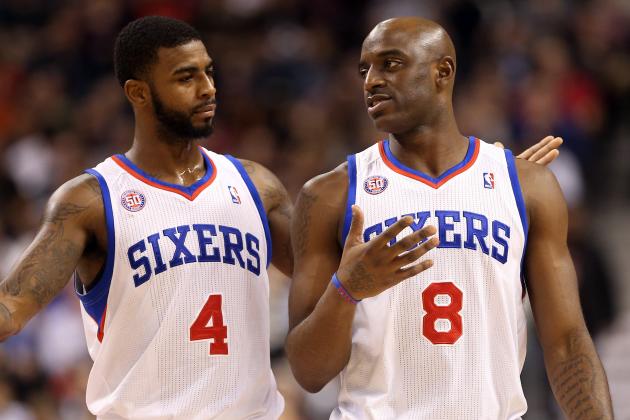 Tom Szczerbowski-USA TODAY Sports
Dorell Wright and Damien Wilkins are both in the final year of their respective contracts in Philadelphia. One did not meet expectations and the other exceeded them. But do either deserve to be re-signed?
Lately, the only constant with the Philadelphia 76ers has been change.
Shortly after coming a win away from an Eastern Conference Finals appearance, the deck was shuffled. With the hopes of dealing a winning hand by infusing new blood into a roster which seemingly reached its peak, the season transformed into an ugly 52-card pickup, immersed with injuries, underachieving acquisitions and back-of-the-bench fillers.
The result? A huge step backward and another offseason of likely transience and transformation.
Although this time around should present a bit more stability, with eight men on the roster already signed and set to return (as opposed to just five who came back last year), that still leaves seven spots open, and seven initial decisions to make on forthcoming free agents.
Six of them are featured here. The seventh—and newest—Justin Holiday, has barely scuffed his sneakers thus far and, therefore, Jrue's brother will be spared a ruling at this time.
But for the others? Their future fate in Philly—and approximately $29 million worth of cap space—is officially on the line.
So...should they stay or should they go?
Begin Slideshow

»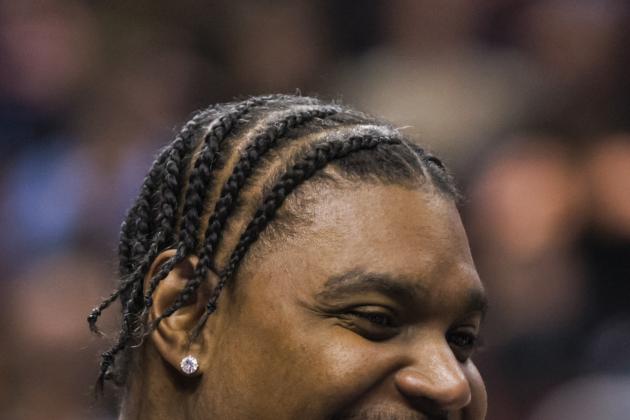 USA TODAY Sports

2013 salary: $16.9 million
And what would a Sixers article be without an Andrew Bynum mention? Refreshing, most likely.
But let's just get this out of the way; first, because it's probably less painful that way, like a band-aid. And secondly, because I'm doing this in alphabetical order.
There's not much left to say about this other than that management went all-in at the table, lost the bet pretty much after the ante was paid and left the table sulking all the way to the penny slots. In hindsight, there was a lot to regret about the move: Bynum's injury history, Jason Richardson's own fragility issues, Nik Vucevic's unrealized potential for three.
But with that said, if Bynum had actually gotten on the court, the rest would have likely been moot. I praised the trade, and so did you. Admit it. You did.
Now, however, the Sixers are left with two choices: cut their losses or salvage something. And this time, unless the latter presents a low-risk option, the former needs to be the way to go.
Unfortunately, the following suggestion is almost certainly not going to happen, as there will be at least one team (Houston Rockets? Portland Trailblazers? Phoenix Suns?) crazy enough to throw outrageous amounts of money packaged into a multi-year deal his way, simply by receiving a report indicating that his knees are still attached to his legs.
Verdict: Re-sign for one year at $10 million, with a team option for a second year.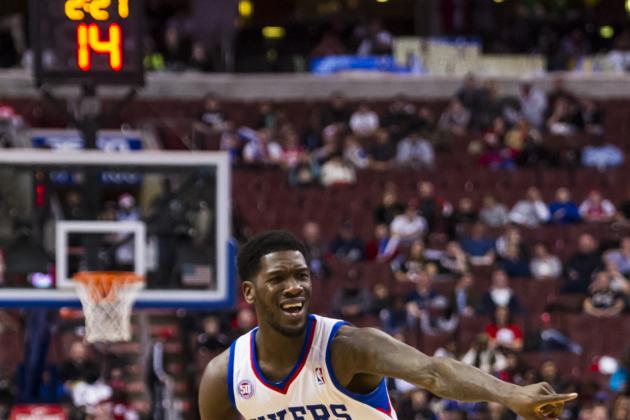 USA TODAY Sports

2013 Salary: 854,389 (Veteran's Minimum)
Royal Ivey is serviceable for what he is: a deep bench player with a positive locker room presence. However, the Sixers need more than just that from a backup point guard, and what they do need doesn't seem to currently exist on the roster.
True, his salary doesn't break the bank by any means, and if there is an opening for a steady vet to assume a few minutes on the court during junk time, I'm amenable to his return. Otherwise, it's time to give Ivey a Royal sendoff.
Verdict: Do not re-sign.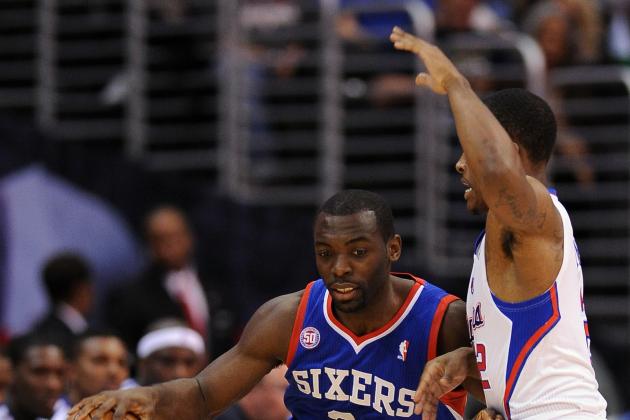 Jayne Kamin-Oncea-USA TODAY Sports

2103 Salary: $762,195 (Rookie Minimum)
Acquired in a trade-deadline deal as the presumed future replacement to Ivey as backup point guard, there are times when it seems as if Doug Collins forgot the team brought him in. Since coming to Philly, he has played in just 11 games, averaging an unimpressive 2.5 points per game while shooting just 38 percent from the field.
However, hidden amongst those stats is a very impressive 7.0 assists to turnovers ratio.
And management must have seen something in him to make such a random move to pick him up. And compared to Ivey, he's at least the devil that we don't really know yet. And we know how Collins has an aversion to young players and by the laws of physics or math or something, Charles Jenkins will indeed be older next season.
And we certainly don't want another Vucevic, break-out-season scenario playing out elsewhere, right?
Verdict: Re-sign to non-guaranteed contract/invite to training camp.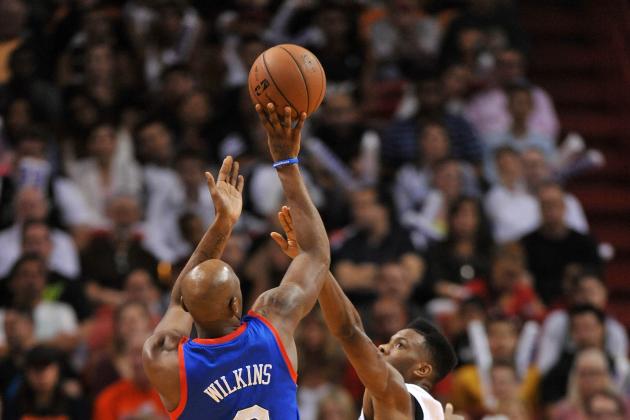 Steve Mitchell-USA TODAY Sports

2013 Salary: $854,389 (Veteran's Minimum)
Speaking of forgotten, the well-traveled Damien Wilkins, on his fifth team in as many years, was an afterthought for much of the season. But since the new year, he has gradually found his way to relevance to the point where he is now a starter and eighth on the team in scoring.
Plus, he showed a little chutzpah by going right at LeBron James on Saturday night and then jawing with him afterward, to boot.
That said, he is still a dime a dozen, and a team which starts a Damien Wilkins is typically going to be a team which is lottery-bound.
Even so, if Ivey does not return, this could be one of those handy, veteran "glue guys" that everyone can use...as long as they're not using him much on the court.
Verdict: Re-sign for one year at veteran's minimum.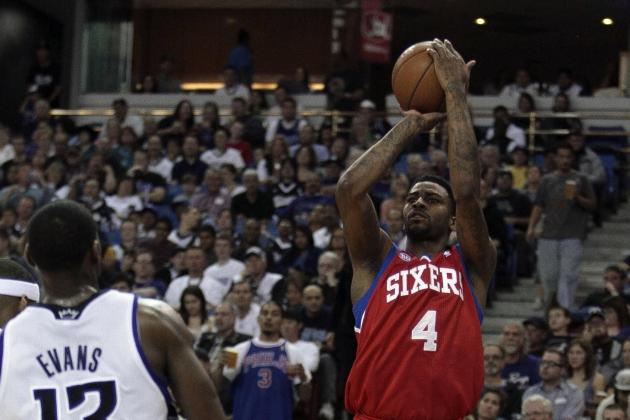 Kelley L Cox-USA TODAY Sports

2013 Salary: $4.1 million
When the Sixers traded for Dorell Wright last summer, he was supposed to be a bigger, more versatile replacement for Jodi Meeks. Instead, far too often, he's simply looked meek.
There's not much worse than having a pure shooter who can't find his shot, and that's what the reality has been much of this season for Wright. It turns out his breakout season with the Golden State Warriors two years ago, when he averaged 16.4 points, 5.3 rebounds and three assists, was merely a nice-looking blip on the radar screen.
Now finishing his ninth campaign in the league, it would behoove Philly to spend his salary on a more consistent threat to hit the long ball, and one who is still on the upswing of his career.
Verdict: Do not re-sign.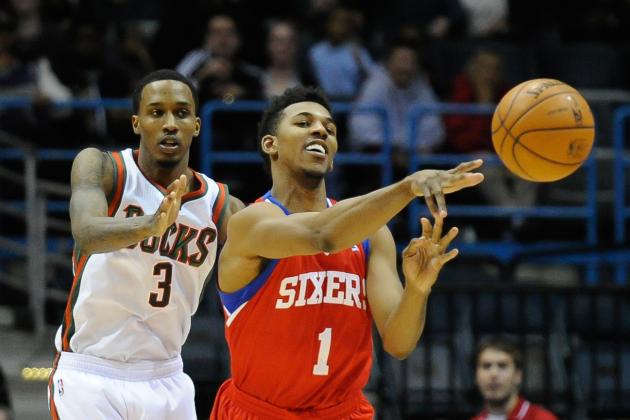 Benny Sieu-USA TODAY Sports

2013: $5.6 million
The alter ego (Swaggy P) and the faux-hawk hairstyles may have posed some sort of value for the fans, but otherwise, Nick Young's first season in Philadelphia was more lag than swag.
Similar to Wright, Young had shown a knack to score in the past (he averaged over 16 points for the Washington Wizards the prior two seasons). But also similar to Wright, he has come up woefully short on production and consistency in his time with the Sixers, finding himself in and out of the regular rotation at a dizzying rate when he wasn't battling a couple of nagging injuries.
Plus, without much of a defensive repertoire (which probably explains his inconsistent playing time), it's pretty difficult to justify his future in town.
Verdict: Do not re-sign.