Will LeBron James' Miami Heat Ever Touch Michael Jordan's Chicago Bulls?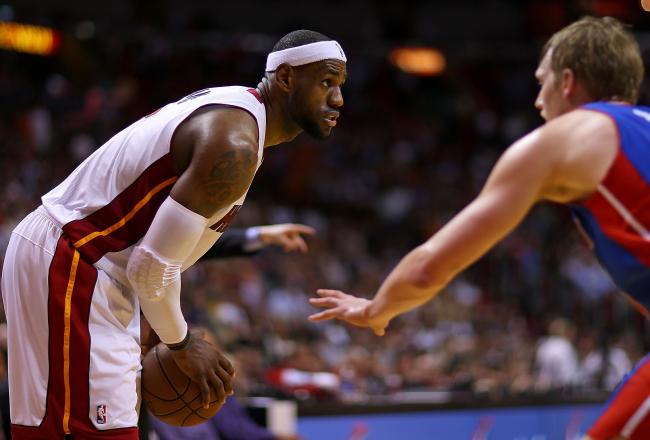 Mike Ehrmann/Getty Images
During the Miami Heat's streak, which was ended by the Chicago Bulls after a remarkable 27 games, many compared the team to the 1971-72 Los Angeles Lakers, whose record the Heat were chasing.
However, a much more comparable team is the Jordan-era Bulls.
The Bulls dynasty were two basic teams—the "Horace Grant" team, which captured the franchise's first three titles, and the "Dennis Rodman" team, which pulled off the Bulls' second three-peat. It is when looking at the Jordan-Pippen-Grant trio that one can draw comparisons to the present Miami Heat.
Both in composition and style of play.
Like the early-90s Bulls, the Heat play both ends of the floor: They are an elite defensive team that can convert defensive pressure into instant offense and go on massive runs, seemingly at will. Both teams were led by coaches who were promoted from within. They both implemented and won titles with unique systems.
When you look at the 1991-92 Bulls, who were defending their first championship, and the current Miami Heat, they both led the league in offensive rating.
The Bulls scored 115.5 points per 100 possessions, the Miami Heat are at 112.5. The Bulls were fourth in defensive rating, at 104.5. The Miami Heat are currently ninth at 104.1
Both teams had the impression of being "fast" teams but neither was. They are high scoring because in both cases they were highly efficient. Like the '92 Bulls, the '13 Heat are 22nd in Pace. The Heat lead the NBA in effective field goal percentage at .551, and the Bulls were second, at .518.
They both had three-point specialists they could call upon when needed. The Bulls had Craig Hodges and B.J. Armstrong. The Heat have Ray Allen and Shane Battier.
They also each had three star players who were most responsible for their winning ways.
Here is how Miami's "Big Three" of LeBron James, Chris Bosh and Dwyane Wade stack up against the 1991-92 Bulls trio of Michael Jordan, Scottie Pippen and Horace Grant.
| | | | | | | | |
| --- | --- | --- | --- | --- | --- | --- | --- |
| Player | Age | TRB | AST | STL | BLK | TOV | PTS |
| LeBron James | 28 | 8.1 | 7.3 | 1.7 | 0.9 | 3 | 26.9 |
| Dwyane Wade | 31 | 5.0 | 5.0 | 1.9 | 0.8 | 2.8 | 21.3 |
| Chris Bosh | 28 | 6.7 | 1.6 | 0.9 | 1.4 | 1.7 | 16.7 |
| | | 19.8 | 13.9 | 4.5 | 3.1 | 7.5 | 64.9 |
| | | | | | | | |
| Player | Age | TRB | AST | STL | BLK | TOV | PTS |
| Michael Jordan | 28 | 6.4 | 6.1 | 2.3 | 0.9 | 2.5 | 30.1 |
| Scottie Pippen | 26 | 7.7 | 7.0 | 1.9 | 1.1 | 3.1 | 21.0 |
| Horace Grant | 26 | 10.0 | 2.7 | 1.2 | 1.6 | 1.2 | 14.2 |
| | | 24.1 | 15.8 | 5.4 | 3.6 | 6.8 | 65.3 |
The Bulls have an edge in rebounding, but the Heat, even when accounting for the difference in the two eras, were a superior three-point shooting team. (The Milwaukee Bucks, who led the league in three-pointers attempted and made in 1992, would finish last in both categories this season).
In both cases, the best player on the team was also the most dominant player in the NBA. In the Bulls' case, it was the legendary Michael Jordan. In the Heat's case, it is King James.
So can this version of the Heat match the Jordan-era Bulls?
James and Jordan again share a similar trek.
For years Jordan was accused of not being able to win a title. "Scoring champions can't win titles" was the going wisdom of the day, and every time Jordan's Bulls were sent home, it only reinforced the stigma.
That's the problem with superficial "Baylessian" logic, which dictates that what has been will always be.
The past does not necessitate the future. What happened the first time is not a guarantee of an endless Groundhog Day.
Once Jordan cleared the hurdle, the regular season and postseasons became mere pathways to championships. And when the game was on the line, he went into another mode and just decided it was time to win.
LeBron James has shown a similar mentality this season. The chart below, compiled from data provided by NBA.com/STATS, shows how James' production goes up as the pressure grows.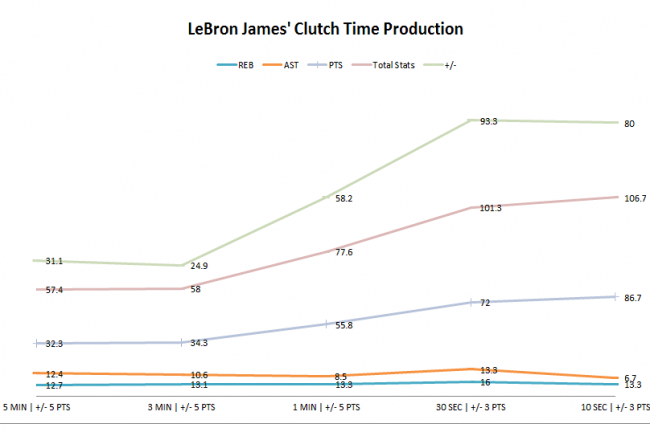 They say a picture is worth a thousand words, but this one can be summed in two words: "cyborg mode." Or, even one word: LeBorg. Or LeBrawn.
Whatever you want to call it, it translates into winning. And if stats and graphs aren't enough for you, there's this:
That ability to not only physically dominate a game for the first 43 minutes but take his play to another level for the last five is what set Michael Jordan apart from mere mortals, and it's an ability that James is demonstrating now.
It seems sacrilegious for a confessed Bulls fan to say it. As an objective basketball analyst it's hard to deny it. As a lover of the game, it's impossible to not appreciate it. The current Heat team is approaching that level of greatness.
Yes, it's still two successful postseasons away, but James and the Heat have a great chance at a three-peat, and if they accomplish it, they would be considered by history to be on the same level as the 1991-1993 Bulls.
This article is
What is the duplicate article?
Why is this article offensive?
Where is this article plagiarized from?
Why is this article poorly edited?

Miami Heat: Like this team?