NFL Draft Countdown: 5 Days, A Look at WRs
April 20, 2009
As posted by me at Viking Vigil earlier:
With the NFL Draft quickly, approaching, there are a few spots the Vikings may look to help out with either of their top two picks. One of those positions that seems to be pretty rich in talent this year is the wide receiver position.
Last year not one wide receiver was even picked in the first round, but this year it seems that there could be as many as five taken in round one. Here is a look at some of the top talent out there in the 2009 NFL Draft:
1) Michael Crabtree (Texas Tech) 6'3", 214 lbs.
Michael Crabtree is by far and away the top wide receiver in the 2009 draft. He did not even participate at the scouting combine, or on his pro day due to injury, but he is still almost guaranteed to be a top five pick in the draft on Saturday.
The guy can do it all. Catch. run, jump, and anything else you ask of him. The only real concern with Crabtree is that he did not have a scouting day or pro day to confirm his amazing talent. It would be very surprising to see Crabtree in purple next year, the Vikings would have to trade up to get him, but he could be worth the move. NFL comparison: Andre Johnson
2) Jeremy Maclin (Missouri) 6'1", 200 lbs.
If this was still last year's draft, Maclin would be the best wide receiver available for sure, however he will have to settle with No. 2 in 2009 as Michael Crabtree appears to be the can't miss wide receiver of this draft. Maclin's biggest weakness looked to be his height, but he measured over six feet at the combine, debunking the myth that he was too short.
The biggest weakness for Maclin is still probably his size, but since you can't teach that, Maclin will probably be a skilled wide receiver for years to come. If Maclin is not picked in the top seven, he could slide a little, possibly even to the Vikings at 22, but that still looks unlikely. NFL comparison: Ted Ginn
3) Percy Harvin (Florida) 5'11", 185 lbs.
Percy Harvin was one of, if not the most explosive players in college football last year. Harvin was a three year starter at Florida, and was a key player in both of the Gators National Titles while in Gainesville.
The two things that may lead NFL teams away from Harvin are his recent questionable attitude, and his size. Harvin may have cost himself a little with his attitude coming into question, being now labeled as a "tough guy to coach", but his main drawback would be his size.
However, even with those questions, Harvin is still a good enough receiver to be a first round pick, and by the way it is looking, Minnesota may have Harvin in purple for the 2009 NFL season.
NFL comparison: Reggie Bush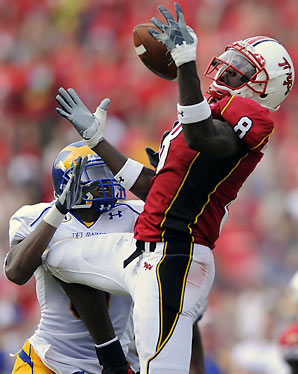 4) Darrius Heyward-Bay (Maryland) 6'3", 203 lbs.
Heyward-Bey may be the most physically gifted wide receiver in the NFL draft in 2009. He is not only tall, but he is lightning fast as well. There probably is not another wide receiver on this list that could climb higher than Heyward-Bey can by Saturday. He has all the tools to become a great NFL wide out, BUT he has had problems dropping the football.
Sound familiar? Let's just say this guy could become the next Randy Moss, or he could become the next Troy Williamson. After picking Williamson a few years ago, I doubt the Vikings go after Heyward-Bey, but he will likely be around at pick 22.
NFL comparisons: Randy Moss OR Troy Williamson
5) Kenny Britt (Rutgers) 6'4", 215 lbs.
At his size, Kenny Britt is the biggest wide out in this draft. Britt is the classic route-running receiver that will probably be a solid No. 2 guy for almost within the next few years. Britt also has the speed to break away from his guy too, and could end up being a Pro Bowl wide receiver in his career as well.
The main questions about Britt are his attitude, and his hands. Like Harvin, Britt could be a little harder to coach than some of these other guys, but he could still be a first round pick. Britt has also dropped a few passes in his day, but that is something he should be able to improve with the right amount of work. Britt will likely be a late first round, or early second round pick in the draft on Saturday. NFL comparison: Brandon Marshall
6) Hakeem Nicks (North Carolina) 6'1", 210 lbs.

Hakeem Nicks is the first underclassmen out of North Carolina to declare for the NFL draft since Julius Peppers. Nicks is a solid athlete with HUGE hands. He does not drop many passes, and has a solid build to complement that. Nicks is another classic route-running receiver, and he is should be taken in the first two rounds.
The main knock on Nicks is his lack of explosive speed. If Nicks were as fast as a guy like Heyward-Bey, he just might be a top 10 pick this year. Instead the Vikings might get a chance to get Nicks in round two if he slips a little farther than expected.
NFL comparison: Jerricho Cotchery
7) Brian Robiske (Ohio State) 6'2", 195 lbs.

Brian Robiske is very similar to Hakeem Nicks. Robiskie is another talented receiver with great route-running abilities, but like Nicks, he lacks the amazing speed. More so than Nicks though, Robiskie also lacks the explosiveness it takes to be a great wide receiver in the NFL.
Robiskie is likely to be a mid to late second round pick on Saturday, so if the Vikings wanted, he may be there in the second round. NFL comparison: Roy Williams
8) Derrick Williams (Penn. State) 6'0", 194 lbs.

MY SLEEPER PICK: Derrick Williams is my sleeper pick in the 2009 class of wide receivers. Williams has great speed, and a pretty decent build. Some people think he has some catching issues, but I think he is improving on that already. I don't think Williams' hands will be that big of an issue in the NFL.
His only other main knock is his durability issues, but if he is healthy I think this guy will have a better career than some of the wide receivers listed ahead of him on this list. Williams is also an explosive kick returner as well. NFL comparison: Steve Breaston
9) Juaquin Iglesias (Oklahoma) 6'0", 200 lbs.

Iglesias was the "do it all" guy at Oklahoma last year. Iglesias returned kicks last year, and was the No. 1 target for Heisman winner Sam Bradford last season. Iglesias has solid hands, and a pretty good build too. He has also been labeled as a hard worker, as he has played through his share of injuries as well.
Iglesias' main drawback is his speed and a problem with fumbles. Iglesias will almost certainly be available for the Vikings in the second round if they feel like adding another Oklahoma star with possible fumbling issues in the 2009 Draft. NFL comparison: Roddy White
Note: It was well documented a few years ago that coach Brad Childress does not like taking wide receivers in the first round of the NFL draft after the Williamson fiasco, but if Crabtree is still available, Childress would have to be a fool to pass him up. Some of these other guys could also make Childress think twice about passing them up as well.
Keep up with the Vikings, and the NFL draft this weekend with Viking Vigil. www.vikingvigil.com