Bucket List for Football Fans: 10 Things You Must Do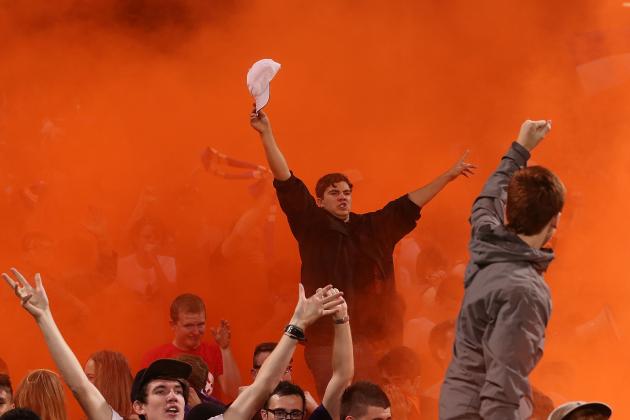 Paul Kane/Getty Images

If we could, we'd all like to have the rest of our lives off and travel the world watching football.
Let's pretend for a moment that we can do that.
What would we want to see? Where would we want to go?
Oh yeah, and how much have we got to spend?
The following list contains 10 ideas that really ought to feature on any bucket list for the dedicated football fan.
Some are more attainable than others, but doing the lot would really be something.
You will have your own suggestions and, please, feel free to include them below.
So stand by with passport in hand, cash in wallet and signed note of permission from the wife.
Here we go...
Begin Slideshow

»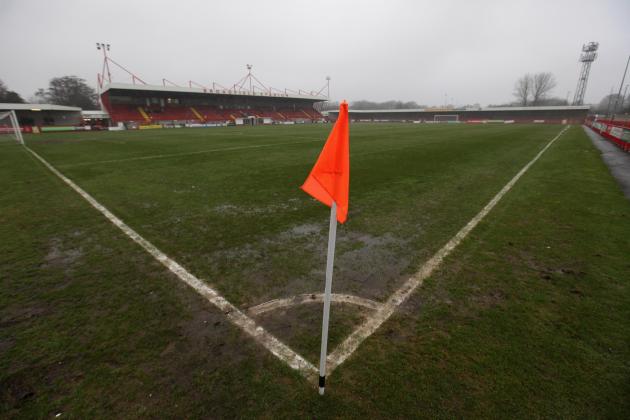 Oli Scarff/Getty Images

This is not a dig at any Manchester United fans living in Cornwall or Chelsea supporters in Scarborough.
This is a call to everyone, wherever you are, whomever you support, to go out and give your hard-earned cash to your local non-league side.
Whether it's in the Blue Square Bet Premier Division or the umpteenth tier of your regional division, your local team needs you.
Those of you who are regular visitors to the non-league scene will testify that anyone who does back their Backyard XI will be in for a great time.
Yes, the football isn't always silky, but the action's entertaining enough, and the people in non-league football are some of the friendliest you'll meet.
You may not see too many Cruijff turns, but you won't see anyone diving either.
It's honest. It's fast and furious. It's football at its rawest.
It'll set you back around a tenner but you'll know your money's going into keeping grassroots footy alive.
Now, don't you feel better?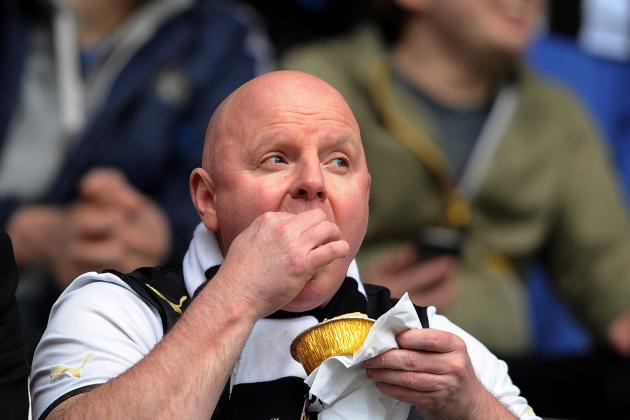 Michael Regan/Getty Images

Eating too much of the fare on offer at football grounds may well speed up the bucket-kicking process but, hey, one pie's not going to kill you.
These days there's quite a choice. From the humble burger to top-end gourmet nosh.
You haven't been to a football match unless you've sampled some football food.
League Two side Morecambe won no less that four accolades at the 2012 British Pie Awards for its, erm, pies, so they're worth a visit.
My personal recommendation would be the chicken balti pies on offer at Walsall.
Tremendous.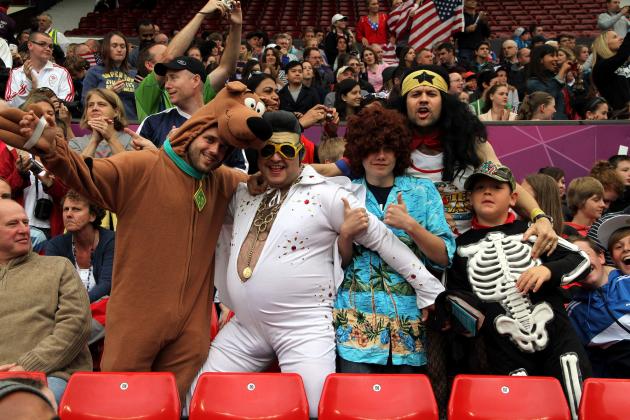 Stanley Chou/Getty Images

Cricket has long held a tradition of fans going to matches dressed as everything from gladiators to Fred Flintstone, but it's not generally as prevalent in football.
In England, certain clubs hold a tradition of dressing up for the final away game of the season, but there needs to be much more participation in what surely should be considered a supporter's right of passage.
Not only is it good fun, it'll cost you nothing, as you can now dig out all those spandex numbers from the back of the wardrobe you've been pretending aren't there.
Anyone under 35, either ask to borrow your Dad's stuff (if he says he hasn't got anything from the 1970s, he's lying) or get down your fancy dress shop.
Let the rhinos, giant chickens and super heroes come...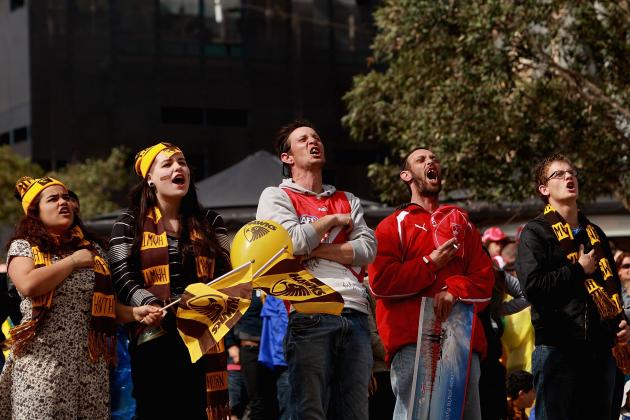 Robert Prezioso/Getty Images

We are in now way encouraging you to be rude, offensive or prejudicial here.
In fact, this is an instruction to eke out more of the razor-sharp wit and invention that permeates the stands around the country on a weekly basis.
Whether it's a song celebrating your team's star striker, your slightly tubby midfielder or gallows humour over your results and impending relegation, there's a song for every occasion.
So keep it clean(ish), legal and, most of all, funny.
One of the best recent efforts came from Fulham fans who thought they'd express their frustration at a mis-firing Bobby Zamora with this ditty set to Dean Martin's That's Amore.
"If you sit in row Z
And the ball hits your head
That's Zamor-raaaa"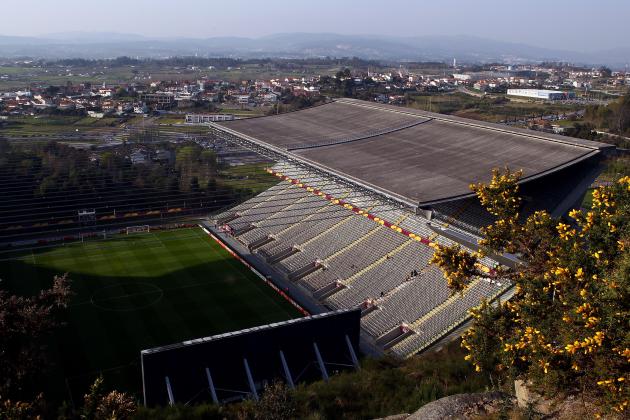 Julian Finney/Getty Images

When you're on holiday is good time to cross this one off.
The world is full of spectacular football stadiums and there are plenty of weird and wonderful ones to choose from.
You'll no doubt have your own favourites, but Braga's Municipal Stadium ought to be somewhere near the top of the list.
The stadium is carved into the face of the Monte Cristo quarry which overlooks the city (the ground is nicknamed "The Quarry") and has won awards for its design.
Best of all, it allows any spectators who haven't got a ticket to still watch the game from the top of the surrounding hillside.
Portugal is a popular holiday destination, so just tell the other half what a great shopping centre Braga has.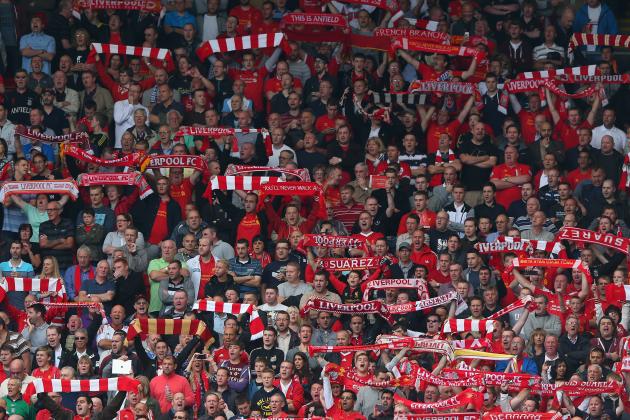 Alex Livesey/Getty Images

Football is always a bit extra special under lights.
The illumination does something to the atmosphere.
Nowhere is this more apparent than at Anfield, the home of Liverpool.
I'm not necessarily talking about history here (although there's a bunch of that to satisfy the hungriest of anoraks) it's more of a question of atmosphere. Something almost indescribable.
You don't have to be a fan of the club to appreciate what a special place this is, especially when the stands shudder to the chorus of You'll Never Walk Alone.
Yes it's a bit of a cliche, but cliches are cliches, because they are true.
There are lots of other great grounds to watch football at, but Anfield gets my vote.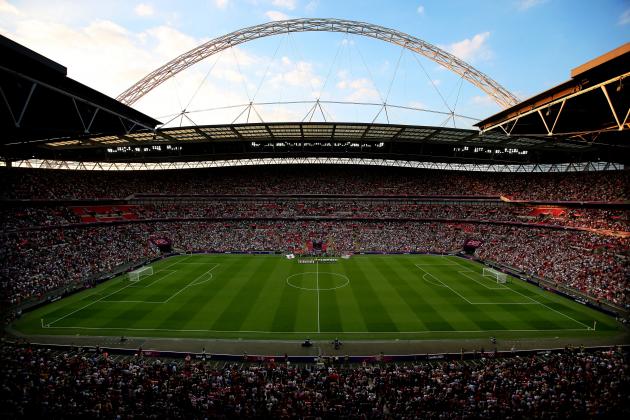 Ronald Martinez/Getty Images

It may not have the twin towers or that same anachronistic charm of the old stadium but the new Wembley is still the home of football and it retains its unique appeal as a result.
From the views from the stands, to the sliding roof and the imperious arch that keeps a magisterial watch over proceedings, Wembley is still an epic place.
Ideally, you'll see you team win there. That's the ultimate.
Seeing any match there, though, is a must. Just to say you've been.
If you can't see football, there's always the annual NFL game, some rugby or, if you're really desperate, Justin Bieber.
David Ramos/Getty Images

A classic one to tick off here.
There are few grounds, if any in fact, that can match the home of Barcelona for a sense of footballing theatre.
When there are 100,000 fans inside, there is nowhere like it in Europe.
The fact that the team that plays there is widely regarded as the best on the continent and, arguably, the world, merely intensifies the Camp Nou's powers of seduction.
You can also combine seeing a match with a tour of the stadium, which will set you back around £20.
Not a bad price for an education, on and off the field.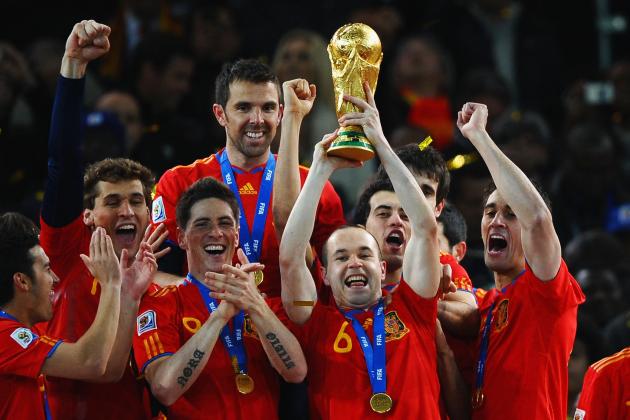 Laurence Griffiths/Getty Images

Taking some part in football's greatest event simply has to be done. Find a way. Find any way.
You won't regret it.
With the chances of England hosting the tournament about as likely as England winning the tournament, UK fans are going to have to be prepared to travel.
The awarding of the World Cup to Africa for the first time in 2010 and in Asia in 2002 means Europe will have to be a little more patient to wait for the carnival to roll into town.
It's next due on the continent in 2018 when Russia play host.
Due to FIFA's new selection policy, Europe will not be eligible to bid again until 2030.
The 2022 tournament is scheduled to be held in Qatar and, if everyone hasn't melted, the likes of Canada, Mexico and Colombia are in the mix for 2026.
If you want a double whammy of intoxicating football and comparable host nation, then look no further than the forthcoming World Cup in Brazil in 2014.
Yes, flight costs may have tripled and hotels and stadiums partially finished, but the whole experience of the World Cup is worth all the sacrifice.
Even if you can't get to a game, soaking up the atmosphere via the big screens in the fans' parks is the next best thing.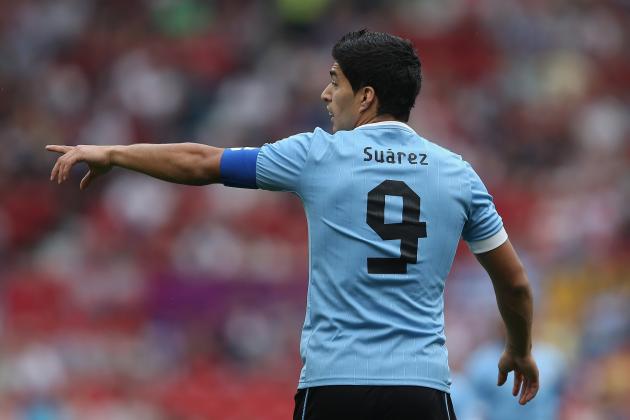 Julian Finney/Getty Images

How can you top the World Cup?
It's a tight call but, in terms of contrast, colour, and sensory overload, the Coppa America must head the list.
South America's version of the European Championships dates back to 1916 and used to take place every two years but, in 2007, it was changed to every four years.
Current champions, Uruguay, are the most successful nation after winning their 15th title in 2011 when they beat Paraguay in the final.
Liverpool's Luis Suarez was voted player of the tournament.
It's becoming more and more competitive too and, unlike the boat race, the same two teams do not keep getting to the final.
2011 was the first time Brazil and Argentina failed to make the semi-finals.
As well as seeing some great South American players, you may even get to see some of Europe's best, too, as two teams from other confederations are invited to take part.
Canada, Japan, Mexico and USA have all participated over the years.
Spain turned down an invitation to the 2011 tournament.
So if you miss the World Cup in Brazil next year, you could always head to Chile in 2015.