Why Carmelo Anthony's Teams Have Suffered Playoff Disappointment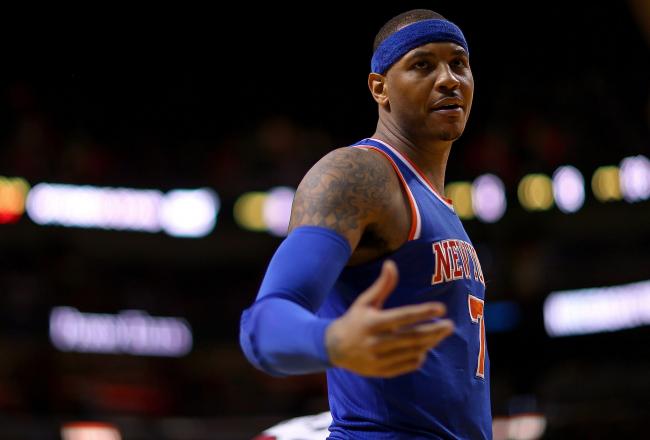 Carmelo Anthony is one of the most talented players in the NBA, so why can't he succeed in the playoffs?
Mike Ehrmann/Getty Images
Carmelo Anthony is one of the most talented players in the NBA, yet he possesses the worst postseason record (17-38) in more than two decades. One has to wonder how this is possible, and are the New York Knicks doomed to follow their leader to an early demise this spring?
Given Anthony's score-first style of play, it's easy to think that his take-charge ways hurt his team's ability to win as a unit.
A statistical analysis was taken to examine this. I looked at games where Anthony scored 40 points or more, to see how his team fared. However, the Knicks are 5-2 in games where Anthony lit up his opponents.
So it's not like putting the load of the offense on his shoulders renders the rest of the team ineffective (Kobe Bryant, on the other hand, is 3-4 this season in games where he's scored at least 40).
Of course, this ignores the fact that Anthony's Denver Nuggets teams finished in first place in their division three times and made one trip to the Western Conference finals. His current Knicks team is on its way to a first-place finish as well.
You can't win your division if you can't win games. Therefore, blaming Anthony's style for holding the team back is not the answer.
Perhaps Anthony has ended his seasons early because of lackluster supporting casts? Tell that to the 2008-09 and 2009-10 Nuggets. Those squads were nearly identical, yet the former was one round away from the NBA Finals, and the latter went home after the opening series of the postseason.
Why does Carmelo Anthony have such a bad postseason record?
The numbers don't provide the answer, so what about the cold facts of history?
A look at who beat Anthony's teams will show that in all but three times that he's lost in the first round of the playoffs, the victor went on to the NBA Finals.
One of those three exceptions was Anthony's first postseason with the Knicks, which resulted in a loss to the Boston Celtics, former champions. Furthermore, that year Anthony played on a hobbled Knicks squad that saw stars Amar'e Stoudemire and Chauncey Billups get hurt during the series.
So taking into account Anthony's playing style, his playoff opponents and circumstances, the most probable reason for his team's failures is clear: dumb luck.
It's not Anthony's fault that most of his teams drew the eventual conference champs in the first round. Sure he lost, but so did just about everyone else. The other teams just had to wait their turn to lose. It's not his fault that Stoudemire and Billups both got hurt during a first-round playoff series.
So will Anthony's bad luck continue this year?
The final stretch of the regular season is indicating that a change in fortune may be on the horizon. The average age of the Knicks is roughly 32, and the old men have been breaking down left and right. Nevertheless, they have put together a double-digit win streak with just a few games to go.
Even without Stoudemire, Kurt Thomas and Rasheed Wallace, and with Tyson Chandler getting over an injury, the Knicks are winning. Anthony torched the Miami Heat on April 2 with 50 points, and he dumped another 40 on the Atlanta Hawks the following night.
As the likely second or third seed in the East, New York will be favored to advance at least to the second round, if not further.
That is, of course, unless Anthony's current good luck runs out.
This article is
What is the duplicate article?
Why is this article offensive?
Where is this article plagiarized from?
Why is this article poorly edited?

New York Knicks: Like this team?