The 10 Best Draft Picks in New York Giants History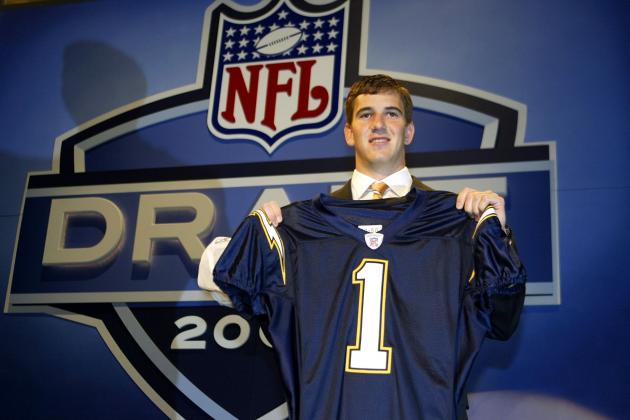 Chris Trotman/Getty Images
Eli Manning on NFL Draft day 2004.
The NFL draft is in 21 days and some hours, as if football-deprived fans have forgotten, so what better time than now to compile that obligatory list of top 10 greatest draft picks in New York Giants history.
You know how you show up to MetLife Stadium on Sundays at 8 a.m for that 1 p.m. start with the same old tailgating crew, and all you do to pass the time is debate the greatest Giants of past and present for the billionth time?
This list is like that, so without further ado—ready, set, argue.
Begin Slideshow

»
Dave Meggett spent 10 seasons in the NFL after being selected in the fifth round of the 1989 draft by the Giants, and he retired as a three-time All-Pro and a Super Bowl champion.
When I think kick returners, Meggett—not Deion Sanders—is the first guy to pop into my mind.
This guy was an absolute blur on the field.
Meggett's son and former Maryland running back Davin is currently trying to find his niche with the Indianapolis Colts organization.
If Davin has half the speed of his old man, he should be able to find a home somewhere in the NFL.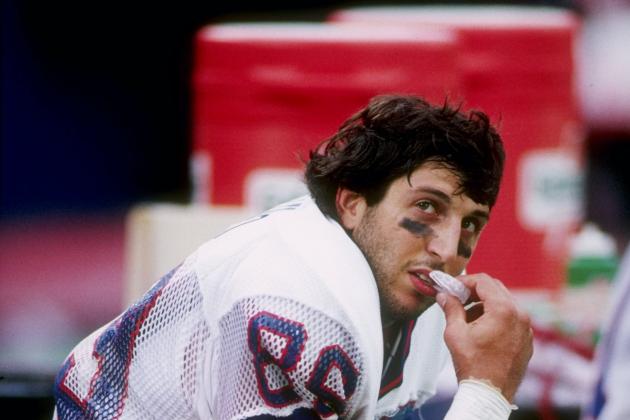 T.G. Higgins/Getty Images

Mark Bavaro was drafted 100th overall in the 1985 draft, and boy were the Giants fortunate for him to fall into their laps—in the fourth round, no less.
His six seasons spent with the Giants culminated in 28 touchdowns and in being a key member on the Super Bowl XXI team.
Bavaro epitomized what the Giants are all about—a get-the-job-done type of player.
The G-Men have had good tight ends come through the organization since Bavaro left—namely Howard Cross and Jeremy Shockey—but the Giants quickly found that Mark Bavaros don't grow on trees.
Bavaro was a steal in the 1985 draft, and a terrific pick by the Giants.
Drafted seventh overall in 1979, Phil Simms eventually rewarded the Giants and became a Super Bowl-winning quarterback for the G-Men.
Simms, however, threw 33 interceptions in his first two seasons, and his third and fourth seasons were shortened by injuries.
It wasn't looking like he was a good pick, but he overcame those early career injuries and inconsistency.
The major turning point in his career happened when he led the Giants to the Super Bowl XXI victory and was named Super Bowl MVP. That singular performance cemented him in Giants lore, and he won over a fanbase that was tough on him early.
Winning solves everything, and Simms will always be remembered as a great draft pick in Giants history.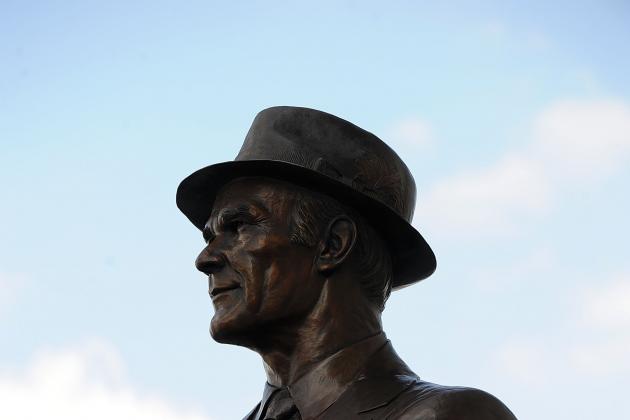 Ronald Martinez/Getty Images

Although Tom Landry is mostly remembered for coaching America's team, the Dallas Cowboys, he was one of the best draft picks the Giants ever made.
Landry played defensive back for the Giants from 1950 to '55 and was a player/coach in 1954-55.
He remained with Jim Lee Howell's coaching staff along with Vince Lombardi until 1959, before leaving to coach the Cowboys in 1960.
In his time with the G-Men, Landry devised the 4-3 defense, which remains a staple of pro football today.
Landry is a Giants all-time great.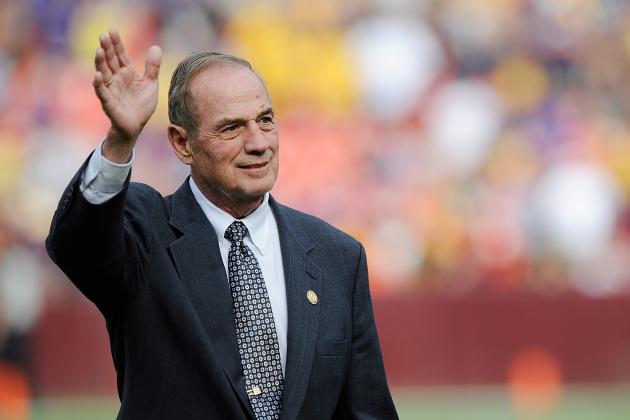 Patrick McDermott/Getty Images
Sam Huff as an older man.
Even though Sam Huff was drafted nearly 60 years ago in 1956, he remains one of the best Giants to ever play the linebacker position.
As Profootballhof.com details, Huff almost never was.
At the end of Huff's college career, Giants scout Al DeRogatis came to look at an All-America guard named Bruce Bosley. 'Bosley is great,' DeRogatis wired back, 'but there's another guard here who will be even greater. His name is Sam Huff.' Huff was a third-round draft pick in 1956 but, once in camp, things turned sour. Coach Jim Lee Howell agreed that Sam was a quality athlete but admitted he didn't know where to play him. Discouraged, Sam left camp and headed for the airport. There he was intercepted by assistant coach Vince Lombardi who lectured him on the merits of guts and determination and coaxed him back to camp.

Shortly after Sam's return, fate stepped in a final time. Ray Beck, the regular middle linebacker, was injured and Huff, in the emergency, got a chance to fill in. He did the job so well that Beck retired and Sam never had to worry about a regular football job – or the coal mine – again.
Thank goodness for Huff and the Giants, because he became the anchor of a Giants defense that played in the championship game in 1956, 1958, 1959, 1961, 1962 and 1963.
Huff excelled at the position in an era that included premier running backs like Jim Brown and Alan Ameche.
Huff easily goes down as one of the smartest draft picks of the Giants.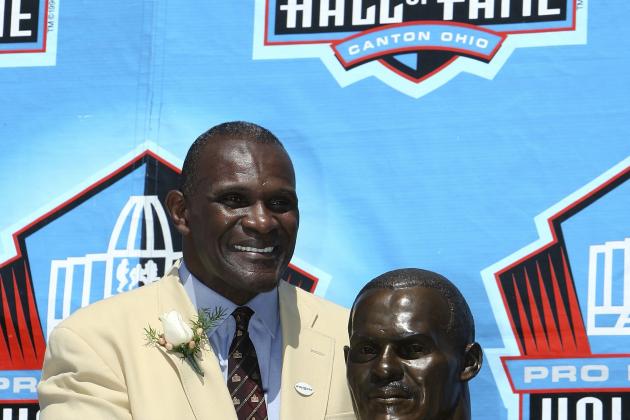 Doug Benc/Getty Images

Harry Carson played his entire 13-year career for the Giants after being drafted in the fourth round in 1976.
Carson went to seven Pro Bowls in a row and nine total in his playing days.
He successfully transitioned from defensive end in college to linebacker with the G-Men, and the rest is history.
Not only was Carson an all-time great Giant and an amazing run-stopper, but he is living proof that you can be drafted in the later rounds and go on to become a Hall of Famer.
Carson is a no-brainer to make this list.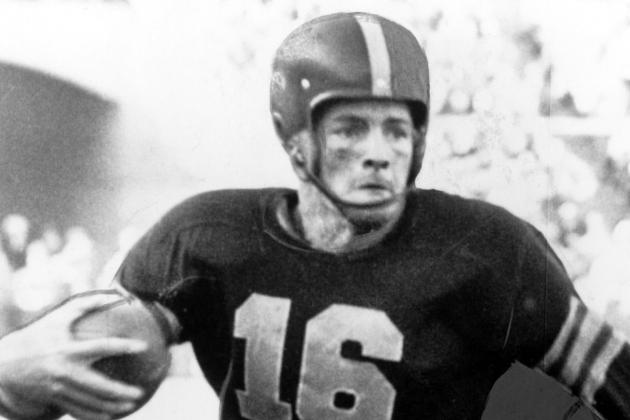 University of Southern California/Getty Images

The Giants had the first pick in the 1952 draft, and they selected the triple-threat halfback Frank Gifford.
Gifford played from 1952 to 1964 (with a brief retirement in 1961 due to a traumatic head injury suffered in 1960) and is still heralded as one of the best Giants to ever lace them up.
His All-American career at Southern California carried over into an illustrious Giants career.
Gifford could run, catch, pass, play defense and offense.
He was simply cut from a different cloth, and football fans will never see the likes of Gifford on a football field again.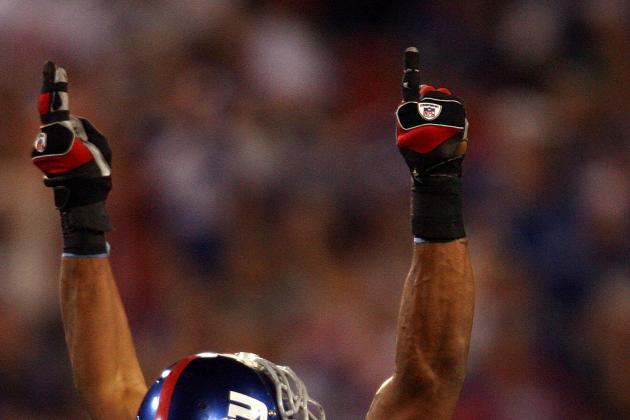 Nick Laham/Getty Images

In the same year that the Giants drafted Jesse Armstead—1993—Michael Strahan was picked 40th overall.
No disrespect to Armstead, because he was good, but what a genius pick Strahan turned out to be.
Strahan won Defensive Player of the Year honors twice with the Giants, set the single-season sack record with 22.5 and played a major role in the 2007 Super Bowl victory over the New England Patriots.
If you were to talk about a Giants All-Century defensive team, Strahan would be on that list.
A true leader and force to be reckoned with, he's undeniably one of the best draft picks the Giants ever made.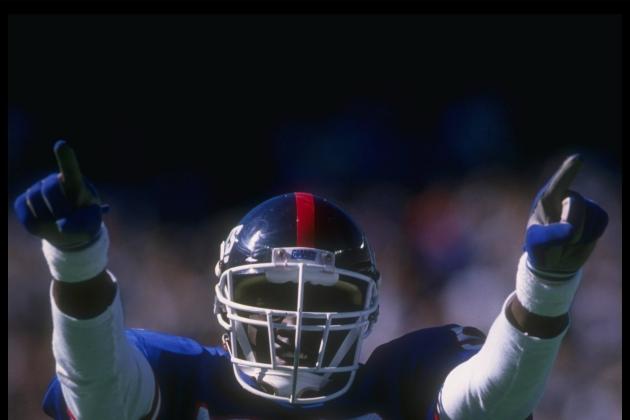 T.G. Higgins/Getty Images

What can you say about Lawrence "LT" Taylor that hasn't already been said?
The best attacking outside linebacker to ever put on pads, LT spent 13 years with the Giants after the organization drafted him second overall in the 1981 draft.
He was selected to 10 consecutive Pro Bowls (1981-1990), he won two Super Bowls and inflicted pain and fear into offenses for over a decade.
LT is one of the most clear-cut Hall of Fame inductions in this game's history, and the second-greatest draft pick the Giants ever made.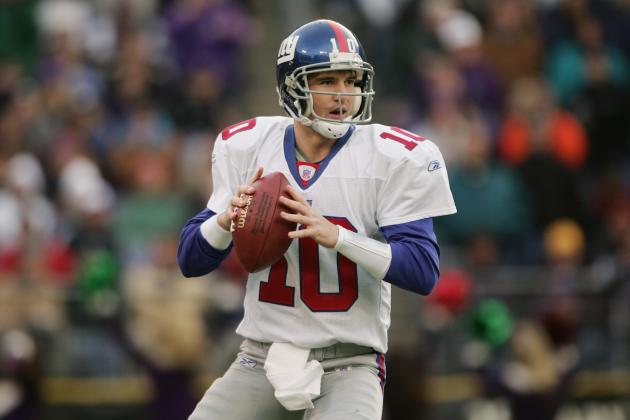 Doug Pensinger/Getty Images
A young Eli Manning.
Thank goodness Eli Manning told the Chargers that he wouldn't play for them if they drafted him No. 1 overall in the 2004 draft.
San Diego did draft him, but the G-Men then drafted Philip Rivers, the trade was made and the rest is history.
Eli—like Simms—took some early lumps in New York, but vindicated himself by becoming a two-time Super Bowl MVP. He is now beloved.
Winning tends to do that.
Manning justified Ernie Accorsi's decision to trade for him and not keep Rivers or possibly go after Ben Roethlisberger.
Hands down, the best draft pick/trade the Giants ever had.