Top 5 Reasons the New Joey Logano Is Great for NASCAR
Jonathan Ferrey/Getty Images

Young Joey Logano has taken a lot of flak from die hard NASCAR fans in his first few years as a big time driver.
His wealthy upbringing and the amount of success he reached before he turned 20 definitely fueled that fire, but with only two wins in his first 152 Sprint Cup Series races, he hasn't been entirely relevant.
Well, that has all changed over the last three weeks. A NASCAR fan could get by without really having an opinion on Logano until his run-in with former teammate Denny Hamlin at Bristol. It was obvious Joey wasn't happy with Denny ruining his day, but I'm not sure we thought that feud would literally decide the race the next week at Fontana.
While Logano went after the victory and happened to break Hamlin's back in the process, it was really an encounter after the race with proverbial hothead Tony Stewart that commanded the attention of the NASCAR world. Whether or not you believe Joey did the right thing, he reacted and explained his opinion calmly, thoroughly, and intelligently.
This new Penske Joey Logano is making NASCAR fun and more entertaining for die hard fans and it is bringing new fans in to see what will happen with the No. 22 car.
Here are the top five reasons this is the case.
Begin Slideshow

»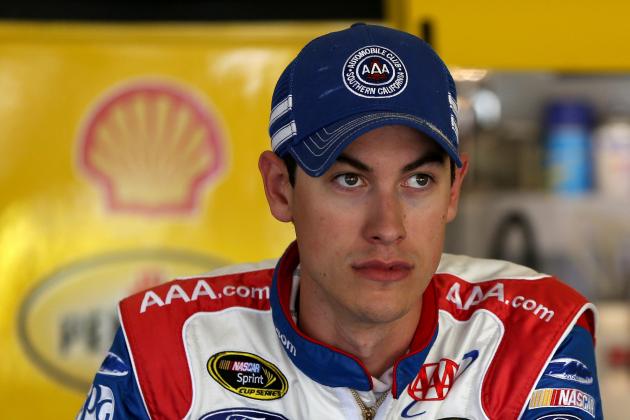 Jeff Gross/Getty Images

In sports, it is always beneficial if fans care about their competitors. It doesn't matter if they illicit a positive or negative reaction, as long as people care about them, they know they are relevant.
Logano's age aside, he doesn't really have any track record of generating any emotion from a subjective point of view. Yes, he's complained a few times. But in terms of affecting races with skill or risky moves, he hasn't really been a blip on the radar.
The last two races have changed that. The number one thing in most NASCAR fans' minds come Sunday will likely be what will happen with Logano and Stewart at the Paperclip.
Logano's current situation is one that people will have an opinion about one way or the other.
This video is a perfect example of a driver who is now leaving his mark. After watching the race and fight and then seeing this video, you either like Joey more, or you like him less.
His actions were explained well, and now that we know the intentions, we can either agree that he did what we would have done, or we can disagree and say his style of driving is one of an immature 22-year-old.
Geoff Burke/Getty Images

What's more intriguing than a 22-year-old phenom driver with a track record of success in all of his previous campaigns?
It's the perfect time to either cheer for or against Logano. He is coming into his own on a team with the defending champ who, need I remind you, went through this exact type of situation with multiple drivers in his Nationwide Series career.
Everything points to this Penske team being a major force for many years, and the bandwagon is just about to leave the station. Jump on, or shoot it down, but it will become inevitable that you'll have to take a side.
The All Sports Barrier is what I have named the phenomenon of certain events that intrigue all sports fans, whether or not they are usually interested in the sport in question. No matter what is going on Sunday afternoon, the Martinsville race is likely to be monitored for the Logano-Stewart feud, if nothing else.
The week off has given ESPN and other national networks 14 days to build up what could happen on the track, and that intrigue could bring in the fans who normally could care less about a NASCAR race this early in the season.
Any extra attention given toward the race could introduce these less-than-casual fans to the new cars and racing style as well, which are all good things.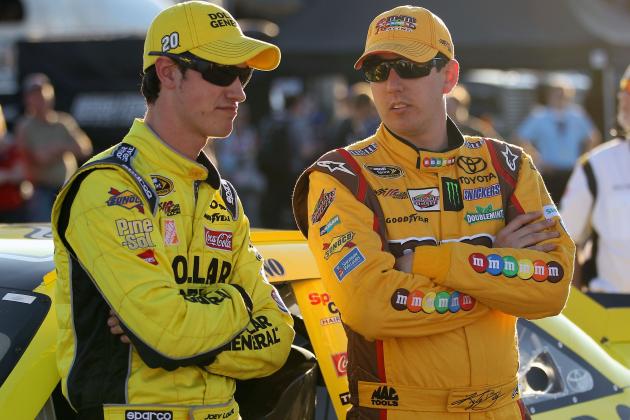 Ezra Shaw/Getty Images
Joey Logano and Kyle Busch
There have always been drivers who have worn the "black hat," so to speak. They are the most hated racer on the track every week.
Guys like Darrell Waltrip, Dale Earnhardt, and Kyle Busch have been known for their attitude and their troublemaking on and off the track, and each has had their moments wearing the black hat.
While the current black hats are nearly universally hated, it is almost as much fun to hate them as it is to cheer for your favorite driver. When Rusty Wallace spun out DW, the sport got more intriguing. The same thing is going on here.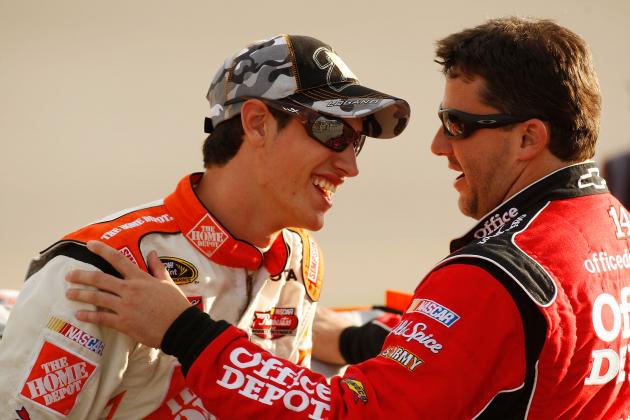 Chris Graythen/Getty Images

Bottom line: We're all going to be watching Sunday at Martinsville.
And while there are storylines like how Mark Martin will finish in the No. 11 and who the favorites are to win, the number one story is what will happen when the No. 14 and the No. 22 get anywhere near each other.
In six weeks, it could be the same story when Hamlin gets back in the car. And maybe Joey will find a way to anger a third driver this week.
All we know is that Joey Logano is on the rise, and everything he does from this moment on will be under a mega microscope. It's time for us NASCAR fans to enjoy the ride.