New York Red Bulls 2-1 Philadelphia Union: 5 Things We Learned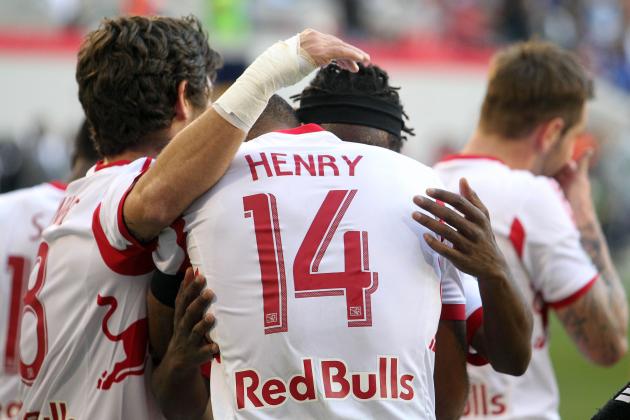 Brad Penner-USA TODAY Sports

The New York Red Bulls finally picked up their first win of the 2013 Major League Soccer season on Saturday afternoon, beating the Philadelphia Union 2-1.
After an 0-2-2 start, New York finally got their first three-point effort on the back of goals by Dax McCarty and Thierry Henry.
Here are five things we learned from the game.
Begin Slideshow

»
Sitting behind Thierry Henry and Fabian Espindola on New York's depth chart, it won't surprise many if Peguy Luyindula doesn't find himself in the lineup for many games.
However, with Espindola out with a hamstring injury and Henry not ready to start due to an MCL strain that he is not fully recovered from, Luyindula was given his second start of the 2013 season.
Luyindula did not disappoint, providing great linkup play for New York throughout the contest. He spent most of the game checking back for the ball and doing a nice job holding possession, while he waited for his midfield to join the attack. While his finishing could have been better, Luyindula's holdup play was key to New York's success.
Luyindula also provided the assist on Thierry Henry's game-winning goal.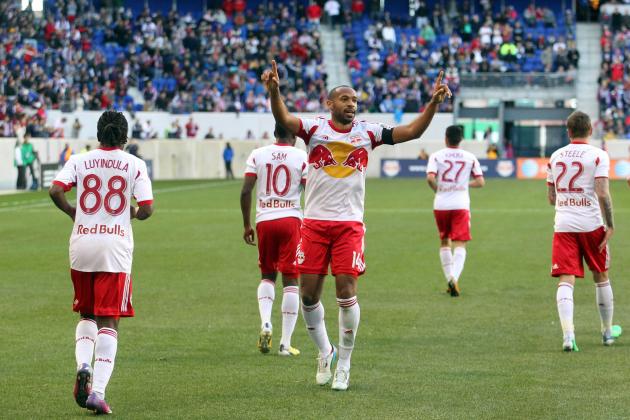 Brad Penner-USA TODAY Sports

This is Thierry Henry's fourth season in Major League Soccer. And, despite scoring 32 goals in just over two full seasons with the club, the New York Red Bulls have still not been able to get over the hump once the playoffs roll around.
Henry, at times, looks bored, frustrated, exasperated and angry when playing for New York. Just a few weeks ago in New York's season opener against Portland, Henry was uninvolved for most of the match and appeared to give little effort. Then, against D.C. United just over a week later, Henry was extremely active, but could not convert any of his multiple chances.
On Saturday, Henry finally put together the right combination. Coming into the match in the 59th minute to replace Tim Cahill, Henry was hungry right from the start. He made an immediate impact on the game, found his own chances, set up chances for his teammates and showed a good work rate.
In the 76th minute, Henry had a highlight-reel moment (almost), spectacularly popping up a service into the box and firing a bicycle kick just wide of the Union net.
Then, in the 81st minute, Henry's moment finally arrived as he beautifully settled a service from Peguy Luyindula with his thigh and fired it home on the volley for the game-winning goal.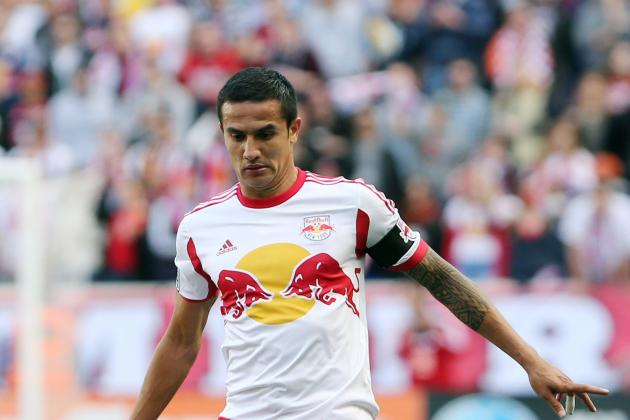 Anthony Gruppuso-USA TODAY Sport

Two of the more well-known players on the field on Saturday had fairly poor games.
Tim Cahill has continued to struggle to make an impact for the Red Bulls. On Saturday, Cahill lost several possessions because of a poor first touch and was generally not involved in the play.
Some of this can be blamed on his difficult travel schedule this week while on international duty with Australia, but now in his second year with New York, Cahill still only has one goal in 17 games.
The other star who was fairly anonymous on Saturday afternoon was Philadelphia Union striker Sebastien Le Toux. Not only was Le Toux invisible for much of the game for the Union, he completed an abysmal eight of his 16 attempted passes on the day.
In contrast to the relatively poor performances of Tim Cahill and Sebastien Le Toux, several veterans looked very good on Saturday.
For New York, Jamison Olave had a solid game. For the New York Red Bulls, who in the last 18 months have seen repeated changes among their center backs and goalkeepers, a steady presence like the one Olave provided on Saturday will be key to their success.
Olave did a nice job covering for his other defenders early in the match, and his repeated battles with Union striker Conor Casey in the second half were terrific.
Juninho was also a key player for New York on the night. His deep-lying playmaking was terrific, and he was a constant presence for the Red Bulls, dropping deep to get the ball and get their attack started. He also provided some of the best attacking moments on the day with his brilliant passing in the attacking third. He is truly a master of his craft.
And finally, again for New York, Dax McCarty had a solid game. One of the most underrated players in MLS, McCarty was once again pushed higher up the pitch than normal because of Juninho dropping deep. While McCarty is by no means an attacking dynamo, his work rate is unmatched, and his flick for New York's opening goal was terrific.
Anthony Gruppuso-USA TODAY Sport

Although Philadelphia struggled on the day only managing to control 40 percent of the possession, they have some nice, young attacking talent.
Sheanon Williams contributed on the attack on more than a few occasions with some good service into the box from the right-back position and a few slaloming, dribbling runs into the attacking third. Once he gets a little bit better at figuring out when to get rid of the ball, he will become one of the best attacking fullbacks in the league.
Michael Farfan and Jack McInerney also had solid games for the Union. Farfan repeatedly put in dangerous service to his forwards, and his field vision is impressive for a player of his age. McInerney also had a decent game. His movement off the ball is good, and he is surprisingly strong in the air for his frame.
With all three of these players being under 25 years old, the Union have some nice pieces in place going forward.
Follow me on Twitter @JohnDHalloran
Follow me on Facebook www.facebook.com/AmericanTouchline