NASCAR Sprint Cup's Best Finishes from the Last Decade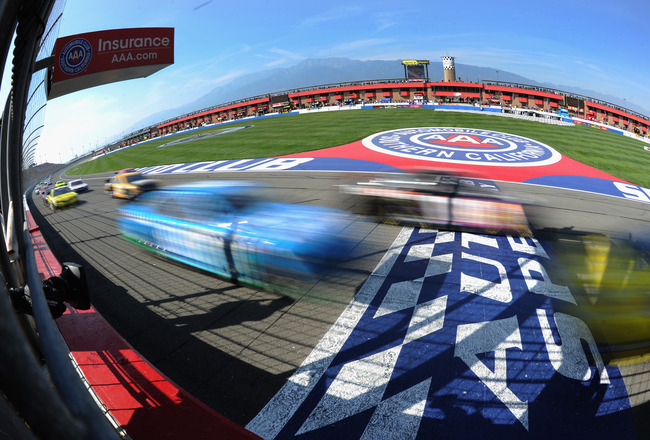 The finish line at Auto Club Speedway has seen its fair share of good finishes, but will any of the recent races at the track make this list?
Jared C. Tilton/Getty Images
The NASCAR Sprint Cup Series is on break this week in celebration of Easter. And since there is no live action, it's time to go down memory lane.
Race finishes are often exciting and many are remembered long after the race, but the finishes on this list are the best of the best.
Many aspects go in to an exciting finish. Of course, the last several laps of the race must be electrifying and the racing must competitive and passionate. Other factors that turn a finish from good to great include the circumstances during the race and the announcers' excitement leading up to and during the finish.
Without further ado, let's go down memory lane and enter Victory Lane with the winners from the top 10 finishes from the past decade.
10. Texas 2004: Kasey Kahne vs. Elliot Sadler

In a battle between two drivers who would eventually become teammates, Elliott Sadler denies Kasey Kahne his first career win.

Kasey Kahne burst on to the NASCAR Sprint Cup scene in 2004 and quickly became the driver who always finished second. In the second race of the season at Rockingham, Kahne narrowly missed winning, finishing a close second to Matt Kenseth.
Then, at Texas, he dominated the race but found himself battling Elliott Sadler for the win in the closing laps.
Sadler was held up by the lapped car of Johnny Sauter, which allowed Kahne to close the distance on the high side of the track coming to the line. But Sadler never lifted, and he was able to hold onto the win by about half a car length.
Kahne went on to post 13 top-fives, 14 top-10s and two second-place finishes by less than a car length combined.
9. Michigan 2009: Greg Biffle and Jimmie Johnson vs. Fuel Mileage

Greg Biffle and Jimmie Johnson attempted to stretch their fuel. Mark Martin didn't.

Fuel mileage is always a factor in NASCAR, especially on larger tracks. The Michigan race in 2009 was no exception.
Greg Biffle and Jimmie Johnson were both attempting to stretch their fuel mileage by driving easier and using less throttle. However, they were both close enough on the race track to battle for the lead as well.
Talk about a difficult situation.
The two traded the lead for a while, and Johnson rounded Turn 4 ready to take the white flag when all of a sudden, his car shut off. He was out of fuel.
Biffle roared to the lead and seemed poised to take the checkers. He had a comfortable lead over second-place Mark Martin and seemed to be taking it easy. However, his fuel tank had other ideas.
Along the backstretch, Biffle's car also sputtered to a stop, and Martin dipped low and passed him, cruising to the win. It was Martin's most recent Cup victory, and it came in electrifying fashion.
8. Kansas 2008: Jimmie Johnson vs. Carl Edwards

Carl Edwards would have won if he hadn't hit the wall. It's always about the little things.

If it wasn't for the bold move by Carl Edwards, this race wouldn't have even sniffed this list. As we all learned, however, when two of NASCAR's fiercest competitors find themselves battling for a win, finishes like this one should be expected.
Carl Edwards stalked Jimmie Johnson for the last segment of this race. He had the faster car, but Johnson didn't give an inch. So Edwards went where no other race car had gone that day.
Entering Turn 3 in a bold move, Edwards dove down low on the apron underneath Johnson and cleared the No. 48 car easily. However, because he entered the turn with so much momentum, his car shot back up the racetrack and careened off the wall, losing valuable speed.
Johnson then dove under Edwards' car as he tried to keep it off the wall.
Edwards tried a desperate move underneath Johnson coming to the line, but his speed was all but gone. Johnson won easily in a finish to remember at Kansas.
7. Auto Club Speedway 2013: Denny Hamlin vs Joey Logano and Kyle Busch

Denny Hamlin and Joey Logano's rivalry peaked at California when they found themselves battling for the win. Kyle Busch had the best seat in the house.

This is a race fresh in everyone's mind, and it probably will be for some time.
Denny Hamlin and Joey Logano have had a rivalry going for the majority of the 2013 season, but at California, it became serious.
With four fresh tires, Hamlin charged through the field and ran down the leaders after the final restart, only to find himself on Joey Logano's rear bumper. The two raced hard during the first half of the final lap, banging off each other down the backstretch.
As they raced each other, they forgot to check their mirrors. Kyle Busch was closing fast.
Hamlin moved up the racetrack in Turn 3 and Logano went to the low side. Logano's car wiggled and collided with Hamlin, and they both went for a spin. Busch kept his cool and sped by both of them, winning by a safe margin over Dale Earnhardt Jr.
Hamlin's car slid down the track and impacted the inside wall spectacularly. Logano was able to creep across the line in third after righting his car. Hamlin, however, finished 25th and is sidelined with a back injury for the foreseeable future.
After the race, Tony Stewart confronted Logano over the way the two had raced after the final restart. Needless to say, tempers were high after the event.
Once the fires were extinguished and the injured carried away, a fortunate Kyle Busch left Auto Club Speedway with his first win of 2013.
6. Talladega 2009: Carl Edwards vs. Brad Keselowski

Carl Edwards went for a wild ride as Brad Keselowski claimed his first win.

This race pitted future Sprint Cup Champion Brad Keselowski against Carl Edwards—a feud that would increase in venom later on in the two drivers' careers.
Coming down the frontstretch at Talladega, Keselowski looked to pass but clipped Edwards' rear quarter panel as Edwards attempted a block. This sent Edwards into the catch fence, which, thankfully, did its job.
Possibly the most notable aspect of this finish was not when the cars passed the finish line, but when Edwards exited his mangled race car and jogged across the stripes. For a guy who has always been somewhat whimsical and goofy, it was a fitting ending to a thrilling race.
5. Talladega 2011: Jimmie Johnson vs. Clint Bowyer and Jeff Gordon

Jimmie Johnson charged past four other cars on the frontstretch to steal the win from Jeff Gordon and Clint Bowyer.

On the last lap, Jimmie Johnson, with help from teammate Dale Earnhardt Jr., passed four cars in a quarter mile to snag the win at Talladega. The drafting tandem was far behind as the white flag dropped, but the two Hendrick drivers worked together to gain momentum and catch the leaders.
Coming to the line, three sets of cars were were three-wide—something only a superspeedway could offer. Johnson ended up winning by .002 seconds over Clint Bowyer, with Jeff Gordon a couple feet behind in third.
Johnson's margin of victory is currently tied for the closest NASCAR Sprint Cup Series finish of all time with another race, which is also in this list.
4. Watkins Glen 2012: Marcos Ambrose vs. Kyle Busch and Brad Keselowski

Marcos Ambrose won his second race in a row at Watkins Glen in a mad dash to the stripe.

Marcos Ambrose captured his second career win in exciting fashion, winning the Finger Lakes 350 at Wakins Glen for the second year in a row last season.
Taking the white flag, Ambrose was in third trailing the Kyle Busch and Brad Keselowski. The race looked like Busch's to lose. But when a slow car dropped oil all around the raceway, Busch drove through it, coating his tires and slowing him down substantially.
This opened the door for Keselowski, who made incidental contact with Busch, spinning him into the wall. From there, the race stayed green, with Keselowski and Ambrose sliding all around the track. As they ran through the same oil slick that caused Busch to lose the handling, they drag raced all the way to the checkers, with Ambrose taking the lead for good in the final corner.
Ambrose was very emotional about his win due to his father seeing it on television while recuperating in the hospital for an illness. That must have been a great day for the Ambrose family, as it was an exciting finish for NASCAR fans everywhere.
3. Atlanta 2005: Carl Edwards vs. Jimmie Johnson

Carl Edwards' first win didn't come easy, but it did earn him respect from his fellow drivers.

Atlanta is a track that has produced many of NASCAR's most exciting finishes. Just like the race at Kansas, this one saw Jimmie Johnson leading and Carl Edwards stalking.
It quickly became apparent that Carl Edwards, a rookie in 2005, knew how to wheel a race car. The way he handled his car at the end of this race, despite having worn tires and few laps remaining, was incredible.
Considering Carl's many accomplishments in the Sprint Cup Series, running down and passing five-time champion Jimmie Johnson on worn tires is still one of his greatest.
2. 2007 Daytona 500: Kevin Harvick vs. Mark Martin

NASCAR's Super Bowl usually ends with fireworks, but nobody expected this.

At this point in the list, it has become apparent that restrictor plate races usually produce exciting finishes. The 2007 Daytona 500 might just be the best of them all.
Not only did Kevin Harvick go from seventh to first in one lap, he did it against one of NASCAR's most beloved drivers, Mark Martin.
Whenever Martin is in the running for the win, it seems as if the announcers pull for him. For a guy who has finished second in the Cup standings five times and is without his own championship or Daytona 500 trophy, he is easy to root for. Harvick, however, wasn't in the mood for sympathy.
Harvick and Martin drag raced to the line side by side following a massive crash behind them. Harvick pulled off the miracle by .020 seconds in a green-white-checkered finish, the closest margin at the 500 since NASCAR implemented electronic scoring in 1993.
Due the enormity of the race and who was involved, this is easily one of the best finishes from the past decade.
1. Darlington 2003: Ricky Craven vs. Kurt Busch

Ricky Craven, now an analyst for ESPN, was considered one of the nicest racers to ever sit in a Sprint Cup car. Here, his competitiveness emerged as he battled Kurt Busch for the win at Darlington.

The closest finish in NASCAR history was voted the "Finish of the 2000s" for good reason.
Darlington, the "Track too tough to Tame" and the "Lady in Black," lived up to its nicknames in this race.
On worn tires and a burnt ego due to a lack of success earlier in the year, Ricky Craven banged his way to the win by a miniscule .002 seconds over Kurt Busch.
This race is the pinnacle of NASCAR finishes not only because of the amazing display of racing, but the announcing, as it seemed Darrell Waltrip was in his element throughout the final laps behind the mic.
Ricky Craven had been a fan favorite due to his calm demeanor and his successful recovery from a head injury sustained in 1997.
In this race, Craven also became the last driver to win in a Pontiac. And as Darrell Waltrip points out during his commentary, he may not have won if he wasn't driving a Pontiac.
It's fair to say this finish has the making of an all-time NASCAR classic.
Keep Reading