Toronto Blue Jays: Projecting the Stats for All of the Jays' Offseason Additions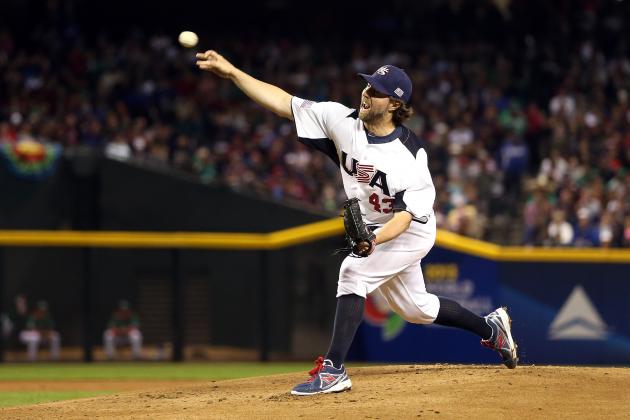 Christian Petersen/Getty Images

Three days.
That's all the time that remains between now and opening day for the Toronto Blue Jays.
And with all the wheeling and dealing that was done this past offseason by GM Alex Anthopoulos, the 2013 edition of the Blue Jays barely looks anything like the 2012 team that took the field day-in, day-out.
With significant changes made to the team's starting rotation, starting infield, starting outfield, as well as bullpen, the Jays are almost a brand new team, ready to compete.
Yet how will all the new faces fare in their first season in Toronto?
All statistics courtesy of Baseball-Reference.com
Begin Slideshow

»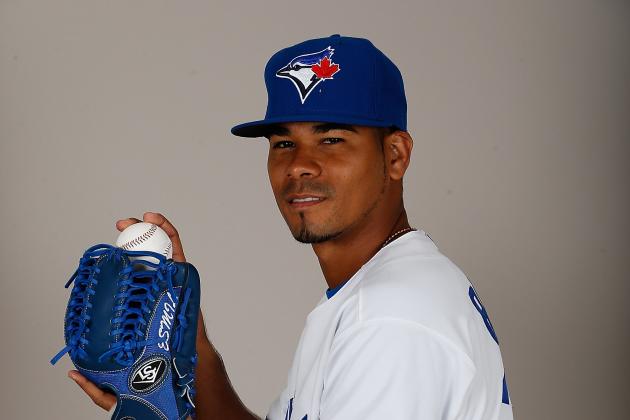 J. Meric/Getty Images

Projecting Esmil Rogers' stats for the 2013 season with Toronto will be a little bit tricky.
After never really succeeding with the Colorado Rockies, Rogers found his groove in 2012 when he was dealt to the Cleveland Indians, where he posted a 3.06 ERA, 1.11 WHIP and 9.2 strikeouts per nine innings in 44 appearances.
Yet this spring hasn't been stellar for the 27-year-old Dominican native.
So far Rogers has an ERA of nearly 7.00 in 11.2 innings pitched and has given up four home runs over that span. Worse yet, his opponents quality score is just 8.6, which means that the hitters he faced are closer to Triple-A caliber players than MLB players.
While Rogers probably won't struggle that much as he gets more comfortable on the mound, expecting him to be a lights-out reliever is also a bit unrealistic.
2013 Prediction: 60 GP, 4.40 ERA, 78.0 IP, 1.34 WHIP, 9.7 K/9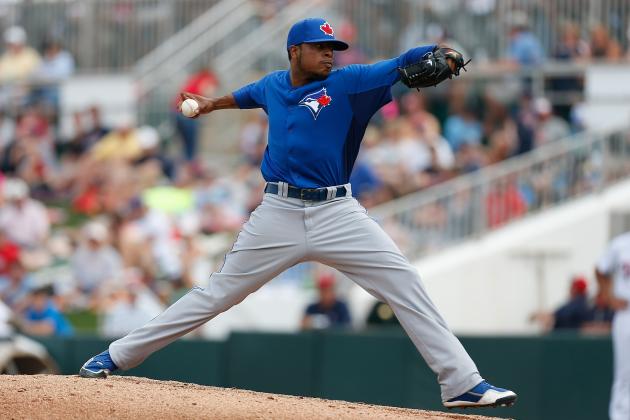 J. Meric/Getty Images

Despite having very little big league experience and having had a rough spring in Dunedin, Jeremy Jeffress will be on the Blue Jays opening day roster.
While the 25-year-old fireballer shows some incredible promise (he has been known to hit triple digits on the radar gun), Jeffress has never had any sort of success at the major league level (though he's only thrown a total of 38.2 innings at the highest level up to this point).
Jeffress' main problem has always been his control.
Last season in his short stint with the Kansas City Royals, Jeffress walked nearly a batter per inning (8.8 per nine innings to be exact). This spring, Jeffress has averaged 10.5 strikeouts per nine innings but has also issued 7.5 free passes per nine innings.
His ERA this spring? 8.25. His WHIP? 2.25.
At this point, it may be in Jeffress' best interest to tone down the velocity on his fastball in favor of being able to control his pitches a bit more.
2013 Prediction: 26 GP, 5.85 ERA, 34.1 IP, 1.58 WHIP, 10.2 K/9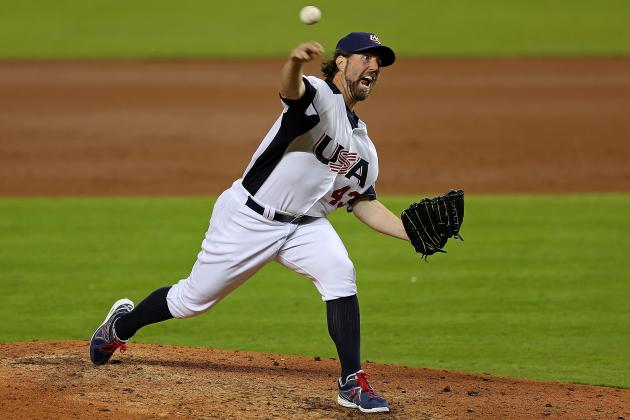 Mike Ehrmann/Getty Images

Last year's National League Cy Young Award winner is primed to have another big season in 2013.
Now coming off three consecutive seasons with an ERA below 3.30 (two of those years his ERA was sub-3.00), Dickey will be expected to lead the Jays rotation this coming season.
As the rotation's best pitcher, both from a statistical and durability standpoint over the last two years, Dickey should be able to repeat his 2012 season.
The notion that he will see his numbers increase slightly after moving to the AL East isn't one I put much faith in.
The New York Yankees are missing a good deal of their offensive arsenal to start the season, the Tampa Bay Rays have never been a team that uses their lineup to beat you and the Baltimore Orioles aren't exactly a juggernaut squad at the plate either.
The Red Sox may pose a problem, but Dickey won't start more than a few games against the Red Sox this season.
Consider the fact that hardly any of these players are familiar with Dickey's knuckleball, and you've got a recipe for success in 2013.
2013 Prediction: 32 GS, 2.94 ERA, 219.1 IP, 1.07 WHIP, 6.9 K/9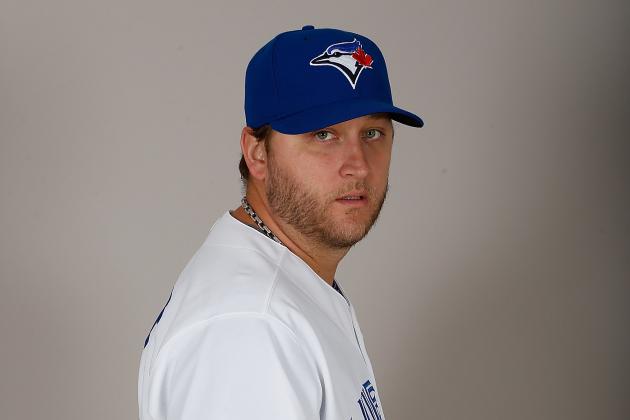 J. Meric/Getty Images

Of all the Blue Jays' new faces for the upcoming season, Mark Buehrle is probably the most consistent year-in, year-out.
Buehrle has started at least 30 games and thrown for over 200 innings in every season he's had as a starter.
Other than 2006, the 34-year-old southpaw's ERA hasn't fluctuated all that much either. Traditionally it sits in the 3.50 region, and for a fourth starter (which is where Buehrle is projected to fit in stats-wise), that's more than adequate.
More than anything, the Jays will be looking for him to continue to eat innings and be that veteran presence in the locker room (Buehrle has won a World Series, four consecutive Gold Gloves and appeared in four All-Star Games).
2013 Prediction: 33 GS, 3.65 ERA, 206.2 IP, 1.28 WHIP, 5.1 K/9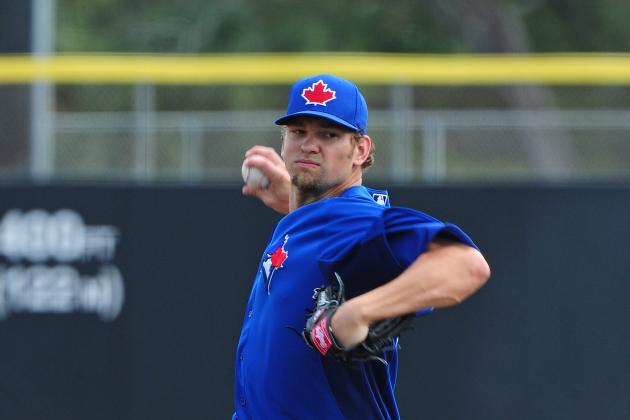 Scott Cunningham/Getty Images

If Mark Buehrle was one of the easier projections of all the Jays' new players, Josh Johnson has to be one of the tougher ones to project.
First off, there's the fact that last season was an uncharacteristically bad one for Johnson (though his ERA decreased from July to August, as well as from August to September). Secondly, there's the task of trying to predict just how healthy Johnson will be in 2013 (which is just about impossible).
With his play up until now in spring training, it's safe to assume that the 2009 through 2011 Josh Johnson has returned (he's posted a 1.13 ERA, 0.56 WHIP, 11.8 K/9 rate and 21:1 K to BB ratio, all against hitters who score 9.3 out of 10 on the opponents quality score).
As for injuries, Johnson managed to start 30 games last season for the first time since 2009 and didn't show any signs of re-injuring his shoulder late in the 2012 campaign.
2013 Prediction: 27 GS, 3.10 ERA, 183.0 IP, 1.13 WHIP, 8.0 K/9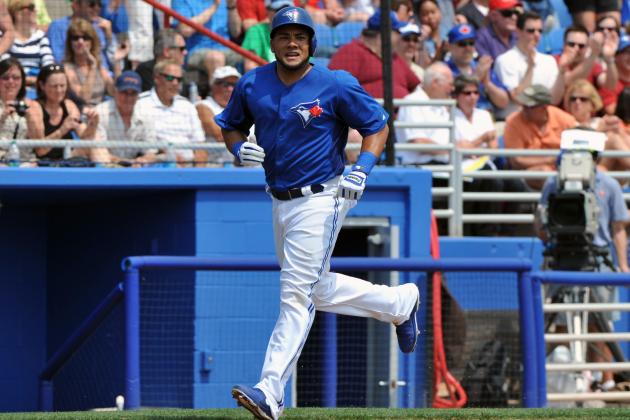 Al Messerschmidt/Getty Images

By now, all Toronto Blue Jays fans should know just how well Melky Cabrera had played last year before being suspended for the remainder of the season for violating the league's substance abuse policy.
Since then, questions have lingered about how effective Cabrera might be in 2013.
Cabrera should be able to post some respectable numbers though in 2013, but don't expect the .346 average and .906 OPS to return from last season.
2013 Prediction: 590 AB, .284 AVG, .347 OBP 12 HR, 58 RBI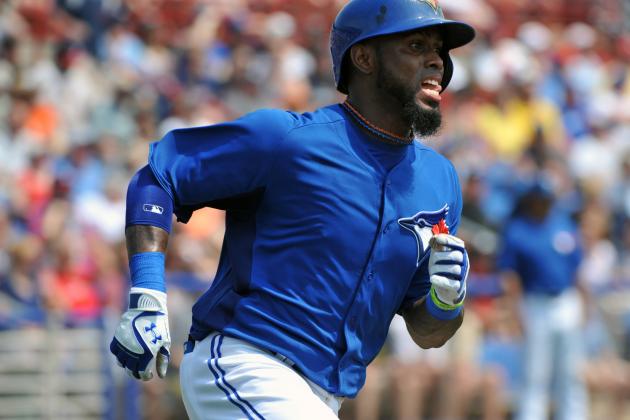 Al Messerschmidt/Getty Images

Jose Reyes may be the player that has generated the most excitement among Jays fans this offseason of all the new players that were brought in.
Known to be one of the best shortstops and leadoff hitters in all of baseball, Jose Reyes is like a godsend for a team that has lacked a true leadoff hitter and shortstop for quite some time.
Reyes was one of the few bright spots in the Miami Marlins lineup last season after they tried to beef up their roster following their move to their new stadium.
Jays fans can expect the same sort of production from the 29-year-old for the next few years.
2013 Prediction: 610 AB, .291 AVG, .359 OBP, 9 HR, 53 RBI, 38 SB
J. Meric/Getty Images

Emilio Bonifacio, who could be regarded as the "forgotten man" in the blockbuster trade with the Miami Marlins earlier this offseason, could be the one player who turns heads in 2013.
While his shortened 2012 campaign wasn't exactly mind-blowing from a hitting perspective, the speedster did swipe 30 bases in just 244 at-bats, while only being caught three times.
In his previous seasons, however, Bonifacio showed improvement year-to-year.
From 2009 to 2011, his average climbed from .252 to .261 to .296.
His on-base percentage also increased in each season from 2009 to 2011.
If Bonifacio can stay healthy in 2013, there's a strong chance that he can once again eclipse the .280 and .350 plateaus.
2013 Prediction: 515 AB, .285 AVG, .355 OBP, 3 HR, 29 RBI, 68 SB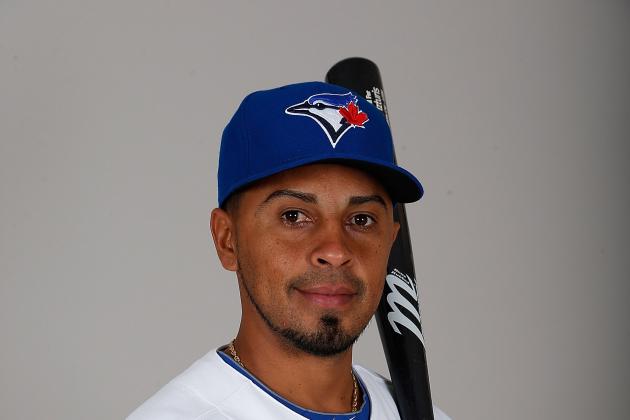 J. Meric/Getty Images

Putting together a prediction for Maicer Izturis is another tricky task.
Projected to be used as a super-utility player this season for the Jays, Izturis' at-bat total was always going to be tough to peg.
Now that Brett Lawrie will be out for a week (at least) to start the season, Izturis will platoon with Mark DeRosa at third base to start the year, before shifting back to his super utility role.
2013 Prediction: 320 AB, .260 AVG, .310 OBP, 2 HR, 24 RBI, 16 SB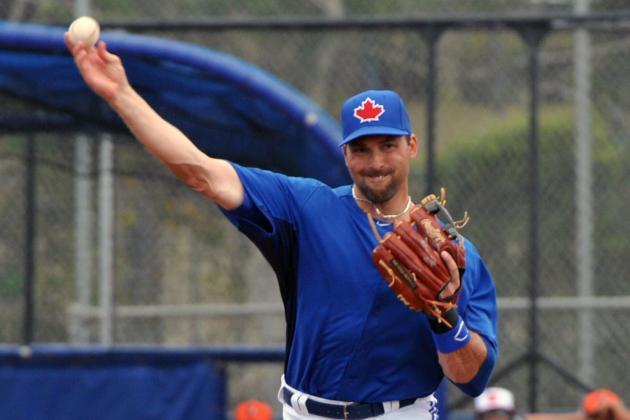 Al Messerschmidt/Getty Images

Not expected to crack the Jays roster as anything more than a 25th man on the Jays roster, there to spell a starter on occasion and provide a veteran presence in the clubhouse, DeRosa has impressed the Jays in a big way this spring.
With Brett Lawrie injuring himself this spring, the 38-year-old was given more opportunity to showcase what he can do.
After three consecutive seasons without seeing 100 at-bats, DeRosa was absolutely dominant in 41 spring at-bats, hitting .463 and posting an OPS of 1.207.
Now expected to split time with Maicer Izturis at third base to start the 2013 regular season, DeRosa will surely break through the 100 at-bat mark for the first time since 2009.
Hopefully DeRosa can continue to provide the Jays with decent offensive production as well as leadership until Brett Lawrie returns.
2013 Prediction: 165 AB, .255 AVG, .330 OBP, 2 HR, 16 RBI