Assembling Philadelphia Phillies' Best Starting Lineup After Spring Training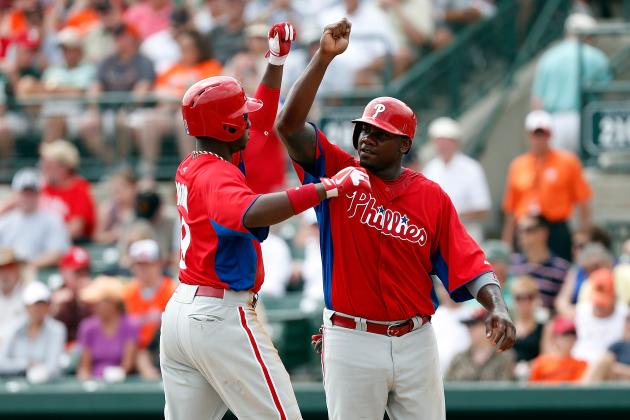 J. Meric/Getty Images

Now that spring training has concluded, almost everything is locked in for the Philadelphia Phillies for Opening Day on Monday, April 1. Almost everything.
While three of Phillippe Aumont, Jeremy Horst, Mike Stutes and Raul Valdes are bound to claim the final bullpen spots and one of Laynce Nix or Rule 5 Draft Pick Ender Inciarte will win the fifth outfielder's job, the Phillies currently lack a cemented Opening Day lineup.
Aside from Cole Hamels, who has been anointed the Opening Day starter against the Atlanta Braves (via CSNPhilly.com), questions still remain about both the Phillies' batting order and, at a position or two, who will start.
My views and opinions will most definitely differ from those of the man who will be writing in the lineup card next Monday, manager Charlie Manuel.
Given the Phillies' projected lineup for the season opener according to MLB.com, I do have a few qualms about placements, which will be reflected in my lineup in this slideshow.
So, without further ado, here is the Phillies' best lineup after spring training, or—depending on how you look at it—my lineup card if I were managing the Phillies.
Begin Slideshow

»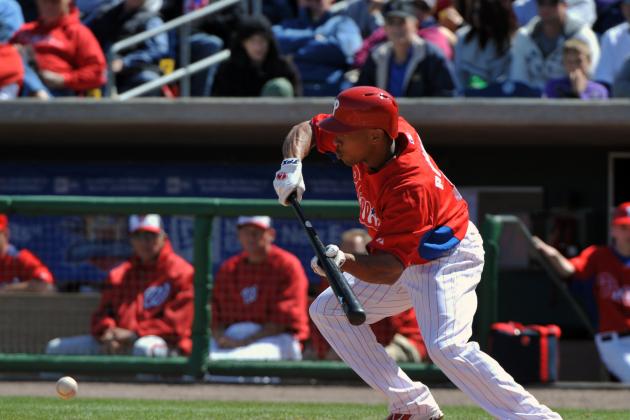 Al Messerschmidt/Getty Images

Ben Revere should be hitting leadoff. Period.
Despite Charlie Manuel's likelihood of batting Jimmy Rollins first, Revere should be the guy taking the first pitch of the 2013 season for a few reasons. For starters, he's faster.
Rollins, now 34 years old, hasn't stolen more than 30 bases in a given year since 2009 and hasn't surpassed 40 steals since 2008. Revere, on the other hand, is much younger at just 24 years old and stole 40 bases last year. It only gets better from here.
In addition, Revere, a left-handed batter, had the highest ground-ball rate in baseball last year at 66.9 percent and his batting average on balls in play (BABIP) came in at .325 (stats courtesy of FanGraphs).
Revere's game is hitting ground balls and utilizing his speed to outrun them and to turn groundball outs into infield singles. He'll steal a base or two and then be scored by the second or third hitter to put a run on the board early in the game.
Lastly, Revere's a hitter with more potential to get on base. Last year, Revere's OBP was .333, which is pretty mediocre for a hypothetical leadoff hitter. However, J-Roll's 2012 OBP was just .316.
Revere also doesn't swing for the fences, to which his lack of a home run in 989 career at-bats can attest. Need I say more?
Revere is a leadoff hitter through and through, and it's time Charlie bats him (and Rollins) accordingly.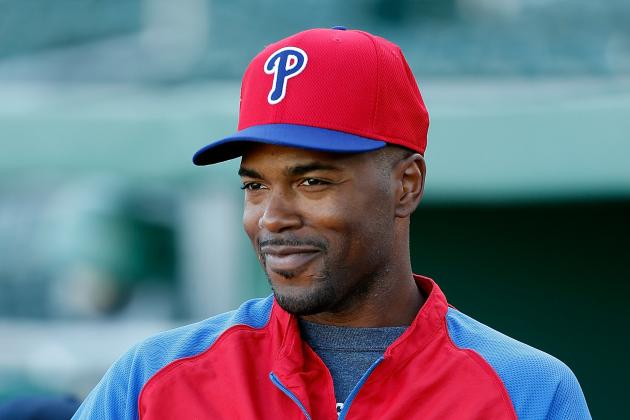 J. Meric/Getty Images

Jimmy Rollins still remains one of the better defensive shortstops in baseball today and has recently capitalized on his ability to hit for power. However, he is no longer a leadoff hitter type, and should not bat in the lineup as such.
Personally, I don't think he should even hit second, but I do understand that if there's a compromise to be made concerning J-Roll, it's hitting him as close to leadoff as possible.
Don't get me wrong, I'm not denying that Rollins still has speed. He's snagged 30 bases in each of the last two years, and with the exception of his injury-riddled 2010 season, has done so every season since 2004 (stats courtesy of FanGraphs). However, the way Rollins goes about his hitting does not qualify him as a leadoff hitter.
First of all, a leadoff hitter's objective is to get on base to spark offensive momentum in addition to reach scoring position by the time the three and four hitters step up to the plate. As I mentioned on the previous slide, Rollins' OBP last season was .316.
Even more important is that his career OBP is .328, far from a prototypical leadoff hitter. It just doesn't make sense anymore.
The same reasons that Ben Revere should be batting leadoff apply in contrast to Rollins. J-Roll's groundball rate last year was just 39.4 percent whereas his flyball rate was 41.6 percent. His 2012 BABIP was just .262.
Heck, if you want to go even simpler, look no further than Rollins' 23 home runs to Revere's zero and J-Roll's .250 batting average to Revere's .294. Rollins is swinging for the fences, and as a leadoff hitter, that's not his job.
Bat Rollins second. This way, not only are the lefties and righties better split up in the lineup, but Rollins can hit a fly ball and allow for Revere to get a chance to gain a base on a sacrifice fly.
J-Roll could hit a nice double himself if he wanted to score Revere. But the way he's hitting anymore, Rollins is no leadoff hitter, and it's time Charlie saw that.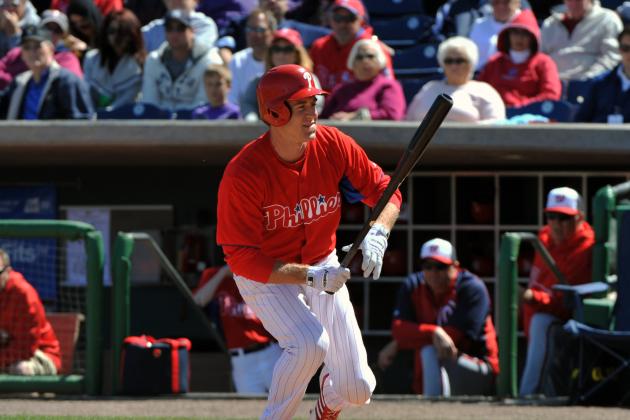 Al Messerschmidt/Getty Images

Chase Utley has been a staple in Charlie Manuel's batting lineup in the three hole. And while I don't think it would be the worst thing if he batted second, he's not going anywhere else as long as Manuel's writing the lineup cards.
Utley had a slow spring but has been hot as of late, and he's brought his spring average up to .273 entering the Phillies' on-deck series against the Toronto Blue Jays (per phillies.com). In addition, he's got a .914 OPS, and he slugged his fifth home run of the spring in a game yesterday, also against the Blue Jays.
With a .368 OBP and .545 SLG, Utley is looking sharp so far, and the biggest thing is that he looks stronger than he has in recent years. After missing the last two spring trainings, Utley's back with a vengeance.
Even though he started out slow and was hitting well below .200 for a good portion of spring training, Utley's turned it up, and fans and the team alike can only hope it will translate into the regular season.
There isn't much more to say about Utley except to hope for the best as he enters his contract year. Will the Phillies consider re-signing him if he plays well and stays healthy? Maybe that's not a question for right now, but it's certainly worth thinking about.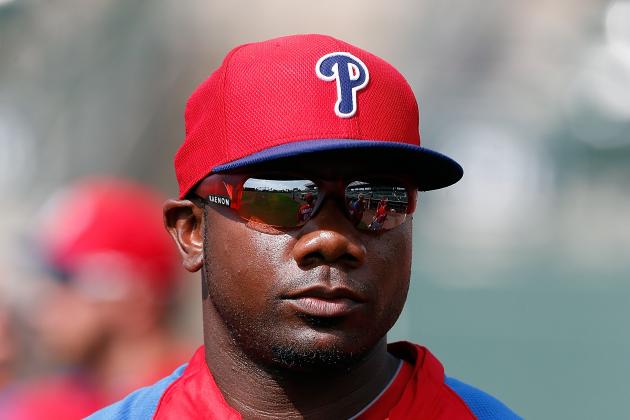 J. Meric/Getty Images

Like Chase Utley, Ryan Howard will be the cleanup hitter as long as Charlie Manuel is around. However, unlike Utley, there's much more to talk about concerning The Big Piece.
Howard infamously tore his Achilles tendon in the final at-bat of the 2011 NLDS against the St. Louis Cardinals, which also stands as the last time the Phillies tasted postseason play. As a result, he missed most of the first half of the 2012 season, and when he returned, he didn't do all that much.
Batting just .219 with a .295 OBP and uncharacteristically-low .423 SLG, Howard clearly wasn't fully healthy when he played last season (stats courtesy of FanGraphs).
Consequently, expectations were somewhat low for Howard. If he was fully healthy, as expected, then the hope was that some of Howard's lost power would return.
However, if Howard hadn't recovered as well as thought, perhaps what Phillies fans had witnessed last season would be the norm and Howard would quickly transform into a player incapable of the everyday rigor of a 162-game MLB season.
At this point, not only does Howard look capable of playing every day, but he may very well come close to justifying his five-year, $125 million contract extension signed in April 2010.
This spring, Howard has hit .338 with a .368 OBP and .663 SLG for a combined 1.030 OPS (don't ask me how the math works out, but it's how phillies.com has it laid out). In addition, his seven home runs were tied for the Grapefruit League lead, and his 16 RBI were tied for second on the team.
As is the case with Utley, the hope is that Howard can take his spring success and make it last in the regular season. If he does, Howard could put up MLB-caliber numbers and hit more than 30 home runs once again.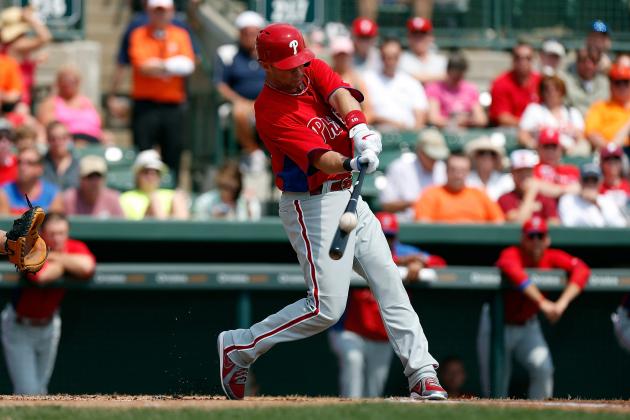 J. Meric/Getty Images

Considering his style of play, Michael Young is probably best suited to hit higher in the Phillies' batting order. Once again, though, as long as Charlie's around, Jimmy Rollins will hit as close to leadoff as possible. Therefore, the next-best place for Young to bat is fifth, and it really isn't all that bad, either.
Young came from the Texas Rangers in a December trade to become the Phillies' full-time third baseman. He left the organization with which he held numerous franchise records for an opportunity to play every day and at one position, a luxury he did not have in Texas.
Never known for his defense at any position, Young's glove at the hot corner will see its fair share of errors throughout the season. Fortunately for the Phillies, though, Young's only under contract for one season at his current rate of $16 million before he hits the market as a free agent. In lay terms, if he doesn't work out for some reason, Young's gone after the season.
But concerning his batting fifth, Young could benefit greatly as a result. He'll see decent pitches there assuming that whoever (and I do have a person in mind for "whoever," but you'll find out who he is on the next slide) hits behind him maintains production throughout the season.
Young can hit singles or doubles to move the runners on the bases, which he'd do in the two-hole anyway. Hitting fifth also requires a decent batting average, something Young's capable of posting despite a down year in 2012.
Spring hasn't been great to Young either way, though his defense has vastly improved with the progression of spring training. His offensive numbers have been about average, as his batting average sits at .264 and his OPS stands at a much lesser .665.
While his OBP of .304 is down from what's expected, Young's not much of a power hitter, though, and his four doubles show he's still got extra-base pop (stats courtesy of phillies.com).
Young should be fine either way with a new atmosphere and no pressure on him to be the face of the franchise he was in Texas. While he'll be a clubhouse leader, he won't be given responsibility for the Phillies' play, and that should bode well for his all-around production.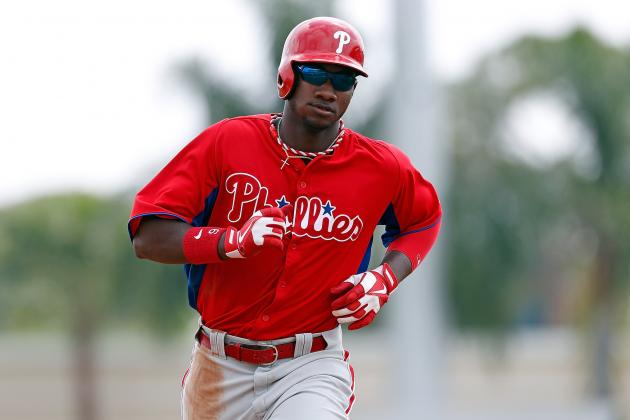 J. Meric/Getty Images

Not only has Domonic Brown been the Phillies' MVP of spring training, he's been a standout star around the majors this spring.
Ranked as Baseball America's fourth-best prospect in the minors entering the 2011 season, Brown has had high expectations for years. And for years, Brown had always underperformed and failed to exceed the expectations placed upon him.
In spring training before the 2011 season, Brown had a chance of claiming the starting right-field job, an opportunity which likely came too early for him. Nevertheless, Brown went 0-for-16 before a single off his hand broke his hitless streak, but also his hamate bone.
He sat out the rest of the spring, and while he got his chance in May, a lack of performance prompted the front office to acquire Hunter Pence from the Houston Astros.
The 2012 spring training was more of the same for Brown, as he lost the opportunity for a starting job to John Mayberry Jr. That project also failed, and as the Phillies ran out of options in addition to players following the trade deadline, Brown once again got his shot. He once again failed to leave a positive impression.
This year's spring training was unofficially Brown's last chance to earn a job with the Phillies, but for the first time, Brown capitalized on his opportunity. Per philly.com, assisting hitting coach Wally Joyner fixed Brown's hitting mechanics, lowering his hands and thus shortening his swing.
Subsequently, Brown's batted .376 with a .430 OBP, .671 SLG, 1.101 OPS, seven home runs, 17 RBI, and only one error in 28 games this spring. Simply put, he's been unstoppable.
According to phillies.com, however, Brown may be starting in left field as opposed to right field, where he's seen the most action this spring. Otherwise, Laynce Nix and John Mayberry Jr. will platoon in right field until Delmon Young returns from his ankle injury.
If Brown can translate even a portion of this success into the majors, he'll finally live up to the expectations placed on him and his prospect praise won't have gone in vain. Most importantly, though, he'll give the Phillies a young superstar in the making, something they would have otherwise lacked.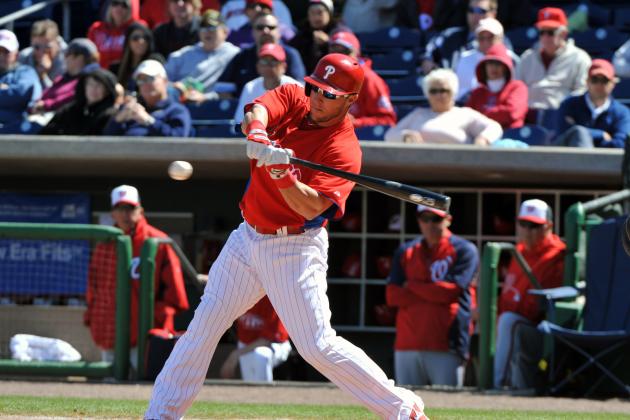 Al Messerschmidt/Getty Images

If I had my druthers, I wouldn't have Laynce Nix make the Opening Day roster. Realistically speaking, though, he's bound to make it, as he's guaranteed $1.35 million according to Baseball Prospectus.
Neither Nix nor his likely platoon mate John Mayberry Jr. have had favorable springs. Each is hovering around the Mendoza line in terms of batting average, with Nix at it at .200 and Mayberry just below it at .197. In Mayberry's case, he's played in 29 games, more than any other Phillie this spring. Nix has seen action in 24 games.
Since Tim Hudson is a right-hander and Nix is known for his success against righties, he'll likely get the Opening Day nod. If it was up to me, though, I might consider giving Ender Inciarte a shot. He's hit .276 this spring with an OBP of .364. All this, and he's never played above High-A. But I digress.
Nix was signed to his first-ever major league deal by the Phillies last winter and has yet to impress. He missed most of 2012 with a calf injury, but in the game action he's had, he hasn't looked good at all.
Although he's a notoriously better hitter against right-handers, he batted just .248 against them in 55 games last year, according to FanGraphs. Platoon or not, that's an extremely ineffective split.
Since Domonic Brown has supposedly been moved to left, Nix is slated to start in right. Either way, though, his defense is not suited for the outfield, but then again, neither is Delmon Young's.
While Nix will get the opportunity against right-handers for now, it's anyone's guess as to how much longer he'll remain a Phillie.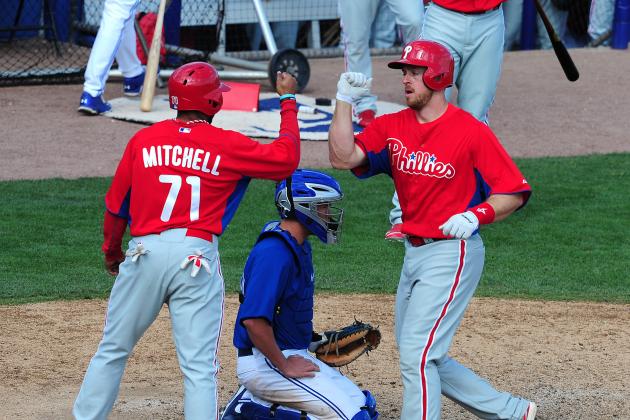 Scott Cunningham/Getty Images

Erik Kratz is lucky that he made an impression in the majors last year. Otherwise, I'm not convinced he'd get the Opening Day start.
Due to Carlos Ruiz's 25-game suspension for taking unapproved Adderall, Kratz will be the Phillies' starting catcher for the first 25 games or so of the 2013 season. However, his spring has been anything but indicative of Kratz being ready to take on that responsibility.
Although he's played in just 14 games, Kratz was hitting as low as .091 at one point. However, he's since brought his batting average up to .275 and his SLG to .550, though his OBP leaves something to be desired at .293. He's also hit two home runs and 11 RBI.
Kratz was solid last year, slugging nine home runs while hitting a mediocre .248 over 50 games. With an OBP of .306, though, Kratz was not a consistent player to reach base, while his .504 SLG was decent.
However, he was loads better than the oft-injured Brian Schneider, and for that reason in addition to Ruiz's plantar fasciitis, Kratz gained recognition for his adequate filling in during Chooch's DL stint.
Is Kratz capable of holding his own as the lone starter, or will someone, a la Humberto Quintero or even Tommy Joseph, unseat him as the backup catcher upon Chooch's return from suspension?
Anything is possible, but for now, Kratz is entrenched as the starter on Opening Day and the backup once fan favorite Ruiz comes back at the end of April.