With postseason positioning on the line, two interconference rivals will meet again as the Los Angeles Lakers face the Milwaukee Bucks. This will be the second and final meeting of the season between Milwaukee and L.A.
After the Lakers took the first game 104-88, will Milwaukee bounce back? Or will the Lakers preserve their postseason seeding with a much-needed win?
Let's find out.
The Lakers enter this game in a bad way, having lost three of their past four games. For the season, they're now 37-35 overall and 14-23 on the road.
Their lead is down to 1.5 games over the Utah Jazz and Dallas Mavericks for the eighth seed in the Western Conference playoff structure.
As for the Bucks, they too are in eighth place in the standings. In a deadlocked Eastern Conference, the Bucks are 2.5 games behind the Boston Celtics for seventh.
Both teams will need a sense of urgency in this one—the question is, who has a stronger will to win?
Time: Thursday, Mar. 28 at 8:00 p.m.
TV: TWC SportsNet & FSN Wisconsin
Records: Los Angeles Lakers (37-35, 14-23 road) at Milwaukee Bucks (34-36, 18-17 home)
Betting Line: N/A
Los Angeles Lakers Injury Report
Jordan Hill, Hip Surgery, Out
Metta World Peace, Torn Left Meniscus, Out
Milwaukee Bucks Injury Report
Mike Dunleavy, Flu, Probable
Luc Richard Mbah a Moute, Turf Toe, Questionable
Larry Sanders, Routine Soreness, Probable
Key Storyline: Eighth Seed Supremacy
The way the postseason is taking shape, there is a strong possibility that both the Los Angeles Lakers and Milwaukee Bucks finish eighth in their respective conferences. Milwaukee has all but clinched a berth, however, and L.A. is still fighting for its life.
So which interconference eight seed is going to reign supreme?
The Lakers took the first game between the two sides, winning 104-88 on Jan. 15. Dwight Howard led the charge with 31 points, 16 rebounds and four blocks.
Defensive Player of the Year contender Larry Sanders played just 24 minutes in that game due to foul trouble.
The second time around, the Lakers will be looking for a rare sweep of a season series in 2012-13. This is the type of win that could build enough confidence for L.A. to survive its postseason push.
Just don't think Milwaukee plans on laying down and watching this one—the Lakers are in for a fight.
Key Matchup: Dwight Howard vs. Larry Sanders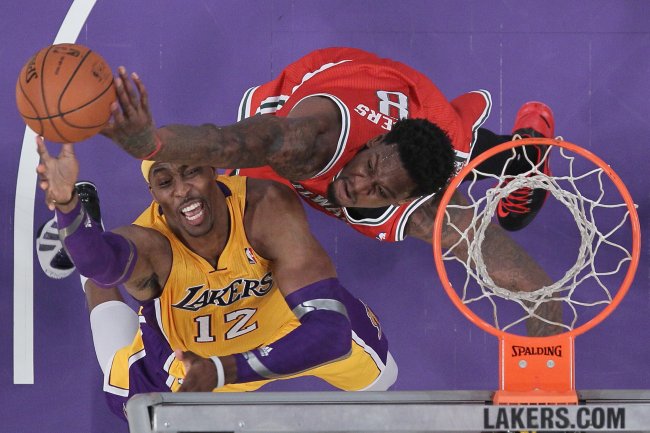 Harry How/Getty Images
Howard remains the class of the center position in the modern NBA. He's a dominant defensive force, the league's leading rebounder and an offensive menace when he gets his touches.
In order for D-12 to make an impact in this game, however, he'll need to go with the fastest rising center in the NBA.
Sanders is a Defensive Player of the Year contender, as he's thrived in every basic and advanced statistic. He leads the NBA in blocks per game and per 48 minutes.
Most important of all, Sanders thrives in on-ball defense—expect Howard to be forced to grind out every possession.
X-Factor: Earl Clark, Los Angeles Lakers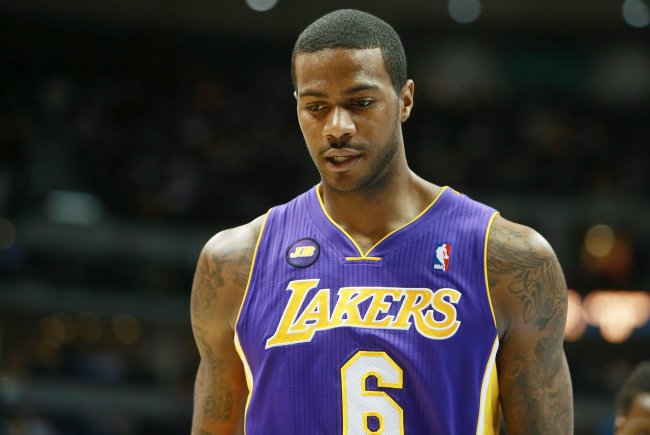 Chris Humphreys-USA TODAY Sports
Believe it or not, the Los Angeles Lakers are the underdogs in this game. They're 14-23 on the road and enter the game without lead perimeter defender Metta World Peace.
In MWP's absence, it is imperative that Earl Clark exploits a positional advantage.
Clark has struggled to produce at the rate that brought him to local stardom with minutes becoming difficult to come by. Even when Clark has been on the floor, Antawn Jamison has commanded a majority of the touches.
It's on Clark to impose his will if placed at the 3, thus exploiting Milwaukee's lack of a true small forward.
Clark's ability to crash the glass and capitalize on his elite athleticism will be the key for L.A. More importantly, Clark could be the energy for the Lakers' postseason push.
With World Peace set to miss roughly six weeks, this may set the pace for future success.
Prediction
When the Los Angeles Lakers take on the Milwaukee Bucks, we'll be in store for a battle between two teams in similar positions. The Lakers can't seem to buy a win and Milwaukee has struggled to maintain a record of .500.
It just so happens that the road team is desperate and the Bucks are opportunistic.
If the Lakers lose this game, they could find their way out of the postseason. That's the type of pressure that often brings the best out of Kobe Bryant and Steve Nash.
Expect both backcourt mates to come out firing.
Brandon Jennings will continue his rise to stardom with a superb performance, but the Lakers simply have too much firepower. They will respond to adversity and preserve their postseason positioning.
Barely.
Los Angeles Lakers 103, Milwaukee Bucks 99