The star shortstop doesn't play past Memorial Day.
A widely ridiculed pitching system yields the league's worst ERA.
The team's owner labels his chastised general manager as "head and shoulders" above the other GMs.
98 losses: A franchise worst.
And as the dust settles, the manager resigns and walks away, effectively cleansing his hands of the mess.
Yes, the Colorado Rockies 2012 season was truly a year to forget.
Where to start in 2013? The organization is still stinging from possibly the most embarrassing season in its 20-year history, and many fans blame management for the self-inflicted wounds. But things can't possibly get any worse, can they?
The anticipation and promise of Opening Day in Colorado is synonymous with the bright days and melting snow, but the difficulties of last season continue to stick around and hamper expectations. We can't free ourselves from the scars of 2012. Grim reminders constantly pop up like Harlem Shake videos on your Facebook newsfeed, from the person whose friend request you accepted only out of pity. "The Year of the Fan" was "The Year that Couldn't End Soon Enough." But just like the cult dance phenomenon (seriously, the Harlem Shake is dead, so stop posting vids), there's a point where you accept the past and move on.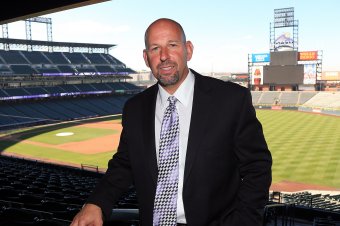 Doug Pensinger/Getty Images
Walt Weiss, the former Rox shortstop and sixth manager in club history, is the poster child of the franchise's save-face project. Although Weiss doesn't have any professional managerial experience, the Colorado faithful are hopeful his blue collar, old school approach to the game reflects his coaching philosophy. After all, the downtrodden Rox definitely appeared to need a shot in the arm after the loss of Troy Tulowitzki last May. The majority of the team looked either like Eeyore in pinstripes or a hippie who baked too much pot into his brownies. Keep in mind, Amendment 64 passed after Colorado's season mercifully came to a close.
Weiss' return to his old stomping grounds can certainly ignite some life into the team, and his days playing under future Hall of Fame bench boss Tony La Russa provided him with great perspective. The 49-year-old skipper will have his hands full organizing a lineup overflowing with position battles, but above all else, he doesn't want the stains of 2012 to linger among his new clubhouse.
"I just want to make sure when we take the field there's not a fear of failure, not a safety-first mentality. I don't think you can thrive at this level with that type of mindset," Weiss told Thomas Harding of MLB.com. "Fear of failure can be something that drives you, but you don't want it to be something that inhibits your ability."
The Rox beleaguered pitching staff can take note of such comments. After blowing away the rest of the league in every category you don't want to lead, Colorado trots out a similar starting lineup with waiver wire pickups and a handful of talented, yet struggling, youngsters.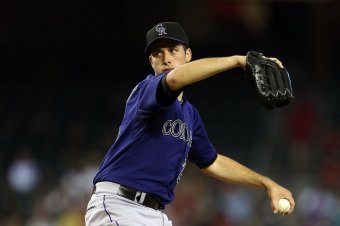 Christian Petersen/Getty Images
Jeff Francis was looking for a job last June and is now arguably Colorado's top option. John Garland, who was signed earlier in the week, hopes to follow the same path as Francis after missing all of last season with shoulder issues. Juan Nicasio's talent is unquestionable, but his ability to stay healthy is not. Ditto with Jorge de la Rosa. And finally, former blue-chip prospects Christian Friedrich and Drew Pomeranz are flirting with the feared "Draft Day Busts" label.
For the Rockies to succeed, Weiss singled out the Latin American trio of Nicasio, de la Rosa, and Jhoulys Chacin to repair the team's makeshift starting lineup. If Colorado's starter can somehow outlast the opposition, Weiss will have plenty of enticing options out of the bullpen. Rafael Betancourt has a proven track record and Matt Belisle has evolved into one of the league's premier set-up men. The newly acquired Wilton Lopez is a great commodity, compiling a 6-3 record and 2.17 ERA last season while toiling away with the Houston Astros.
Bottom line…can the pitching honestly be worse than last year's train wreck? Honestly, no.
In addition…
Troy Tulowitzki is back in the lineup, and his chronic groin problems (knock on wood) are finally resolved.
Josh Rutledge filled in admirably for Tulo and is projected to hit second in a lethal batting order.
Wilin Rosario burst into the MLB with a bang. To be exact, 28 of them, a Rockies rookie record, amounting to a homer each 14.1 at bats, tops among all catchers.
Dexter Fowler finally became the leadoff guy management envisioned.
Producing runs has never been an issue on the Front Range, and the Rox finished second in batting average and sixth in runs scored in the MLB. However, the numbers are largely skewed due to their home park, which doubles as a hitter's playground and pitcher's cemetery. Colorado's issue on the road is always a hot topic. The splits between home and away are staggering. The batting average dipped 65 points (.306 to .241), on base percentage was a 76 point difference (.367 to .291), and exactly 100 less extra base hits occurred on the road as opposed to home.
Enter: Troy Tulowitzki.
Is the franchise player really that vital to one team's success? In a word, yes. Tulo is the unabashed go-to guy of the team, and even though he's still learning the ropes of the leadership role, Colorado is a different team with him in the lineup. The squad has reached the postseason two of the three times he has played more than 140 games in a season, and fellow star Carlos Gonzalez admitted his game falters without No. 2's presence. The numbers reflected CarGo's assessment: sans Tulo, he batted .261 with just four homers in the second half of 2012.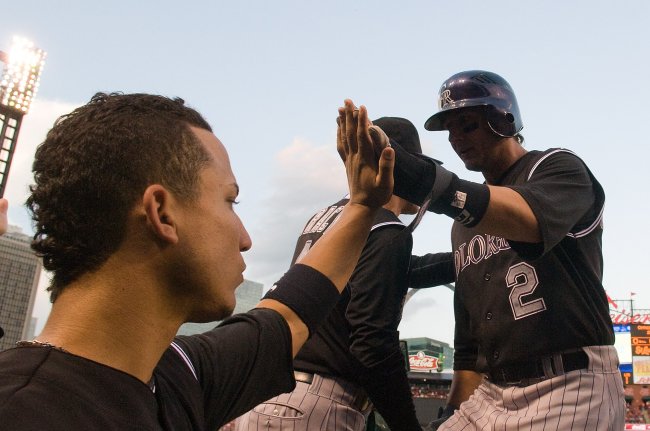 Jeff Curry/Getty Images
"I need him more than (Tulo's) wife needs him," Gonzalez said in the midst of last year's struggles.
In fact, since CarGo joined Tulowitzki in the lineup in 2009, Colorado boasts a respectable 193-168 mark. With neither of them on the field, the club is 98-136 in the same span. Translating the numbers to a full 162 game season, the Rox would finish 87-75 with the pair, and 68-94 without.
Tulo discussed the issue with Troy Renck of the Denver Post just weeks ago. "It's important I am on the field. Not for my numbers — more because I feel like the guys can feed off my energy," Tulowitzki said. "I believe I can create a different atmosphere when I am out there."
Knock on wood.
Also, knock on wood that Rockies fans don't have to endure yet another painful, record setting season of futility. Coors Field's attendance has ranked in the top half of the league for five straight seasons, and the tired, defeated fanbase has begun to resemble extras from The Walking Dead as opposed to the frenzied, towel-waving fanatics from Rocktober.
Unfortunately for the Rockies, they're in a division that has suddenly become one of the most formidable in the league. Leading the way are the San Francisco Giants, a team just one World Series title away from cementing a dynasty. The Los Angeles Dodgers are spending money like sailors on leave, thanks to its new management group, and are rightfully the favorites to win the NL West. The Arizona Diamondbacks are an underrated group, leaving San Diego and Colorado at the bottom of the heap.
How many wins for Walt Weiss' Rockies this year?
The Rockies have a tall hill to climb and plenty of doubters to prove wrong in 2013, but its new manager isn't going to let them become doormats for a division of pennant contenders. After being named to his new position, Weiss proclaimed; "Failure to me is not taking your best shot." He'll certainly have his work cut out for him in his rookie managerial season. And that's if his superstars can avoid the rash of injuries that plagued the team no more than a year ago.
Troy Tulowitzki also has plenty to prove. Last year's media feud with Ubaldo Jimenez went to unnecessary lengths, and the new role of team captain weighed on his game. The result was a batting average well below .300 and a very un-Tulo-like eight errors in a shortened 47 game stint. But after taking nearly an entire year off from the game he loves, the driven California native is ready to excel.
"I know I've done everything I possibly can to have a successful year," assured Tulo. "I think more than anything continue to gain my dominance back…to re-establish myself as the best shortstop in the game and then to help the team win games, to get us back to the days where we were always in the wild-card talk, and get us back to playoff baseball."
Troy, lead the way.