Comparing Miami Heat's Winning Streak to 1971-72 Lakers' Historic Run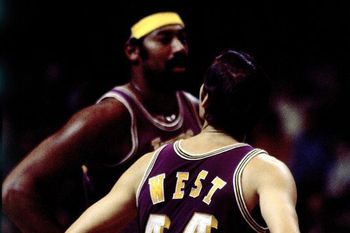 Wilt Chamberlian and Jerry West. Photo credit: Dick Raphael NBAE/Getty Images
Now that the Miami Heat have reached 27 games on their ridiculous winning streak, the prospect of them breaking the 1971-72 Los Angeles Lakers' 33-game streak seems more plausible than ever.
The Heat have not lost since Feb. 1 and do not appear to be losing any steam. Their last three games have been jokes as they pounded Detroit, Charlotte and Orlando into submission. LeBron James is playing like every game might be his last.
They are chasing the Jerry West and Wilt Chamberlain-led Lakers team that finished the '71-72 season with a 69-13 record (also an NBA-best at the time) and the franchise's first NBA championship since its relocation. Oh, and they had that 33-game win streak in the middle of all that other record breaking.
That Lakers streak is still an NBA record and one of the greatest runs in the history of American professional sports. Can the Heat dethrone them? Better question: How comparable are the two streaks?
Jim McMillian, a forward on the '71-72 Lakers, gave the Heat an incredibly backhanded compliment that suggested he does not think the current crop of NBA talent has what it takes to break their record
"It might not get broken, but I didn't think anyone would get this close to it with today's athletes," 'he told Yahoo! Sports. "Today's athlete is not as focused as when we played. They get so much money and notoriety."
Them's fightin' words. It is time to put these two streaks side by side and see how the Heat stack up to the Lakers.
The Rosters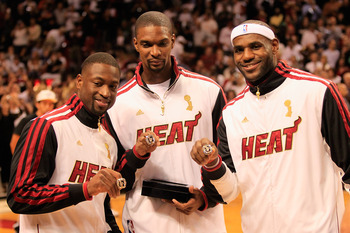 Miami's Big Three: (from left to right) Dwyane Wade, Chrish Bosh and LeBron James
Chris Trotman/Getty Images
The Lakers were thrown for a loop nine games into that historic season when Elgin Baylor retired, saying his legs could not last through another season. That left the Lakers in the capable hands of West, Chamberlain and guard Gail Goodrich. All three are in the Hall of Fame.
The supporting cast was no slouch. McMillian and Happy Hairston were impressive next to Chamberlain down low and complimented West and Goodrich's backcourt. First-year Coach Bill Sharman—a star at USC and with the Celtics—led the Lakers. Yep: The Lakers were coached by a former Celtic. Irony, right?
And let's not forget Pat Riley, a role player on that team long before his days in Miami. As the current president of the Heat, he is the only direct link between both streaks.
The Heat are obviously led by the Kings of South Beach: James, Dwyane Wade and Chris Bosh. They have a solid set of guards and shooters around them in guys like Mario Chalmers, Ray Allen and Shane Battier.
Unlike the Lakers, the Heat are missing a true center (unless you count Joel Anthony). In fact, the only big men they play at this point besides Bosh are Anthony, Udonis Haslem and occasionally even Chris Andersen.
The Heat have been dominating with small ball. It helps that James can play every position on the floor, which means he can be plugged in the lineup anywhere. That versatility is a godsend for Coach Erik Spoelstra.
The Offense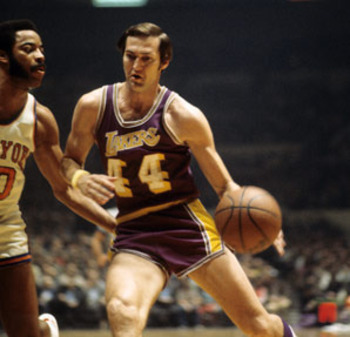 Jerry West drives against a New York Knick. Photo Credit: Sports Illustrated
The Lakers averaged a whopping 123.3 points per game during their streak. Chamberlain was not having his most prolific scoring season, averaging only 14.8 points per game, but he was pulling in 19.2 rebounds per game while leaving the bulk of the scoring to Goodrich and West. The two averaged a combined 51.7 points per game.
Compare that to the Heat's dynamic duo of James and Wade, who only average a combined 48.2 points per game. To be fair, James's 26.7 points per game is more than anyone on the Lakers roster. He also leads Miami in assists (7.2 APG) and rebounds (8.2 RPG).
The Heat are only averaging 105.1 points per game on this streak, 18.2 less than the Lakers. Just take a minute to process that so you can properly marvel at the unparalleled offensive prowess of that Lakers team.
If you have ever watched a Miami game, you know its offense can look practically unstoppable at times. The fact that the '71-72 Lakers completely dominate the numbers game on the offensive side of the ball just shows how much better they were then their competition. Which leads us to…
The Competition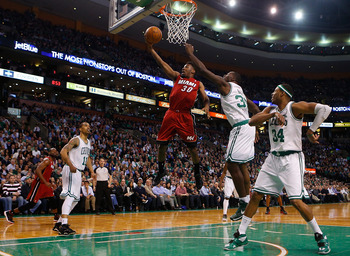 Miami beat Boston 105-103 on March 18 during this historic streak.
Jim Rogash/Getty Images
This is where it gets interesting. The Lakers were beating their opponents by an average of 16 points per game, while the Heat are only winning by 8.9. If you are wondering, there is definitely a reason for that.
The Lakers were dominating teams with an average win percentage of .442, or an overall record of 371-468. The Heat's opponents still do not crack a .500 overall record, but they do manage to combine for an average win percentage of .468 and a total record of 643-733.
Anyone who says the Heat are playing against watered-down competition should check out that stat. This is not to say that the Lakers were playing against teams who were that much worse than anyone the Heat has to face.
The Lakers had to face talent like Kareem Abdul-Jabbar, Willis Reed and John Havlicek during their streak. Those are basketball legends.
Miami has had to take down Kobe Bryant, Kevin Durant and all of Lob City so far. The biggest roadblock on their road to 34 wins is a March 31 test in San Antonio. It took an elite big man (Abdul-Jabbar's Bucks) to end the Lakers' streak, so it is quite possible Tim Duncan could be the man to extinguish the Heat.
The Defense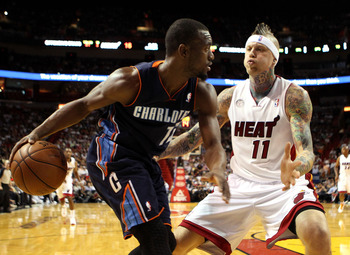 Chris Andersen guards the Charlotte Bobcats' Michael Kidd-Gilchrist during a March 24 game.
Marc Serota/Getty Images
L.A. was not exactly a brick wall defensively. They allowed their opponents to score an average of 107.3 points per game, which they could afford to do considering their offensive skill set.
They were able to hold their opponents to a field-goal percentage of 43.2 over the course of the season, which shows they were not defensive slackers. Keep in mind this is also before the league recorded blocks and steals. There is no telling how many balls Chamberlain sent flying into the stands.
Miami's opponents are being held to a field-goal percentage of 44.0 for the season. Here is the shining star of its win streak so far: It is holding teams to 94.2 points per game.
Holding NBA teams to under 100 points through such a large chunk of a season is almost impossibly difficult. Even more ridiculous: So far in March, only the Celtics have scored over 100 points against the Heat.
The Endurance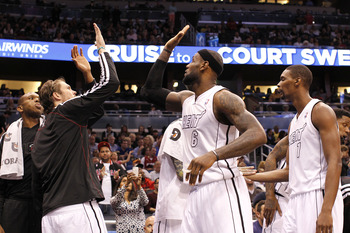 Heat teammates high five during a game against Orlando on March 25.
Gary Bogdon/Getty Images
It is a wonder the Lakers were able to hold up physically during their streak. They spent a lot of time in different time zones and had to travel on commercial airlines. They wound up playing four back-to-back-to-back sets and twice had to play five games in six days.
Of course, these are NBA basketball players we are talking about, who can deal with some scheduling nightmares and cramped traveling conditions. It should still be noted that the current NBA does not schedule any team to play three nights in a row.
The Heat have had their fair share of grueling stretches. They have had to deal with five back-to-backs, though the traveling has been relatively light. Their travel load at the most could be seen as annoying, with the most arduous trips only going as far as Oklahoma City and Toronto. Both Los Angeles teams came to them.
Their next three games are all on the road. The Heat will have to take down Chicago and New Orleans before their date with the Spurs. Fatigue has not affected them much so far during this trip. Exhibit A: An 86-67 road win in Chicago after another away victory in Atlanta.
The Lakers probably wish they could have flown around on a private jet. Who knows if they could handle the media attention the Heat attract. Either way, no matter where the Heat cool off, that '71-72 Lakers squad will always be remembered as the first team to shatter American win streak records.
Now all we can do is wait and see if Miami steals their thunder.
Keep Reading

Los Angeles Lakers: Like this team?