Definitive Blueprint for LA Lakers to Play Postseason Spoiler in 2013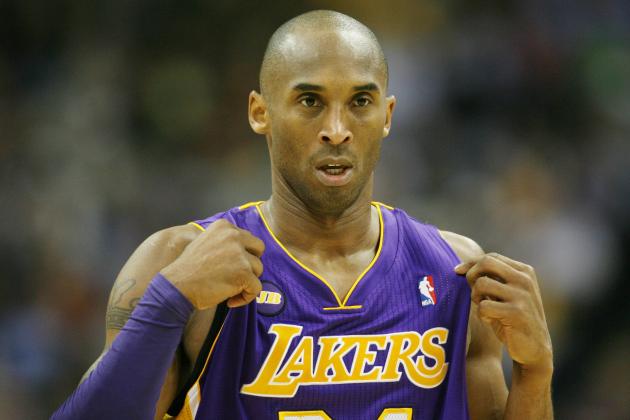 Chris Humphreys-USA TODAY Sports
Kobe Bryant can pop his jersey all he wants, but unless he follows this blueprint, the Lakers ain't winning.
The Los Angeles Lakers certainly aren't going to be the favorites in any postseason series, so they might as well start getting used to playing the role of the spoiler during the 2013 playoffs.
And that's assuming that the team even makes it past 82 games, ahead of the plethora of contenders for the No. 8 seed in the Western Conference.
A lot will have to change for L.A. to successfully act like an expiration date and spoil the milk of a true title contender.
But what?
Let's break it down.
Begin Slideshow

»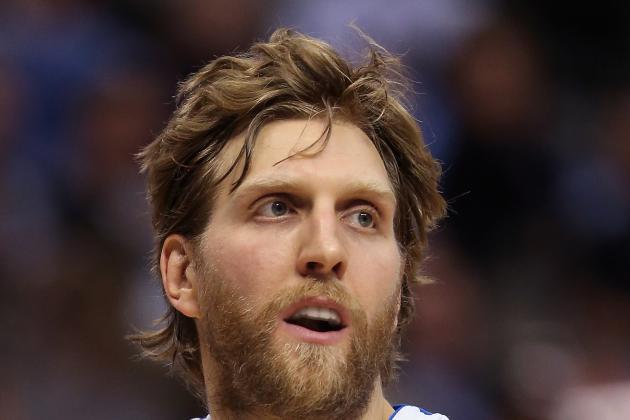 Ronald Martinez/Getty Images
L.A. must hold off Dirk Nowitzki and the streaking Dallas Mavericks.
It's imperative that we don't overlook this part of the blueprint. To be a postseason spoiler, a team actually has to make the playoffs first.
While Los Angeles Lakers fans would like to believe that this is a sure thing, it isn't—not yet, at least. The cap isn't even off the Sharpie.
After recently taking down the Minnesota Timberwolves in dramatic fashion, the Lakers maintained their slim margin on the lottery portion of the Western Conference. However, there isn't any sort of letter next to their team name indicating that they've locked up a berth in the more important part of the season.
Dirk Nowitzki and the streaking Dallas Mavericks sit 1.5 games shy of the Lake Show. Utah is only one game behind following their second-half disposal of the Phoenix Suns.
L.A. technically controls its own destiny because the remaining portion of the schedule is devoid of games against Utah and only contains one against the Mavericks. However, the rest of the road isn't exactly an easy one. Instead, it's fraught with perils.
Of the Lakers' 10 remaining games, six are against teams currently slated to hold down one of the Association's 16 playoff spots. Additionally, two of the games against lottery teams are going to be played on the road.
That doesn't make for an easy path, but it's one the Lakers will have to navigate smoothly if they hope to have even the tiniest glimmer of hope in the postseason.
Again, to be a spoiler, a team has to be eligible to spoil things.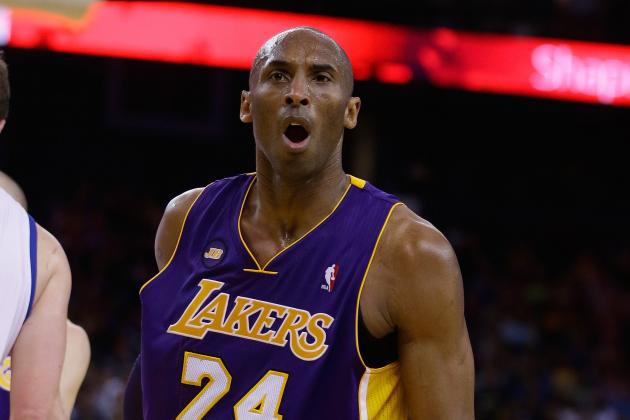 Ezra Shaw/Getty Images
Kobe Bryant's offense has been impeccable during the 2012-13 season.
Not every part of a blueprint needs to be changed. For the Los Angeles Lakers, most of them do, but there are most assuredly some positives that should be maintained for postseason play.
The biggest one deals with No. 24. Because of course it does.
Kobe Bryant has been absolutely brilliant on the offensive end of the court. I'm not using that adjective lightly, either. The Mamba really has been utterly fantastic, whether he's serving as the primary scorer or the lead facilitator.
If the league MVP award actually meant what it stood for, then Kobe would have to be a strong contender for that coveted Maurice Podoloff Trophy that he's only held up once in his career. Without Kobe's offensive output, the thought of the Lakers even making the postseason would be greeted with a raucous uproar of laughter.
I'm not advocating for hero ball here, but rather for Kobe to continue doing what's worked for him throughout the season. He should be looking to set up the offense, but when he thinks he should let it fly, he should let it fly.
Going into the victory over the Minnesota Timberwolves, Kobe was averaging 27.1 points and 5.8 assists per contest, while shooting 46.6 percent from the field, 33.6 percent from downtown and 83.2 percent from the charity stripe. Again, those are brilliant numbers.
Without them, the Lakers' efforts would be rather futile, and that's precisely why the Mamba must continue to strike with vigor after the 82-game portion of the season draws to a close.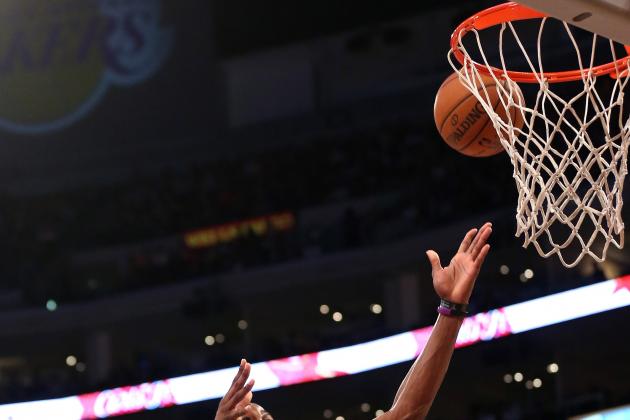 Stephen Dunn/Getty Images
If this shot is missed, don't worry about it.
The Los Angeles Lakers have actually been pretty decent when working for offensive rebounds. Of course, it helps to have a notorious glass-eater like Dwight Howard working in the paint.
As a whole, the team collects offensive boards on 26.8 percent of its missed shots, per Basketball-Reference.com. That offensive rebounding percentage leaves the Lakers in the top half of the NBA.
They check in at No. 14, ahead of notable contenders like the Oklahoma City Thunder (barely), Miami Heat and San Antonio Spurs.
This aspect of the game could actually be viewed as a slight strength of the team. And yet, I'm about to advise them to completely abandon their pursuits of creating second-chance points.
Dominance on the offensive boards and superior transition defense are mutually exclusive strengths. Think of them as connected sliders. When you turn up the offensive rebounding, the transition defense tends to decline, and vice versa.
According to Teamrankings.com, L.A. is allowing a putrid 15.9 points per game in transition to its opponents. Only the Sacramento Kings have been worse, and this isn't a trend that's been improving lately, as it's a problem of both quantity and quality.
The Lakers allow opponents to streak out into the open court a lot, and they're awful at stopping the breaks once they begin. On the year, Lakers' opponents have scored 1.883 points per possession in transition, leaving L.A. at No. 27 in opponent fast-break efficiency, ahead of the Milwaukee Bucks, Charlotte Bobcats and Sacramento Kings.
Hey, you know you're doing something well when you beat the Bobcats!
Right?
When play slows down in the postseason, teams aren't just going to stop running out on the Lake Show. It's a known weakness, and it will be exploited heavily from the moment the ref throws the first ball into the air at center court until the Lakers walk off the court for the final time with their chins down.
That's why the Lakers must turn the slider all the way down on the offensive glass. Get everyone back playing transition defense (other than Dwight Howard, if he's already established in the paint) and prevent the easy points.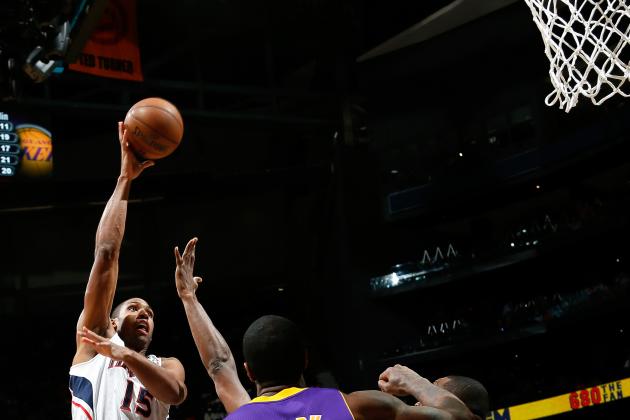 Kevin C. Cox/Getty Images
If this shot is missed, do worry about it.
Despite advocating that the Los Angeles Lakers abandon their ill-fated attempt to corral offensive rebounds, I'm in no way suggesting that the team should do the same on the other end of the court.
L.A.'s defense isn't particularly good, which makes it of paramount importance that the Lakers end possessions after one shot whenever possible. According to Basketball-Reference.com, the team's defensive rating (points allowed per 100 possessions) is 106.5, good for 20th in the NBA.
No team that would make the playoffs, if the season were to end today, is lower on that leaderboard.
When you have trouble getting stops, you don't want to focus on stopping a team multiple times in the same trip down the floor.
As skilled as Dwight Howard is at pulling down defensive rebounds, he can't be the only player on the team making a concerted effort on the glass. Throughout the season, the Lakers have grabbed the eighth-highest percentage of available defensive boards, and that's a trend that must continue.
Four advanced stats are considered the "Four Factors" on defense: effective field-goal percentage of the opponents, turnover percentage of the opponents, defensive rebounding percentage and free throws per field-goal attempt.
The Lakers rank 16th, 29th, eighth and first, respectively.
As a whole, the team is quite averse to fouling, but that might also be an artificially created perception due to the number of transition attempts and blow-by layups that the Lakers allow. If you don't contest a shot, you aren't going to foul them, and it's not like this foul disparity has allowed the Lakers point-prevention to creep up to a semi-elite unit.
I'm not trying to take away credit from L.A. Instead, I'm merely suggesting that this factor hasn't been too impactful and offering up a reason as to why.
It's still clear that defense isn't a strength, but rebounding can be.
Additionally, there are three true outcomes on any possession. The ball changes hands through either a turnover, a made shot or a missed attempt coupled with a possession-ending defensive rebound.
As you can see by the No. 29 ranking in turnover percentage of the opponents, the first method isn't an oft-used one for L.A. The second is, and the third needs to be if the Lakers want to have any chance of pulling off a dramatic upset in the postseason.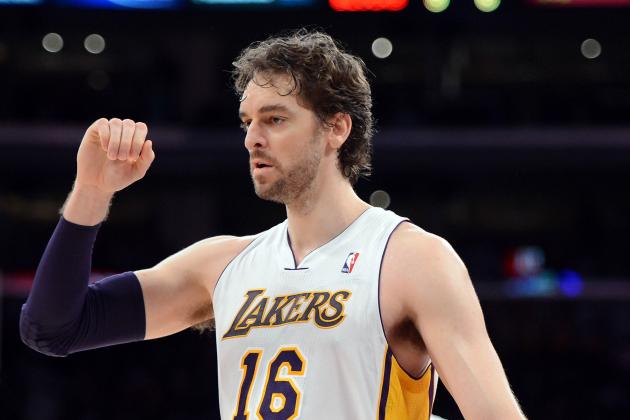 Harry How/Getty Images
Pau Gasol must play to his strengths.
It's no secret that Pau Gasol has been ineffective for the Los Angeles Lakers during the 2012-13 campaign.
When not dealing with injuries, so bad they're keeping him in a suit instead of a jersey, the Spaniard has averaged just 12.9 points, 8.0 rebounds, 3.4 assists, 1.3 blocks and 0.4 steals on 44.5 percent shooting from the field. In his 38 appearances, Gasol has posted a PER of 15.43, putting him only slightly above the league average in the category.
The seven-footer isn't finished yet. He's not washed up. His tenure as one of the Association's elite offensive frontcourt options should not be drawing to a close this soon.
Remember his dominance during the London Olympics? That was less than a year ago.
Quite simply, not enough time has elapsed for the 32-year-old to have fallen off the proverbial production cliff. He's just not being used correctly.
Gasol thrives when he's allowed to set up on the blocks or facilitate from the high post. He's one of the more versatile bigs out there, so he plays best when some offensive responsibility is heaped upon his shoulders.
In particular, his high-low passing stands out among other players with a similar physical makeup. Gasol excels when playing with an offensively talented big man who he can feed in and out of the post. That's a category filled by Dwight Howard, but the power forward hasn't been given the opportunity to play this type of two-man game with his new teammate yet.
And that's part of the problem as well. Dwight is still a new teammate for Gasol.
We're late enough into the season that not even Jim Mora would yell at us for discussing the playoffs, and the two most talented big men in purple and gold have played 720 minutes together. If you assume that they play an average of 35 minutes per game, that's the equivalent of about 20 full games.
Obviously, that's not enough to build sufficient chemistry, so it's even more imperative to afford Gasol the opportunity to play in sets where he's both comfortable and working almost exclusively with his strengths.
Kyle Terada-USA TODAY Sports
Even Kobe has areas in which he must improve.
We've already established that Kobe Bryant is a fantastic offensive player, but his defense has been rather subpar during his age-34 season.
Occasionally, he's shut down a ball-handler for a few possessions and given the impression that he's still an elite on-ball defender, but that's not enough to make up for his nonexistent transition and off-ball defense.
Grantland's Zach Lowe wrote a fantastic piece on the subject, one that I'd highly recommend you read in its entirety, and I'm going to leave you with a couple highlights from the article.
In the 71st game of your 17th season, in the midst of a "heated" playoff "race," why are you still watching your own errant jump shot while your mark, Klay Thompson, beats you back in transition for an open 3-pointer? Thompson doesn't exactly take off like Corey Brewer, either, and he still beats you down the floor by several steps.

Why is this still happening? It's almost April, and Bryant and the Lakers still can't figure out transition defense, or defense in general.
Here's a link to video evidence of the play in question. You can noticeably see Kobe linger in disbelief as his shot clangs off the rim, failing to notice and properly react to Klay Thompson running down the court at full steam.
Bryant, as the whole Internet (including this corner of it) has noted repeatedly, has been an irresponsible off-ball defender all season. He gambles out of scheme whenever he feels like it, often turning his back completely to his man, and several of Washington's 11 3s during the Lakers' home loss to the Wiz on Friday were the direct result of Bryant deciding he didn't want to play team defense any longer.
It gets worse. In the oh-so-simple, but oh-so-terrific words of Randy Bachman, you ain't seen nothing yet from Lowe.
If Bryant makes first or second-team All-Defense again this season, I'm officially ignoring this honor indefinitely when it comes to assessing a player's status and career accomplishments. There will be no more "Player X has seven first-team All-Defense appearances" in this space as a way of justifying a man's place in the NBA hierarchy. Bryant isn't the first player coasting to undeserved All-Defense appearances based on reputation, but if he makes it again this season, it will be his most egregious appearance ever, and one of the most egregious in league history. It's probably already time to start ignoring these honors, since Carlos Boozer received what I hope was an accidental vote last season, but Bryant's selection would make it official.

Again, he's a good defender when he wants to be, and he can still be a huge pain in the ass on the ball against top scorers. But playing top-notch on-ball defense on a few possessions per game does not qualify someone for an All-Defense honor, when all those other possessions of hideous off-ball defense exist.
Lowe pulls no punches—and for good reason.
Again, I'd recommend that you read Lowe's entire piece. He's one of the premier NBA writers out there, and his breakdowns are absolutely tremendous.
Kobe's off-ball defense and ball-watching habits have been horrific at times. He can seem completely disengaged, almost like he's plotting out how he's going to take the next shot once his opponents increase the number of points on the scoreboard.
If Kobe needs to save energy for offense and recharges his batteries on defense—as I suspect is the case in some of these situations—then the fix is quite simple: lower his offensive responsibilities. Blasphemous as that may sound, it's more important that Kobe plays solid team defense and leads by example.
The Lakers simply will not win games if they don't start exerting maximum effort on the less glamorous end of the court. That starts with cutting out the ball-watching, rotating properly and buckling down on each and every possession.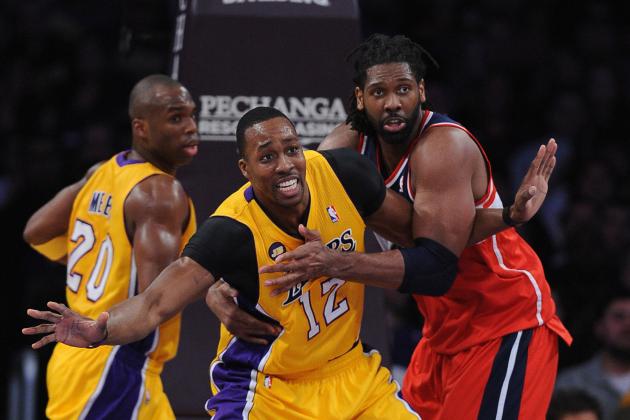 Jayne Kamin-Oncea-USA TODAY Spor
Sometimes you just have to pass it to Dwight Howard.
Last, but certainly not least, Dwight Howard must be more involved in the offense.
During the 33 Laker wins D12 has been a part of, he's averaged 11.8 field-goal attempts and 9.2 shots from the foul stripe. That's resulted in 18.7 points per game on 59.1 percent shooting from the field.
Howard has also played in 32 losses. During those games, the big man has taken 9.1 shots from the field and 8.9 free-throw attempts, leading him to average 14.0 points on 53.4 percent shooting from the field.
I'm not one to imply causation based on correlation, but the numbers are awfully striking.
The scary thing, though, is that the Lakers don't seem to be recognizing the need to get Howard significantly more involved in the offense. He's occasionally had some scoring outbursts and doses of heavy usage, but the number of games with single-digit shots is beyond ridiculous.
He's failed to hit 10 field-goal attempts in 30 games thus far. As a reference point, he only had nine such games during the lockout-shortened 2011-12 campaign and 16 in 2010-11.
Howard has already exceeded the combined mark from the past two seasons, and he's missed significant time this year due to injury in a still-ongoing season.
That's just unacceptable.
Granted, there are multiple factors leading to this besides Mike D'Antoni's hesitance to give Howard too much responsibility in the offensive sets. He's been injured, and he's surrounded by significantly more ball-demanding talent than he ever was as the featured player for the Orlando Magic.
However, it's still a problem. An injured Dwight is still a dominant Dwight, as he's shown sporadically throughout his first—and possibly only—season wearing purple and gold. He can still dunk with a vengeance, and those surprisingly graceful and ambidextrous jump-hooks are still effective.
As the Magic can confirm, an established interior player only frees things up for the rest of the team.
On offense, getting Howard involved early and often must be a top priority if the Lakers hope to play more than four games in the playoffs.