Jacksonville Jaguars 2013 Mock Draft: Building the Perfect 7-Round Draft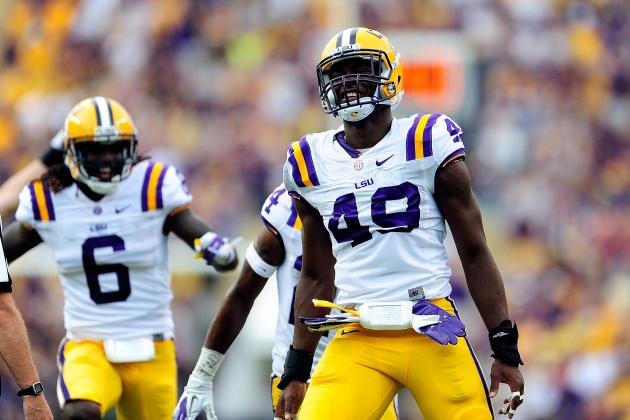 Stacy Revere/Getty Images

The 2013 NFL draft is less than a month away, and the Jacksonville Jaguars are gearing up for what they hope will be a great start to their rebuild.
As expected, GM David Caldwell and the Jaguars were quiet through free agency in favor of rebuilding through the draft. The team needs help along the offensive and defensive lines, secondary and quarterback. Luckily for the Jaguars, the draft is rich with talent at almost every position they need help at, so they should be able to find a player they like.
It would be ideal for the Jaguars to trade out of the No. 2 spot and get more picks in the process. That's going to be difficult to do as there isn't a top-tier prospect in this year's draft like in years past.
But the lack of a can't-miss prospect is what makes this draft so unpredictable and intriguing. Jacksonville could realistically go in several different directions with their first pick, and all of the choices would be defensible.
Here is the latest Jaguars mock draft.
Begin Slideshow

»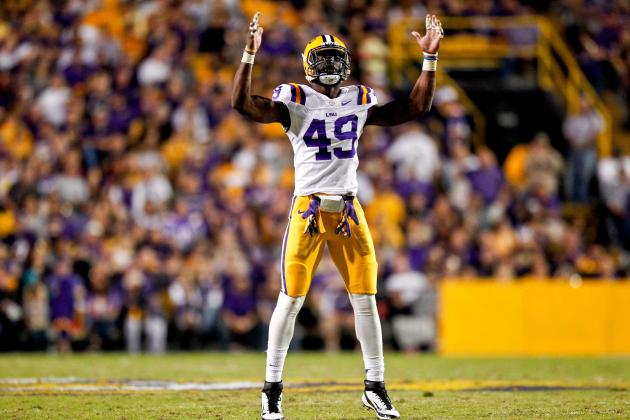 Derick E. Hingle-USA TODAY Sports

The Jaguars' pass rush was pathetic last season. The team posted a league-low 20 sacks on the year.
The franchise is going to have to find a pass-rusher in the draft, and LSU's Barkevious Mingo would make an immediate impact.
Mingo is a perfect fit for the LEO position in head coach Gus Bradley's defense. The LEO is designed for an explosive and athletic pass-rusher who uses his speed to pressure the quarterback.
He showed off his speed and athleticism with a great performance at the 2013 NFL Scouting Combine last month. He posted the fastest three-cone drill (6.84) and best broad jump (10'8") among defensive linemen. Mingo also posted the second-best 40-yard dash (4.58) and vertical (37") among defensive linemen.
He doesn't just have the speed to play the LEO, but at 6'4" and 241 pounds, he also has the ideal size Bradley looks for in the position (via Alfie Crow of Big Cat Country).
Mingo can continue to solidify himself as one of the top picks with an impressive showing at LSU's pro day on March 27.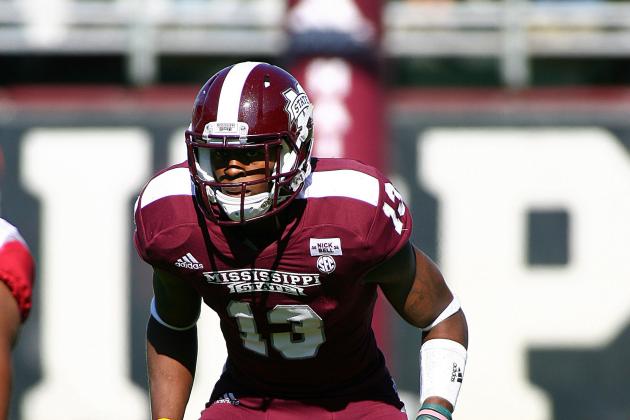 Spruce Derden-USA TODAY Sports

Jacksonville is going to have to add talent during the draft to fix its depleted secondary.
The Jaguars are extremely thin at cornerback after the departures of Derek Cox and Rashean Mathis and the release of Aaron Ross. They have just four cornerbacks under contract, and none of them inspire much confidence as long-term starters.
Mississippi State's Johnthan Banks would be a great pick who would instantly step in as a starting cornerback.
Banks is a physical player who has the size (6'2", 185 pounds) to become a very good press-coverage cornerback, which is a key component of Bradley's defense.
He had a poor performance at the combine and his draft stock fell due to a slow 40-yard dash (4.61). He made up for it at his pro day with a much faster time (via Brandon Marcello of The Clarion-Ledger), which may have helped his draft status.
Banks may have squeaked himself back into the first round, but it's not guaranteed. If he is available at the top of second round, the Jaguars would have to jump on him, since he would excel in Bradley's defense.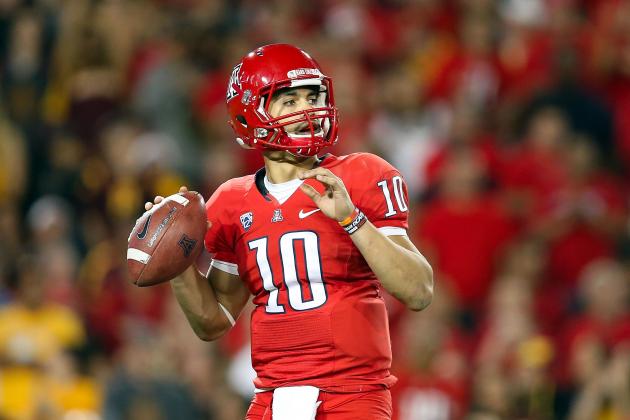 Christian Petersen/Getty Images

Although the Jaguars drafted Blaine Gabbert with the No. 10 pick in the 2011 NFL draft, the team could already be looking for his replacement, because he has yet to live up to expectations.
GM Caldwell has said (via AP's Mark Long) he will look to add a quarterback this offseason. There aren't any good options in free agency, so the team will likely wait until the draft to add one.
The Jaguars have shown interest in (per Tony Paulina of USA Today) Arizona's Matt Scott, and they could take him in the third round.
Scott has had a series of excellent showings at offseason workouts to improve his draft stock.
It began with an impressive performance at the combine. He proved his passing ability by making accurate throws on short and intermediate passes.
Scott also has the ability to make plays with his legs, and he got to show off his speed at the combine. He had the fastest time among quarterbacks in the three-cone drill (6.69) and 20-yard shuttle (3.99).
He continued to rise up draft boards by wowing scouts at Arizona's pro day. The Jaguars were well represented at the event and sent scouts and coaches (per Tony Paulina of USA Today) to watch the prospect.
Scott already has ties with the franchise, as quarterback coach Frank Scelfo coached him for two years at Arizona and helped him prepare for the East-West Shrine Game.
Jacksonville seems to have a strong interest in Scott, and they are bringing him in for a predraft meeting (via John Kryk of the Toronto Sun).
All signs are pointing to Scott being the Jaguars' guy. They will have to take him in the third round because of the growing hype around him. He is still rough around the edges, but he has plenty of upside to develop into a playmaker at quarterback.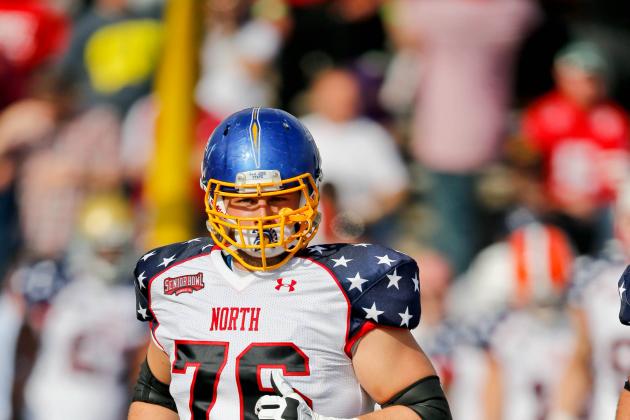 Derick E. Hingle-USA TODAY Sports

Offensive line is another area where the Jaguars desperately need help.
That's especially true at right tackle, where the team featured a revolving door of players last season. Cameron Bradfield, Eben Britton and Guy Whimper all had time at the position last season, and they all struggled, to put it nicely.
Jacksonville has to find an upgrade at right tackle if it wants its quarterback to survive next season. The free-agent class is strong, but the team has yet to make a move to sign one. The draft is loaded with offensive line talent, and the franchise could wait to address the position until then.
Although almost anyone would be an upgrade over what the team has now, San Jose State's David Quessenberry would be a good pick for the middle rounds of the draft.
Quessenberry had a successful collegiate career and was named to the All-WAC teams in 2011 and 2012.
He is a good athlete and shows agility and quickness in pass sets. He plays with a low pad level and has a natural bend to succeed in pass protection. He also hustles downfield to continue blocking during plays to take out defenders.
He got to show off his agility at the combine. Quessenberry finished with the third-fastest 20-yard shuttle (4.45) and had one of the better 40-yard dashes (5.08) among offensive linemen.
Quessenberry's athleticism would make him a good fit in Jacksonville's zone-blocking scheme. His pass-protection skills would lead to him being in competition to be the Week 1 starter as a rookie. He is a solid player and an upgrade over who the Jaguars currently have under contract.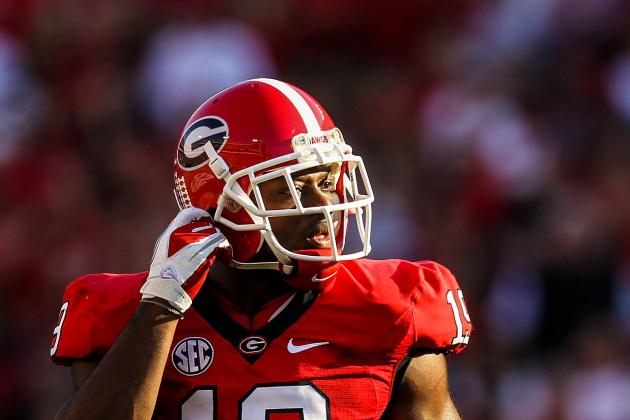 Daniel Shirey-USA TODAY Sports

The Jaguars could look to add more talent to their depleted secondary late in the draft, and one player they could add is Georgia's Sanders Commings.
Commings would be a perfect fit in Bradley's defense. He uses his 6'0" and 216-pound frame to press receivers off the line of scrimmage. In addition to his size, he possesses impressive agility and uses it to deflect passes.
One of his biggest criticisms heading into the offseason was his lack of speed, but he quieted the critics with a 4.41 40-yard dash time at the combine.
He didn't participate in the bench press at the combine due to an injury, but did so at Georgia's pro day on March 21. He posted 23 reps in the bench press, which would have been the fourth-best among cornerbacks at the combine.
Commings has the strength and agility to jam receivers at the snap, but he also has the skill set to play safety, which is another area the Jaguars need help at.
Commings would make an immediate impact at cornerback with the possibility of being moved to safety. He would be a great fit on Bradley's defense and would thrive in the scheme.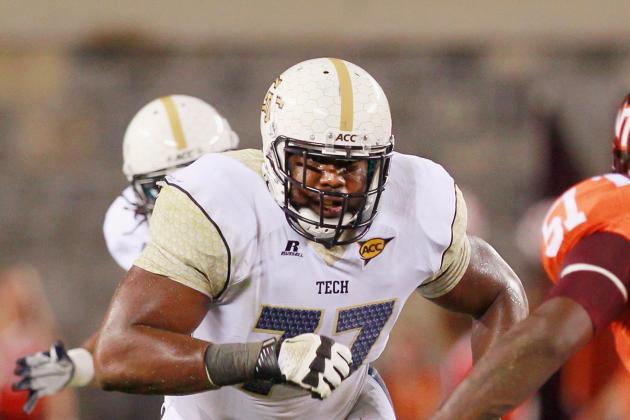 Geoff Burke/Getty Images

Jacksonville could look to add depth to its offensive line in the later rounds of the draft.
Georgia Tech's Omoregie Uzzi is an experienced player who could develop into a starting guard in the Jaguars' zone-blocking scheme.
Uzzi is an athletic big man (6'3", 302 pounds) and has the speed and agility to block at the second level. He's a consistent blocker against the run and the pass and can engage multiple defenders at once.
He didn't participate in the East-West Shrine Game or combine due to an injury. The injury limited him at Georgia Tech's pro day as well, as he only participated in the bench press (22 reps).
With the Jaguars desperate for offensive line help, Uzzi would be a good choice. He would provide cheap depth while developing his game for the NFL level.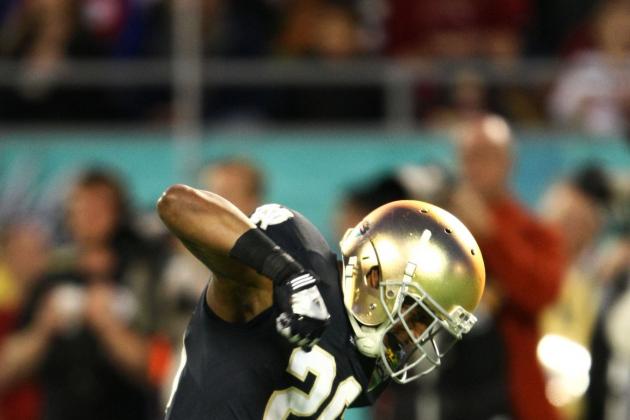 Douglas Jones-USA TODAY Sports

Cornerback isn't the only position in the secondary the Jaguars are thin at. After releasing Dawan Landry to free themselves of his contract, the team currently has just one strong safety under contract in the unproven Antwon Blake.
Jacksonville has to add talent to the position and create competition for the starting role.
It can do that by drafting Notre Dame's Jamoris Slaughter with their final pick.
Slaughter lined up all over the field for the Fighting Irish and his versatility could benefit him in the draft.
He is a solid pass-defender who can knock receivers off their routes and can read the quarterback's eyes to knock away passes. Slaughter is an attacking blitzer who can shoot through the line of scrimmage to make plays in the backfield.
Slaughter's stock falls to late in the draft for two reasons.
The first is a torn Achilles tendon he suffered against Michigan State that caused him to miss all but three games last season.
Secondly, although he is a versatile player, he lacks a true position, which hurts his stock.
Slaughter is a good player when healthy and taking him in the seventh round is worth the risk. If he recovers from his injury, he will have the chance to compete for the starting strong safety role. At the very least, he will contribute to special teams.
And honestly, Slaughter is too good of a name to pass up.